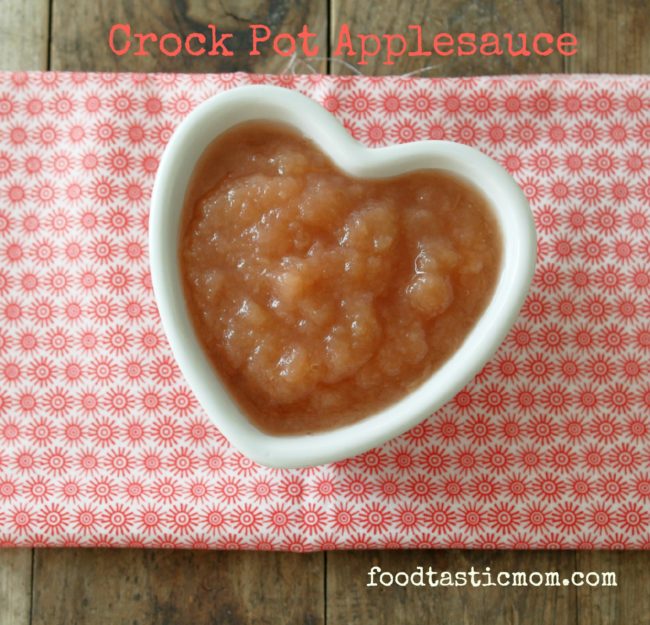 This is truly what a part of my heart looks like for my children. I love them for so many reasons and my cooking is one of the ways I show my love for them. I do think there is a big difference between showing love through time spent in the kitchen and showing love through simply food. This Crock Pot Applesauce is a perfect example.
The other day, we visited our local farmer's market, and my children literally did a happy dance as we were buying local apples, knowing I was going to come home and make my crock pot applesauce for them, as I have done each year since my oldest was about 2 years old. Believe me, other than my family, there is no one else I'd spend that kind of time preparing so many apples for such a small yield. They inhale it! But it's a wholesome, healthy treat that is creating a powerful memory for them. So I'll keep peeling and chopping away…
Crock Pot Applesauce
2013-03-18 10:03:09
Ingredients
24 apples (or enough to fill Crock Pot to the top)
3 or 4 T. of sugar
1/4 - 1/2 t. cinnamon (a little goes a long way)
Instructions
Core, peel and chop your apples. Pieces should be about the size of a small egg. Place the apples, sugar and cinnamon in the crock pot and cook on low for 6 - 8 hours, stirring occasionally. The apples will be soft enough to break with a spoon, and the mixture will reduce by close to half. Let the applesauce cool in crock pot insert on the counter for a couple of hours. Then transfer to an air-tight container and refrigerate.
Notes
Ask your local farmer which types of apples they recommend for the best applesauce, but these are the varieties I've used in the past...
Braeburn
Cortland
Fuji
Gala
Jonagold
Foodtastic Mom https://www.foodtasticmom.com/