Delicious, customizable and packed with protein, these Creamy Scrambled Egg Toasts just might become your new favorite breakfast. Thank you to the Ohio Egg and Poultry Association for sponsoring this post. All opinions are mine alone.
Eggs really are incredible. They are by far the least expensive form of protein you can buy. And they are so versatile! Just consider scrambled eggs. I'm usually in a hurry in the morning and so I crank the heat on my stove to cook my eggs quickly. But I recently learned that the texture of scrambled eggs changes completely when cooked low and slow – stirring as you go to break up the internal bonds of the egg protein. They become almost ethereal because they are so creamy. I decided after trying them on my trip to Columbus with Ohio Eggs that Creamy Scrambled Egg Toasts needed to be a "thing". In my humble opinion, these are much preferable to the trendy Avocado Toasts of the last few years.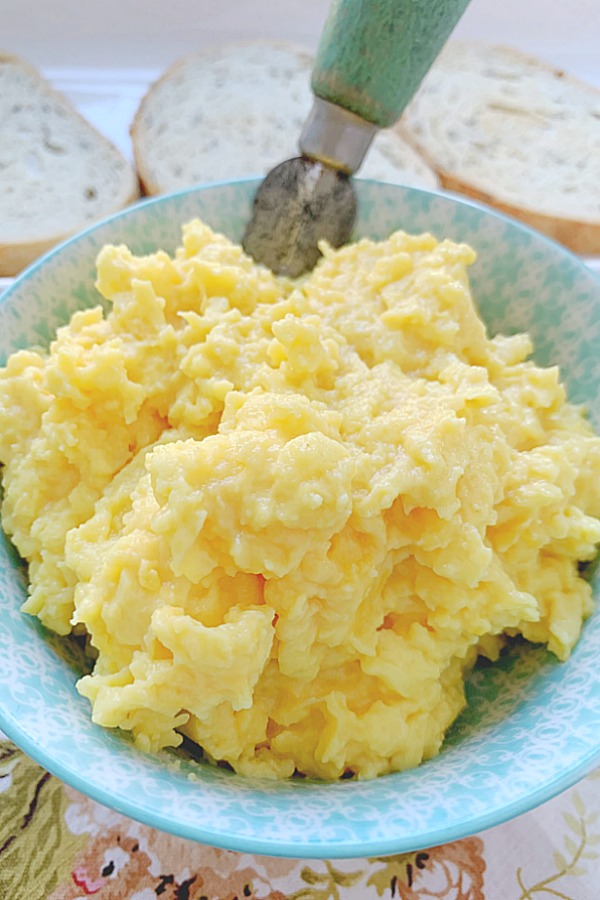 Watch how to make Creamy Scrambled Eggs: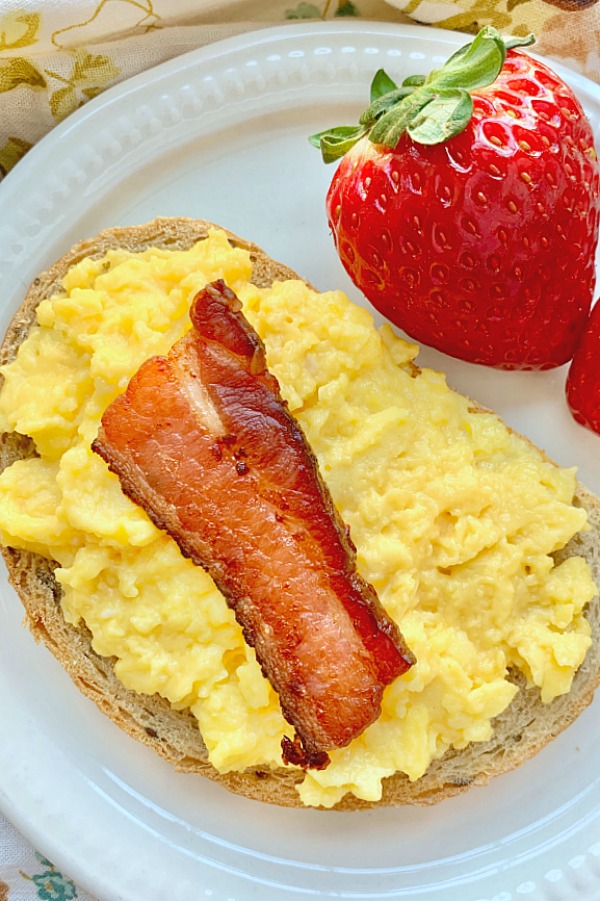 Speaking of eggs and versatility, I was treated to a full day of cooking demos with eggs on a recent trip with some of my fellow Ohio food bloggers. Jim Chakeres, executive director of the Ohio Egg and Poultry Association, showed us how to poach eggs in the microwave, how to make a proper omelette, how to think outside the box with deviled egg flavors, and how to prepare an amazing variety of desserts and main dishes, centered around eggs. This was all to highlight eggs and the important roll they play in our daily diets. And also to give credit to the farmers who toil 365 days per year to make sure their laying hens are properly cared for, to produce enough eggs to keep up with national demand.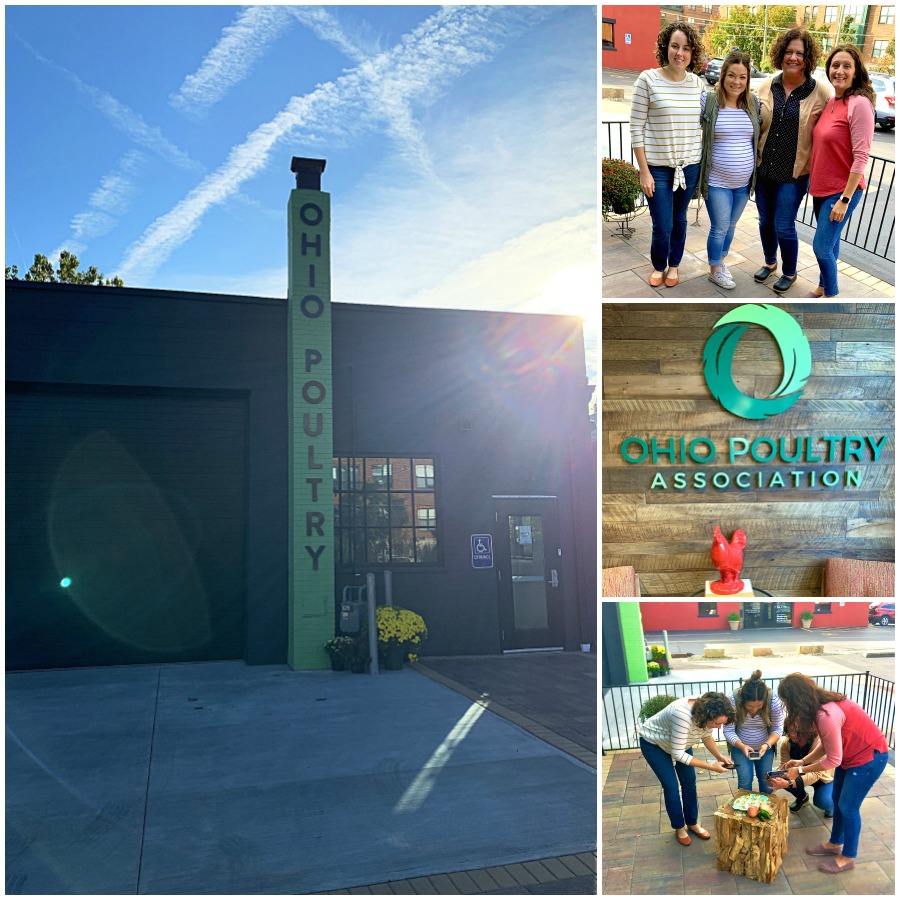 How to Top Creamy Scrambled Egg Toasts:
The great thing about these toasts is that the creamy scrambled egg spread provides a blank canvas. Be as creative as you want to be in setting out toppings. These are great for entertaining. Set up a "bar" with a variety of toasted bread, a big bowl of creamy scrambled eggs and a variety of toppings. Then let your guests assemble their own toasts. Here are some other topping ideas besides the bacon, fresh herbs and smoked salmon I have pictured:
Chopped avocado with lime
Fresh pico de gallo
Sliced ham
Roasted asparagus
Shredded cheese
Cooked mushrooms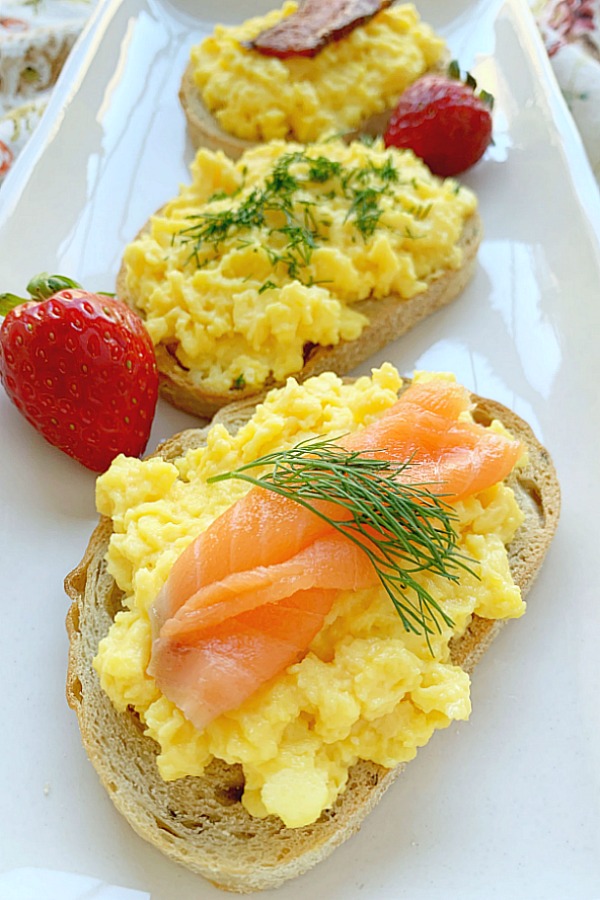 Facts about Ohio Eggs: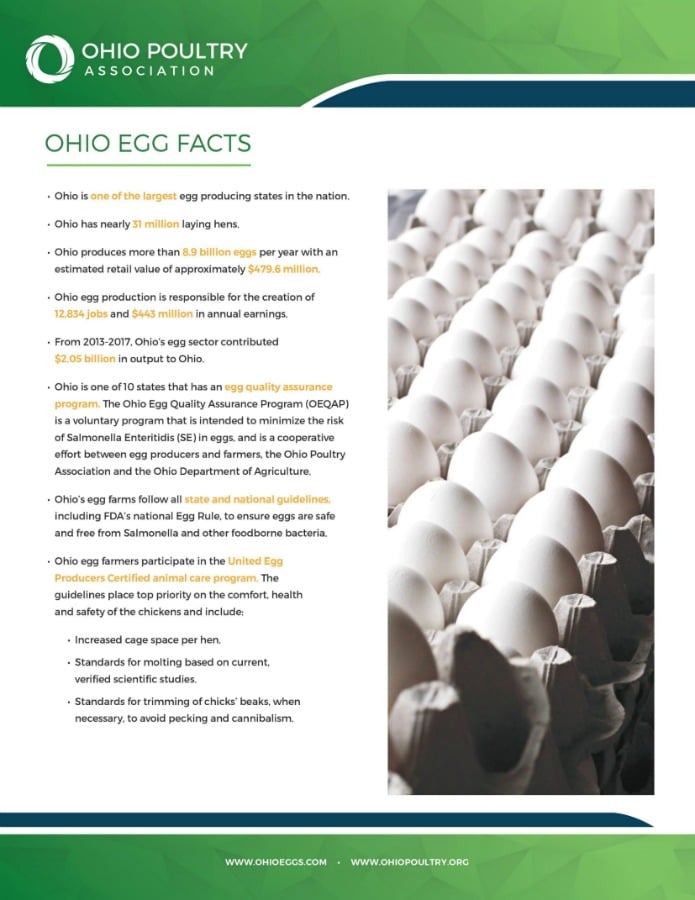 Kitchen Tips:
Buy good quality bread for your toast
Different stoves will heat the eggs differently. The heat setting on a gas stove will likely be lower than on an electric cooktop to ensure the eggs cook slowly.
I like using a non-stick skillet similar to this one to cook my creamy scrambled eggs.
A heat-proof spatula for stirring the eggs is necessary too.
Foodtastic Mom is a participant in the Amazon Services LLC Associates Program, an affiliate advertising program designed to provide a means for sites to earn advertising fees by advertising and linking to Amazon.com. Any highlighted, clickable Amazon link you see is an affiliate link that I may earn advertising fees on.
Thank you so much for being a faithful reader and supporter of Foodtastic Mom. Be sure to PIN and print this recipe!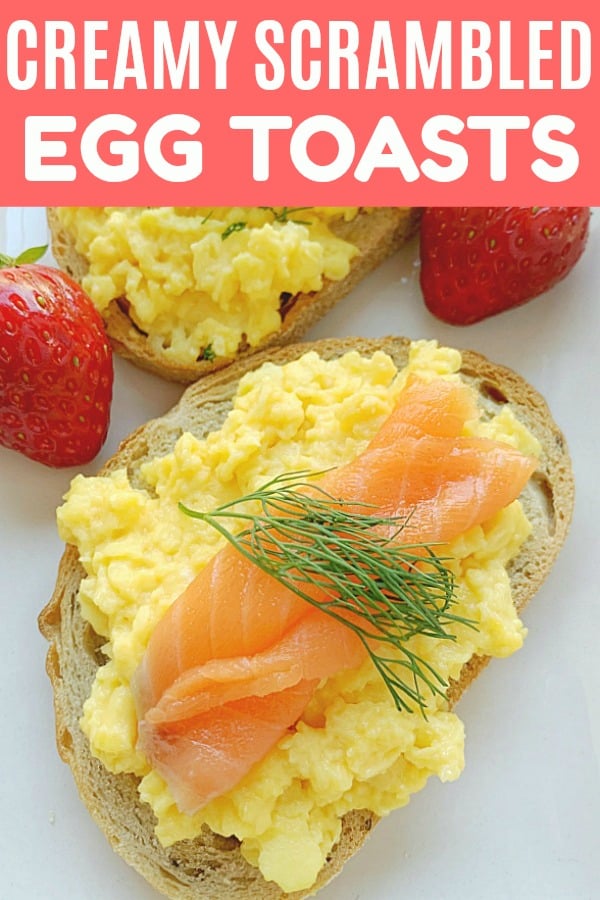 Creamy Scrambled Egg Toasts
Delicious, customizable and packed with protein, these Creamy Scrambled Egg Toasts just might become your new favorite breakfast.
Ingredients
6

large

eggs

1 1/2

tbsp

butter

3

tbsp

whipped cream cheese

salt and pepper to taste

toast slices

variety of toppings
Instructions
Whisk the eggs in a bowl until well beaten.

Melt butter in a skillet over medium heat. Reduce the heat to medium-low and add the eggs. Using a spatula, keep the eggs moving until almost fully set.

Add cream cheese. Continue to cook for an additional minute, constantly stirring to incorporate the cream cheese.

Remove from heat. Season with salt and pepper.

Serve the eggs with toast and a variety of toppings. Assemble the toasts as pictured.
Nutrition
More recipes with Ohio Eggs: