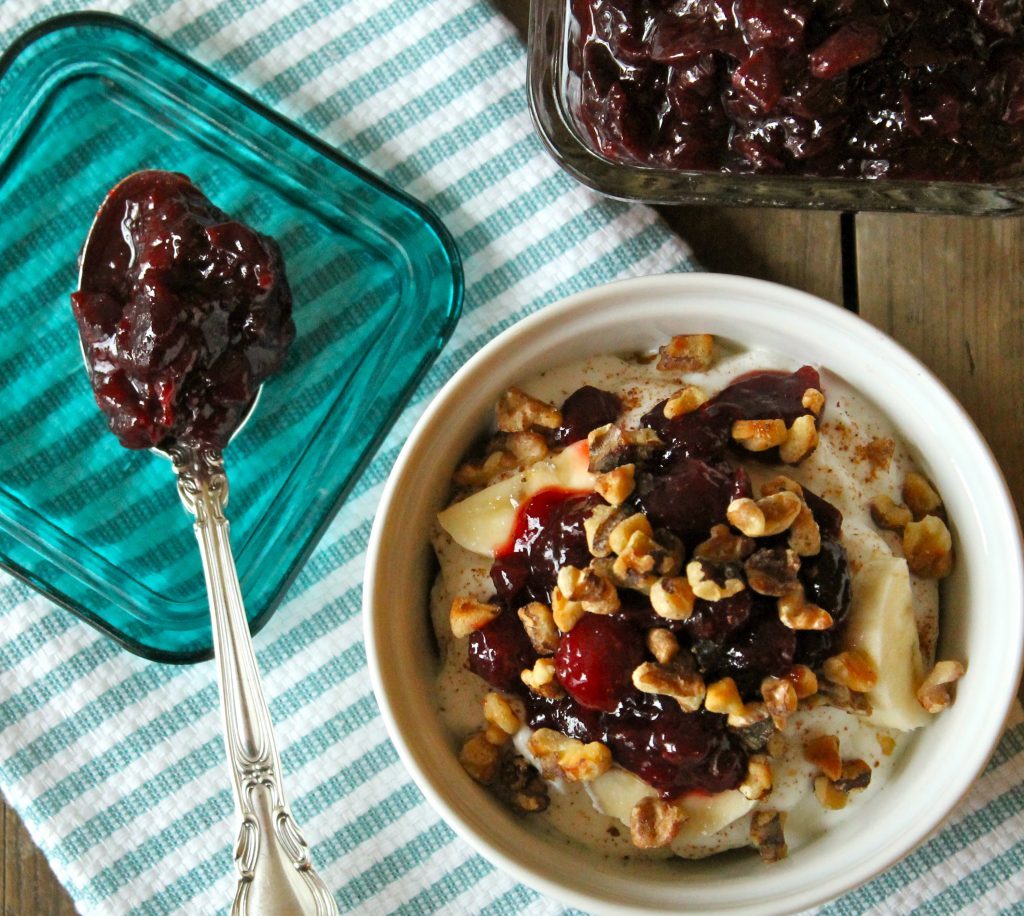 Anyone else reading this feeling like a stuffed turkey right about now? I know I am. To remedy that, I've made use of my healthiest Thanksgiving leftover to make this yogurt parfait for breakfast.
Each year, the cranberries have seemed a traditional, though not that exciting component to the Thanksgiving meal, at least for me. I usually cooked them with a ton of white sugar and orange juice, and after a couple of bites couldn't stand the sickening sweetness of them.
I read A Homemade Life a few months ago, which is Molly Wizenberg's autobiography. She's better known as Orangette, one of the original food bloggers. If you are not aware of her, you should be. She makes amazing food and has the ability to write about it really, really well.
Anyway, in the book she describes in detail the Cranberry Chutney her mom has made for years, and from then on I knew I had to add it to my Thanksgiving menu. As it sometimes happens in my busy kitchen, I made a few changes to the original recipe and didn't bother to read through the cooking instructions. I just threw everything into the pot and let it simmer. Upon further investigation, I realized I'd done it all wrong, but luckily it was a happy accident and this Cranberry Chutney is a keeper! So much so that I'm actually going to eat it, all of it, over the next couple of weeks. One way is in this healthy yogurt parfait. The other is spread on a turkey and blue cheese sandwich. Yum!
Cranberry Chutney
2 bags fresh cranberries, mushy ones discarded
1 jar (15.2 oz) Trader Joe's Low-Sugar Apricot Preserves
1 1/4 c. dried tart cherries, roughly chopped
1/2 c. light brown sugar
1/2 c. crystallized ginger, finely chopped
1/4 c. rice wine vinegar
1/4 c. dry red wine
1/4 t. ground cloves
pinch of salt
Combine all ingredients in a large sauce pan. Stir well and heat over medium heat until the mixture begins to simmer. Lower the heat to medium-low and simmer, stirring occasionally, until the mixture has thickened and is a deep, dark red color. I cooked mine for about 40 minutes. Cool on the counter, then refrigerate until ready to eat.
Yogurt Parfait
3/4 c. plain Greek yogurt
one banana, sliced
1/4 c. Cranberry Chutney
1 T. chopped walnuts, toasted
pinch of nutmeg
Combine in a bowl and eat!
Chutney recipe adapted from
Orangette