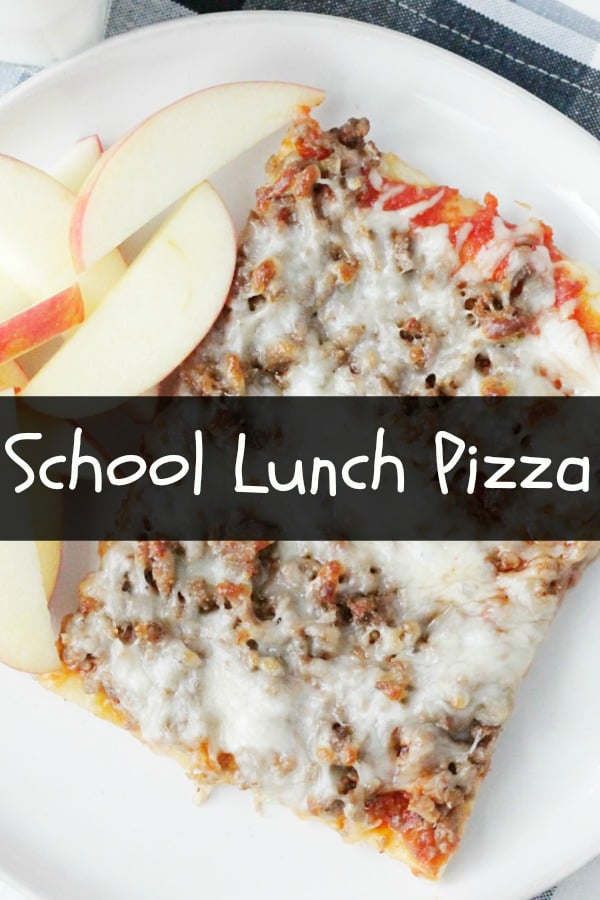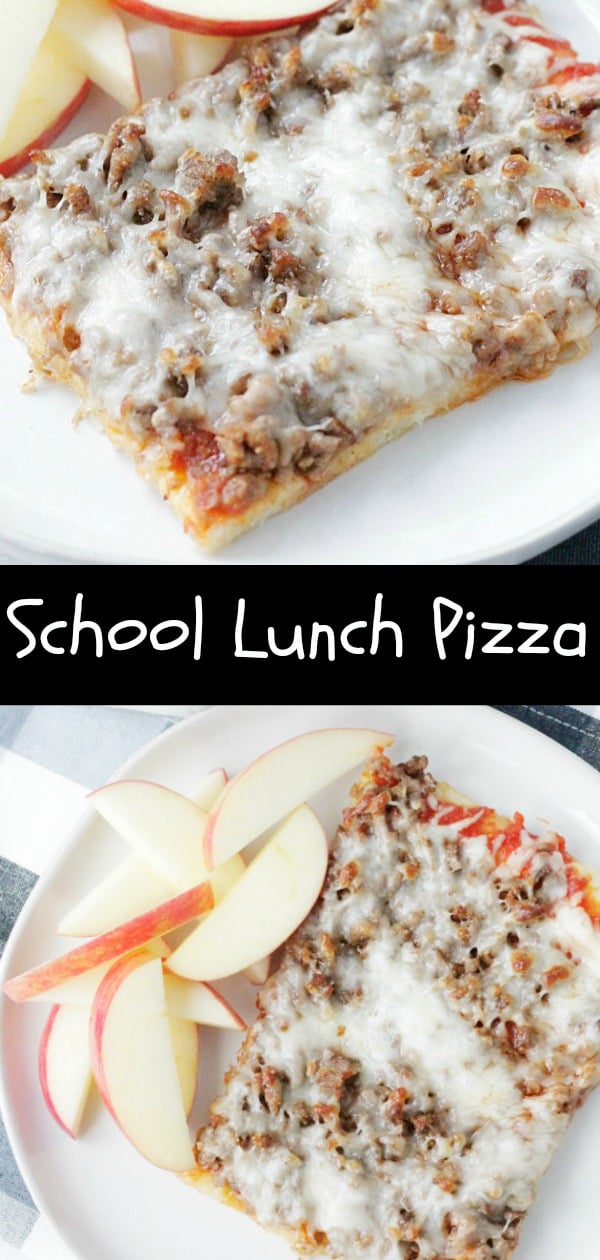 Who else has fond memories of their school cafeteria rectangular pizza slices? I do and decided to create a version at home with this recipe for Copycat Lunch Lady Pizza.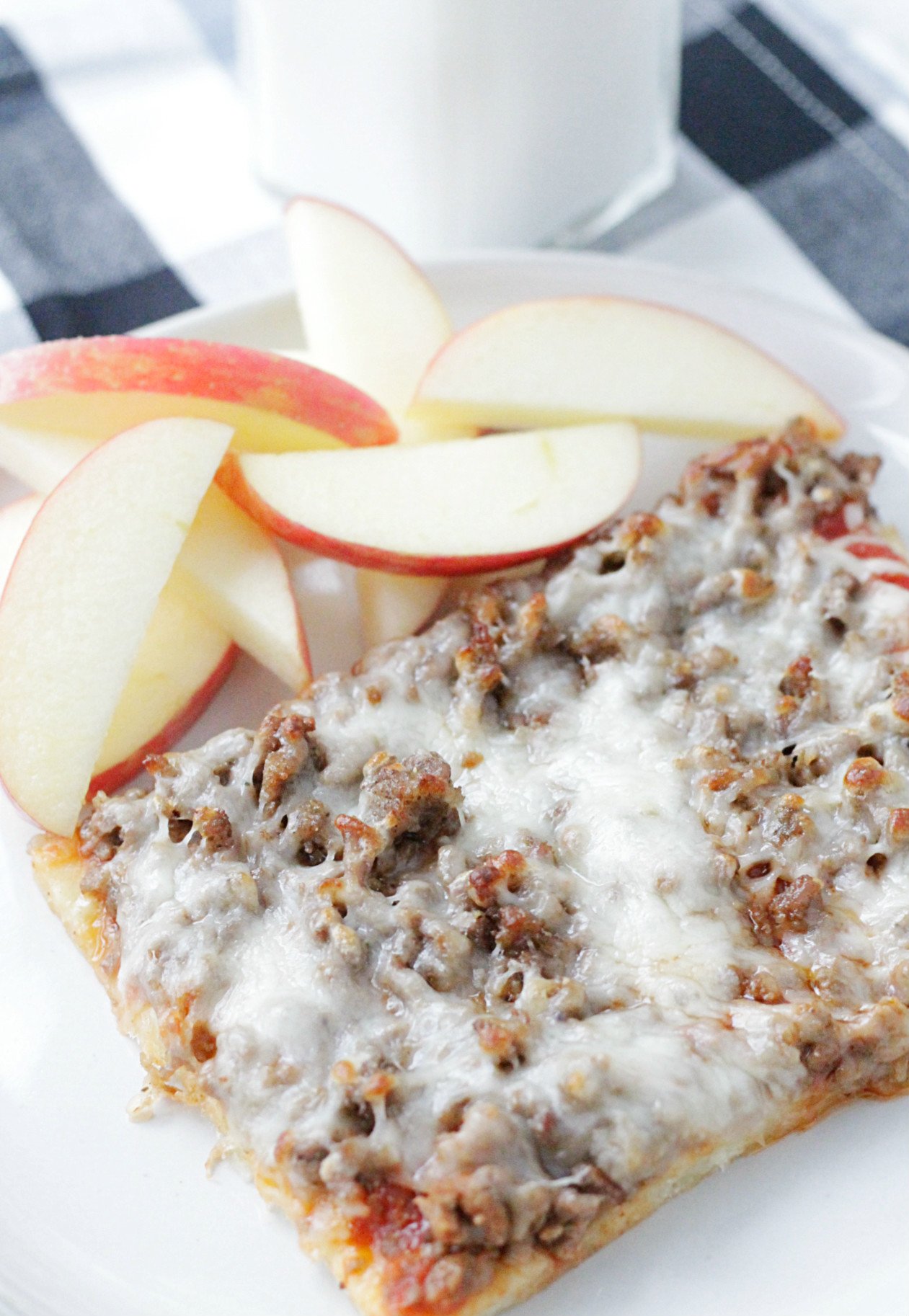 Do you ever think back on your school cafeteria? Is there a lunch food you crave from back in those days before we all became hyper-sensitive to terms like GMO, organic, free-range, gluten-free and keto? I guess because school is starting back again it got me reminiscing about such things. For me, pizza day was when I always bought lunch instead of packing in elementary and middle school. Do you know the pizza I'm talking about? It had the mystery meat topping that was maybe sausage or ground beef, plus that white, gooey cheese with a sheen of grease on the top. Oh man, it was the best! And so this is my version – Copycat Lunch Lady Pizza.
In the past I have revisited such childhood foods like Spaghetti-O's and Twinkies and have decided those are best left to my memories. But this version of what I am calling Copycat Lunch Lady Pizza (or school lunch pizza) is a stand-out update to a retro favorite. In searching for "copycat" recipes, I came across this recipe at here. I used her crust recipe (with a few changes) and then switched the topping to a freshly browned combination of Italian sausage and lean ground beef (to mimic whatever meat was on my school's pizza). The crust kind of reminds me of the Chef Boyardee pizza in a box that my mom used to make.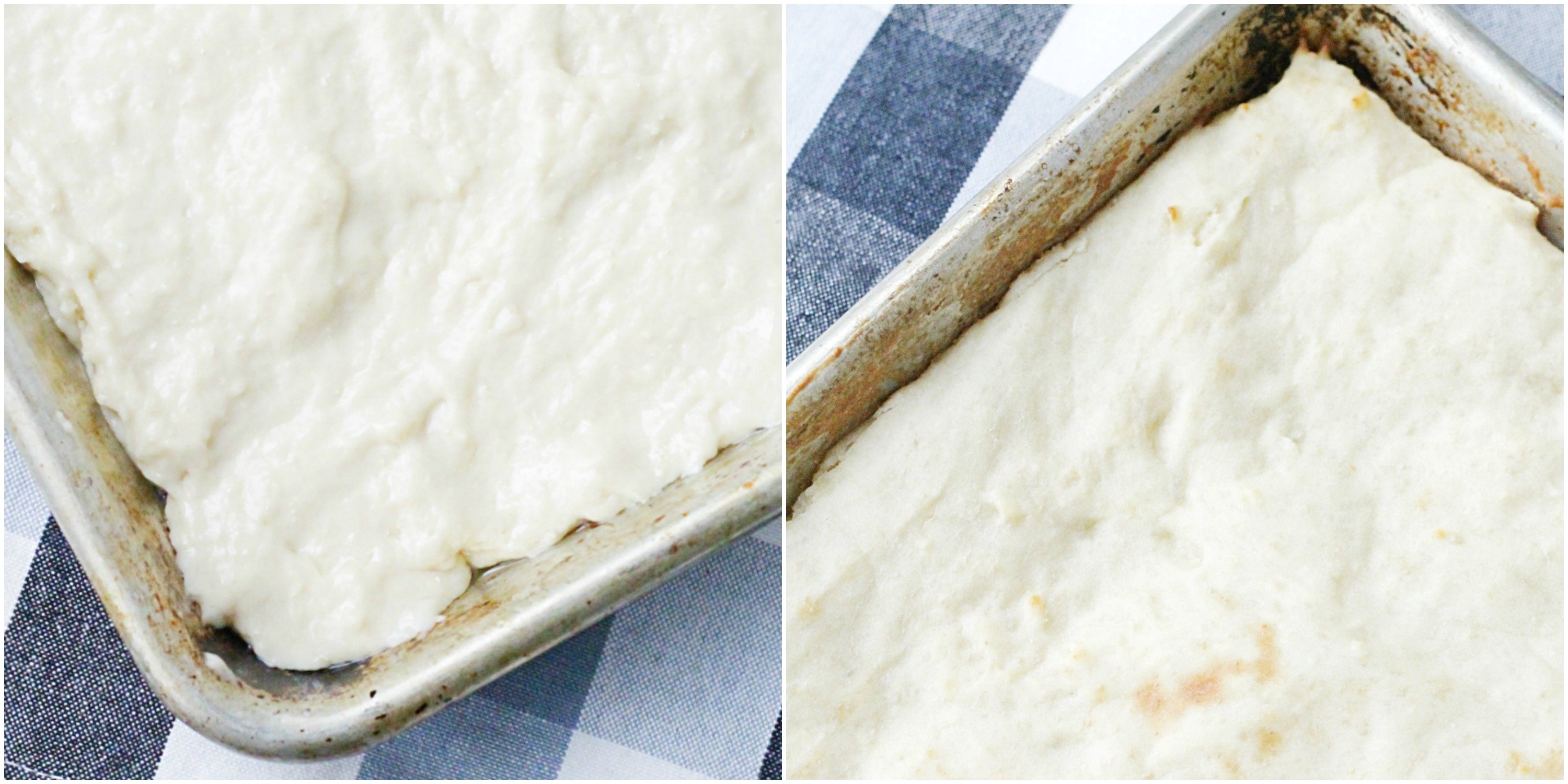 Tips for making Copycat Lunch Lady Pizza:
Use a half sheet pan with a rim for baking the crust
Line the sheet pan with parchment paper to prevent the crust from sticking to the bottom of the pan
Break up the meat as finely as you can while cooking – this kitchen gadget helps with that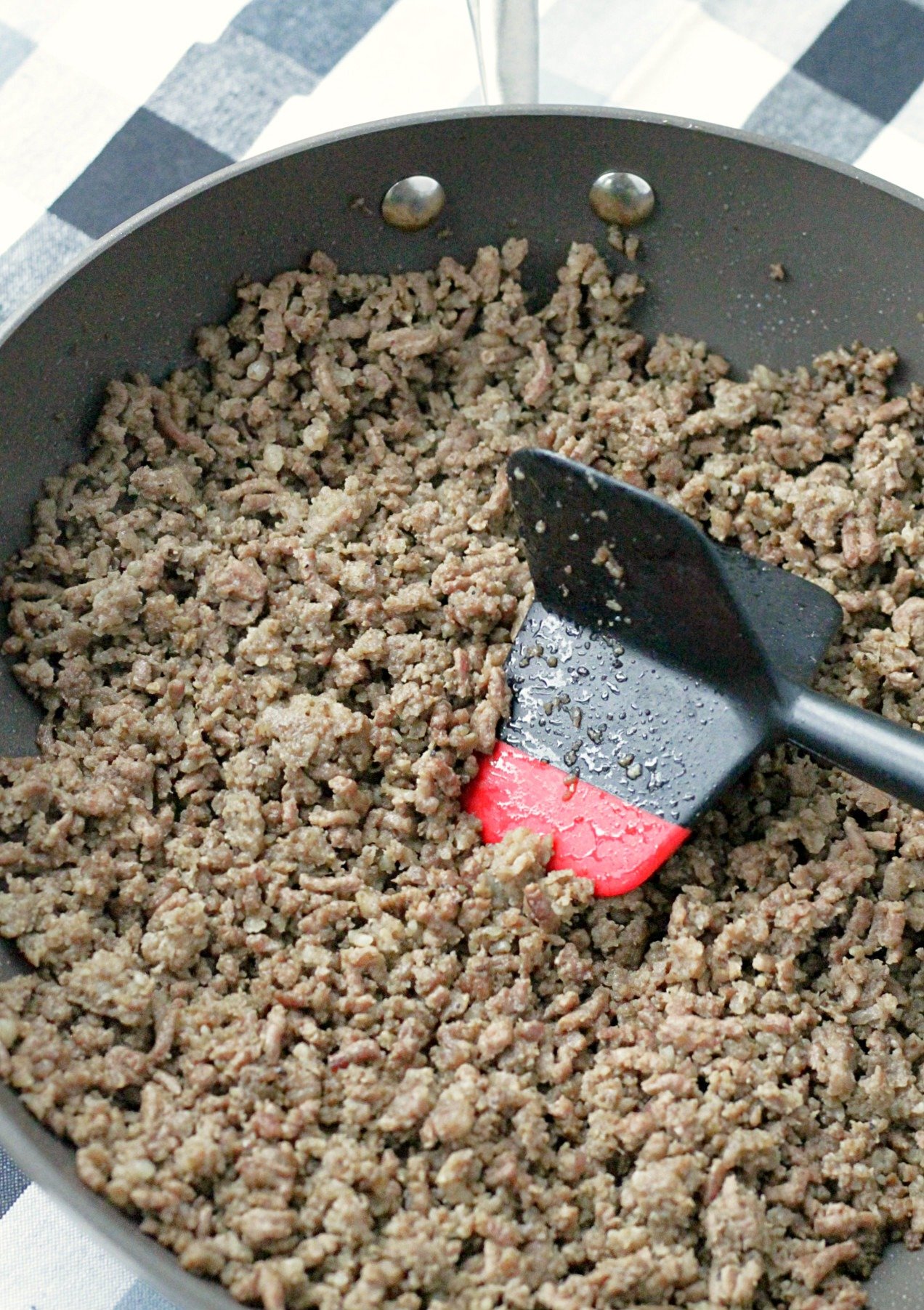 Purchase a block or ball of part-skim shredded mozzarella cheese and shred it yourself – it tastes and melts better than pre-shredded cheese
Dump the crust onto the pan and then allow it to rest for about five minutes before spreading it to the edges of the pan – I find it best to use my finger tips for spreading the crust as it is a rather sticky dough
Foodtastic Mom is a participant in the Amazon Services LLC Associates Program, an affiliate advertising program designed to provide a means for sites to earn advertising fees by advertising and linking to Amazon.com. Any highlighted, clickable Amazon link you see is an affiliate link that I may earn advertising fees on.
Thank you so much for being a faithful reader and supporter of Foodtastic Mom. Be sure to PIN and print this recipe!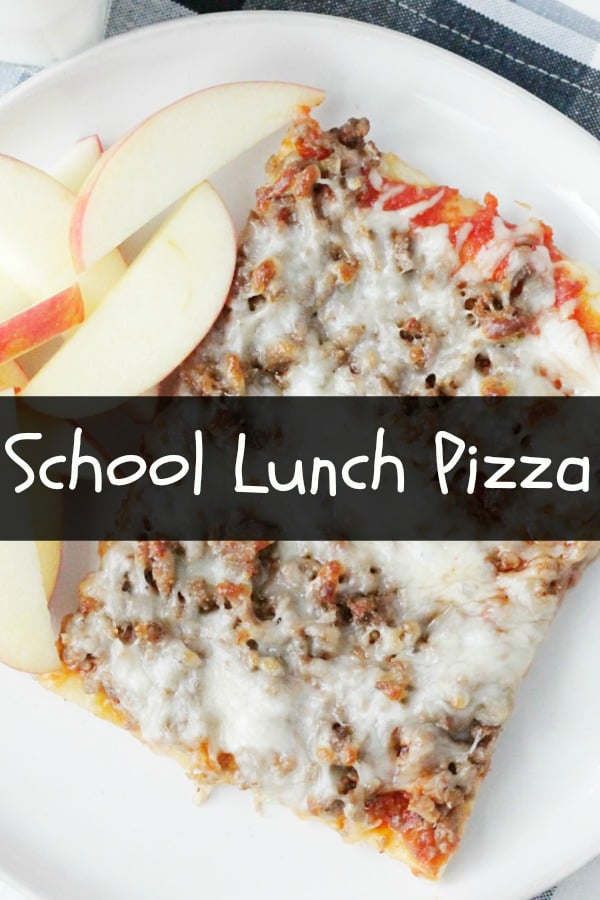 Copycat Lunch Lady Pizza
Who else has fond memories of their school cafeteria rectangular pizza slices? I do and decided to create a version at home - Copycat Lunch Lady Pizza.
Ingredients
2 2/3

cups

bread flour

or all-purpose flour

3/4

cup

non-fat dry milk powder

2

tbsp

sugar

1

packet

quick rise or pizza yeast

1

tsp

salt

1 2/3

cup

warm water

2

tbsp

vegetable oil

1/2

lb

Italian sausage

1/2

lb

lean ground beef

1

jar (12 oz)

pizza sauce

8

oz

part-skim mozzarella cheese

shredded
Instructions
Grease a metal (1/2-sized) sheet pan (18"x13") and line it with parchment paper. Preheat oven to 475 degrees F.

In a large bowl, whisk together the flour, milk powder, sugar, yeast and salt. Microwave the water for about 1 minute and add the oil. Pour the oil and water mixture into the flour mixture and stir with a spatula until a batter is formed. If there are a few lumps remaining, it's OK.

Spread the pizza dough into the prepared sheet pan, being sure the dough is spread evenly and to the edges of the pan. If you are having trouble with the dough spreading to the edges of the pan, allow the dough to rest for at least 5 minutes before spreading it with your fingertips.

Meanwhile, brown the Italian sausage and ground beef together until cooked completely. Drain if necessary and set aside.

Bake the un-topped crust for 6 - 8 minutes. Remove the crust and top with the pizza sauce, then the cooked sausage and beef mixture and then the shredded cheese.

Return the pizza to the oven and bake for an additional 8 - 10 minutes, or until cheese is melted and beginning to brown.

Slice into rectangles and serve.
Nutrition
More pizza recipes: