Breakfast Pizza Bagels are topped with your favorite meats, veggies and cheese – with an egg baked right in the middle. Thank you to the Ohio Egg and Poultry Association for sponsoring this post. All opinions are mine alone.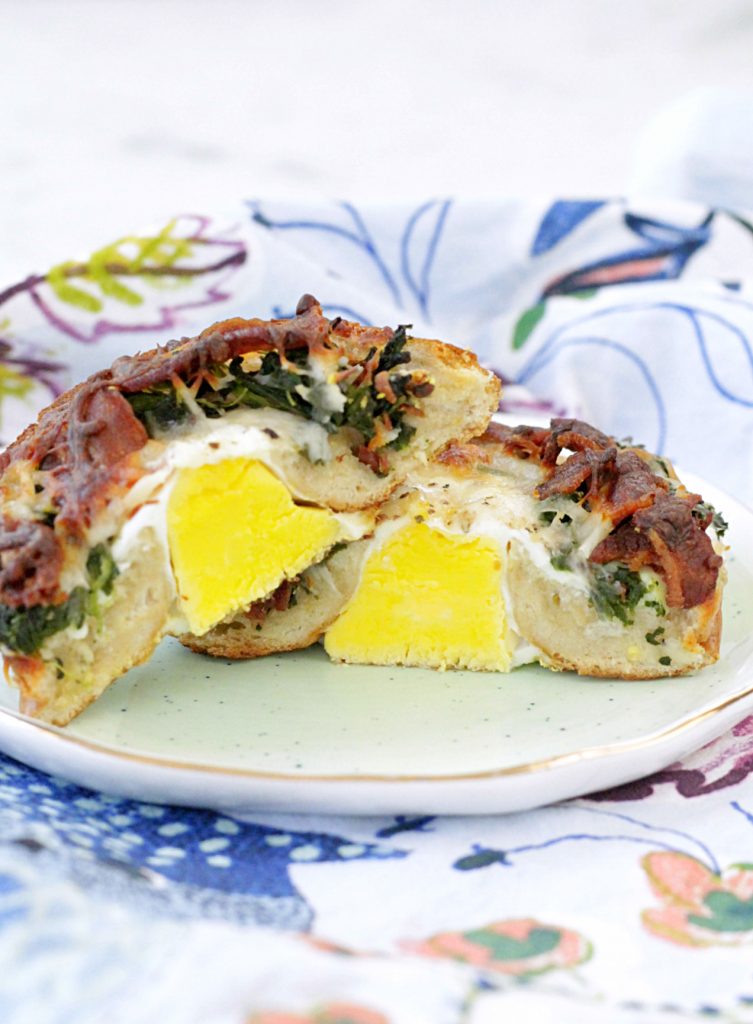 When I started researching recipes for breakfast pizza bagels I was wondering how to make them portable. Often the egg yolk in the middle is left runny but I liked the idea of cracking an egg in the hole of the bagel. Plus I'll be honest, I don't like a runny yolk. I like my eggs fried hard or scrambled. Now that doesn't mean you can't make these breakfast pizza bagels with a runny yolk. You'll just bake them for less time. If your kids can sit and eat their breakfast before hopping on the bus, by all means, let them enjoy their runny yolks!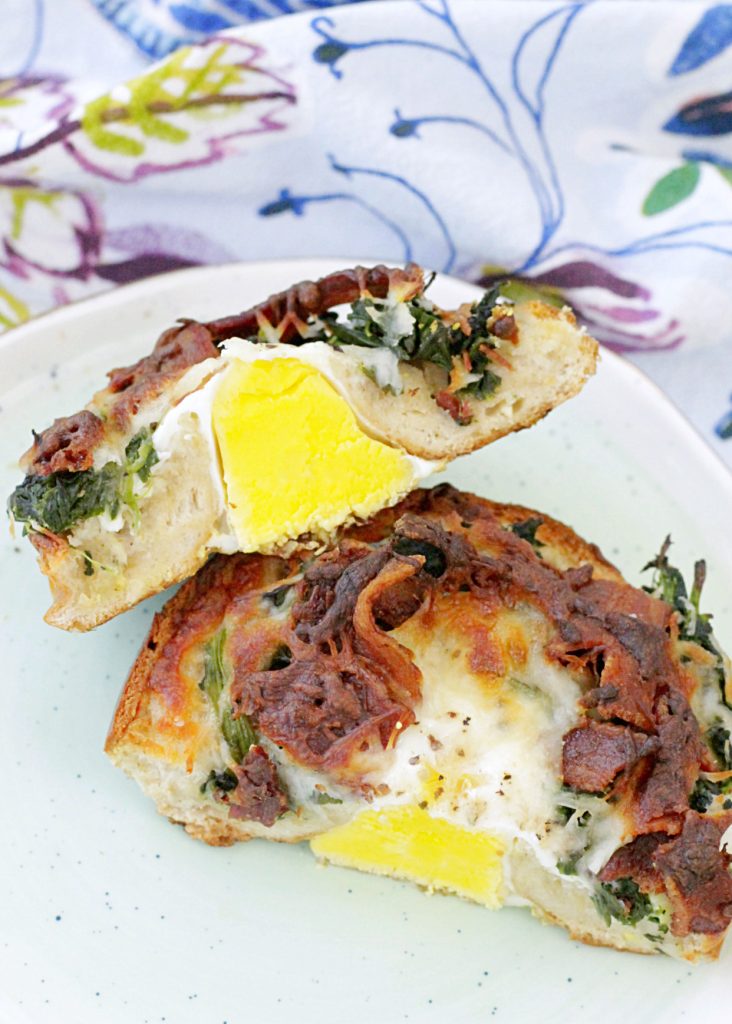 Each year during testing time (my kids are in a great public school system in Ohio) my kids come home and ask me to fix them eggs for breakfast the morning of state testing (which happens several times per year). So when the folks at Ohio Eggs told me a healthy breakfast fuels the brain, and that research shows kids who eat breakfast have higher test scores, improved attendance and better class participation, I was not at all surprised. Not only that but one egg provides 13 essential nutrients and 6 grams of high-quality protein for only 70 calories.
Watch how to make Breakfast Pizza Bagels:
So obviously I'm on board with eggs for breakfast. Specifically Ohio eggs – farmers here in my great state produce more than 9 billion eggs per year! But even my kids get tired of scrambled eggs. So a half a bagel, lightly buttered and topped with favorite toppings, then baked in the oven – that's a convenient, fun and tasty breakfast. I topped these bagels with spinach, cooked bacon and mozzarella. What would you top yours with?
PIN THIS RECIPE

Breakfast Pizza Bagels
Ingredients
2

plain

bagels

split

2

tbsp

butter

divided

4

large

eggs

1/2

cup

frozen spinach

thawed and drained

1/2

cup

bacon

cooked and crumbled

1

cup

mozzarella cheese

shredded

salt and pepper
Instructions
Preheat oven to 450 degrees.

Line a sheet pan with parchment paper.

Place bagel halves, cut side up, in a single layer on the parchment paper.

Butter each bagel half. Crack one egg into the center hole of each bagel half.

Top each bagel half with two tablespoons of spinach, two tablespoons of cooked bacon and 1/4 cup of shredded mozzarella cheese. Season to taste with salt and pepper.

Bake bagels for 10 - 15 minutes, or until egg yolk is cooked through.

Optional Topping Ideas: Ham, chopped green pepper and onions, cheddar cheese; Cooked mushrooms, Gruyere cheese; Sausage, chopped artichoke hearts, provolone cheese; Tomato sauce, pepperoni, mozzarella cheese