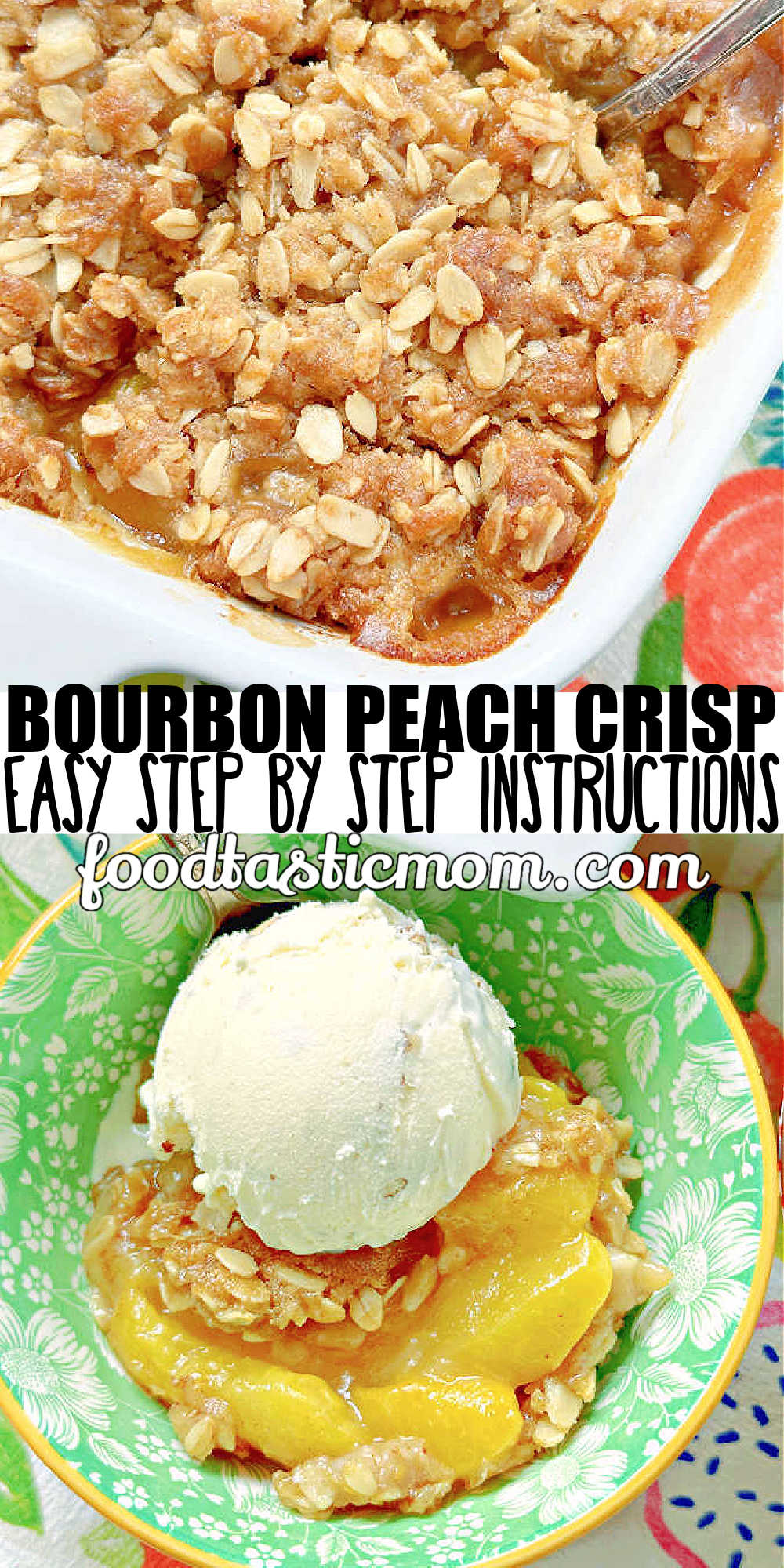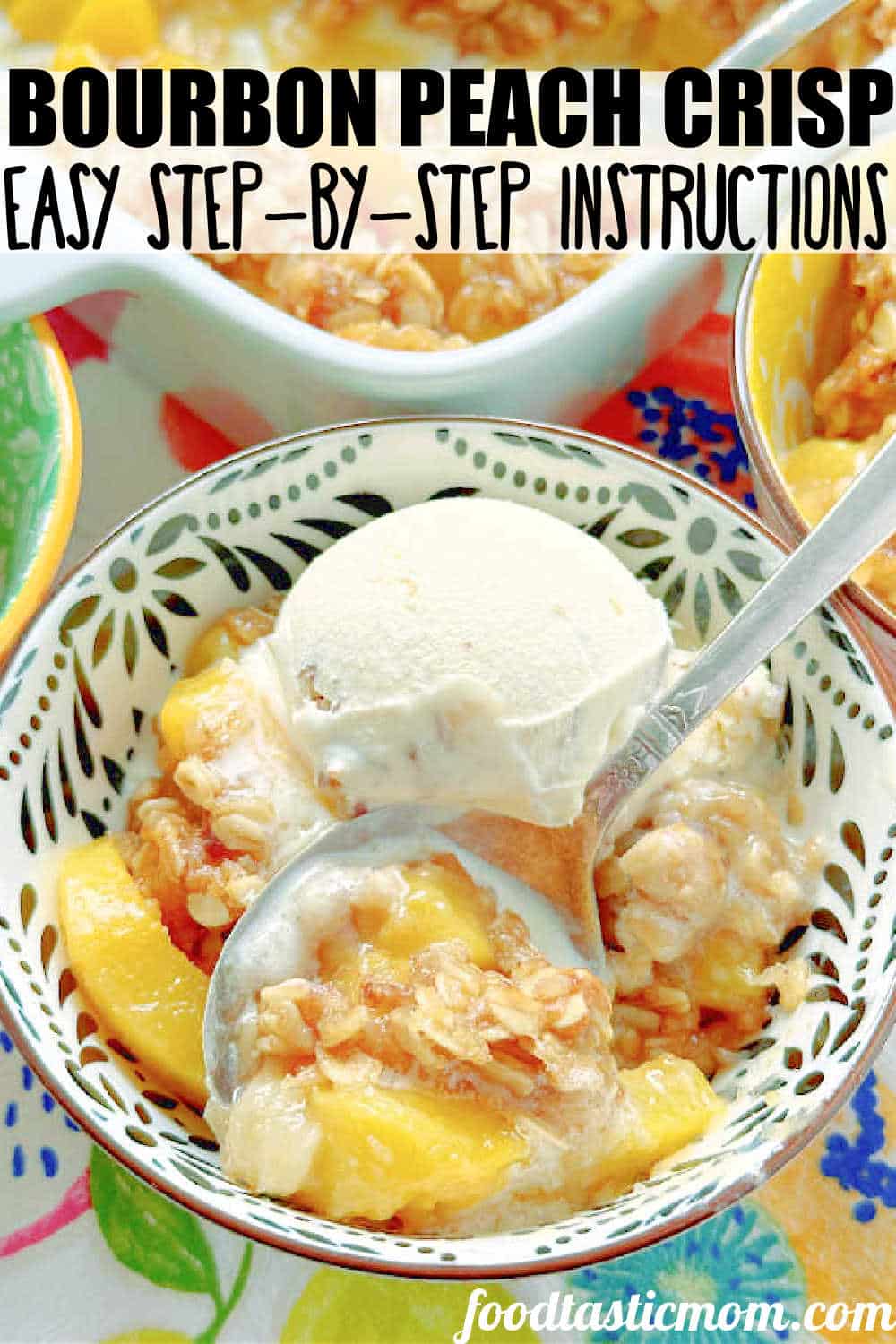 Bourbon Peach Crisp is the perfect dessert to show off the season's best peaches, kissed with bourbon and maple syrup flavor and the most delicious crumble topping.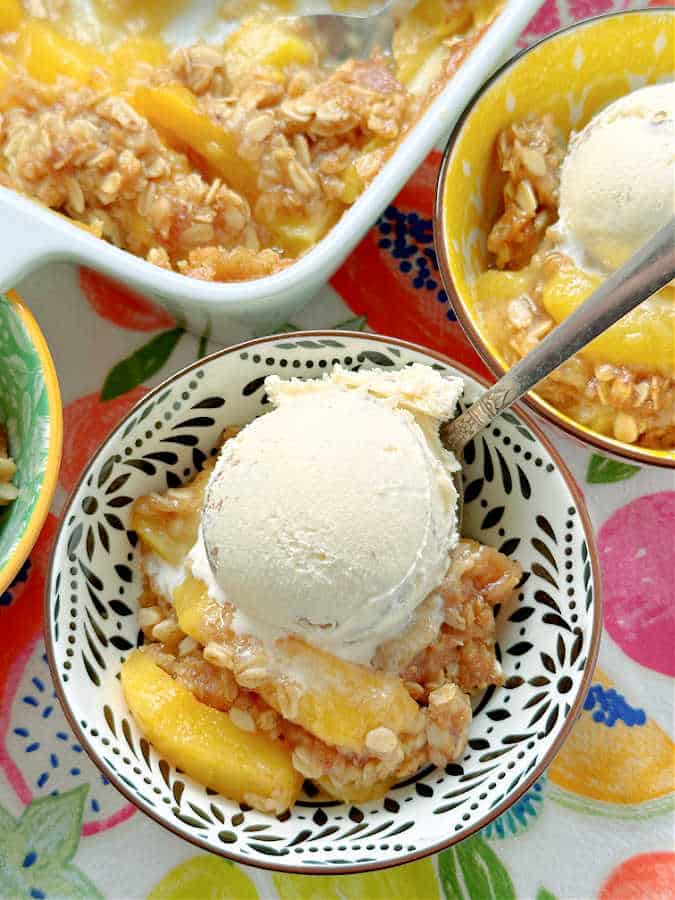 Crisps are my absolute favorite dessert to show off fresh (or frozen) fruit. Apples, berries, peaches, pear, plums, nectarines – they all provide a fresh and fruity canvas for the buttery, crisp topping. Stirring together oats, flour, butter, brown sugar, sometimes some pecans or walnut and then sprinkling it atop the fruit filling is so much simpler than making a homemade pie crust. Don't get me wrong, I love a good pie dough. However, I myself have never been able to achieve a perfect pie crust. I have to buy my pies. But I can make a perfect crisp dessert that never, ever disappoints.
More crisp recipes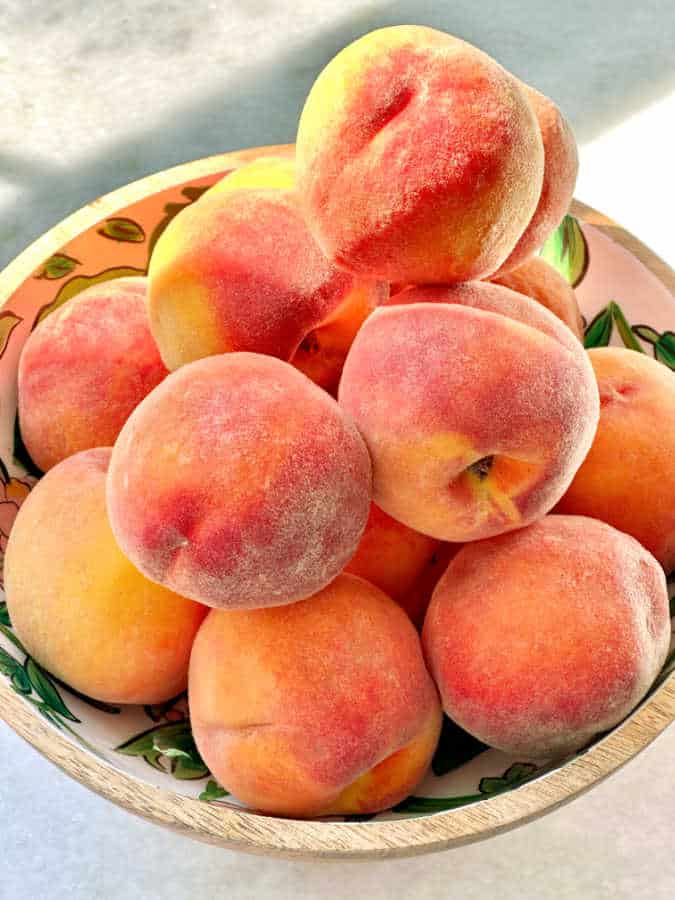 Why this recipe works
Here in Ohio, the best time for me to find perfectly ripe peaches is in late August. It's a brief and glorious season. There's nothing like a perfectly ripe peach that pops right off the pit. Firm but soft and sensuous with that intoxicating and intense peach flavor. In Ohio or anywhere north of the Mason Dixon line, fresh peaches can be hard as rocks, mealy, flavorless and just plain disappointing. So in that brief time that I can find perfect peaches, I make all the peach things, including this crisp dessert.
Bourbon and maple flavors hold hands with the peaches and guide them to autumn's doorstep. Topped with buttery brown sugar oat topping and scoops of vanilla ice cream, this is the perfect gateway dessert between summer and fall. The only problem with bourbon peach crisp is how truly addictive it is. I made one recipe and proceeded to eat most of the rest of it all by myself through the week. It's fruit and oats after all – top it with some yogurt instead and you can call it breakfast!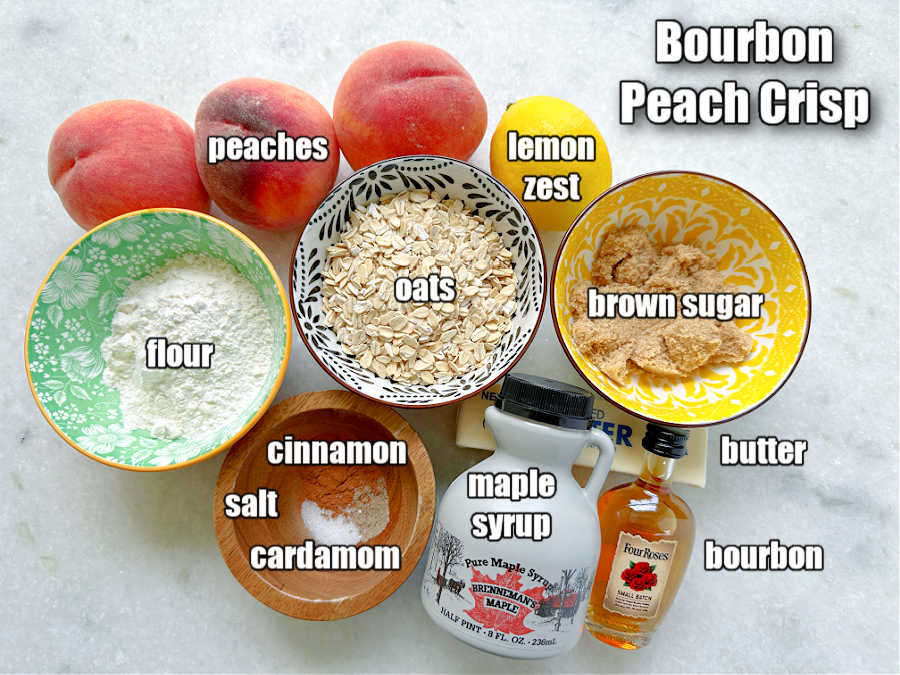 Ingredients for bourbon peach crisp
Peaches – If you can find perfectly ripe peaches, use them! Otherwise use frozen peaches for this crisp. I don't recommend using canned peaches.
Butter – One of the key ingredients for the oat topping.
Oats – Use old-fashioned rolled oats, not quick cooking oats.
Brown Sugar – Light brown sugar provides just enough sweetness to both the peach filling and the crisp topping.
Flour – All purpose flour helps to both thicken the peach filling so it is not runny and provides structure to the crust. Since there is flour in the topping, I didn't think it made sense to add cornstarch to thicken the natural juices from the peaches. I use flour for both.
Bourbon – This is technically optional but it really adds to the flavor and makes this dessert a little more fancy and grown-up. I prefer to use 100 proof bourbon whiskey.
Maple Syrup – The flavor of maple syrup pairs perfectly with the warm flavors in the bourbon.
Lemon Zest – Helps to brighten the flavor of the crisp, you could use orange zest instead of lemon if you prefer.
Cinnamon – Adds warmth and more depth of flavor to the crisp.
Cardamom – Adds bright and exotic notes, bridging the warmth of the cinnamon and the zing of the lemon zest and fresh peaches.
Salt – A pinch of salt helps to balance out the sweet flavors.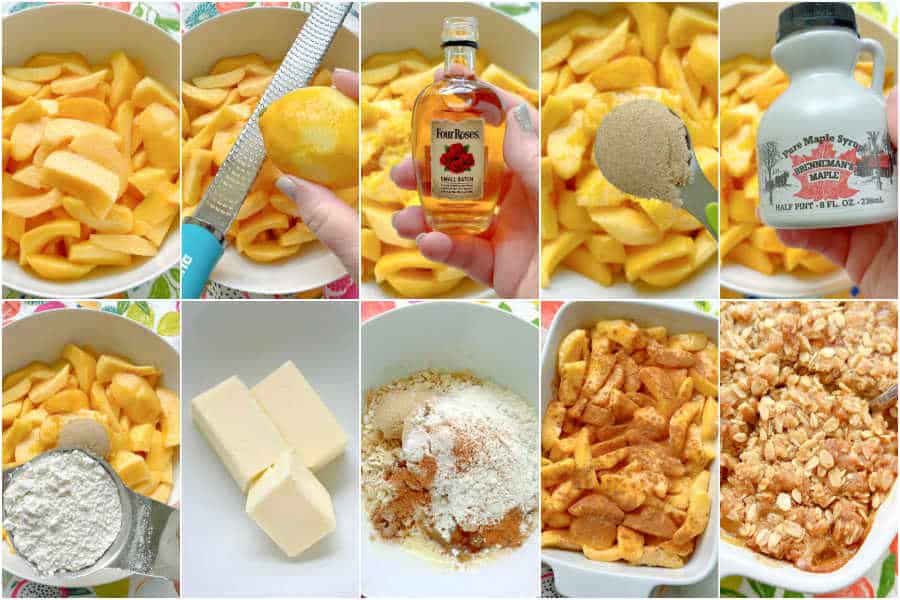 Instructions for bourbon peach crisp
Peel, pit and thinly slice the peaches. Gently toss them with a little flour, brown sugar, bourbon, maple syrup, and lemon zest. Spread them evenly into a baking dish and sprinkle with cinnamon and cardamom.
Melt the butter. Stir in the remaining flour, brown sugar, the oats, cinnamon, cardamom and pinch of salt. Use your fingers or a spoon to evenly sprinkle and/or spread the topping over the peaches.
Bake the crisp in a 350 degree F oven for about 1 hour or until the topping is lightly browned and fruit filling is bubbling. Allow the crisp to cool and serve with scoops of vanilla or butter pecan ice cream.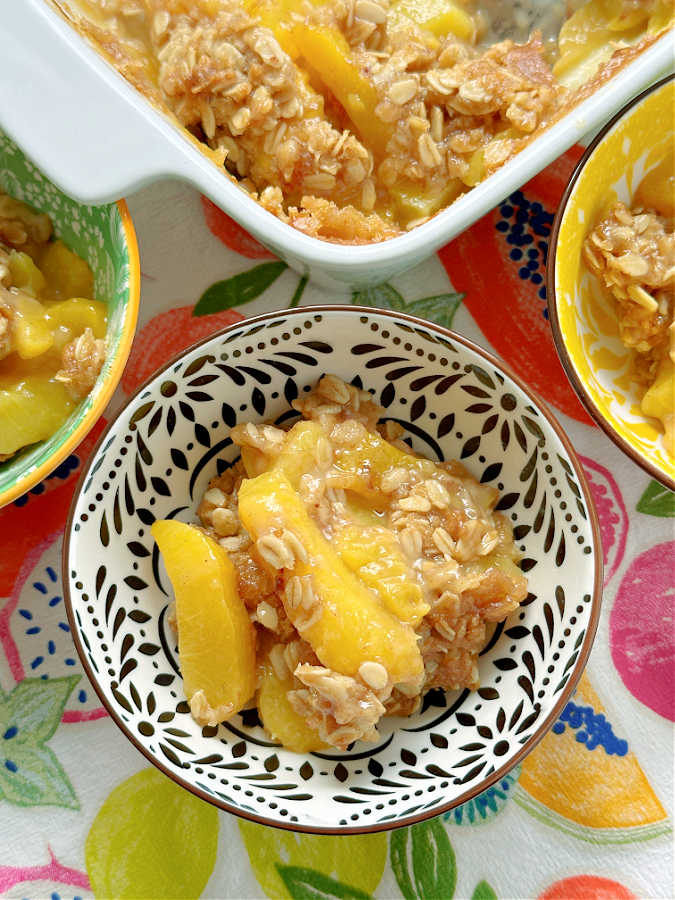 FAQ's
How do you keep peach crisp from getting soggy?
The key is allowing your crisp to cool completely. Keep it uncovered and allow it to cool for 2 – 3 hours before covering it loosely with plastic wrap. If you cover the crisp while it is still warm, steam will collect and make the topping get a little soggy.
What does it mean when a peach is mealy?
Mealy in reference to stone fruit or pears means a gritty, stringy and juiceless texture. Temperature fluctuations after harvest cause this. Keeping fresh fruit in cold storage to transport is the reason for mealy peaches.
What can I make with mealy peaches?
Turn them into peach syrup. Add them to a smoothie. Or make peach jam with them. You could put them into a pie or peach cobbler. But I personally prefer to show off the best quality peaches in my recipe for bourbon peach crisp.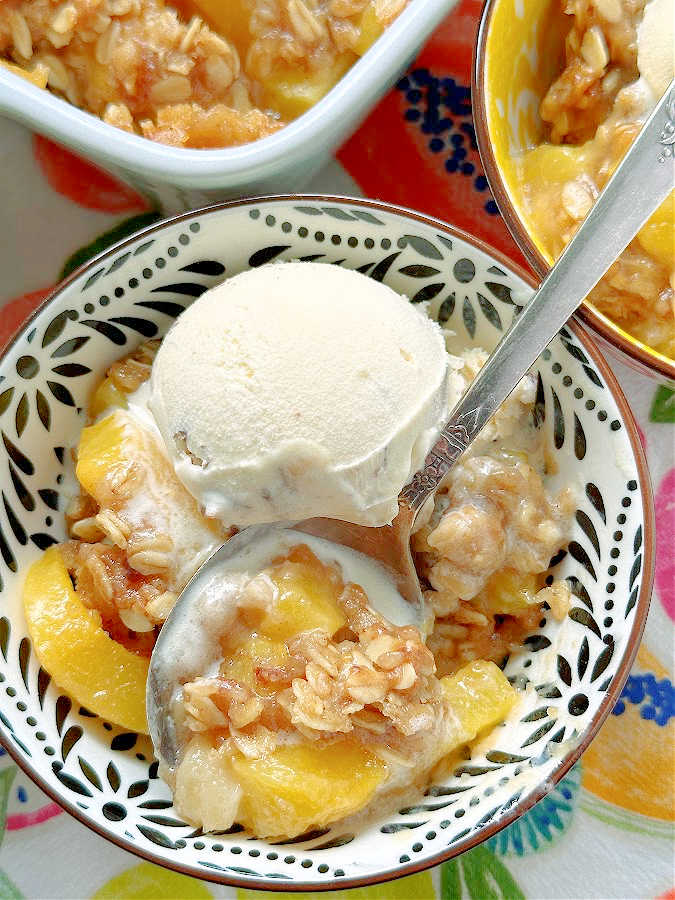 Storage directions
Homemade crisp needs to be refrigerated because of the butter. Store it in an airtight container (after cooling completely) in the refrigerator for up to one week. I like to eat it cold, especially in the morning, topped with some plain Greek yogurt. You could also reheat it in the oven to warm it back up and dry out the topping. Preheat the oven to 350 degrees F and bake the crisp in an oven safe dish, uncovered, for 15 minutes.
Serving suggestions
Topping warm fruit crisp with vanilla ice cream is my favorite way to serve it. Although I think this bourbon peach crisp pairs best with butter pecan ice cream. Homemade whipped cream or yogurt are great topping choices too. Or make peach crisp as a dessert for an end of summer meal of smoked ribs, corn on the cob and sliced tomatoes.
Kitchen tools
Bourbon Peach Crisp
Bourbon Peach Crisp is the perfect dessert to show off the season's best peaches, kissed with bourbon and maple syrup flavor and the most delicious crumble topping. 
Ingredients
Peach Mixture
5

cups

peaches

1/4

cup

all-purpose flour

3

tbsp

bourbon

2

tbsp

light brown sugar

2

tbsp

pure maple syrup

1/2

tbsp

lemon zest

1/2

tsp

cinnamon

1/4

tsp

cardamom
Crisp Topping
10

tbsp

butter

melted

1 1/4

cups

old fashioned oats

3/4

cup

light brown sugar

1/3

cup

all-purpose flour

1

tsp

cinnamon

1/4

tsp

cardamom

1/4

tsp

salt
Instructions
Preheat the oven to 350 degrees F.

Peel, pit and slice the peaches and put them in a large bowl.

Add 1/4 cup of flour, bourbon, 2 tbs of light brown sugar, pure maple syrup and lemon zest. Stir gently until evenly mixed. Spread the peaches evenly into a greased baking dish (8x8 square or 9x7 rectangle).

In a microwave safe measuring cup or bowl, melt the butter. To the melted butter add the oats, remaining brown sugar and flour, cinnamon, cardamom and salt. Toss gently to coat. Use your fingers or a spoon to evenly crumble the topping over the top of the peach mixture.

Bake the crisp for about one hour, or until the topping is lightly browned and the filling is bubbling.

Allow to cool, uncovered, on the counter for at least one hour before serving.
Nutrition
Calories:
488
kcal
|
Carbohydrates:
70
g
|
Protein:
5
g
|
Fat:
21
g
|
Saturated Fat:
12
g
|
Polyunsaturated Fat:
1
g
|
Monounsaturated Fat:
5
g
|
Trans Fat:
1
g
|
Cholesterol:
50
mg
|
Sodium:
275
mg
|
Potassium:
308
mg
|
Fiber:
4
g
|
Sugar:
46
g
|
Vitamin A:
1003
IU
|
Vitamin C:
6
mg
|
Calcium:
62
mg
|
Iron:
2
mg
Foodtastic Mom is a participant in the Amazon Services LLC Associates Program (Amazon Associate), an affiliate advertising program designed to provide a means for sites to earn advertising fees by advertising and linking to Amazon.com. Any highlighted, clickable Amazon link you see is an affiliate link that I may earn advertising fees on when you click to purchase.
Thank you so much for being a faithful reader and supporter of Foodtastic Mom. Be sure to PIN to Pinterest and print this recipe! Also like and tag 'Foodtastic Mom' on Facebook and Instagram if you make this recipe!