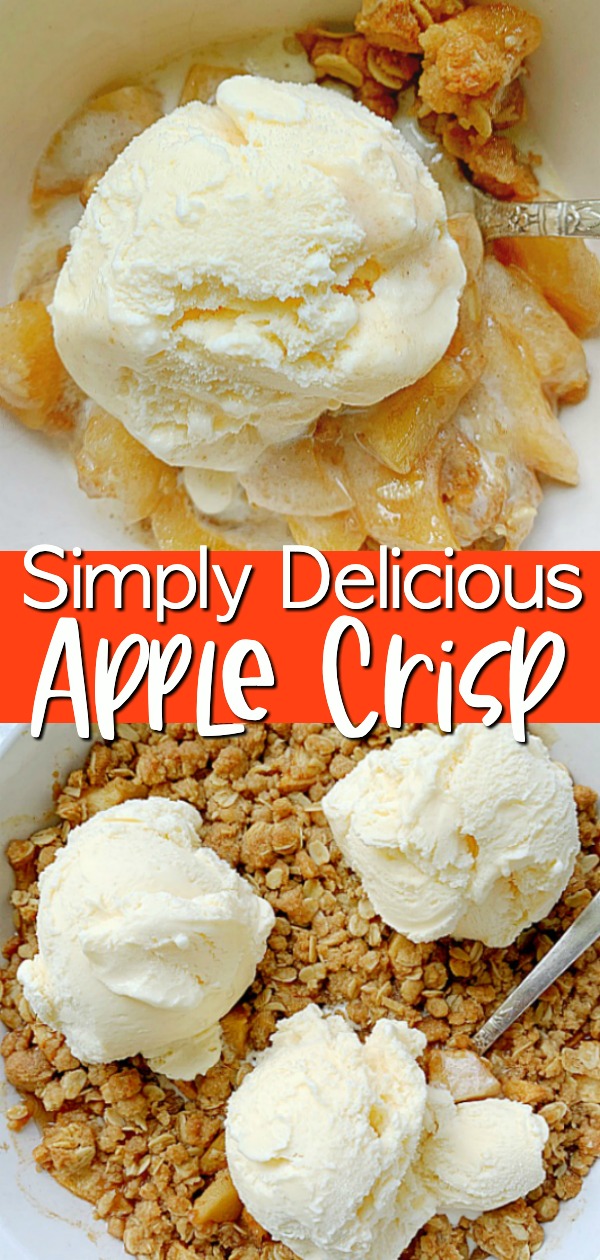 This Simply Delicious Apple Crisp is a tried and true recipe that is perfect for showing off the season's best apples.
If I had to choose between an apple pie and apple crisp for dessert, I'd probably choose the crisp. What about you? There's something about the crumbly, buttery texture of the topping. The baked apples that taste of caramel and cinnamon. All under a pool of melted vanilla ice cream. Plus making the topping is a cinch compared to rolling out a homemade pie crust. At least it is for me. This Simply Delicious Apple Crisp takes hardly any time at all. And then baking it in the oven makes your house smell like Fall.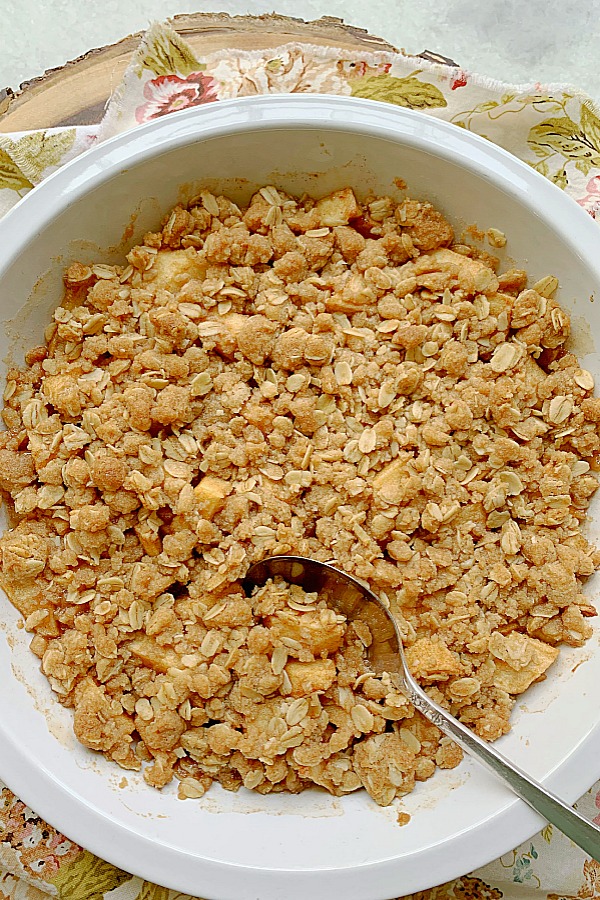 Which Apples are Best?
I've made this recipe many times over the years. And I can assure you that the type of apple you choose does make a difference. Gala Apples for example are not a good choice. They are too sweet and just don't have a well rounded flavor when baked. Here are the best apples for making this dessert…
Granny Smith
Jonagold
Honeycrisp
Braeburn
Mutsu
Winesap
Pink Lady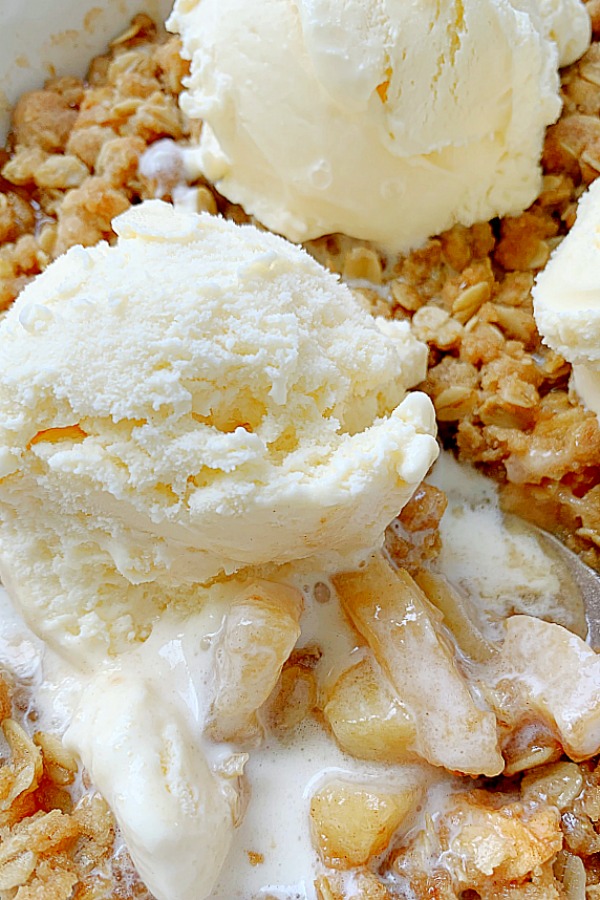 How to Make Apple Crisp
Preheat your oven to 375 degrees F. Prepare your apples. I personally prefer peeled apples instead of unpeeled. And I just use a pairing knife to cut them into about 1-inch size slices. They do not need to be uniform. This is a rustic and unfussy dessert.
Toss the cut apples with cinnamon, sugar and a little lemon juice. Spread them into a glass baking dish. Stir together the topping ingredients. Sprinkle it evenly over the apples. Bake until browned and bubbly. Serve with ice cream.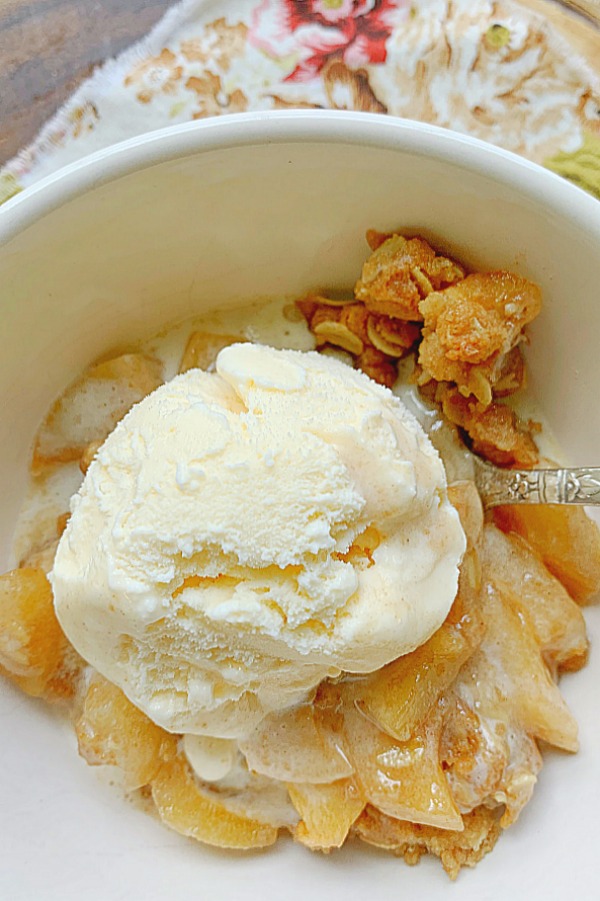 Does Apple Crisp Need to be Refrigerated?
The short answer is no. I've never had this dessert last for more than two days in my house. Usually it's all eaten in the same day. Apple crisp is safe on the counter and covered in plastic wrap for up to two days. After that, if there's still any left, it does need to be refrigerated.
Foodtastic Mom is a participant in the Amazon Services LLC Associates Program, an affiliate advertising program designed to provide a means for sites to earn advertising fees by advertising and linking to Amazon.com. Any highlighted, clickable Amazon link you see is an affiliate link that I may earn advertising fees on.
Thank you so much for being a faithful reader and supporter of Foodtastic Mom. Be sure to PIN and print this recipe!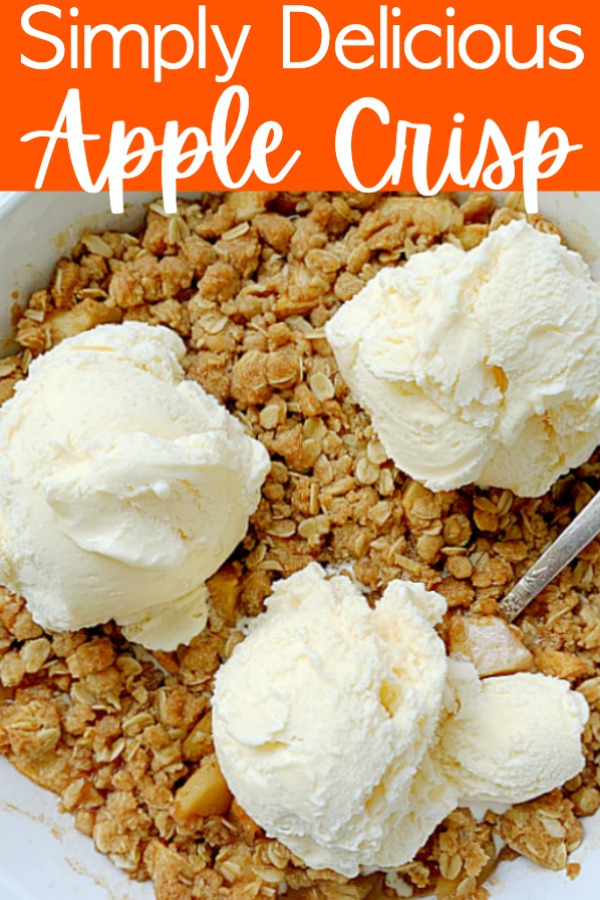 Simply Delicious Apple Crisp
This Simply Delicious Apple Crisp is a tried and true recipe that is perfect for showing off the season's best apples. 
Ingredients
4

cups

apples

peeled and sliced

1/4

cup

granulated sugar

1/2

tsp

cinnamon

2

tsp

fresh lemon juice

4

tbsp

unsalted butter

melted

1/3

cup

all-purpose flour

1/3

cup

old-fashioned (rolled) oats

1/4

cup

light brown sugar

1/2

tsp

cinnamon

1/4

tsp

nutmeg

1/8

tsp

cloves

1/4

tsp

salt
Instructions
Preheat oven to 375 degrees. Spray a shallow glass baking dish with cooking spray.

In a bowl, toss the apples together with 1/4 cup of granulated sugar, 1/2 teaspoon of cinnamon and lemon juice. Spread evenly in the bottom of the baking dish.

In a separate bowl, whisk together the flour, oats, brown sugar, remaining 1/2 teaspoon of cinnamon, nutmeg, cloves and salt.

Stir the melted butter into the flour and oat mixture until evenly combined.

Use your hands to crumble the crisp topping evenly over the apples.

Bake the crisp for 35 - 40 minutes, until the top is lightly browned. Serve warm topped with ice cream.
More Apple Desserts