These Blueberry Oat Bagels are a terrific weekend baking project!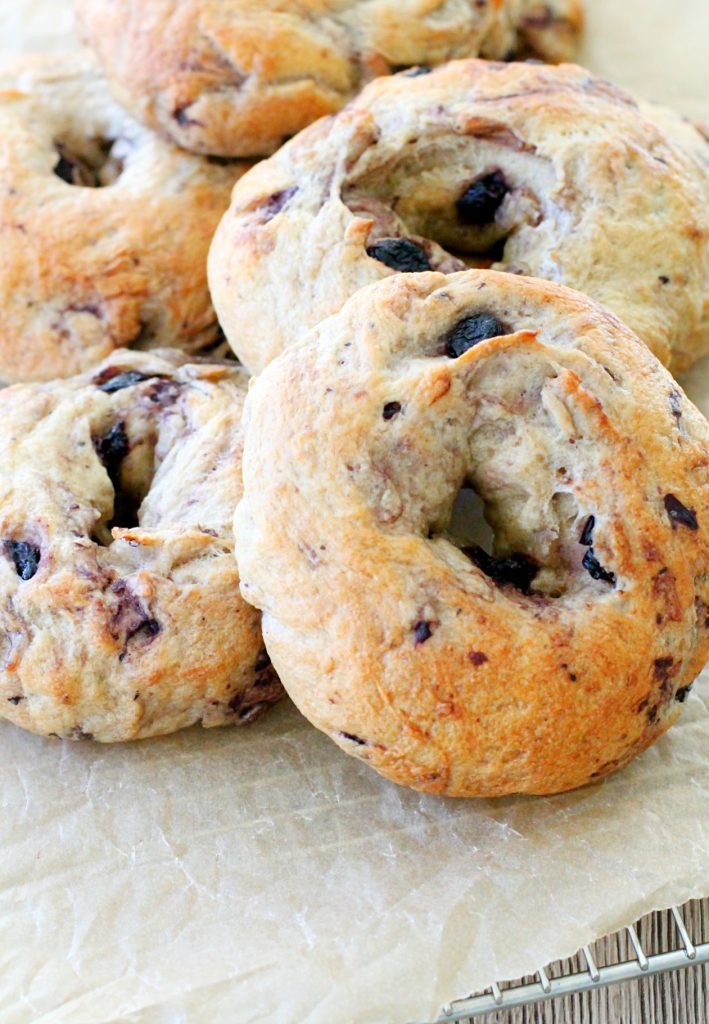 These Blueberry Oat Bagels are my first attempt at homemade bagels and I can assure you that after this first experience I want to make more. Part bread flour, part oat flour – these yeasted bagels are flavored with dried blueberries. Your store-bought and most bakery varieties can't compare!
I had an urge to knead some dough this morning. I find it to be a very therapeutic activity. I'd pinned a version of these Blueberry Bagels a long time ago because blueberry is my children's favorite bagel flavor. They're happy with the kind I can buy at Kroger but homemade is always better.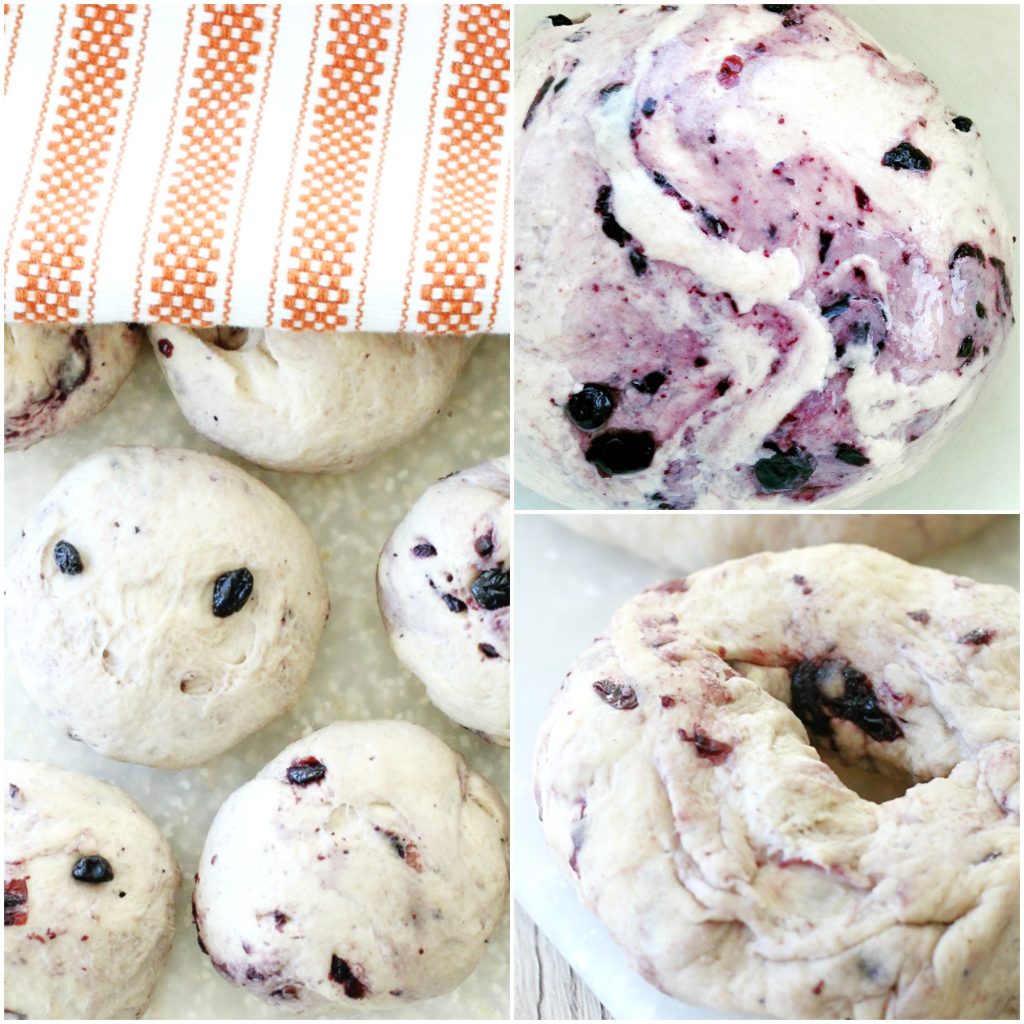 Now let's be completely honest…. would I make bagels from scratch each and every week? I doubt I could find the time. But as a once per month or so treat? Absolutely! The texture and flavor plus the heavenly smell coming from my oven today made it definitely worth it! Plus oftentimes I buy extra bagels and freeze them. So I'm going to freeze a few of these too for later.
This dough was very easy to work with. It wasn't sticky and making the bagel holes was easier than I thought it would be. Other than finding time for the dough to rise and then being patient while the bagels both boil and bake this recipe is appropriate for a novice baker. Just think how impressed your friends and family would be to find you've made homemade bagels!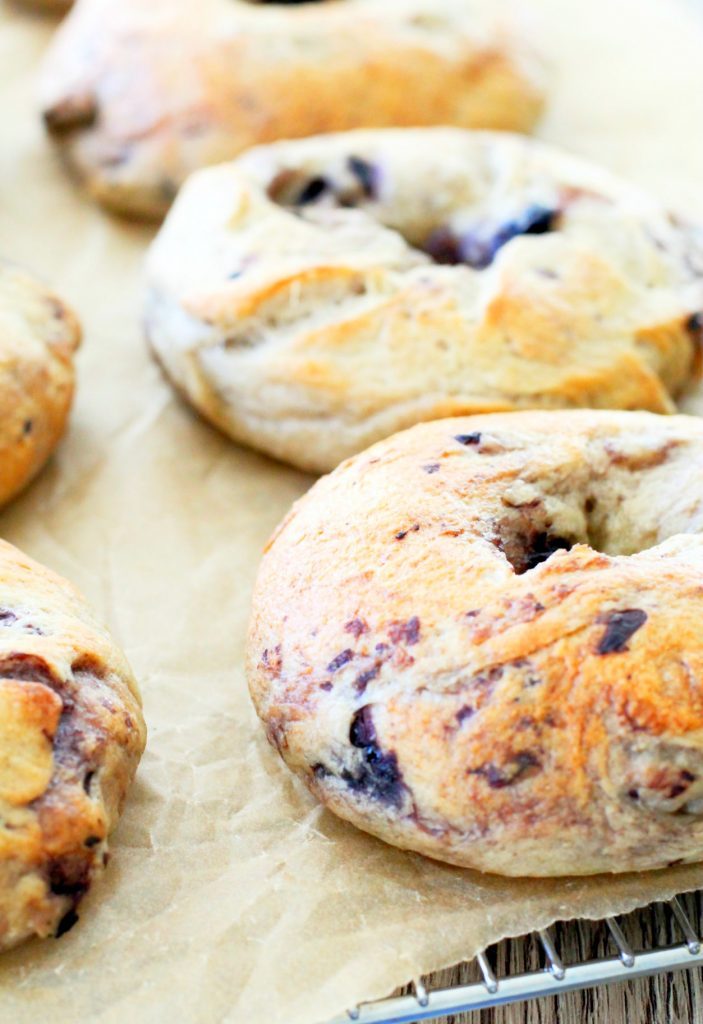 I prefer my bagels toasted with a smear of cream cheese but I think these would be really great with butter and jam too. My kids came home from school and just grabbed one and went outside to shoot hoops – no cream cheese or other toppings needed. It's a gorgeous day here! Why not Pin these bagels for a weekend baking project? They are fun to make and yummy to eat.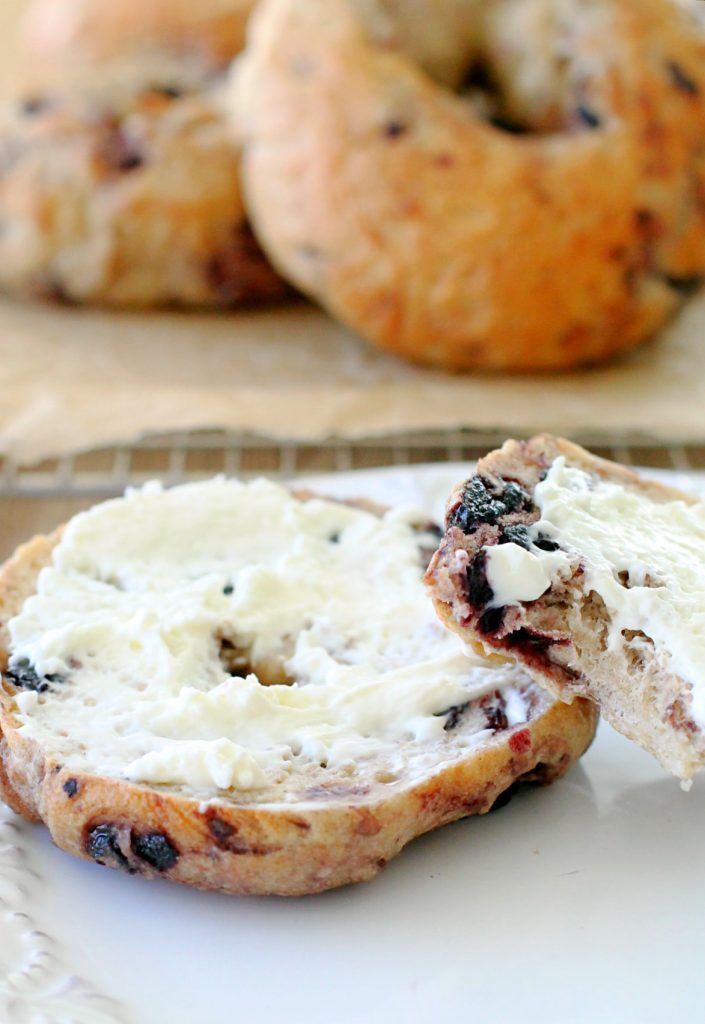 Blueberry Oat Bagels
Part bread flour, part oat flour – these yeasted bagels are flavored with dried blueberries.
Ingredients
1

pkg

yeast

2 1/2

cups

bread flour

1 1/2

cups

oat flour

2

tsp

salt

1

tbsp

light brown sugar

1 1/2

cups

lukewarm water

1

tbsp

vegetable oil

1

pkg (3 oz)

dried blueberries

8

cups

water

2

tbsp

light brown sugar

1

tbsp

granulated sugar
Instructions
Combine the yeast, bread flour, oat flour, salt, brown sugar and warm water in the bowl of your stand mixer. Using the dough hook attachment on low speed, knead until the dough is smooth, about 7 minutes. Add the dried blueberries and knead for 5 more minutes. The dough should be stiff and smack the sides of the bowl.

Coat a large bowl with about a tablespoon of vegetable oil and add dough. Roll the dough ball around to coat it in oil. Loosely cover with plastic wrap and let the dough sit in a warm place for about 1 hour. The dough should be roughly doubled in size.

Gently deflate the dough and turn it out onto a clean cutting board. Divide the dough into 8 equals portions - I used a chef's knife to cut the dough. Roll each piece of dough into a ball and loosely cover the balls with plastic wrap. Allow the dough balls to rise for 30 minutes.

In a wide, shallow pan, combine the two quarts of water with the sugars. Bring to a boil then reduce to a simmer. Preheat oven to 425 degrees F.

To shape the bagels, poke a hole in the middle of each dough ball. Twirl the dough around the index fingers of your two hands until the hole stretches to about 2 inches. Place the newly formed bagel on a parchment or silpat covered baking sheet. Shape the remaining dough balls.

Drop the bagels, 3 or 4 at a time, into the simmering water. Simmer the bagels for 2 minutes and flip over to simmer for another minute. Remove the bagels from the water bath with a large slotted spoon and let cool for a few minutes on the parchment-lined baking sheet.

Bake the bagels for 20-25 minutes, or until your bagels are golden brown. Remove from the oven and allow to cool on a rack.
Nutrition
More baking recipes:
Reader Interactions