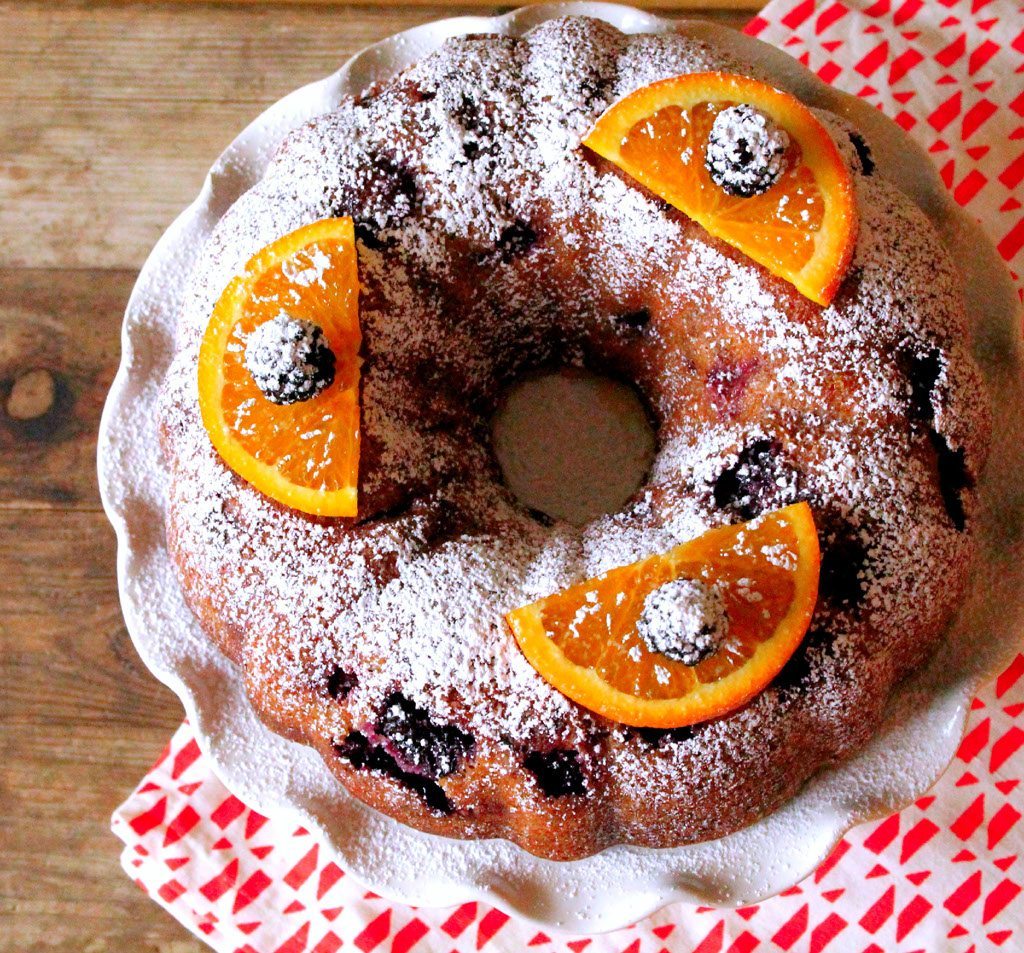 Two dessert posts in a row… I know, right? In my defense this has been a clean-out-the-freezer-and-pantry week around here, so not much blog-worthy for dinners these past few days. Also, I signed up to make and take a dessert for my children's teachers for their dinner on Conference Night tonight. I Google-searched again for my inspiration to successful results because not only did I find this Bundt cake recipe (from pastry chef Bill Yosses who is currently working in the White House kitchen) but also when I went to Kroger to buy my ingredients, blackberries were on-sale for .97 (that's cents!) per pint. The sale is still going on, so get out and stock-up on those delicious blackberries and make this cake with them!
Blackberry Bundt Cake with Orange Glaze
Ingredients
for the cake

2 2/3

c.

all-purpose flour

1

T.

baking powder

1/2

t.

baking soda

1/2

t.

salt

pinch

of cardamom

2

sticks unsalted butter

1 3/4

c.

white sugar

4

large eggs

at room temperature

2

t.

vanilla extract

1/2

c.

buttermilk

2

pints

blackberries

about 1 pound, rinsed and dried

for the orange glaze

1/2

c.

fresh orange juice

1/2

c.

confectioners' sugar
Instructions
Preheat the oven to 350 degrees. Grease a 2-quart nonstick Bundt pan with butter, then spray lightly with non-stick cooking spray.

In small bowl, whisk flour with baking powder, baking soda, salt and pinch of cardamom. In large bowl, beat the butter and sugar with a hand mixer on medium high-speed until light and fluffy, 1-2 minutes. Add eggs one at a time and beat until incorporated. Beat in the vanilla. Reduce the speed to low and mix in half of the flour mixture. Mix in buttermilk, then remaining flour mixture. Gently fold in blackberries with wooden spoon or rubber spatula.

Spread batter evenly in prepared pan. Bake for 50-60 minutes until cake is golden brown and cake tester inserted in center comes out clean.

As cake is beginning to cool in pan, in a small saucepan whisk the orange juice and sugar together and simmer over low heat until the sugar dissolves.

Using a skewer or long, thin knife, poke deep holes all over bottom surface of the cake while it's still in the pan. Pour about half of the glaze over the cake, allowing it to seep into the holes. Let the cake cool for 10 minutes more and carefully invert it onto a plate. Spoon the remaining glaze over the top of the cake and let set until cool. Slice and serve.
Notes