You need these Strawberry Cheesecake Waffles in your life!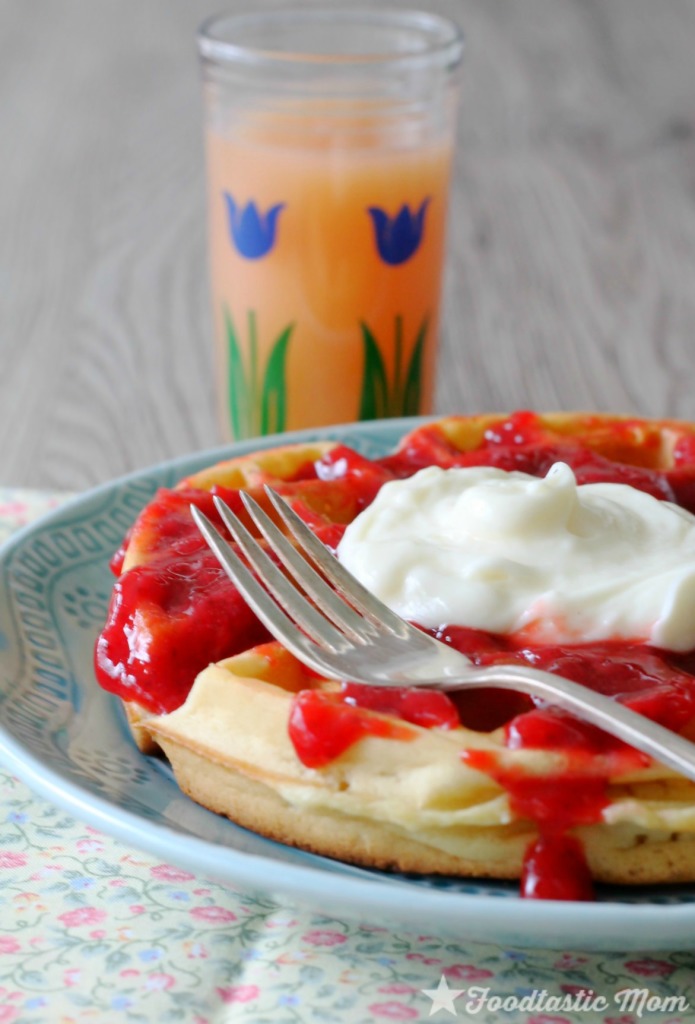 This particular waffle recipe is "insanely great" because it is direct from the Aretha Frankenstein kitchen in Chattanooga, Tennessee. My family and I took a short trip there not long ago and their pancakes and waffles are legendary. So good that I actually purchased several boxes of their pancake mix to take home and I never use boxed pancake mix.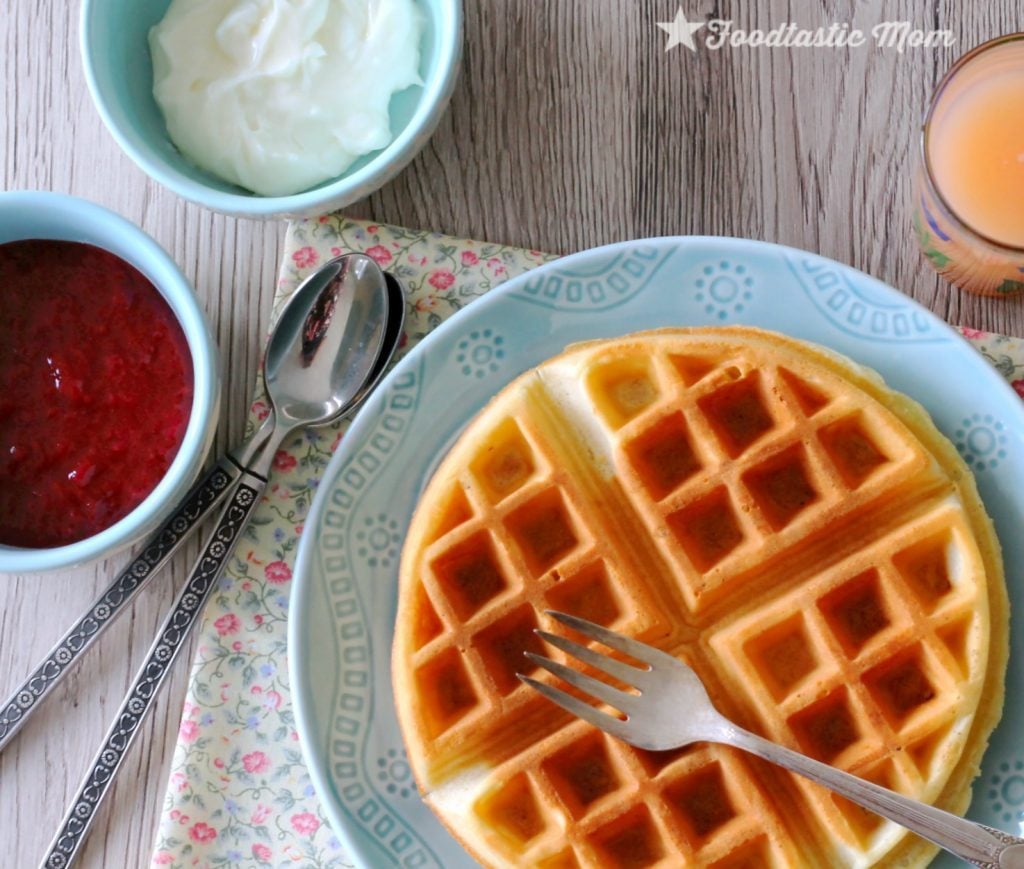 I had some frozen from fresh strawberries in my freezer to use up so I decided to take these insanely great waffles to even greater heights – by topping them with both a homemade cheesecake and strawberry topping. The results were restaurant-worthy. I love making dishes at home that could just as easily be found on menu somewhere. It's really fun to treat yourself at home sometimes!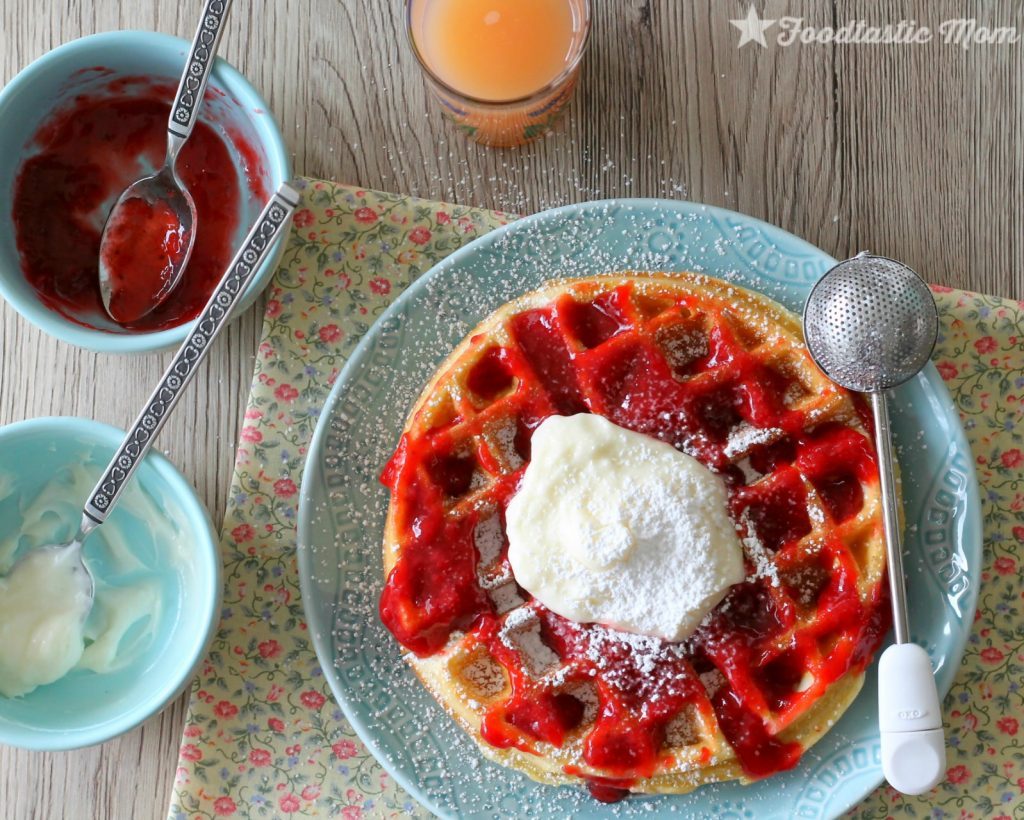 Strawberry Cheesecake Waffles
Homemade waffles topped with both strawberry syrup and sweetened cream cheese topping.
Ingredients
1 1/2

cups

all-purpose flour

1/2

cup

cornstarch

1

tsp

baking powder

1/2

tsp

baking soda

1

tsp

salt

2

cups

full-fat buttermilk

2/3

cup

vegetable oil

2

large

eggs

1

tbs

sugar

6

tbsp

sugar

2

tsp

cornstarch

6

tbsp

water

2

cups

fresh or frozen strawberries

1

tbsp

fresh orange juice

12

oz

whipped Philadelphia cream cheese

1/4

cup

powdered sugar

1/2

tsp

vanilla
Instructions
Whisk together the flour, corn starch, baking powder, soda and salt. In a separate bowl, whisk together the buttermilk, oil, eggs, sugar and vanilla. Pour the wet ingredients into the dry and mix until waffle batter is completely smooth. Set aside for 30 minutes. Then prepare the waffles according to your waffle iron's directions. Most use about 3/4 cup of batter per waffle. Mine made six full size Belgian waffles.

While you are waiting for the waffle batter to rest, prepare the toppings...

In a sauce pan, whisk together the sugar, corn starch and water. Add the strawberries and orange juice and cook over medium heat until strawberries are completely soft. Use a potato masher to mash the strawberries so the syrup is smooth. Cook for about 5 more minutes to thicken and remove from heat.

With a hand or stand mixer, whip together the cream cheese, powdered sugar and vanilla until smooth.

Serve each waffle topped generously with the strawberry and cheesecake toppings.