This recipe for Strawberry Bundt Cake does not require a boxed cake mix or strawberry Jell-O. Its pink hue and flavor comes from real strawberries.
One of my most popular recipes is this French Strawberry Cake. So if one recipe for strawberry cake is good, then why not have two (or more)? I have always been a fan of bundt cakes. They look pretty on a platter with minimal effort thanks to their baking vessel. And a pour-over glaze is so much simpler than decorating with buttercream frosting. I love buttercream. Don't get me wrong. But I prefer to eat buttercream that other people have made.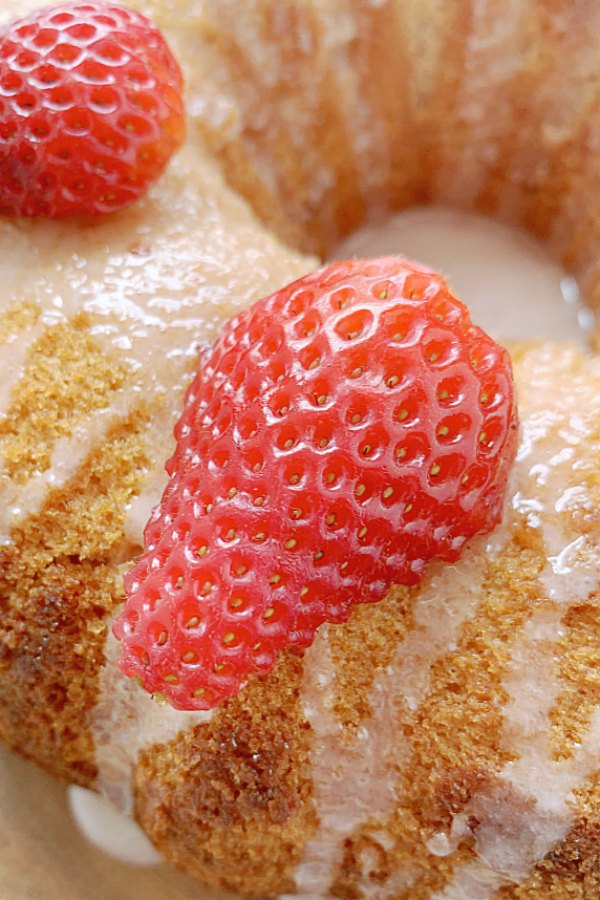 How to Make Strawberry Bundt Cake
I started with this recipe and converted it to a bundt cake instead of a frosted cake. The main thing about this cake is preparing the pan. The batter is pretty straight forward. It takes some time because of the strawberry reduction that is made from frozen strawberries. But preparing the pan properly is key. Otherwise, this cake will not release from the pan. Here's a couple of ways to prepare your bundt pan: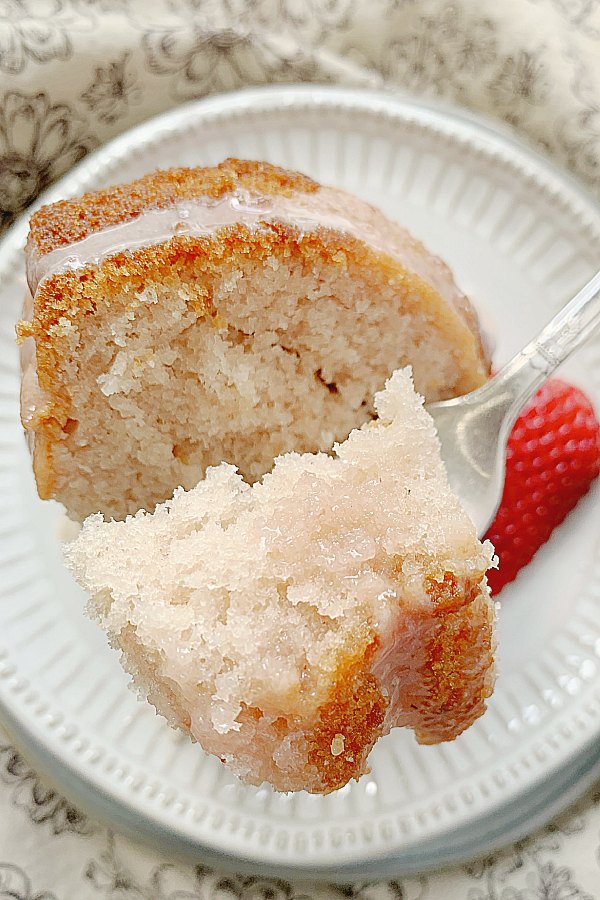 Kitchen Tips
Foodtastic Mom is a participant in the Amazon Services LLC Associates Program, an affiliate advertising program designed to provide a means for sites to earn advertising fees by advertising and linking to Amazon.com. Any highlighted, clickable Amazon link you see is an affiliate link that I may earn advertising fees on.
Thank you so much for being a faithful reader and supporter of Foodtastic Mom. Be sure to PIN and print this recipe!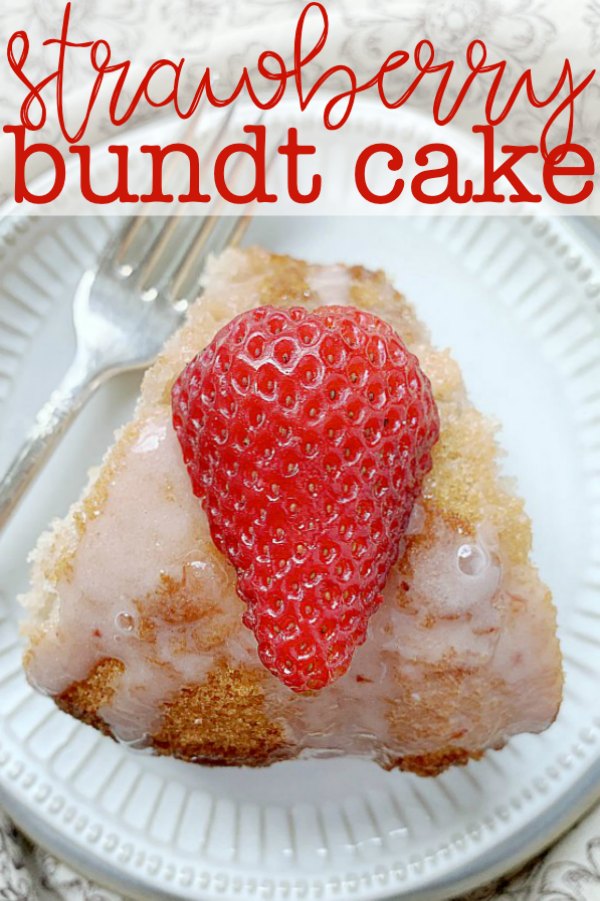 Strawberry Bundt Cake
This recipe for Strawberry Bundt Cake does not require a boxed cake mix or strawberry Jell-O. Its pink hue and flavor comes from real strawberries.
Ingredients
2

cups

frozen whole strawberries

3/4

cup

whole milk

6

large

egg whites

2

tsp

vanilla extract

2 1/4

cups

all-purpose flour

1 3/4

cups

granulated sugar

4

tsp

baking powder

1

tsp

salt

12

tbsp

unsalted butter

cut into 12 pieces, softened

vegetable oil or melted shortening

granulated sugar

1

tbsp

sour cream

1

tbsp

lemon juice

1

tbsp

strawberry jam

1

cup

powdered sugar

sifted
Instructions
Preheat the oven to 350 degrees F. Right before filling the non-stick bundt pan, brush it with vegetable oil or melted shortening. And sprinkle in enough granulated sugar to coat the pan.

Transfer the strawberries to a bowl, cover, and microwave until strawberries are soft and have released their juice, about 5 minutes. Place the berries in a fine-mesh strainer set over a small saucepan. Firmly press fruit dry (juice should measure at least 3/4 cup); reserve strawberry solids. Bring juice to boil over medium-high heat and cook, stirring occasionally, until syrupy and reduced to 1/4 cup, 6 to 8 minutes. Whisk milk into juice until combined.

Whisk strawberry milk, egg whites, and vanilla in bowl. Using stand mixer fitted with paddle attachment, mix flour, sugar, baking powder, and salt on low speed until combined. Add butter, 1 piece at a time, and mix until only pea-size pieces remain, about 1 minute. Add half of milk mixture, increase speed to medium-high, and beat until light and fluffy, about 1 minute. Reduce speed to medium-low, add remaining milk mixture, and beat until incorporated, about 30 seconds. Give batter final stir by hand.

Pour the batter into the prepared bundt pan. Bake the cake for 50 - 60 minutes, or until the cake springs back when touched.

Allow the cake to cool in the pan for 10 minutes. Turn the pan over to release the cake from the pan. While the cake is continuing to cool, prepare the glaze.

In a clean bowl, whisk together the sour cream, lemon juice and strawberry jam until smooth. Whisk in the powdered sugar until smooth. Pour the glaze over the cooled cake. Slice and serve.
More Strawberry Recipes