If you're looking for an impressive holiday beef roast with minimal effort, you've found it with this Slow Cooker Rump Roast with Prosciutto and Figs. This recipe is sponsored by the Ohio Beef Council. All opinions are mine alone.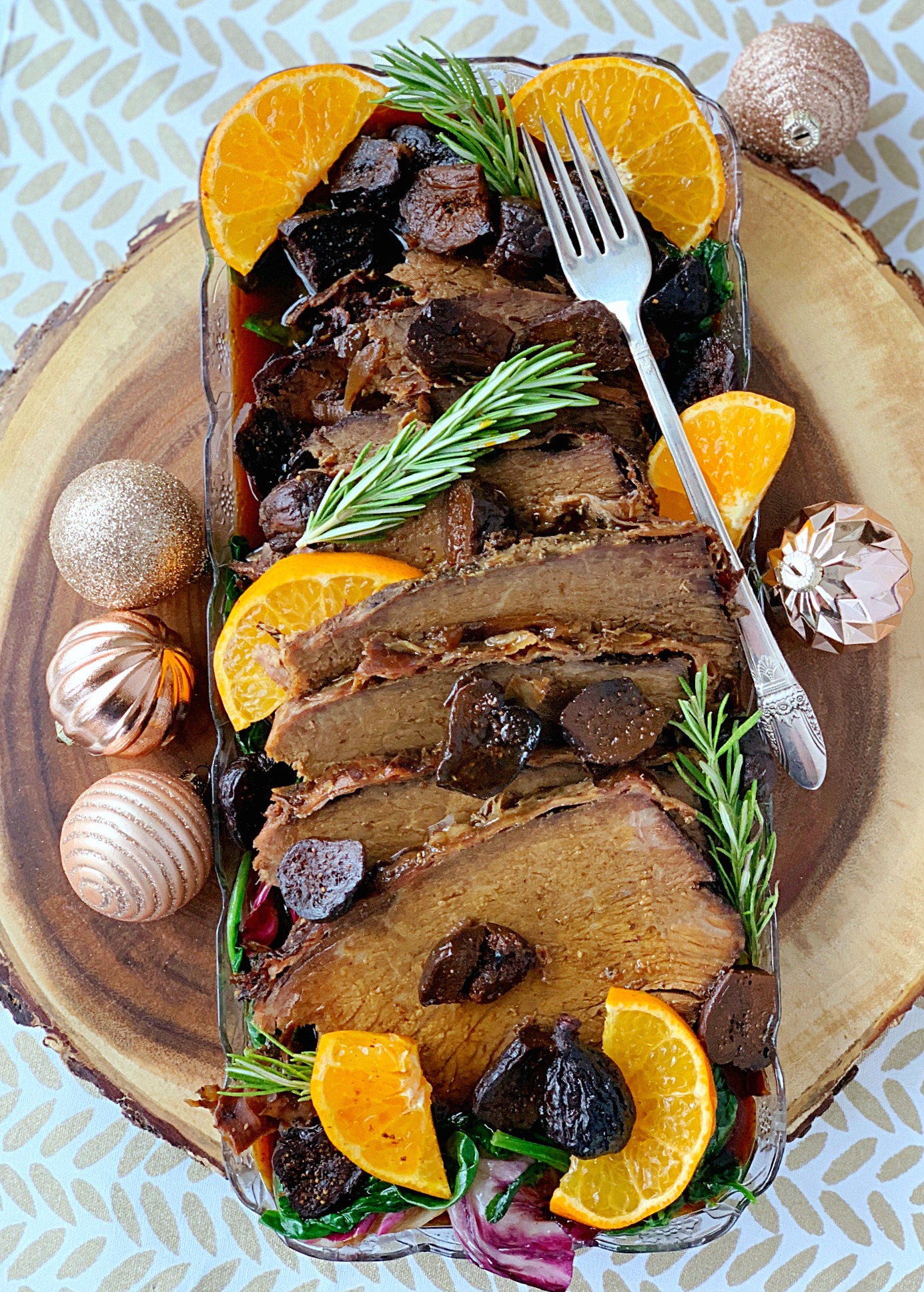 Each year my friends at the Ohio Beef Council ask me to create a beef roast recipe that is fancy enough for your holiday table. In the past I've gone with my personal favorite, a center cut beef tenderloin. But I must admit, the ease of preparation, cost per pound and flavors in this most recent recipe of mine might just make me rethink my favorite. I'm really proud to present to you this recipe for Slow Cooker Rump Roast with Prosciutto and Figs!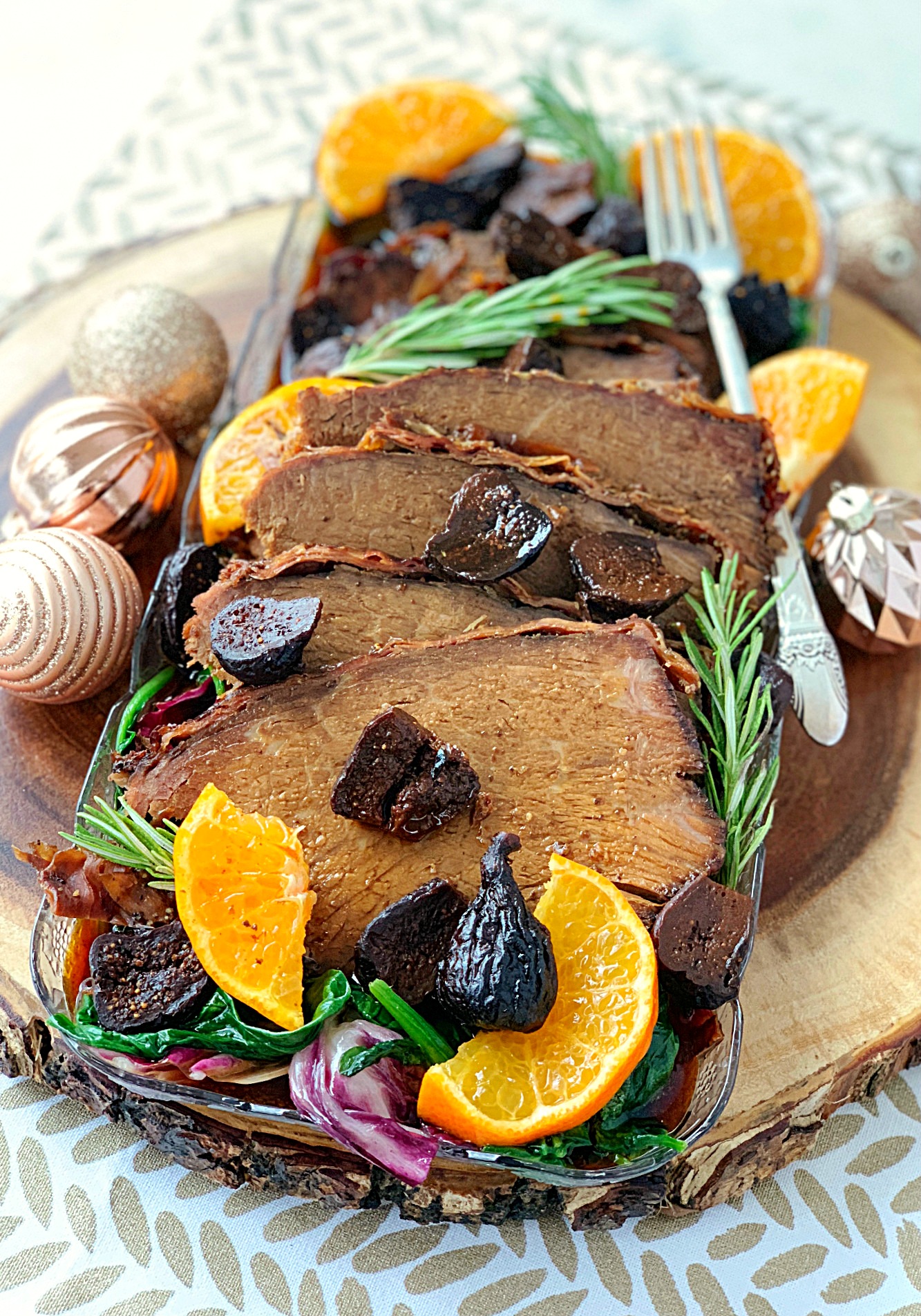 I found inspiration for my recipe here. But I wanted to explore cooking a lean cut of beef. The slow cooker is a great tool for adding moisture and tenderness to a leaner and less expensive cut of beef like a rump roast. Plus the almost completely hands-off preparation means less stress in the kitchen at a very busy time of year.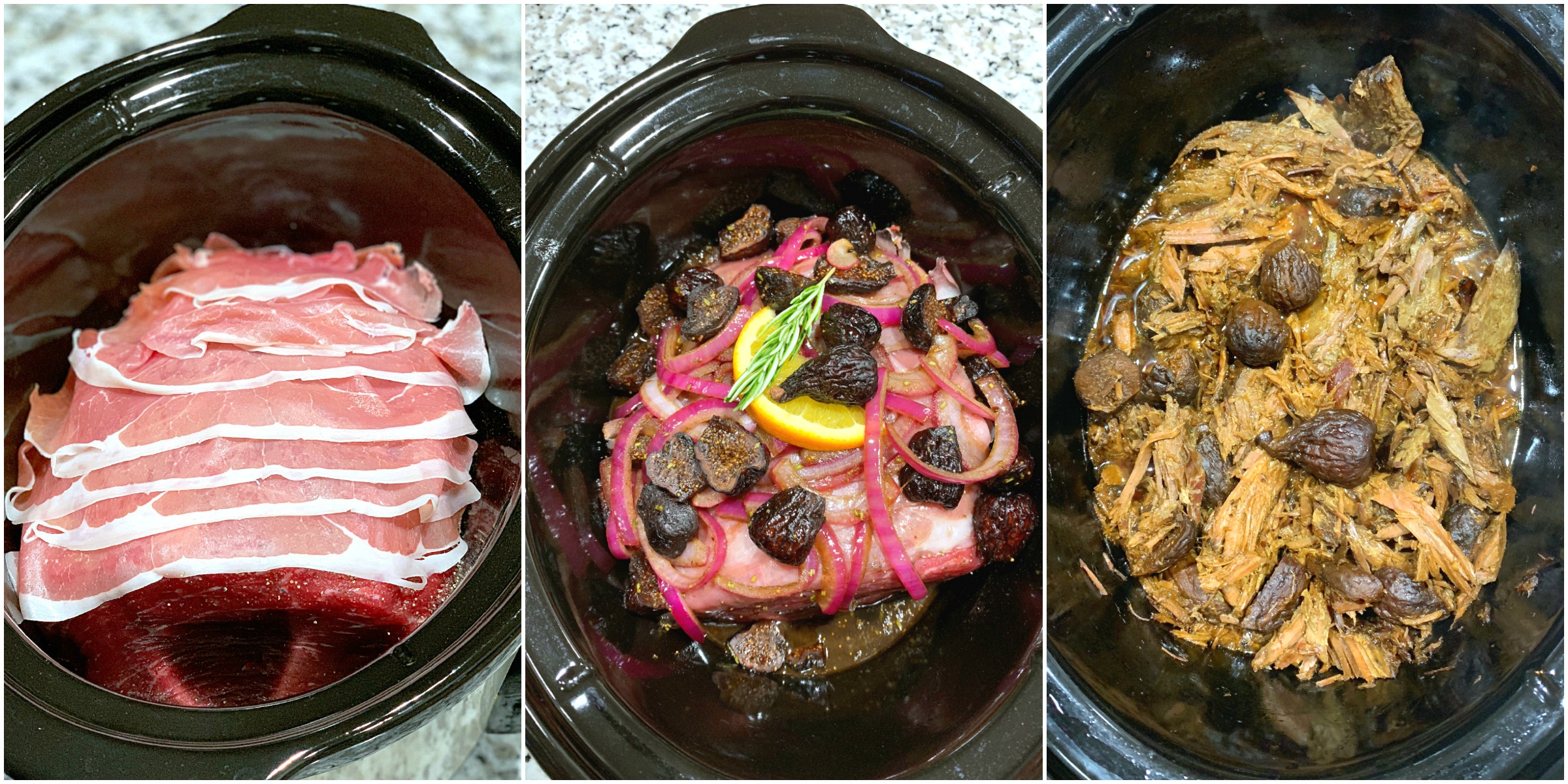 When I originally planned for this recipe I was hoping to use fresh figs. But I found out figs aren't actually in season at this time of year. Plus it's nearly impossible to find fresh figs in local, midwestern grocery stores at any time. But dried figs are always easy to find. So that's what I used.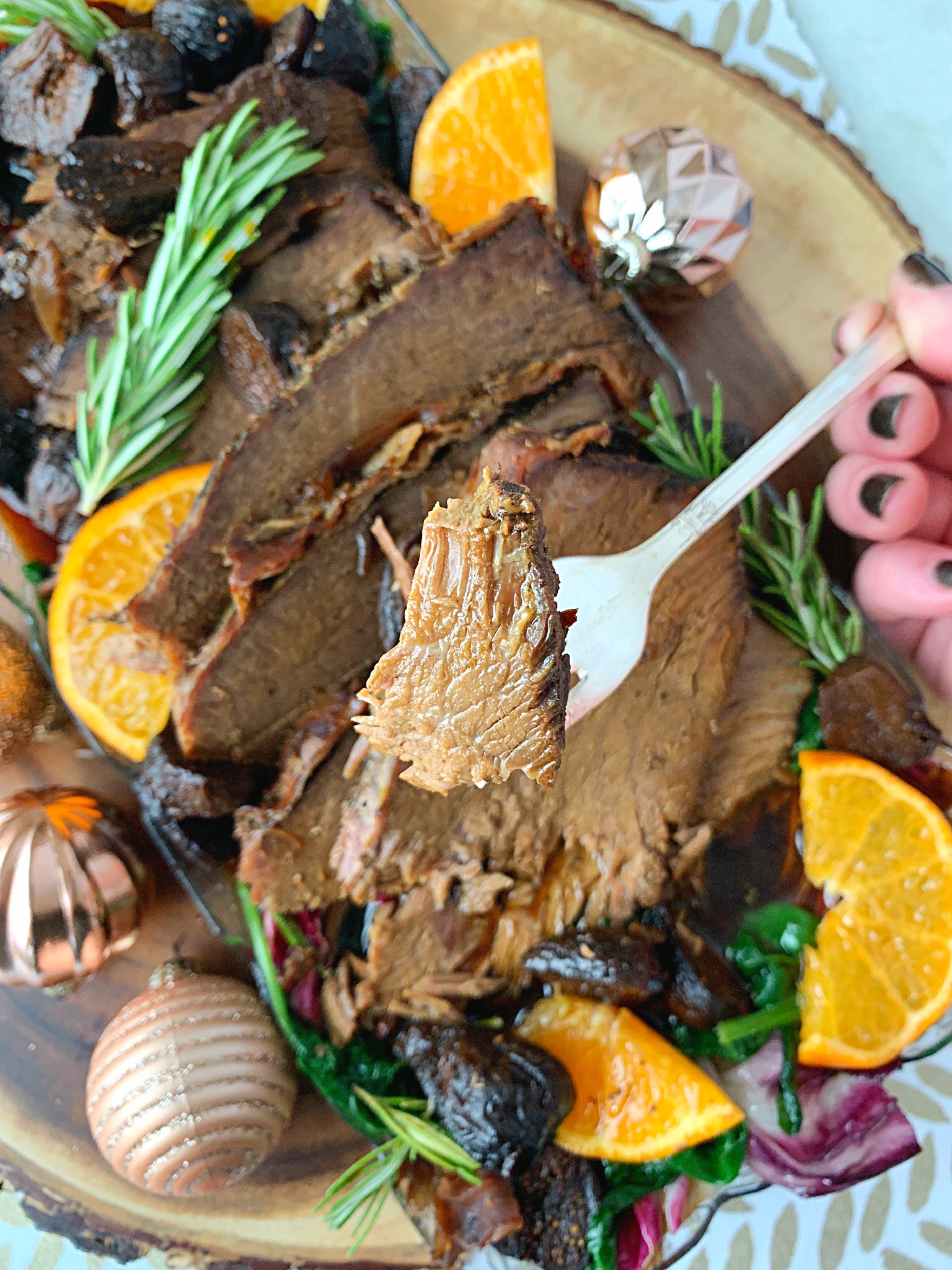 These flavors – prosciutto, figs, orange, balsamic vinegar and rosemary seemed international and fancy to me. So this beef roast required a side dish with equally elevated flavors. I highly recommend serving this Slow Cooker Rump Roast with these Lemon Goat Cheese Mashed Potatoes. Your holiday guests will swoon!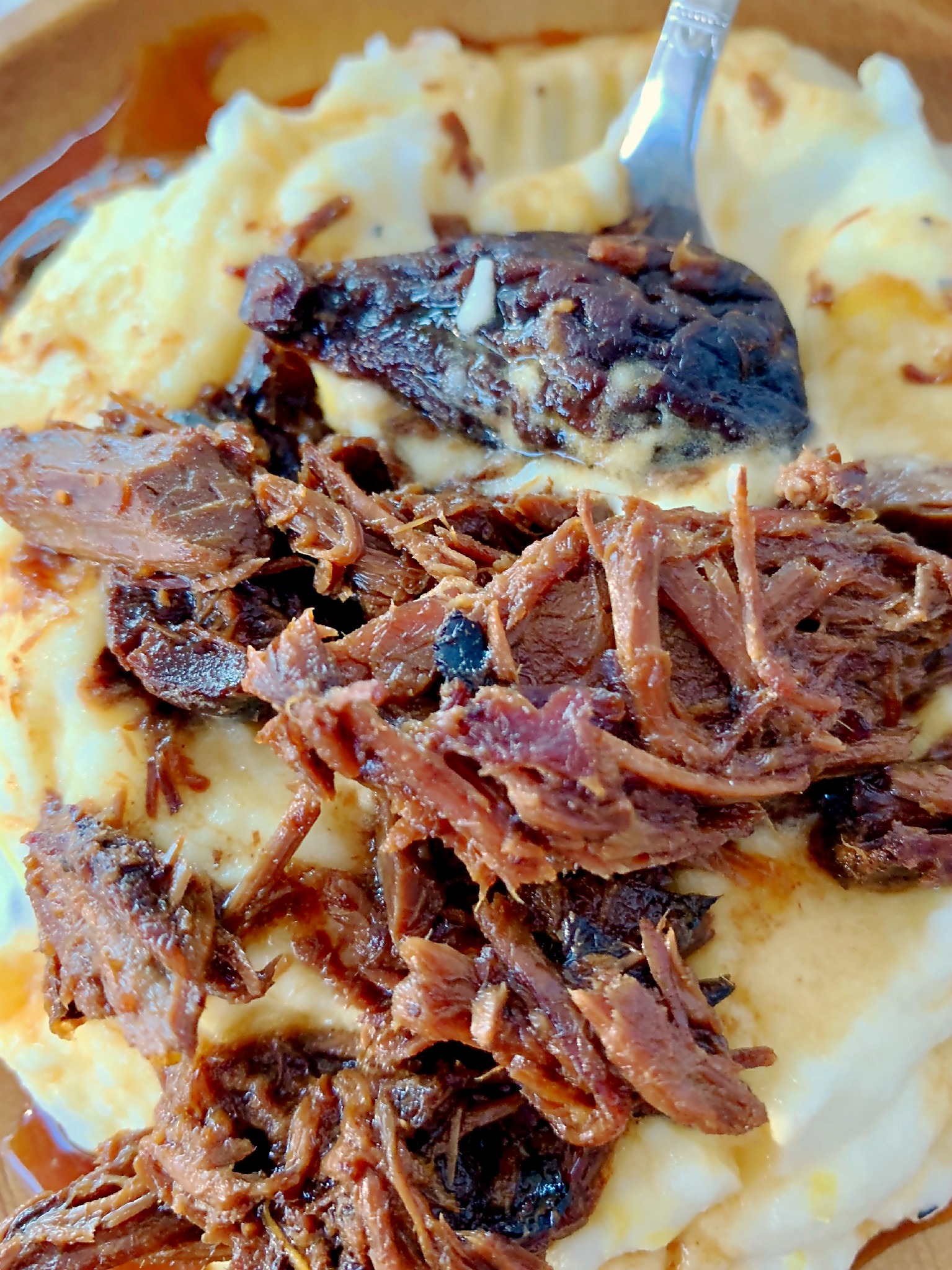 Tips for preparing Slow Cooker Rump Roast with Prosciutto and Figs:
This roast can be prepared up to two days in advance
Separate the roast, figs and onions, and broth to refrigerate – keeping them all well sealed
Skim the fat from the top of the broth before adding it back to the beef to reheat
If you'd like to make the broth into a more gravy-like consistency, follow this recipe for gravy here
The shredded leftover beef makes excellent grilled cheese sandwiches
Use a slow cooker that is at least 6-quart capacity for this recipe
Foodtastic Mom is a participant in the Amazon Services LLC Associates Program, an affiliate advertising program designed to provide a means for sites to earn advertising fees by advertising and linking to Amazon.com. Any highlighted, clickable Amazon link you see is an affiliate link that I may earn advertising fees on.
Thank you so much for being a faithful reader and supporter of Foodtastic Mom. Be sure to PIN and print this recipe!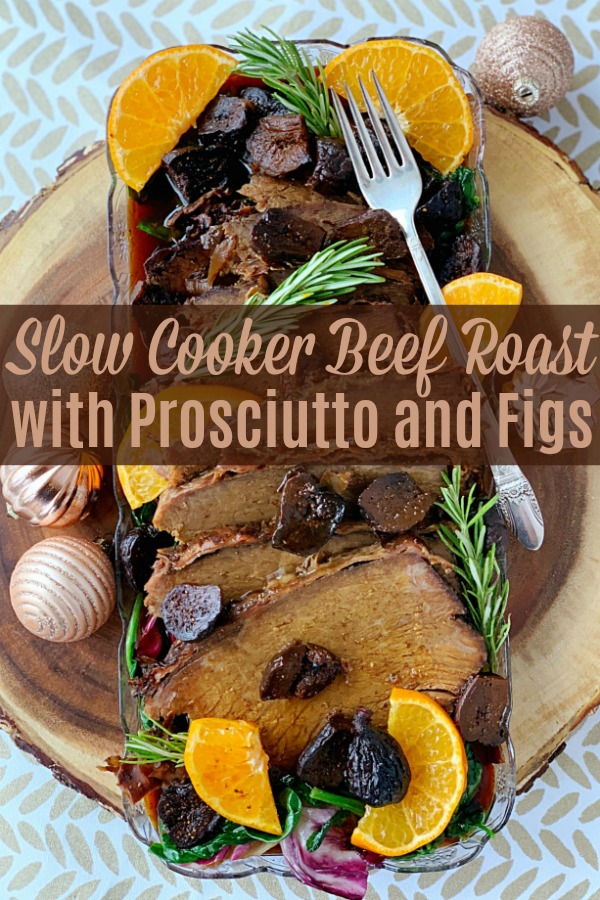 Slow Cooker Rump Roast with Prosciutto and Figs
If you're looking for an impressive holiday beef roast with minimal effort, you've found it with this Slow Cooker Rump Roast with Prosciutto and Figs.
Ingredients
3

lb

beef rump roast

6

slices

prosciutto

2

tbsp

butter

2

tbsp

balsamic vinegar

2

tbsp

fresh orange juice

1

tbsp

light brown sugar

1

tbsp

fresh rosemary

finely chopped

1 1/2

tsp

salt

1/2

small

red onion

sliced

1

cup

dried Mission figs

halved and stems removed
Instructions
Trim most of the visible fat from the rump roast. Place the roast in a 6 or 8 quart slow cooker.

Top the roast evenly with the prosciutto slices.

In a microwave safe bowl, combine the butter, balsamic vinegar, orange juice, sugar, rosemary, salt and red onion. Microwave for about one minute, or until butter is melted. Stir well to combine and pour over the prosciutto-topped beef roast.

Scatter the figs on top of the roast.

Cover the slow cooker and cook on low for 8 hours.

If serving right away, remove the roast and slice or shred the meat. Add the meat back into the slow cooker with the liquid and figs. Keep the slow cooker on warm to serve.

If storing, remove the roast and place it on a plate. Cover it with plastic wrap. Place the figs in a separate bowl and cover. Place the broth in a separate bowl and cover.

When ready to serve, skim off the fat layer from the broth (there won't be much). Slice the roast. Place it in a slow cooker or in a roasting pan with the figs and broth. Slowly reheat and serve.
Nutrition
Facts about Ohio Beef:
This holiday season, thousands of families across Ohio will buy beef. Ohioans spend $4.1 billion each year on beef, which is a healthy, high-quality protein choice.

The Ohio beef community includes more than just farmers! Small business owners, community leaders, animal caretakers, nutritionists and environmentalists are all dedicated to producing safe, wholesome, nutritious beef.

Although many believe that industrial farming has taken the place of family farms and ranches, 98 percent of beef farms are family-owned and operated. Meet one of the 17,000 beef farming families in Ohio at

www.OhioBeef.org

.

Get roasting and toasting: Pot Roast pairs well with medium red wines, like Merlot, Zinfandel and Cabernet Franc.