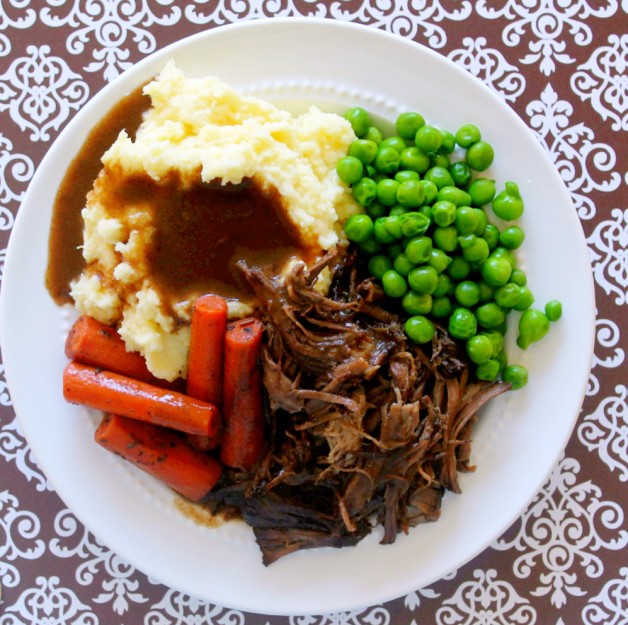 Pot roast is one of my ultimate comfort foods that I don't make nearly enough. It's a process to be sure, but when I think back on my fondest food memories of my childhood, my mom's pot roast with carrots and onions ranks near the top.
The first time I attempted to make it was a disaster. This was years ago, and I think I decided to just "wing it", with no real idea about what it takes to make a big piece of meat like that become tender. I seem to remember literally boiling it in broth, and then having no clue that while it was indeed cooked, why it had the texture of a rubber band. Thankfully, I've come a long way since then.
While the slow cooker provides the convenience of being able to walk away from this meal, it does not mean the roast is a simple dump and cook recipe. To get a truly flavorful dish, you need to do some prep work before turning on your slow cooker. But it is most definitely worth it in terms of taste. And my family and I enjoyed this meal as both hot and cold leftovers for several days after serving it initially. In addition to the carrots and onions the roast is cooked with, I serve it with peas and mashed potatoes. So, so good and comforting.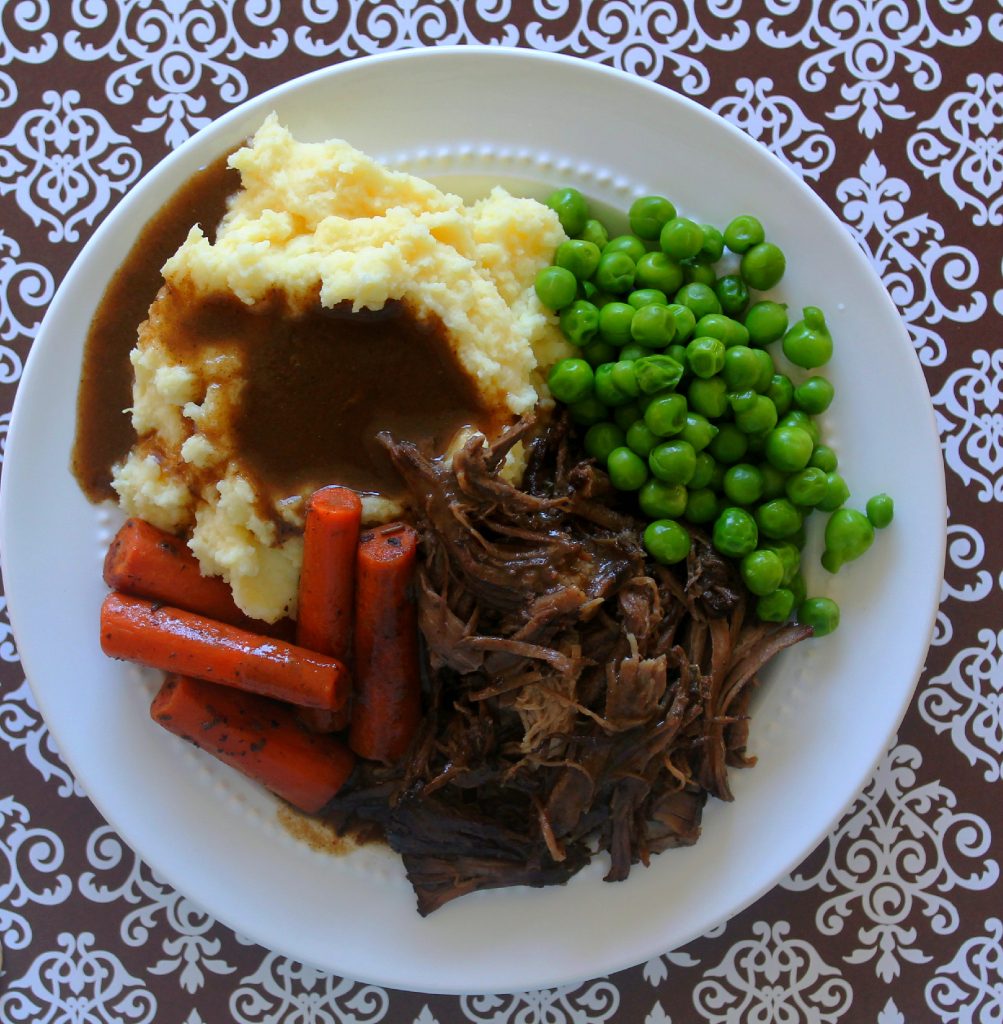 Red Wine Pot Roast in a Crock Pot
2013-09-03 09:12:30
Ingredients
4-5 pound beef roast (I used chuck roast)
2 T. vegetable oil
2 large onions, diced
8-10 large carrots, peeled and cut into 2-inch pieces
2 t. salt
1 t. pepper
1 t. dried thyme
1 1/2 c. dry red wine
3 T. butter
3 T. flour
Instructions
Season the roast with the salt, pepper and thyme. In a heavy stock pot, heat the oil over medium high heat until shimmering. Add the roast and sear on all sides, until the roast is well-browned. This should take about 15-20 minutes. Transfer roast to empty slow cooker, set to low.
Add to the same stock pot that you just removed the roast from, the carrots and onions and sauté for about 5 minutes. Add the red wine and allow to cook for two minutes more, scraping up the browned bits from the bottom of the pot. Gently pour the vegetable and wine mixture over the roast in the slow cooker. Cover and cook on low heat for 9-11 hours.
Remove roast and allow to cool enough to be able to pick away any obvious fat and shred the meat. Meanwhile, remove the carrots and onions with a slotted spoon to a separate dish and pour all the broth into a bowl. Put the broth into the refrigerator to allow the fat to rise to the top.
Skim off the fat from the broth. Melt the butter in a sauce pan. Add the flour and whisk, cooking for 2 minutes. Add the broth and allow to simmer until it slightly thickens.
Serve the roast with your favorite mashed potatoes, pouring the beef gravy over the roast, carrots, onions and potatoes.
Foodtastic Mom https://www.foodtasticmom.com/