This simple hash recipe is tasty, nourishing and perfect for when you don't feel like cooking plus it can be customized with whatever you happen to have in the kitchen/pantry.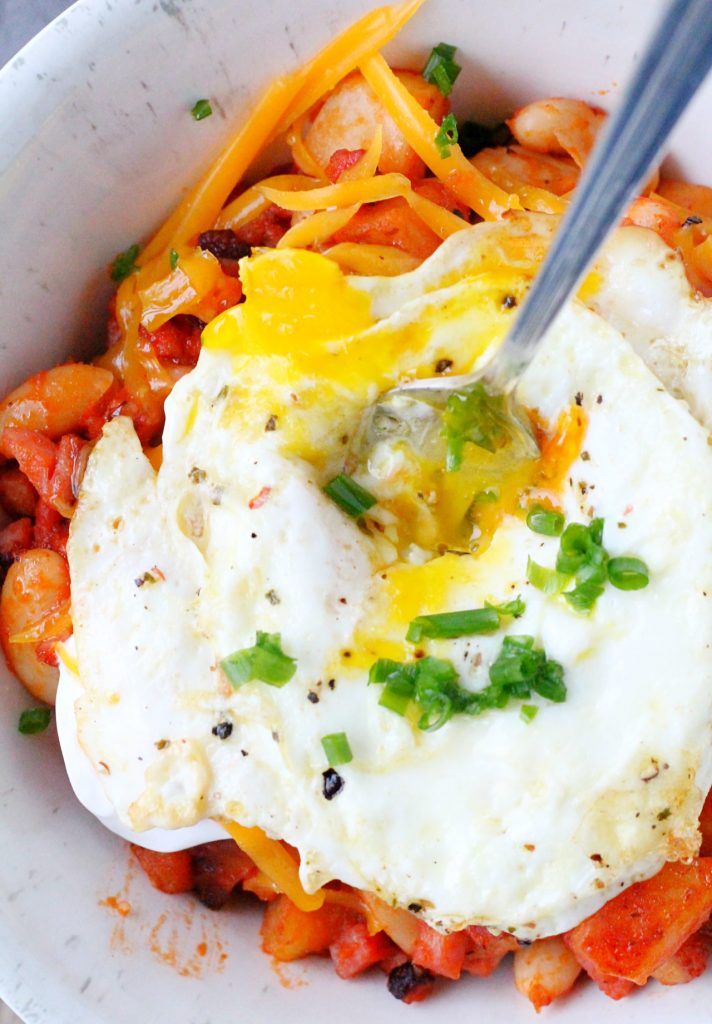 This is one of those clean out the kitchen recipes. I had some potatoes and beans in the pantry. A package of ham that was nearing it's "sell by" date in the refrigerator. A half empty jar of pasta sauce. You get the idea.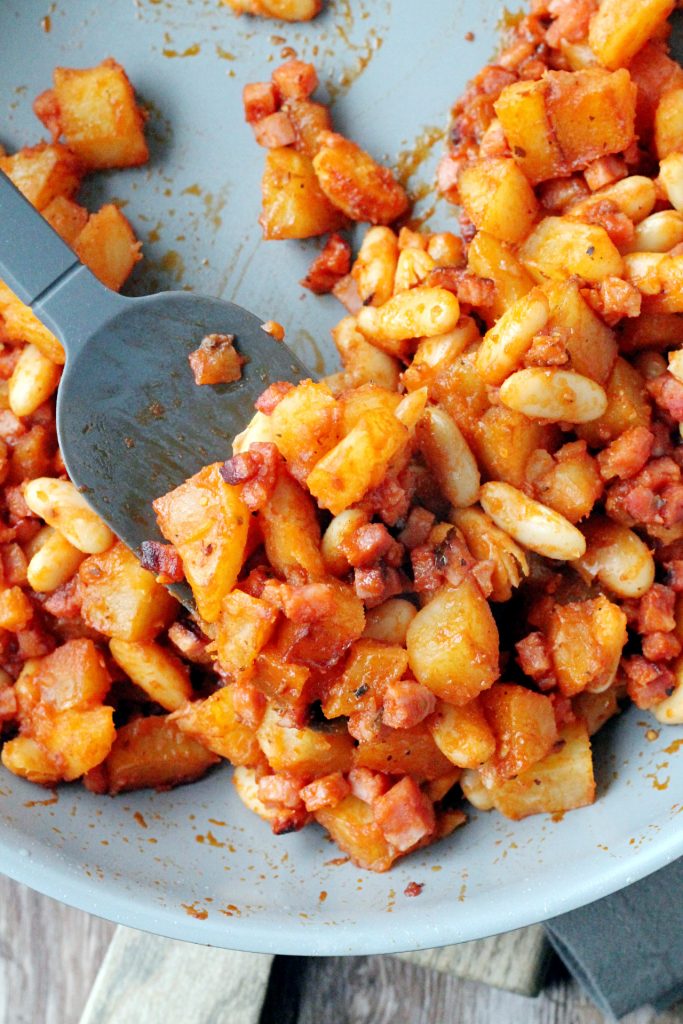 Hash is versatile. It can be a highfalutin dish you'd order out for brunch. Or it can be simple survival food. The key is being patient until your potatoes get nice and browned. That develops flavor on which you can build.
Don't be afraid to experiment and customize this recipe. Use sweet potatoes. Or leftover cooked rice. You can add any kind of meat you have on hand or leave it out completely. You can add more veggies. You can flavor it with soy sauce or Sriracha instead of marinara. The possibilities are endless.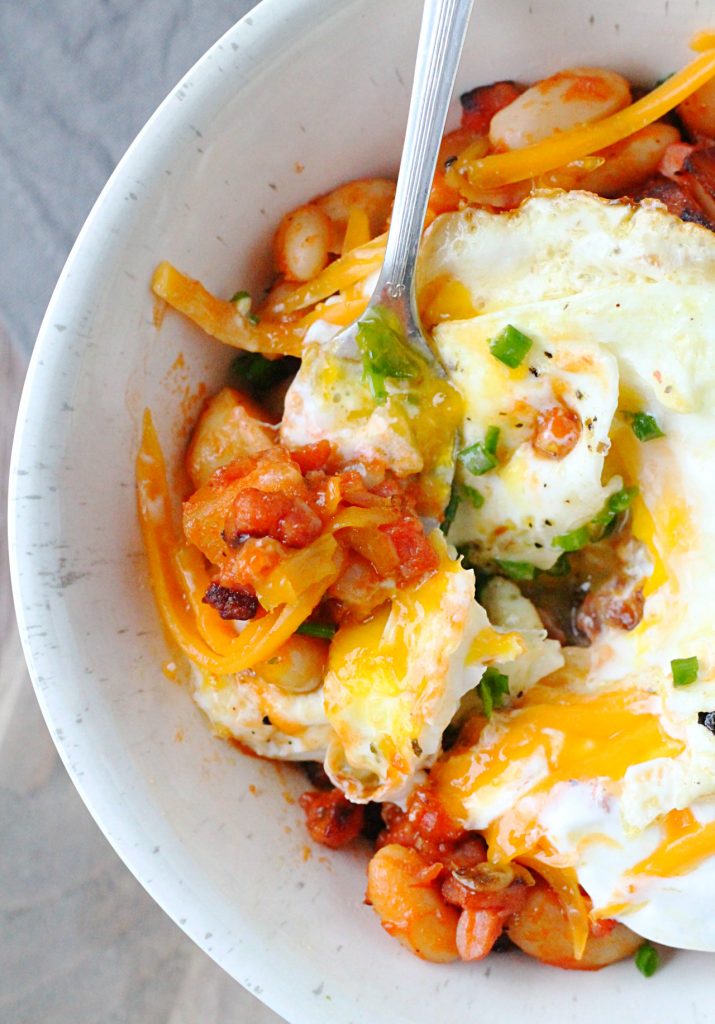 I think the egg on top is kind of essential to a hash but that's up to you. Sunny side up, over medium, scrambled or even a chopped hard boiled egg would be good.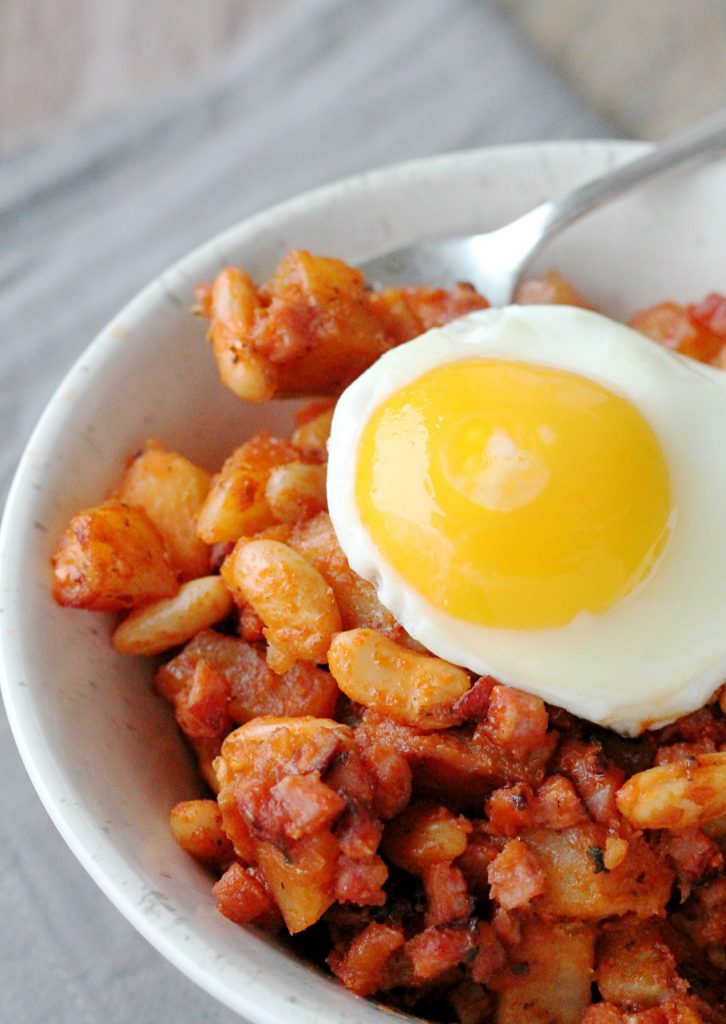 So what are your "hash goals"? Would you make my recipe as/is or add your own spin? Tell me in the comments!
Simple Hash Recipe
Ingredients
3

cups

potatoes

peeled and chopped

1 1/2

cups

ham

chopped

1

can (15 oz.)

white beans

drained

2

tablespoons

butter

1

tablespoon

vegetable oil

1/2

cup

marinara sauce

1

teaspoon

garlic salt

1/2

teaspoon

cracked black pepper

6

large

eggs

3/4

cup

sour cream

1

cup

cheddar cheese

shredded

6

tablespoons

fresh chives

chopped
Instructions
Add the vegetable oil and butter to a non-stick skillet over medium-high heat.

Add the potatoes and cook, stirring occasionally until they are browning and starting to get soft, 8 - 10 minutes.

Add the ham and cook, stirring occasionally, for 5 minutes more.

Add the beans and marinara sauce. Season the hash with garlic salt and pepper. Stir well and heat through. Remove from heat.

Cook the eggs to your liking.

Fill bowls with the hash. Top each bowl of hash with an egg, a dollop of sour cream, cheddar cheese and chopped chives.