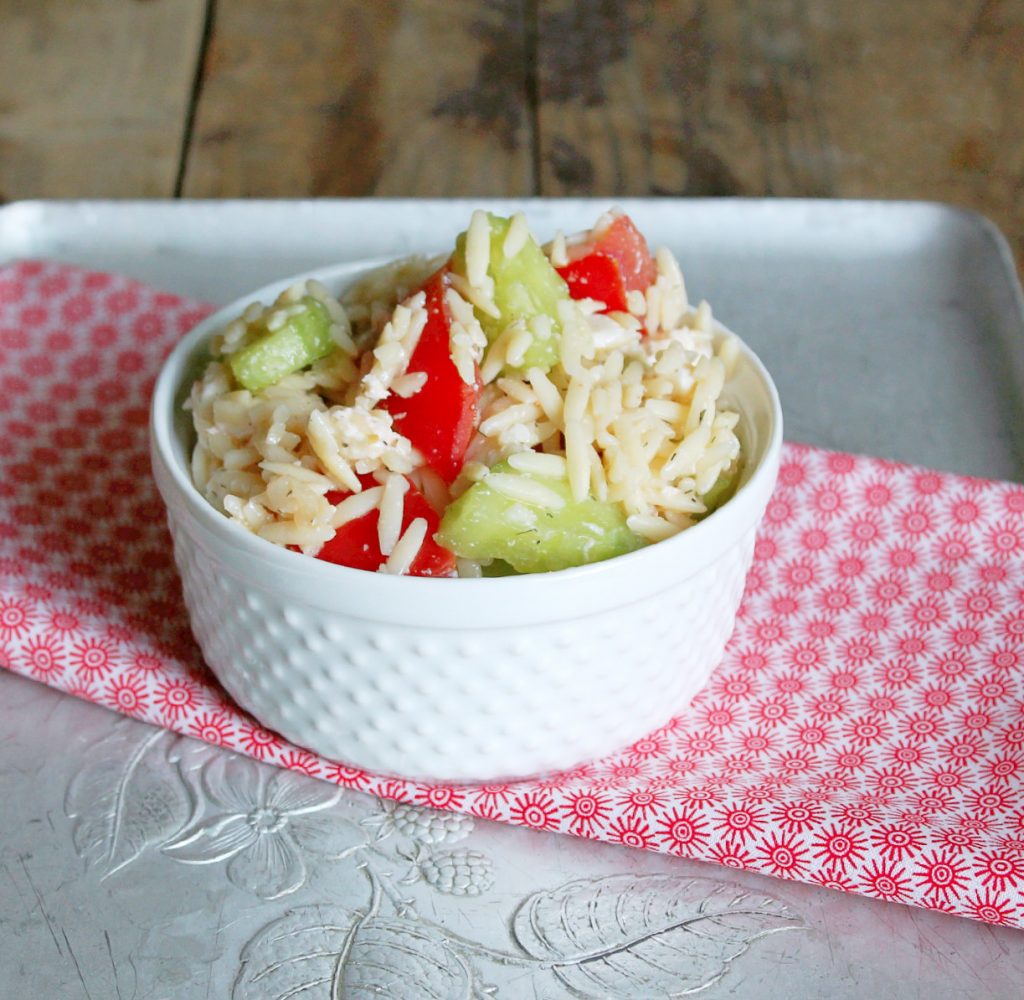 This was a totally last-minute dish that I hadn't planned to make. Thanks to my husband who decided to invite friends for a cookout and assured me we'd figure out the food when everyone got there. Does he not know me at all? Seriously, I was happy to host our friends and neighbor, but while I may procrastinate in most other areas of my life, feeding people is not one of them. I like to be prepared.
Luckily, I had some good ingredients already in the house and was able to come up with this orzo salad on the fly. I even took the leftovers the next day to my Christian Moms end-of-year brunch and friends asked for the recipe, so that made me happy. I used fresh mozzarella cheese because that's what I had, but I think this salad would be just as good, and maybe even a bit better, with crumbled feta cheese instead.
This would be a good side dish for your Memorial Day festivities this weekend as well… hint, hint. It's surprisingly cool around here this morning (Friday). I've biked my son (second grade) to school for the first time this week because Tuesday our elementary celebrated its first official Walk/Bike to school day. I've really enjoyed it and wished we started riding earlier in the year. Also, my son is a sleeper and kind of tough to get out of bed on school days…except now that he gets to look forward to riding his bike, he is bright-eyed and ready to go. Today my husband got to ride with him since he's a teacher and actually had his last day of teaching yesterday (lucky dog). So I have to share these pictures…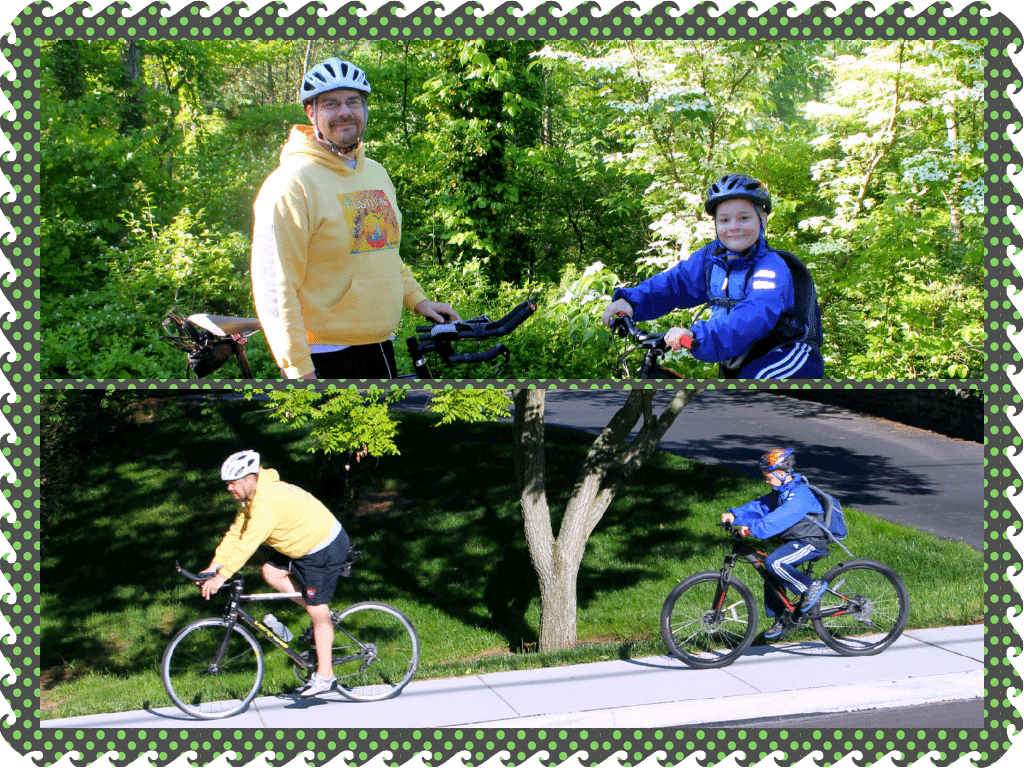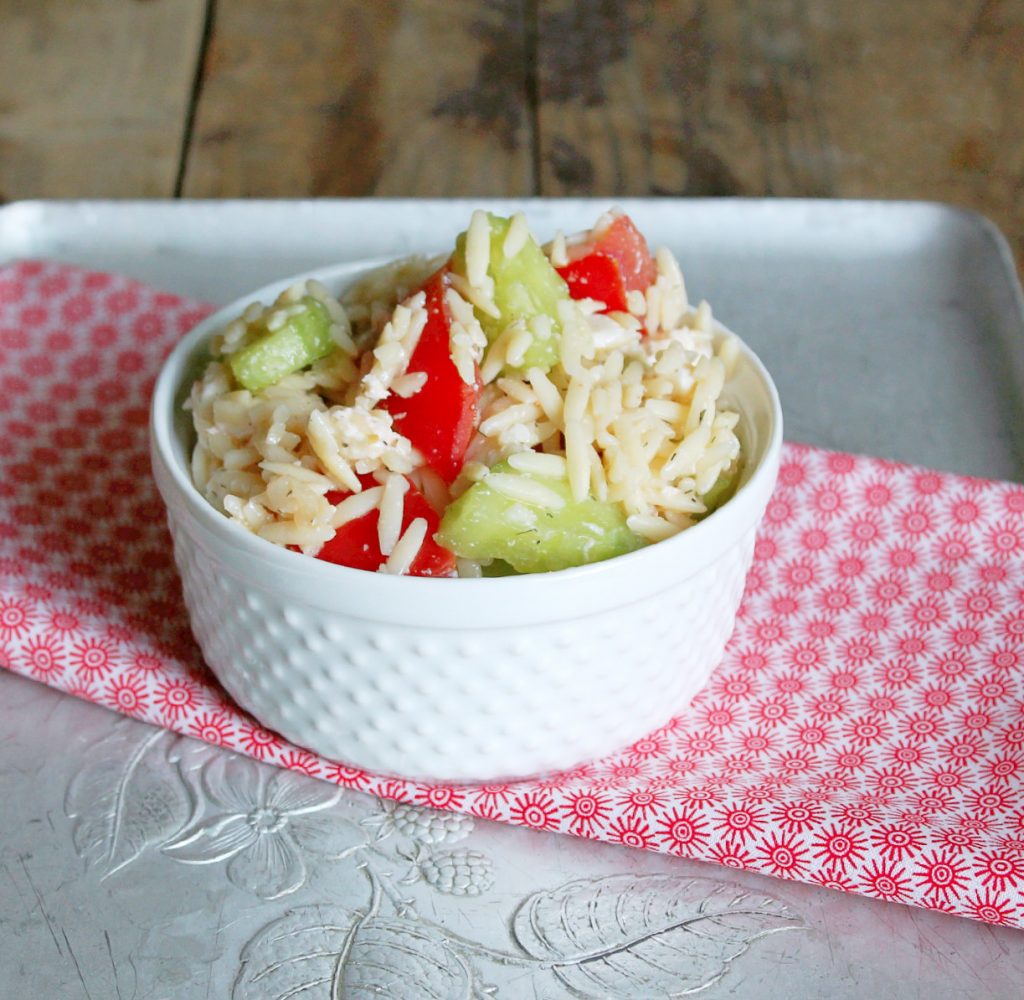 Orzo Pasta Salad with Cucumber and Tomato
2013-05-23 16:25:32
Ingredients
8 oz. orzo pasta (1/2 box)
1 English cucumber, peeled and diced
4-5 tomatoes, cored, seeded and diced
3 T. grape seed oil
1 large shallot, minced
2 cloves garlic, minced
2 lemons, juiced
1 T. honey
1 t. dried dill
1 t. kosher salt
1/2 t. cracked black pepper
6 oz. fresh mozzarella cheese, crumbled (or use feta if you prefer)
Instructions
Heat skillet over medium heat. Add the grape seed oil and shallot and saute until shallot begins to brown. Add garlic and saute for about one minute more until fragrant. Remove pan from heat and whisk in the lemon juice, honey, dill, salt and pepper.
Add the chopped cucumber and tomato to a large bowl and pour the dressing over the vegetables.
Meanwhile, cook orzo according to package directions. Drain and rinse well under cold water.
Add orzo to vegetables and dressing and mix well to combine.
Toss in crumbled fresh mozzarella cheese. Refrigerate for at least 1 hour until chilled to serve.
Foodtastic Mom https://www.foodtasticmom.com/