Irish Colcannon Bombs are a mix of mashed potatoes and kale stuffed with Irish cheddar, rolled into balls, breaded and fried. In other words, potatoes surrounding a "bomb" of melted cheese.
So this recipe actually started with me picturing the video image of melted cheese inside a fried ball of mashed potatoes. Video gets attention these days so I'm going with it. I mean given the choice I'd much rather scroll through my Facebook feed filled with food videos instead of political posts. Who's with me?
If you've never heard of Irish Colcannon it's mashed potatoes mixed with kale or cabbage. We do occasionally have mashed potatoes leftover and I'm always wondering what to do with them. I needed a couple of St. Patrick's Day recipes on the blog for this season and so that's how this recipe was born.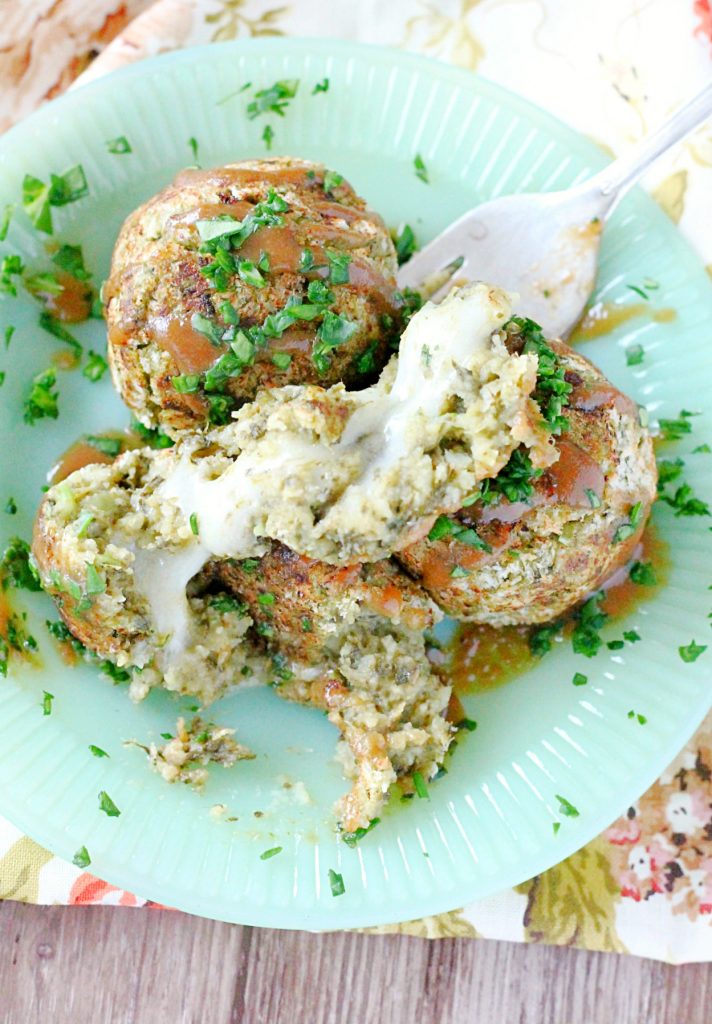 My son (a big mashed potato fan and an even bigger fan of the Notre Dame Fighting Irish) was super excited to be my taste tester for these. He says you'll love them.

Irish Colcannon Bombs
Ingredients
3

cups

leftover mashed potatoes

1

cup

canned kale (Glory Foods)

drained and chopped

1

large

egg

1/4

cup

green onions

finely chopped

1/2

cup

Panko bread crumbs

1/2

teaspoon

salt

8

ounces

Irish cheddar cheese, cubed

2

cups

Panko bread crumbs

vegetable oil

2

tablespoons

Dijon mustard

2

tablespoons

pure maple syrup
Instructions
In a large bowl, mix together the mashed potatoes, kale, egg, green onions, 1/2 cup Panko bread crumbs and salt until smooth

Use a small cookie scoop (about 2 tablespoon capacity) to scoop a mound of colcannon potatoes and roll one cheese cube into the center. Repeat the process until you have used all the mashed potato (colcannon) mixture.

Roll each mashed potato ball to coat in Panko bread crumbs.

Pour vegetable oil into a pan so it is about 1/2-inch deep. Heat oil to between 365 - 375 degrees.

Add the Irish Colcannon Bombs to the oil, 4 - 5 at a time (don't crowd the pan). Fry on first side until golden brown. Flip and fry on second side until golden brown. Remove with slotted spoon to paper towel lined plate.

Whisk together the Dijon mustard and maple syrup and drizzle over the mashed potato balls. Serve immediately.