This Holiday Beef Wellington includes a festive bourbon cream sauce. Thank you to the Ohio Beef Council for sponsoring the creation of this recipe.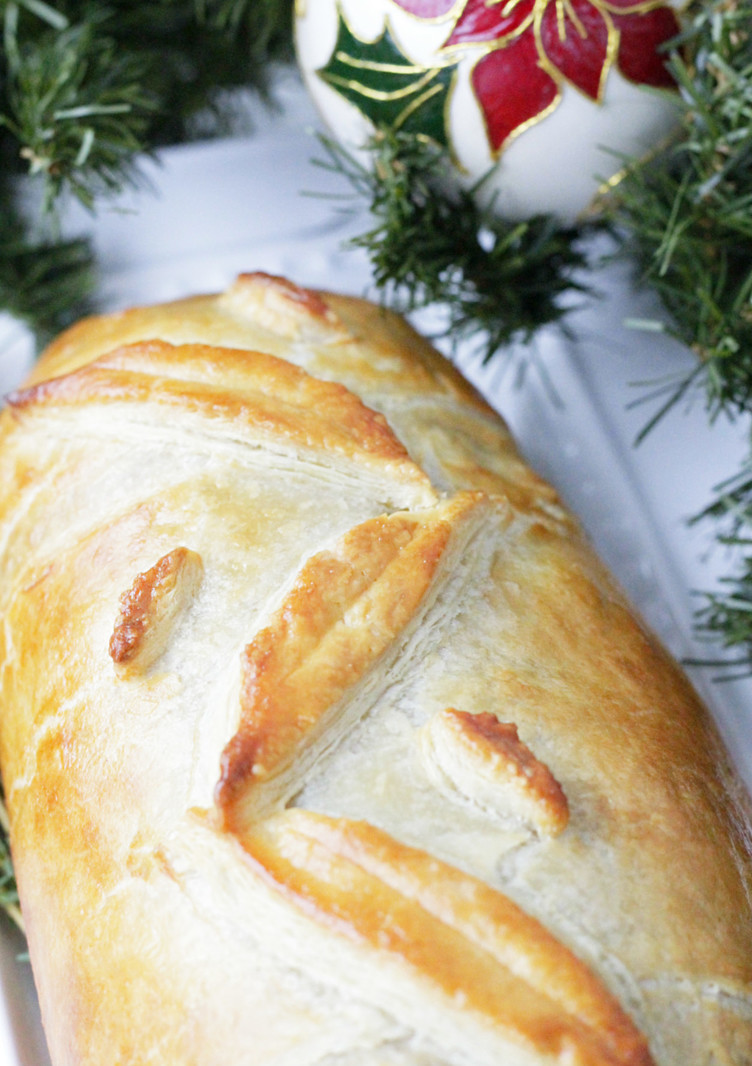 We serve beef at the holidays, which for my family means Christmas. Do you? I am definitely not alone in this choice because thousands of Ohio families purchase beef for the holidays and will spend $4.1 billion annually on beef for their dinner tables. It helps that we are a meat and potatoes loving family and also that my daughter's favorite food is steak. She likes her steak cooked to a nice medium with a warm, pink center. I say she is a foodie in the making.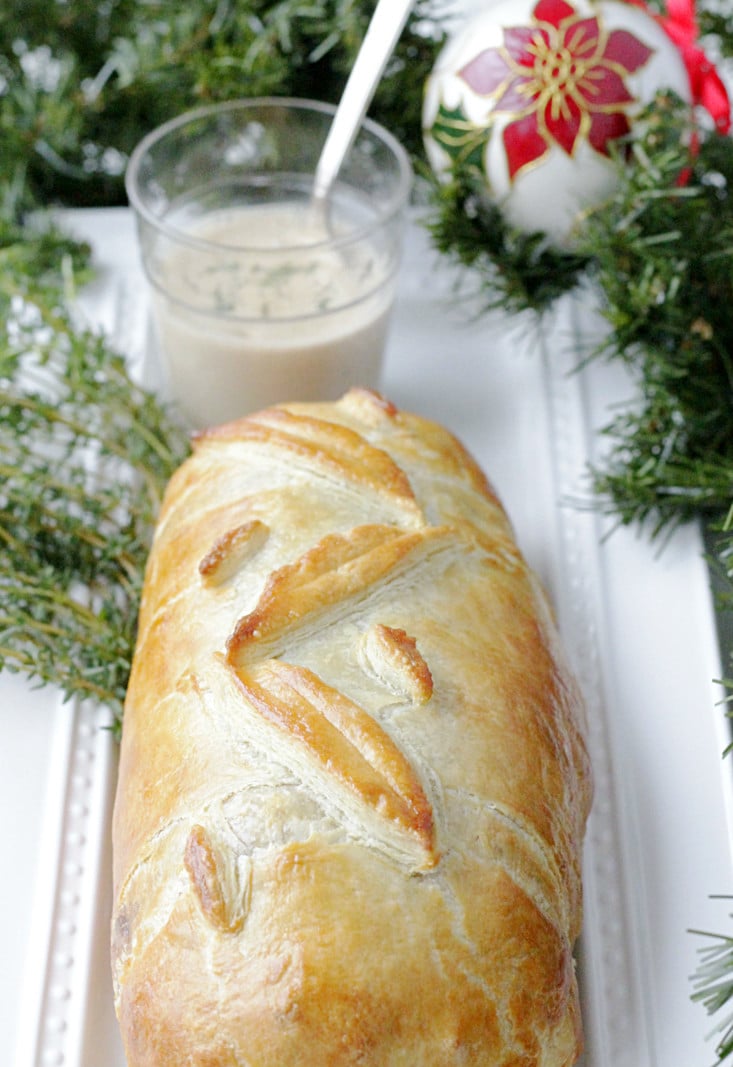 Price is a concern for some when thinking of beef tenderloin. This center cut tenderloin (about 2 1/2 pounds) is trimmed down from my original purchase. It wasn't intentional but at the meat counter I asked for about a 3 pound tenderloin that was tied. They gave me about 3.6 pounds and the tail end was tucked under. I couldn't use that because it wouldn't have fit in my puff pastry. So I trimmed down the tenderloin so it was a nice and even shape, leaving me with about a pound of tenderloin chunks I can use in a beef stew for my family for a separate meal. The cost of the whole 3.6 pounds for me was $66. I am willing to pay that for two separate meals during the holidays.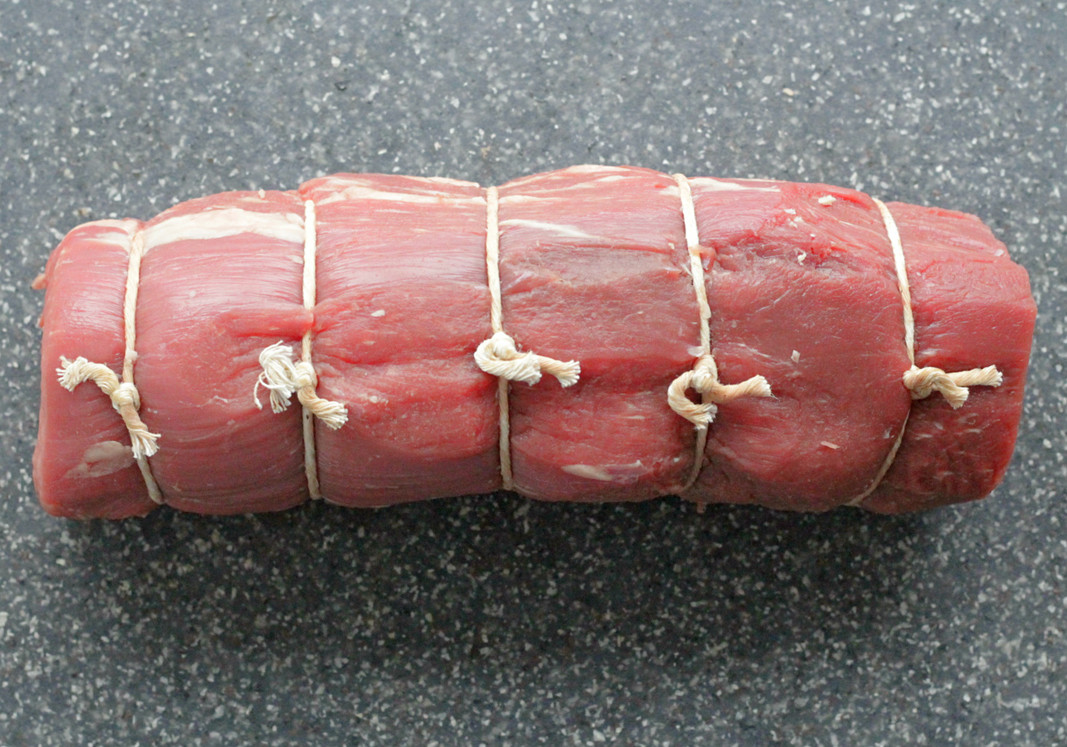 When considering this recipe for a holiday meal I think it is best to plan ahead. Call the meat counter or stop by in person a few days before you need your center cut tenderloin. Order it and be very specific about what you want. In this case, a 2 1/2 pound center cut tenderloin, tied is what you want. Or if you are more adventurous, purchase a whole tenderloin from a club store and trim it at home yourself. You can find a great tutorial for how to do this here. Be sure to pay special attention to Step 10. In this case, it is not optional.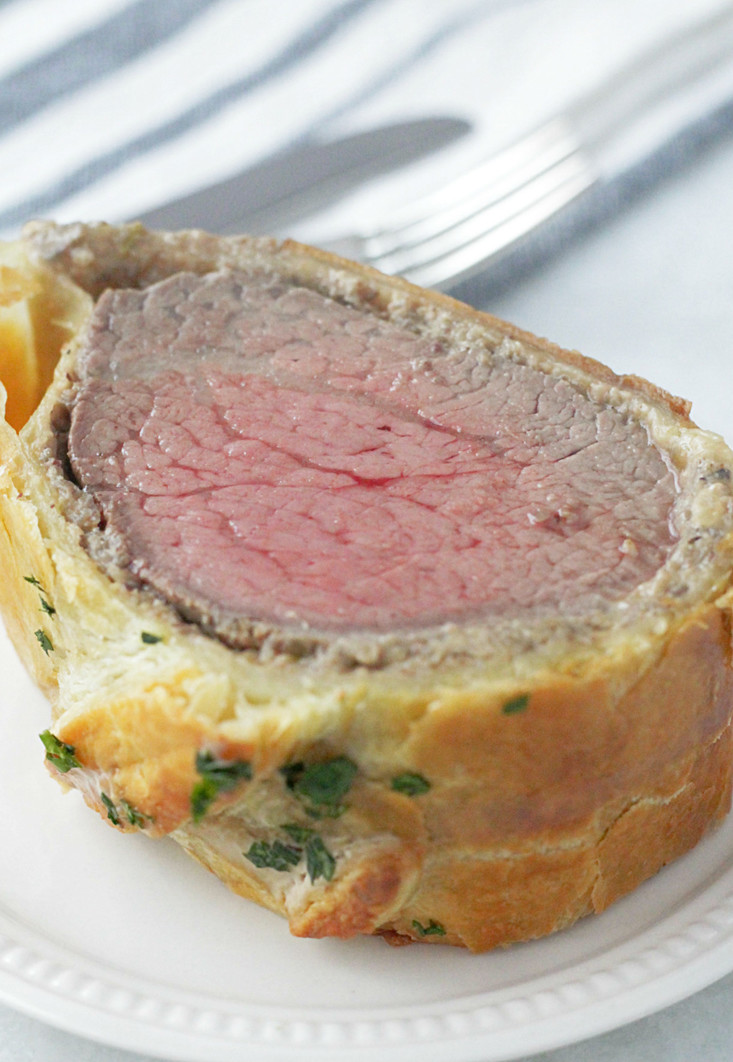 As always I am proud to purchase Ohio beef and promote my local farmers who provide it. There are 17,000 beef farms in my state of Ohio and 98% of them are family farms. Most importantly Ohio beef farmers are committed to providing excellent care of their animals, protecting the environment for future generations and to producing safe, healthy beef. U.S. beef farmers have improved sustainability by 5 percent in the past six years to help feed a growing world population.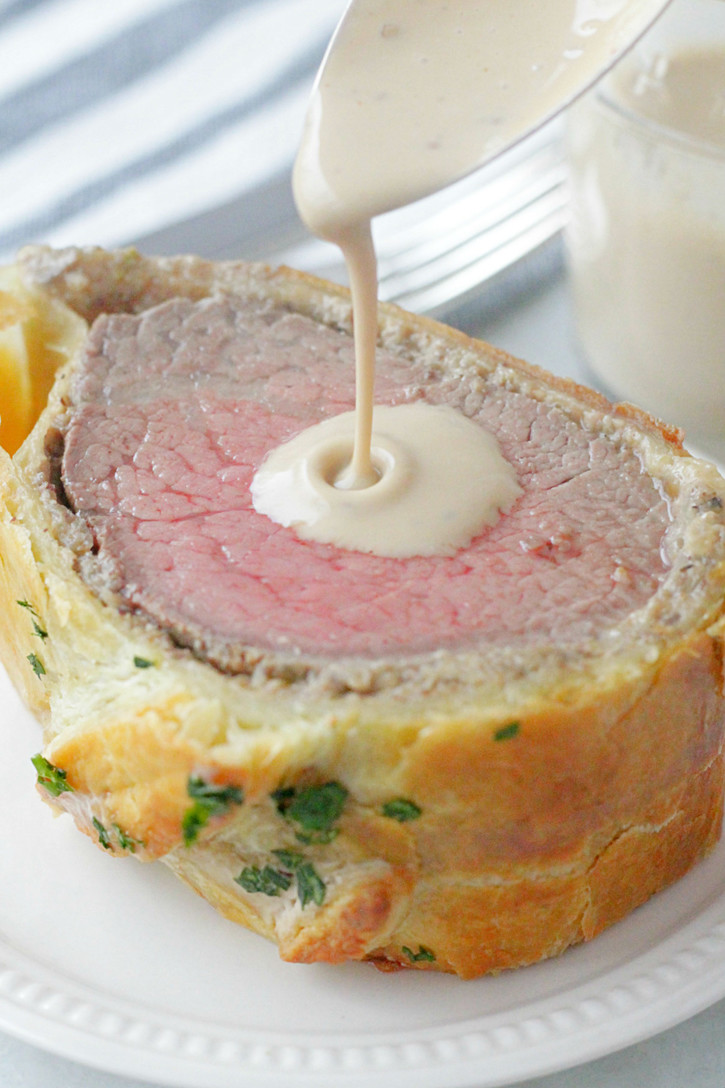 When thinking about how I wanted my holiday beef Wellington recipe to be unique I decided to coat the browned beef with a mushroom, pecan and goat cheese mixture and then top the baked Wellington with a bourbon cream sauce which definitely makes this dish is a show-stopper. And even though this holiday beef Wellington is impressive to present on the dinner table it is relatively simple to create.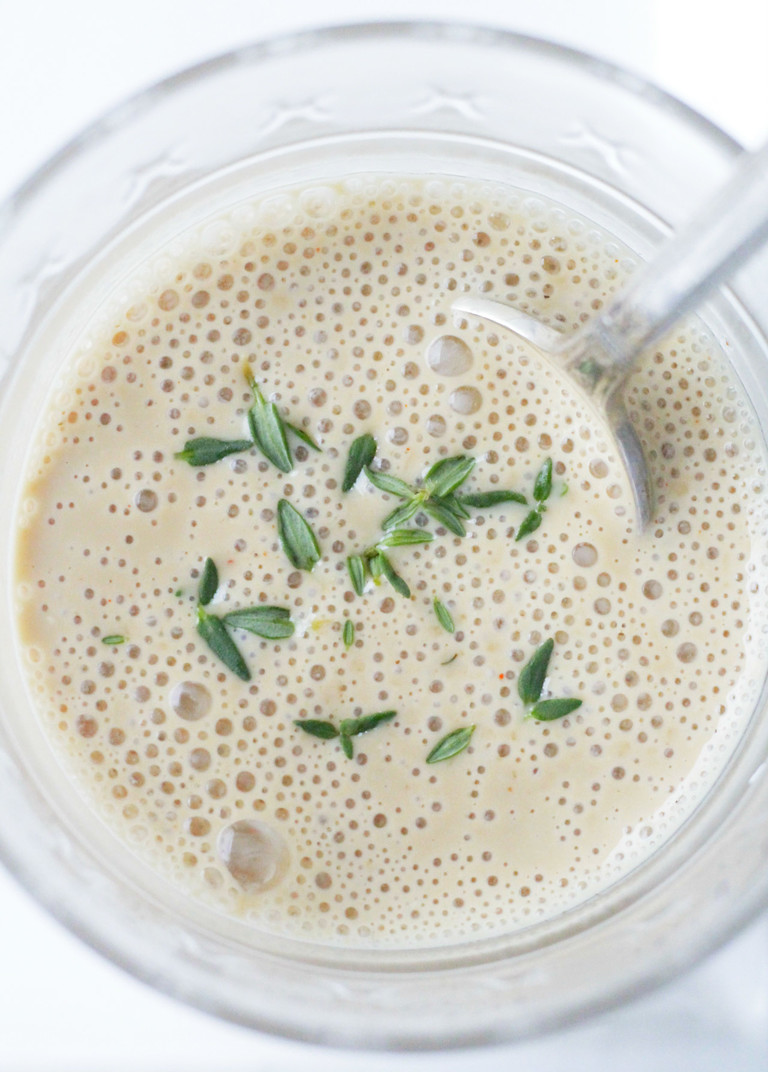 This mushroom mixture can be made up to two days in advance. Puff pastry is purchased from the frozen food section and I cut the shapes on top with a knife – no special cookie cutters required. My bourbon cream sauce is made with just a handful of simple ingredients. And the beef can be trimmed for you by your store's meat counter.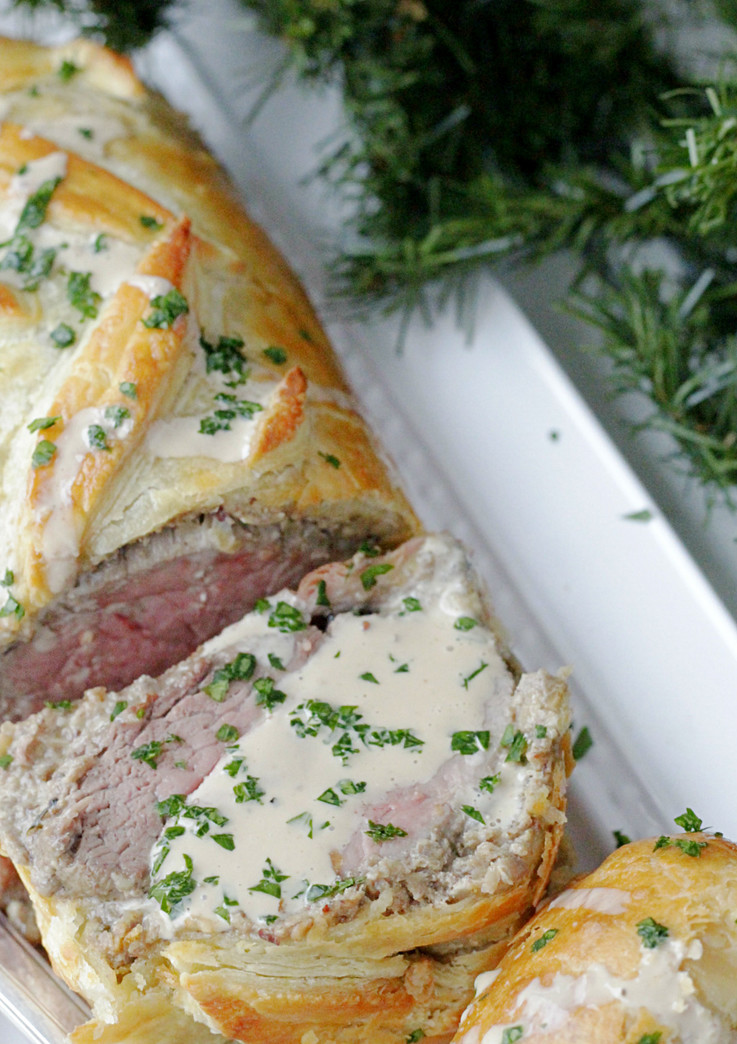 If you are looking for side dish and dessert recipes to go with this Holiday Beef Wellington I have some for you to check out:
Spinach Strawberry Salad
Party Potatoes
Sugared Cranberry Cake

For wine pairings with this Holiday Beef Tenderloin be sure to check out this helpful graphic from the Ohio Beef Council: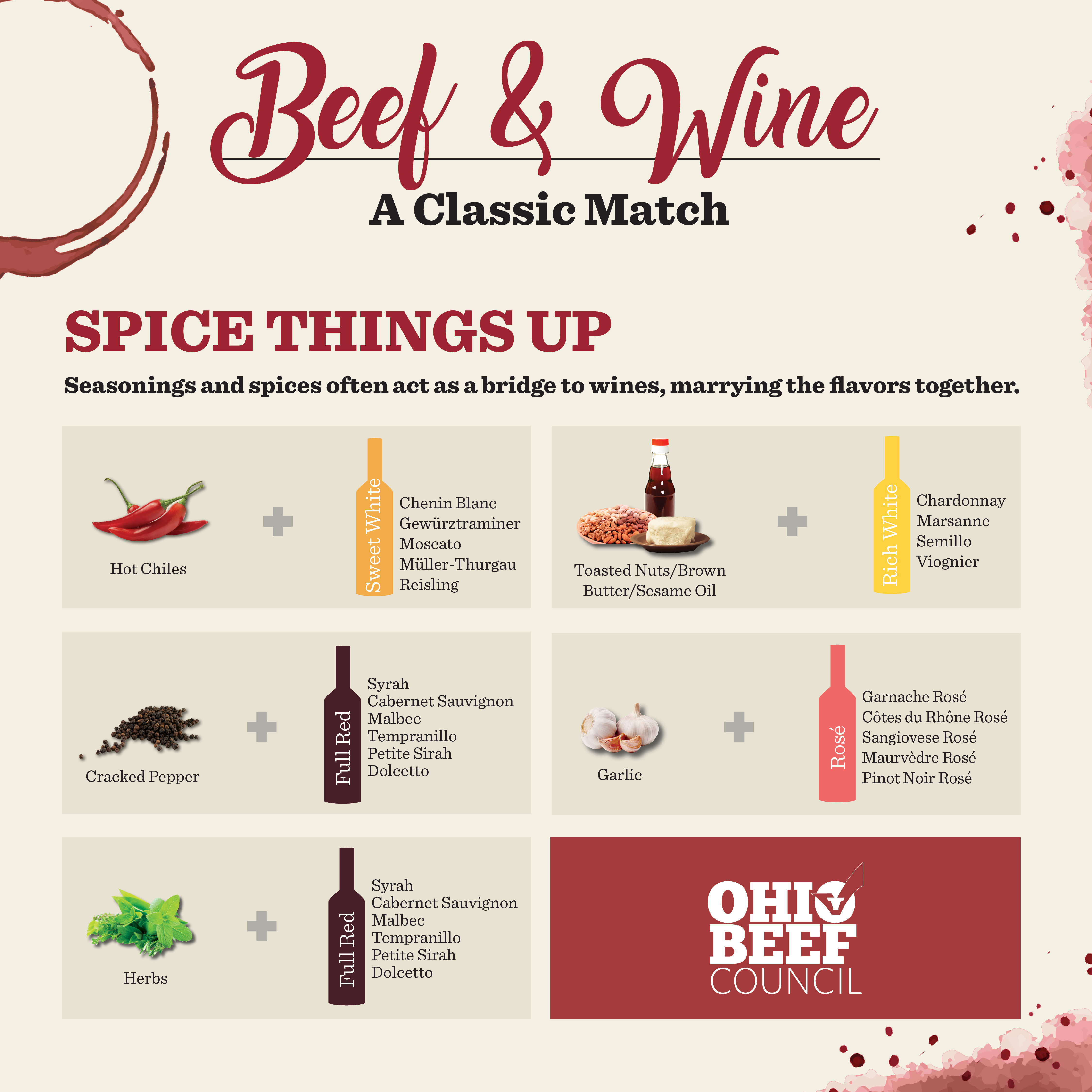 Holiday Beef Wellington
Ingredients
2.5

lb

center-cut beef tenderloin

tied to hold shape

2

tbsp

vegetable oil

1

tbs

olive oil

1

tbs

butter

1/2

cup

onion

diced

1/4

cup

shallot

diced

12

oz

mushrooms

stemmed and sliced

1/3

cup

pecans

chopped

2

oz

goat cheese

1

tbs

bourbon

1/2

tsp

smoked paprika

1

pkg

frozen puff pastry

thawed

1

large

egg

1

tbsp

water

3/4

cup

beef broth

1

tsp

cracked black pepper

1

sprig

fresh thyme

1

tbsp

bourbon

1

tsp

whole grain mustard

1/3

cup

whipping cream

1

tbsp

butter

salt
Instructions
In a large skillet over medium high heat, add the olive oil and one tablespoon of butter to melt. Add the onions and shallots and cook, stirring until starting to soften. Add the mushrooms and cook until starting to brown. Add the pecans and cook until all liquid has evaporated. Stir in one tablespoon of bourbon and stir, cooking for one minute. Turn off the heat and stir in the goat cheese until just melted. Season the mixture with the smoked paprika and one teaspoon of salt. Allow the mushroom mixture to cool for a bit and then add to a food processor and process until smooth. Mushroom mixture can be made up to two days ahead. Keep covered in refrigerator.

If making the same day, to the same pan add the two tablespoons of vegetable oil and heat over medium-high heat. Season the center cut beef tenderloin well with salt and quickly brown the outsides of the beef in the pan with the oil (about 5 - 7 minutes total).

Remove the beef to a cutting board and let rest for a few minutes. Cut the butchers string off the tenderloin using kitchen shears.

Preheat oven to 400 degrees F.

Lay out one sheet of thawed puff pastry onto a clean cutting board and use a rolling pin to smooth out the pastry and make it big enough to wrap around the beef.

Spread the mushroom mixture evenly over the surface of the puff pasty. Place the browned beef tenderloin in the center of the pastry and wrap it. Place the seam side down onto a sheet pan lined with a silpat liner or parchment paper.

Place the pan in the refrigerator with the sealed beef for 15 minutes.

If desired, cut decorative shapes out of the second sheet of puff pastry.

Beat together the egg and water and brush the pastry surface all over with the egg wash. Decorate the top of the Wellington with the additional puff pastry shapes and brush again with the egg wash.

Bake the Wellington for 40 minutes, or until the puff pastry is a dark, golden brown and the internal temperature of the beef registers 135 degrees F for medium-rare.

While the Wellington is baking, add the beef broth, cracked black pepper and fresh thyme to a sauce pan. Bring the broth to a boil and reduce by half. Reduce the heat to simmer and remove the thyme. Add the bourbon and allow to simmer for one minute. Whisk in the mustard, whipping cream, butter and 1/2 teaspoon of salt. Serve with the beef Wellington.