Fried Beet Chips are a colorful and more nutritious alternative to potato chips and surprisingly simple to make at home.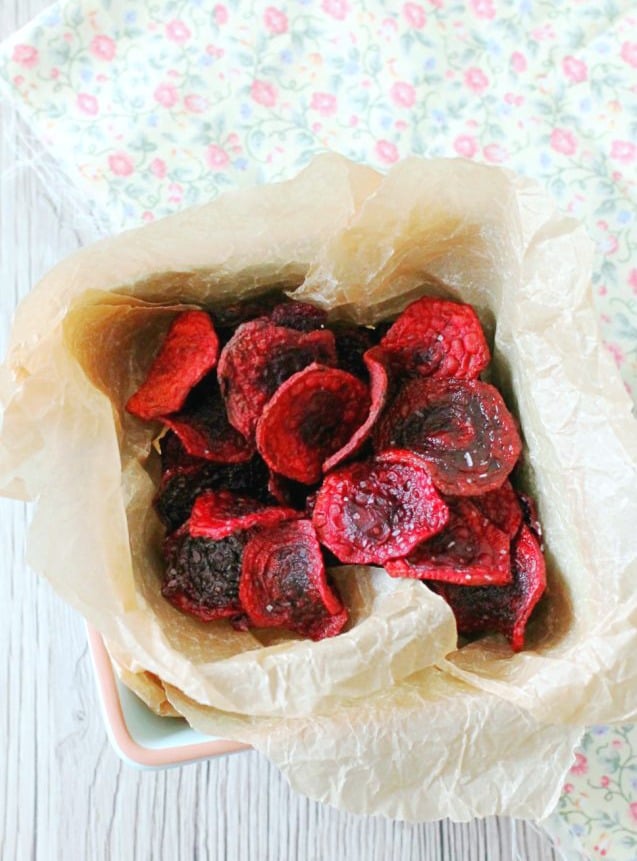 Fried beet chips should be on your bucket to list to make at least once. They are so much better than store-bought beet chips in a bag. I had a few fresh beets left in my vegetable drawer the other day and I decided to make them into chips. First I researched baked versions of beet chips but found that baked beet chips are prone to burning easily before they are truly crisp. Plus I figure if I'm making a chip from such a nutrient-dense, natural food a little bath in some canola oil couldn't hurt too much. Right?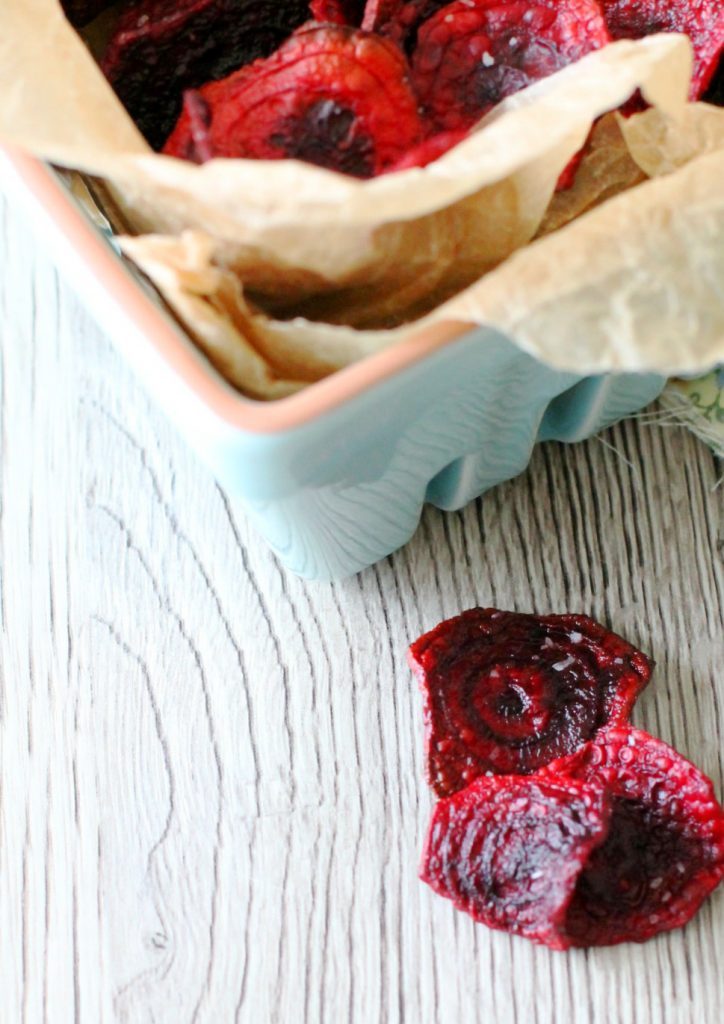 In my opinion, beet chips are more satisfying than a kettle-cooked potato chip – not that I'm giving up potato chips anytime soon! So making a small batch of beet chips makes sense because they were delicious and I could stop after indulging in just a few. Plus they were an amazing side for my simple egg salad sandwich. And aren't we all worth a lunch like this – that we've just made for ourselves while the kids are at school and the husbands are at work – once in a while? I think so!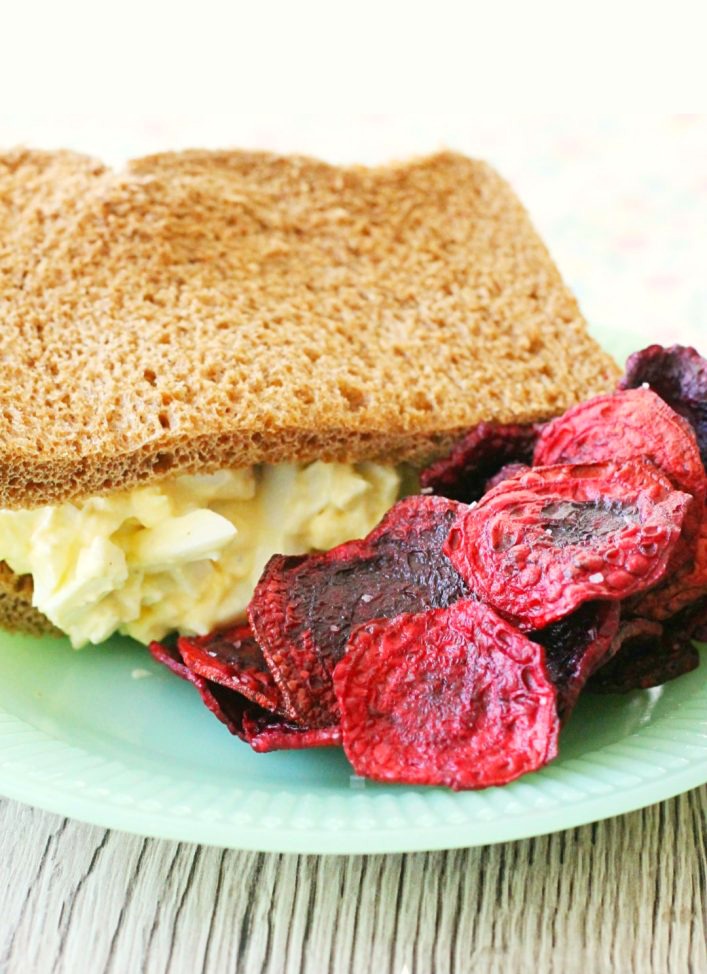 Tips for making Fried Beet Chips:
I used a hand-held mandolin like this one to slice my fresh beets
Avoid buying beets with soft spots or shriveled skin – the skin should be smooth and firm
Peel raw beets just as you would a potato – with a vegetable peeler
Fried beets can be made in a skillet – no need for a deep fryer
Foodtastic Mom is a participant in the Amazon Services LLC Associates Program, an affiliate advertising program designed to provide a means for sites to earn advertising fees by advertising and linking to Amazon.com. Any highlighted, clickable Amazon link you see is an affiliate link that I may earn advertising fees on.
Thank you so much for being a faithful reader and supporter of Foodtastic Mom. Be sure to PIN and print this collection of recipes!

Fried Beet Chips
Fried Beet Chips are a colorful alternative to potato chips and surprisingly simple to make at home.
Ingredients
4

fresh beets

canola oil

sea salt
Instructions
Wash and peel the beets with a vegetable peeler. Slice using the thinnest setting on a mandolin.

Pour canola oil into a large, non-stick skillet until it is just about 1/4" deep. You don't need much oil - just enough to truly coat the bottom of the pan.

Heat the oil over medium heat.

Add the beet chips in a single layer and fry for about 3 minutes per side (flipping them once during cooking).

Watch them closely so they don't burn but leave them in long enough until they are darker in color and starting to look "shriveled". They will still have a bit of "give" to them when you remove them from the pan and then crisp up further after they have cooled completely.

Use tongs to remove the fried beet chips to a paper towel lined plate.

Repeat the process of frying, adding a little more oil to the pan if needed.

Sprinkle the beet chips lightly with sea salt and serve.
Nutrition
More lunch time recipes: