Thank you to the Ohio Beef Council for sponsoring my recipe for Peach Balsamic Beef Jerky. As always all opinions are mine alone.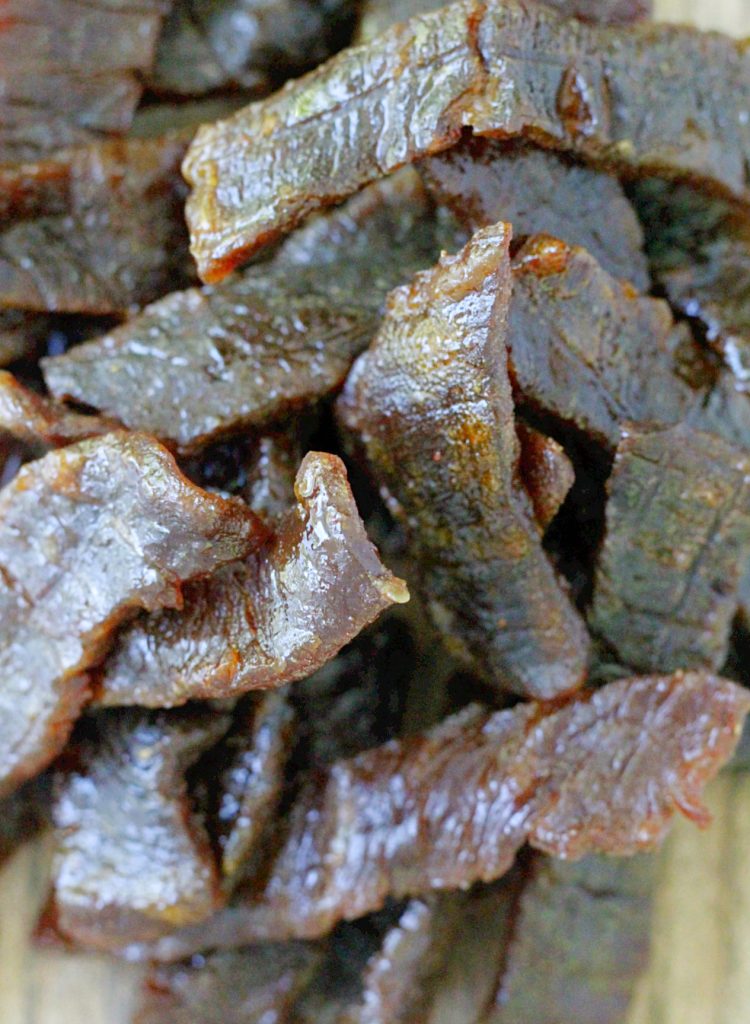 When you think of favorite foods to pack in your child's lunch box does beef jerky come to mind? It does for me because my daughter (who will soon be entering the fifth grade) loves herself some beef jerky. Those little pouches at the store are expensive though and she's not always fond of the spicy flavors. And I'm not always fond of the ingredients on the labels that I can't pronounce.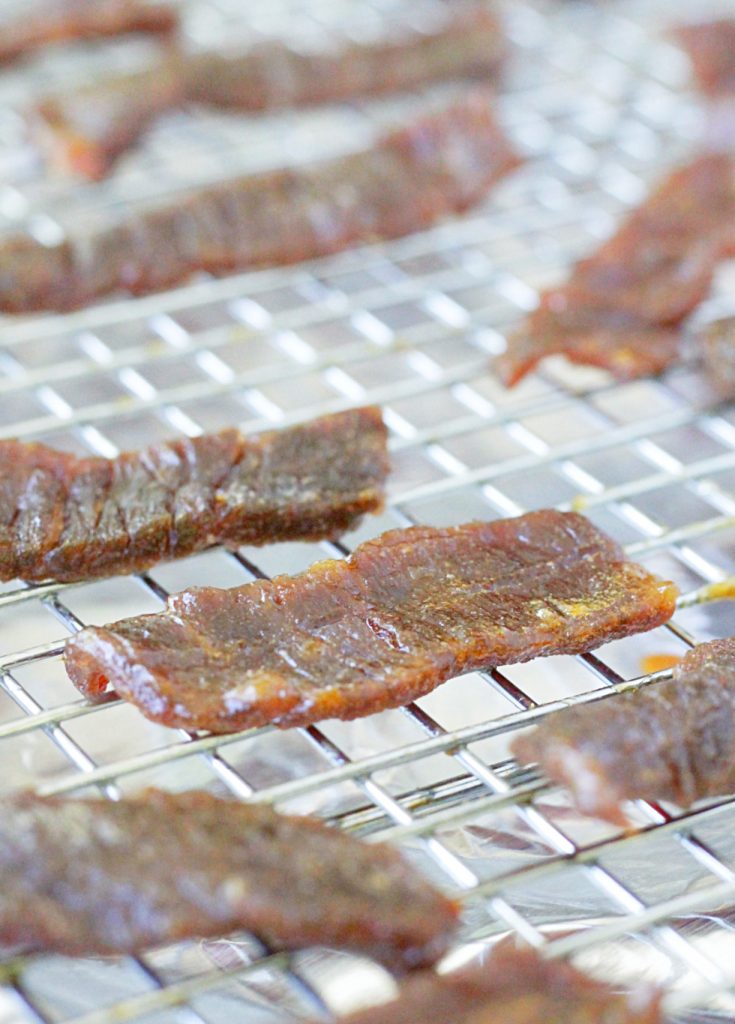 She is my reason for creating this recipe. She tasted the first piece as soon as it came out of the oven and was completely smitten with the flavor. It's sweet and salty and so fresh tasting. The process is simple enough that I know you'll want to be making this protein-rich, delicious snack for your kids' lunch boxes too.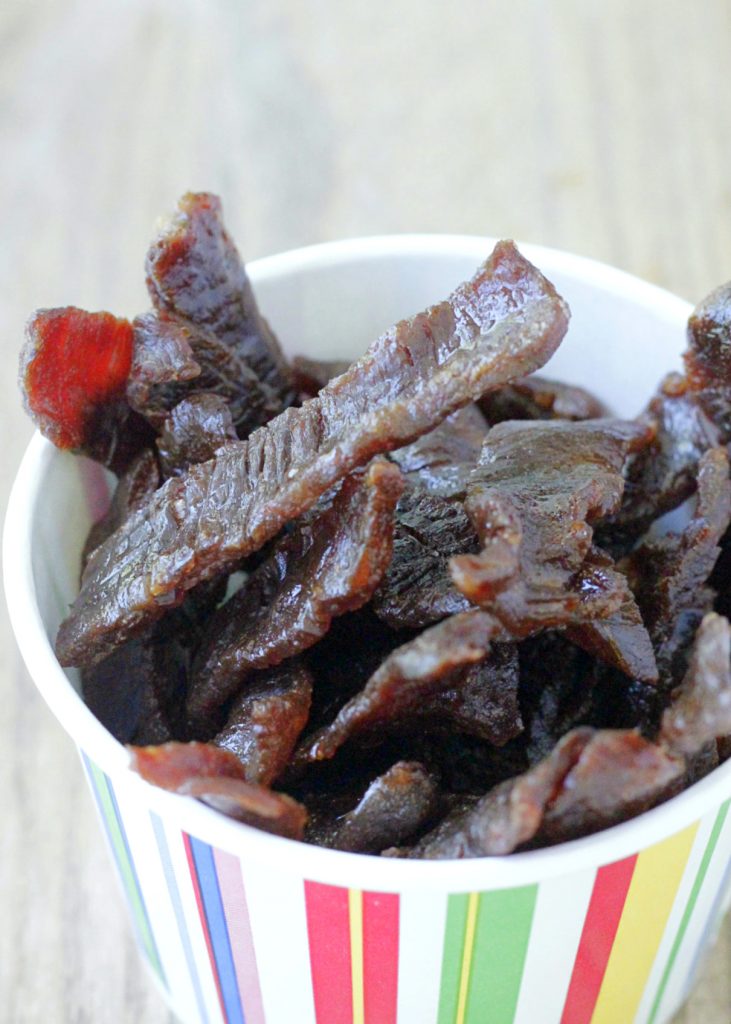 Despite Hannah's genuine love for beef jerky (and steak too – it's her favorite food) I know the protein in beef jerky is going to help keep her full and focused longer during her school day. Plus as a swimmer she needs a little extra protein to help build muscle to keep her strong and motivated during those long practices.
I started with lean beef from the meat counter at my local grocery store. I chose two top sirloin steaks to test my recipe. Other good cuts for making beef jerky are Top Round, Bottom Round, Eye of Round and Flank Steak. Cutting against the grain is key for tender jerky. Also freezing your beef for a few minutes helps with getting thin slices.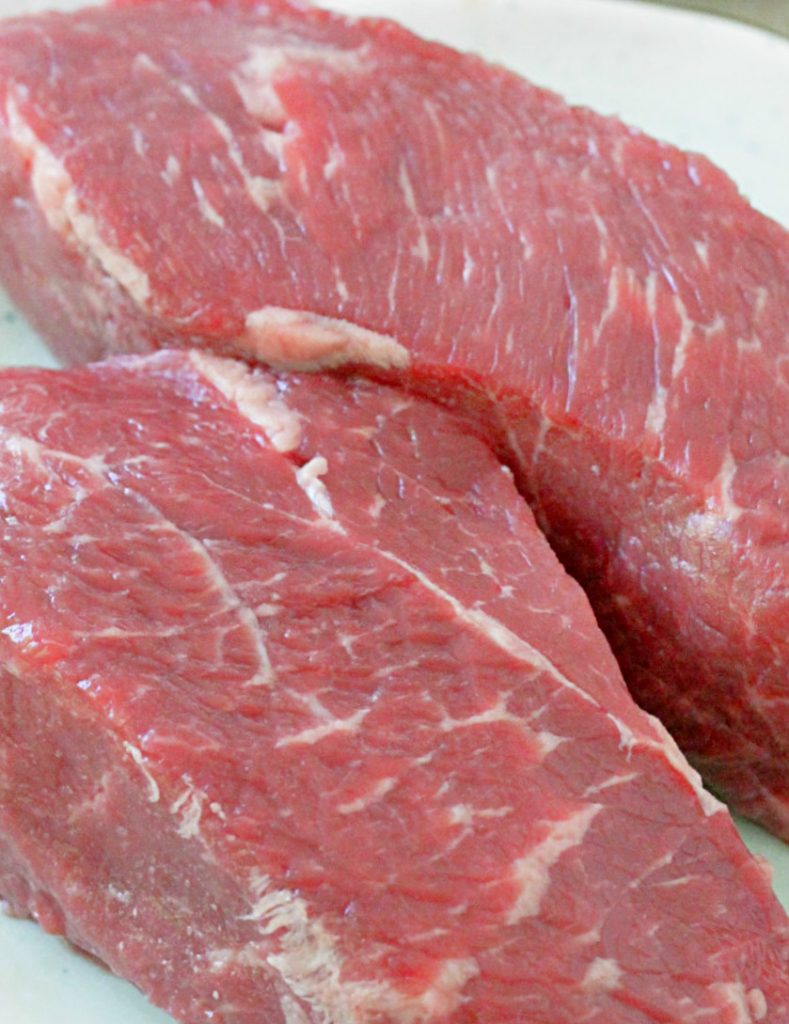 After a night of marinating in the fridge, the jerky is baked at 175 degrees for about 3 hours. A half sheet pan, piece of foil and oven safe (metal) baking rack are all that is needed for baking beef jerky. I've included affiliate links for the baking sheet and rack I used at the end of this post.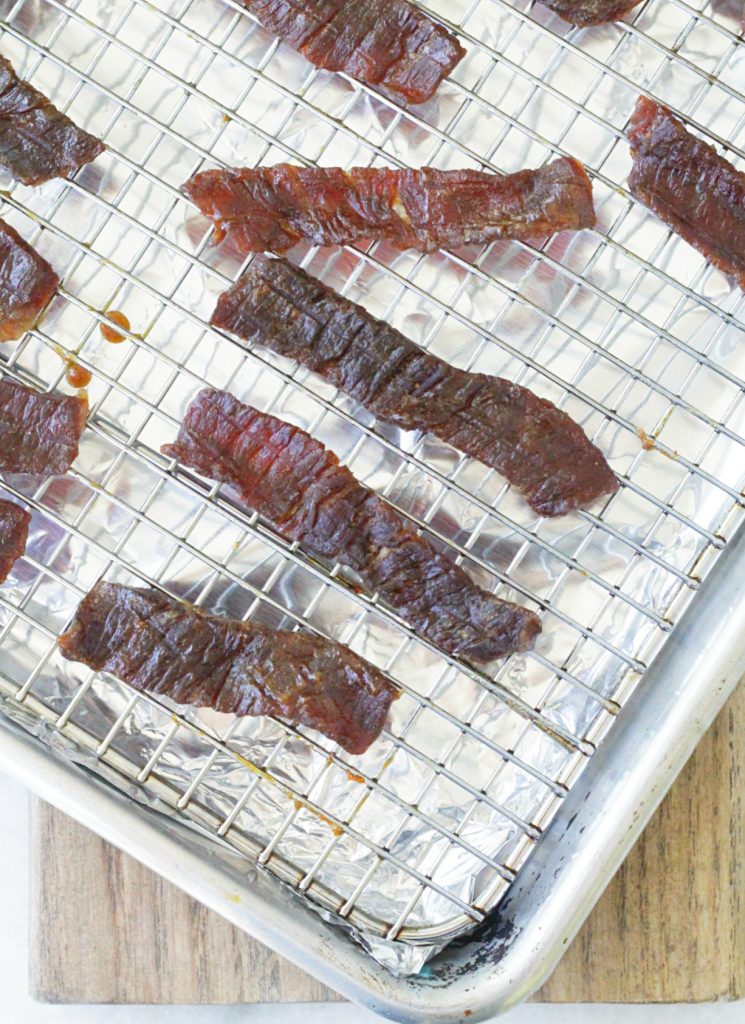 Be sure and visit www.OhioBeef.org, and follow the Ohio Beef Council on Facebook, Twitter and Instagram for beef nutrition facts, cooking tips recipes and to meet Ohio's beef farmers. I'm sure glad their lean beef is helping me make my own jerky this year!
PIN THIS RECIPE

Peach Balsamic Beef Jerky
Ingredients
2

lbs

lean beef

sirloin, round or flank

3/4

cup

peach (or apricot) preserves

1/4

cup

balsamic vinegar

1

tbsp

Dijon mustard

1

tsp

seasoned salt

1

tsp

Kosher salt
Instructions
Place beef in the freezer for about 20 minutes.

Remove the beef and thinly slice the beef against the grain with a sharp knife.

Place the peach or apricot preserves, balsamic vinegar, Dijon mustard, seasoned salt and salt in a small food processor and process until smooth.

Place the sliced beef and marinade in a gallon sized zipper bag and make sure the marinade coats all the beef. Refrigerate overnight.

Preheat oven to 175 degrees F. Line a baking sheet (or two) with foil and place an oven safe (metal) rack on top of the foil.

Place the marinated beef in a single layer on top of the metal baking racks.

Place the beef (on the racks and baking sheets) in the oven and bake for 3 hours, rotating once halfway through baking time. Remove the jerky from the oven and allow to cool completely.

Store the beef jerky in an air-tight container (in a dark pantry or the refrigerator) for 1 - 2 weeks.