I'm showing you how simple it is to cook a big batch of slow cooked beef in this second of three 'Cook Once Eat All Week ' series. Keep reading for three original beef recipes plus links to more dinner ideas for shredded beef.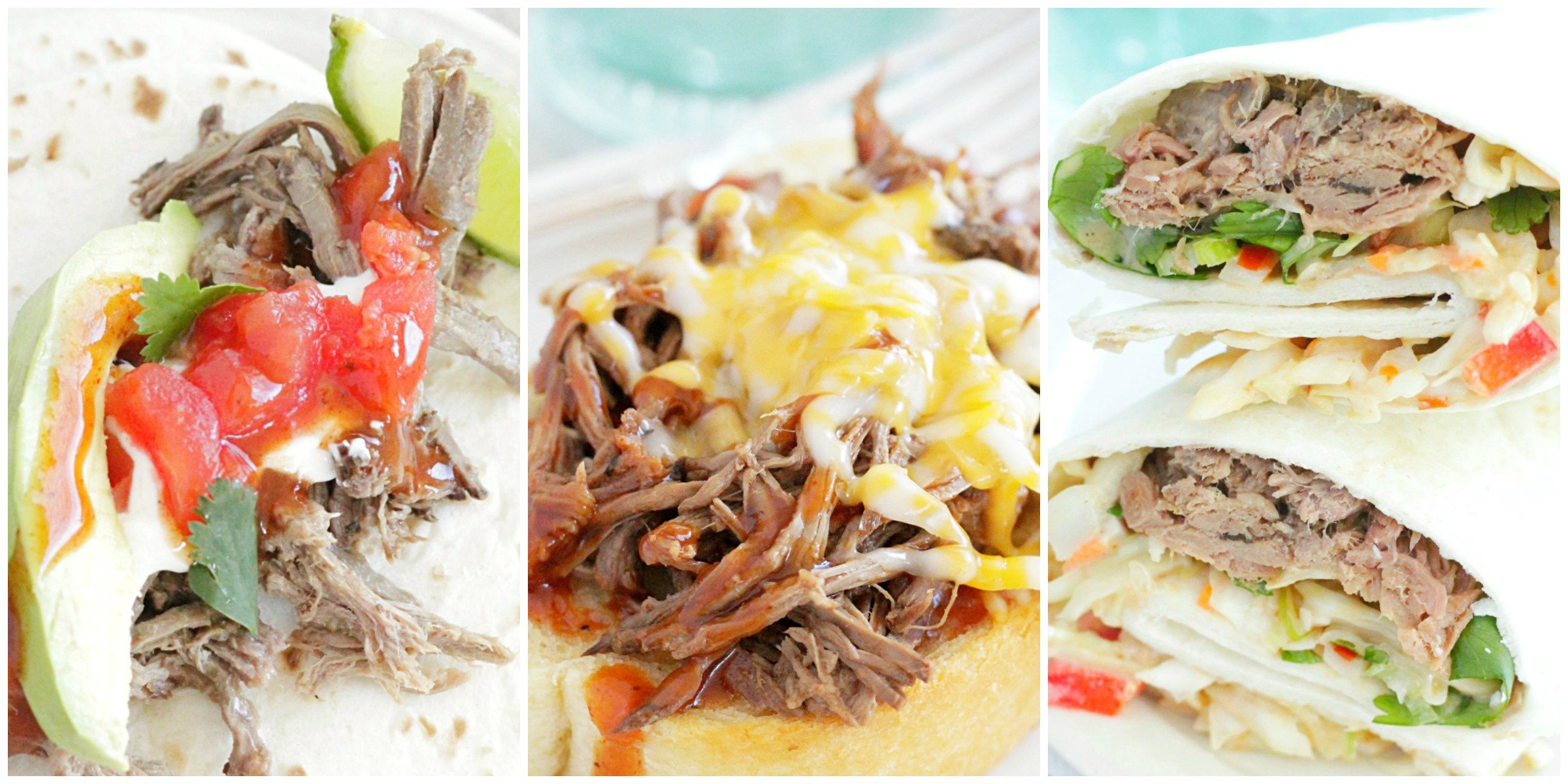 In my real life I've been needing to think of some practical dinner solutions so that we can continue sitting down together as a family. So this series I began last week with pulled pork recipes is based on a real need. This is meal planning for busy families. This 'cook once eat all week' series is based around the concept of cooking a big batch of meat on Sunday and then portioning it into meal prep containers for simple dinners all week long.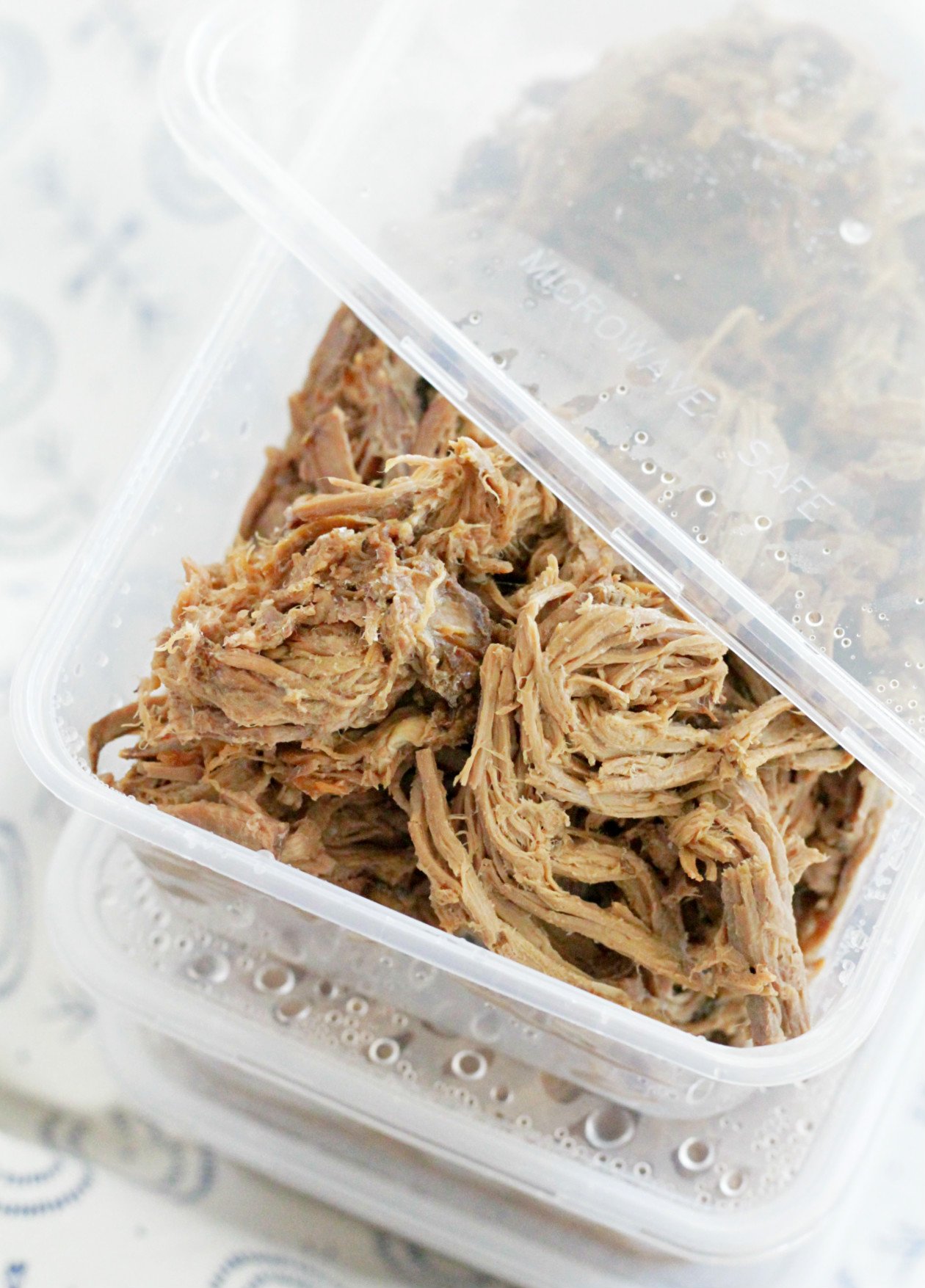 After beef I'm going to do a chicken series and then I'm going to add even more recipes and bundle them all into a convenient e-book. So be on the lookout for that sometime in the Spring!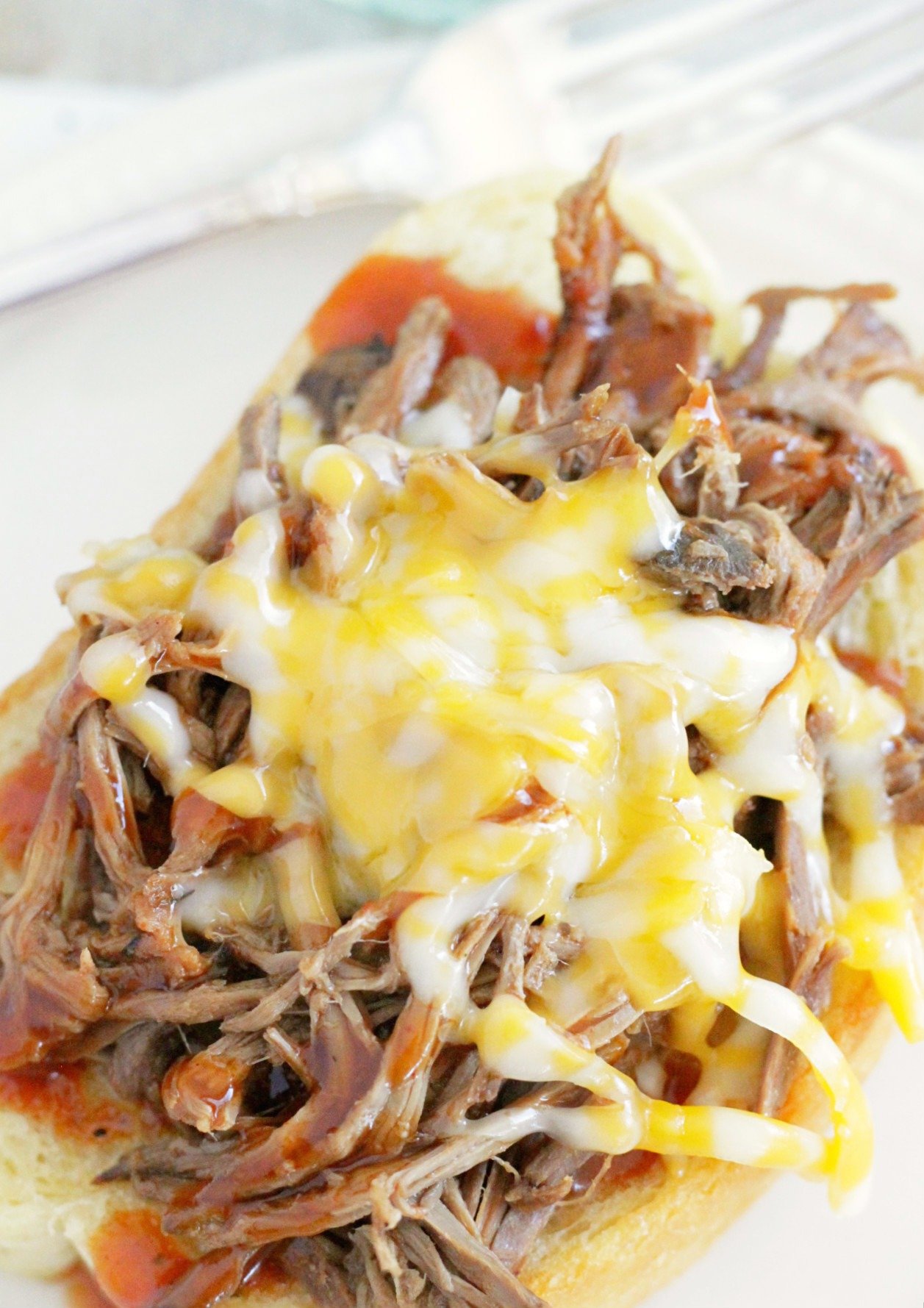 As I was deciding on beef recipes to create I wanted to use what I already had in my refrigerator (as I would in real life). And so I'm using many of the same sauces that I used when creating my pork recipes. The BBQ Buffalo sauce came about because I didn't have quite enough BBQ sauce for the amount of beef I was going to serve for one meal but I had some Redhot Buffalo sauce. I thought maybe the two would be good combined together and they are! I'm getting more frugal in my old age 😉 These meals are all convenient and economical for on-the-go families like ours.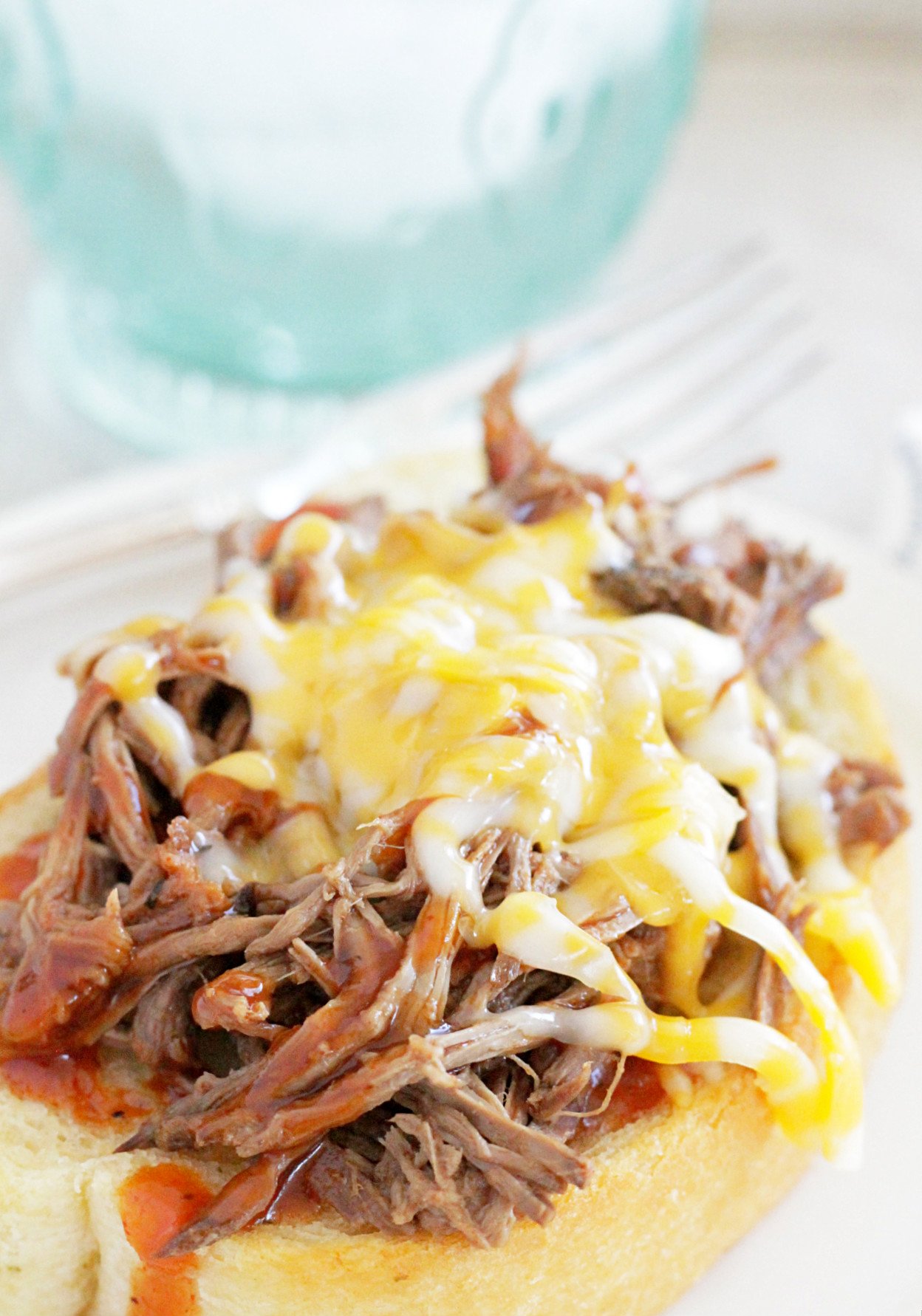 Open Faced BBQ Buffalo Beef Sandwiches:
Combine about 1/3 cup of your favorite BBQ sauce with an equal amount of buffalo sauce
Mix the sauce with the shredded beef to coat
Bake frozen garlic bread slices according to package directions
Evenly divide the BBQ Buffalo beef on top of each garlic bread slice
Top the open faced beef sandwiches with shredded cheese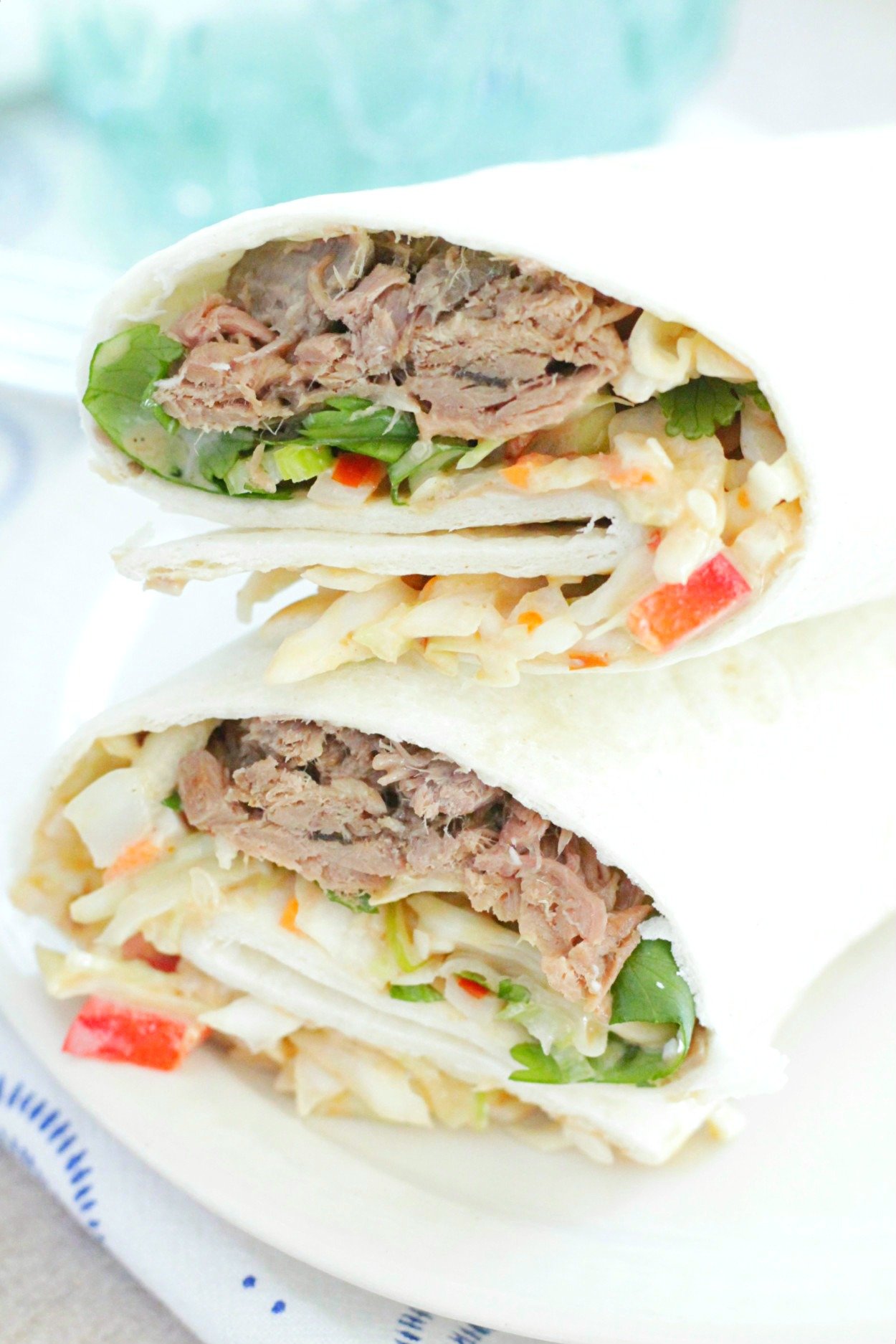 Asian Beef Wraps with Creamy Hoisin Slaw:
Combine about 2 tablespoons of hoisin sauce with an equal amount of mayonnaise and one tablespoon of chili garlic sauce – whisk until smooth
Mix together about 2 cups of bagged coleslaw mix with 1/4 cup chopped red pepper and 1/4 cup sliced green onions and about a tablespoon of sesame seeds
Toss the slaw with the dressing
Divide a container of the shredded beef among four burrito sized tortillas
Divide the creamy hoisin slaw evenly to top the beef
Roll into wraps and serve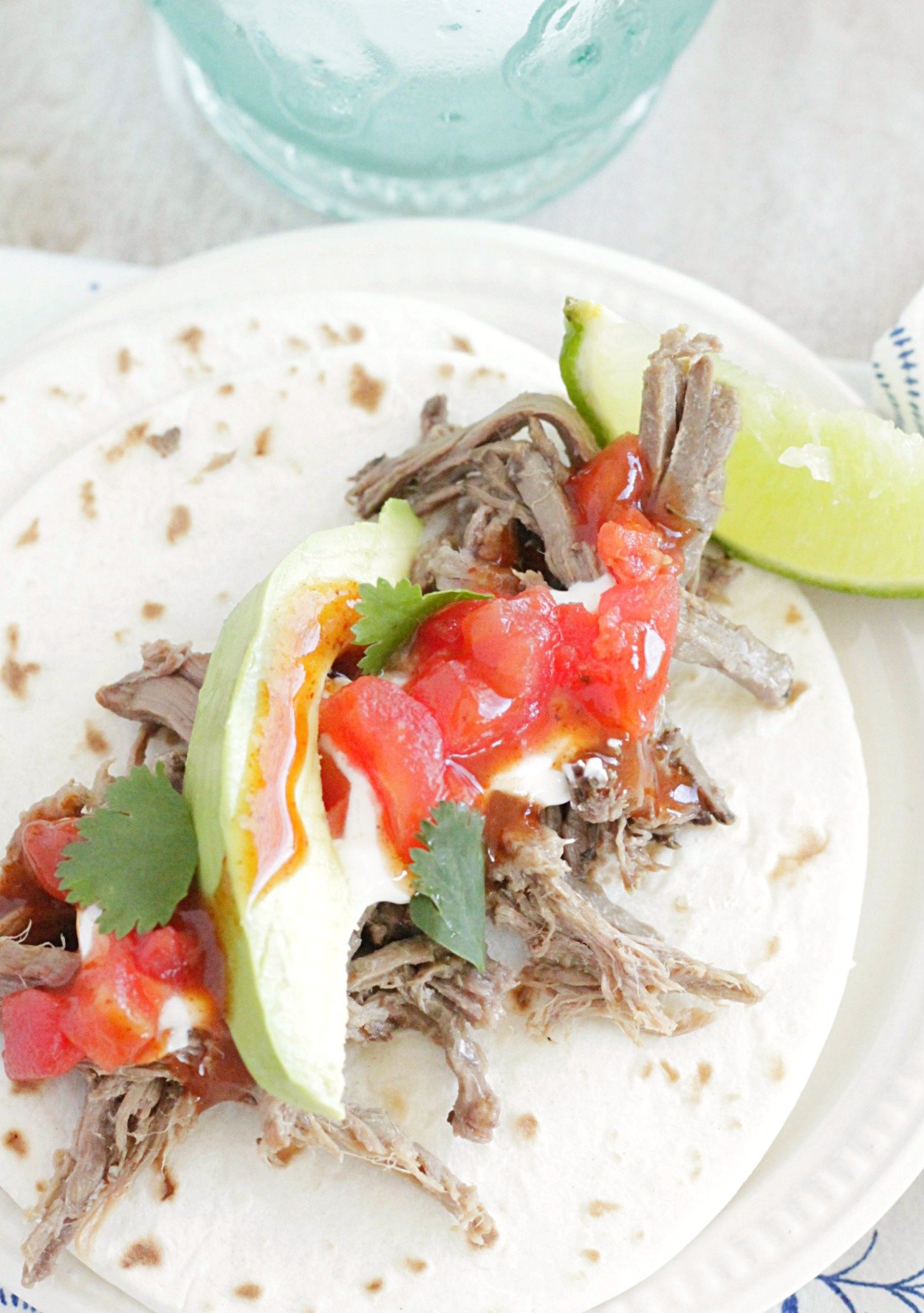 Shredded Beef Street Tacos:
Combine a container of the shredded beef with about 1/2 cup of taco sauce (I use this one)
Serve the taco shredded beef with tortillas, sliced avocados, lime wedges, sour cream and fresh salsa
Tips to Cook Once Eat All Week with Shredded Beef:
These containers are terrific for storing the shredded beef until ready to use
This recipe yields enough shredded beef for five meals – for more recipes scroll down to the end of this post
Foodtastic Mom is a participant in the Amazon Services LLC Associates Program, an affiliate advertising program designed to provide a means for sites to earn advertising fees by advertising and linking to Amazon.com. Any highlighted, clickable Amazon link you see is an affiliate link that I may earn advertising fees on.
Thank you so much for being a faithful reader and supporter of Foodtastic Mom. Be sure to PIN this collection of recipes!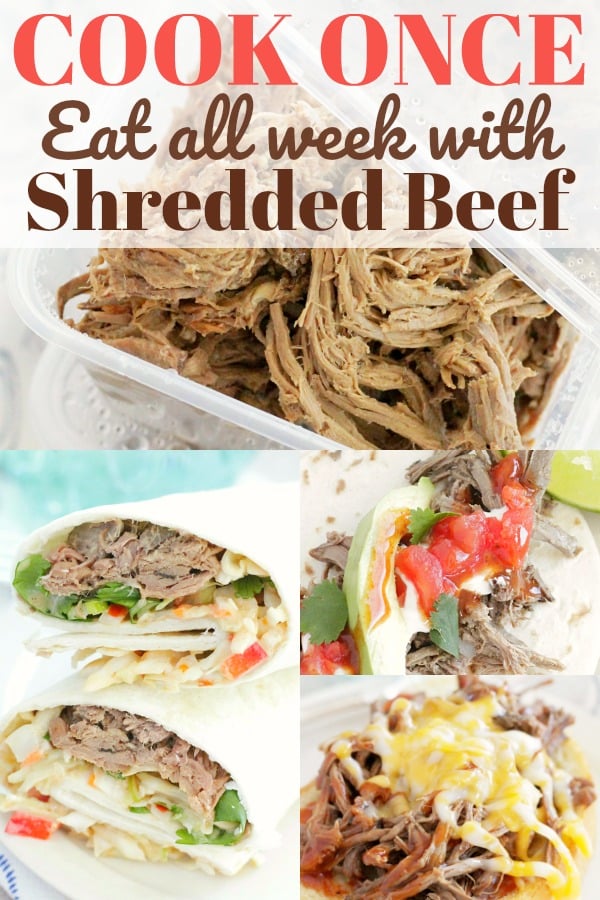 Slow Cooker Shredded Beef
I'm showing you how simple it is to cook a big batch of slow cooked beef in this second of three 'Cook Once Eat All Week ' series.
Ingredients
1

4 to 5 pound

beef roast

I used a chuck roast

2

tsp

salt

1

tsp

thyme

1/2

tsp

garlic powder

1/2

tsp

onion powder
Instructions
Place the beef into a 6 to 8 quart slow cooker. Sprinkle the beef roast evenly with the salt, thyme, garlic powder and onion powder.

Cook on LOW for 8 - 10 hours. Shred the meat, being sure to discard any visible fat. Portion the meat into five separate containers (about 3/4 - 1 pound each) for meals.

Shredded beef can be stored in air-tight containers for up to one week in the refrigerator or up to one month in the freezer.
Nutrition
More dinner recipes using Shredded Beef: