I'm showing you how simple it is to slow cook a big batch of pulled pork in this first 'Cook Once Eat All Week' series. Thank you to the Ohio Pork Council for sponsoring this post.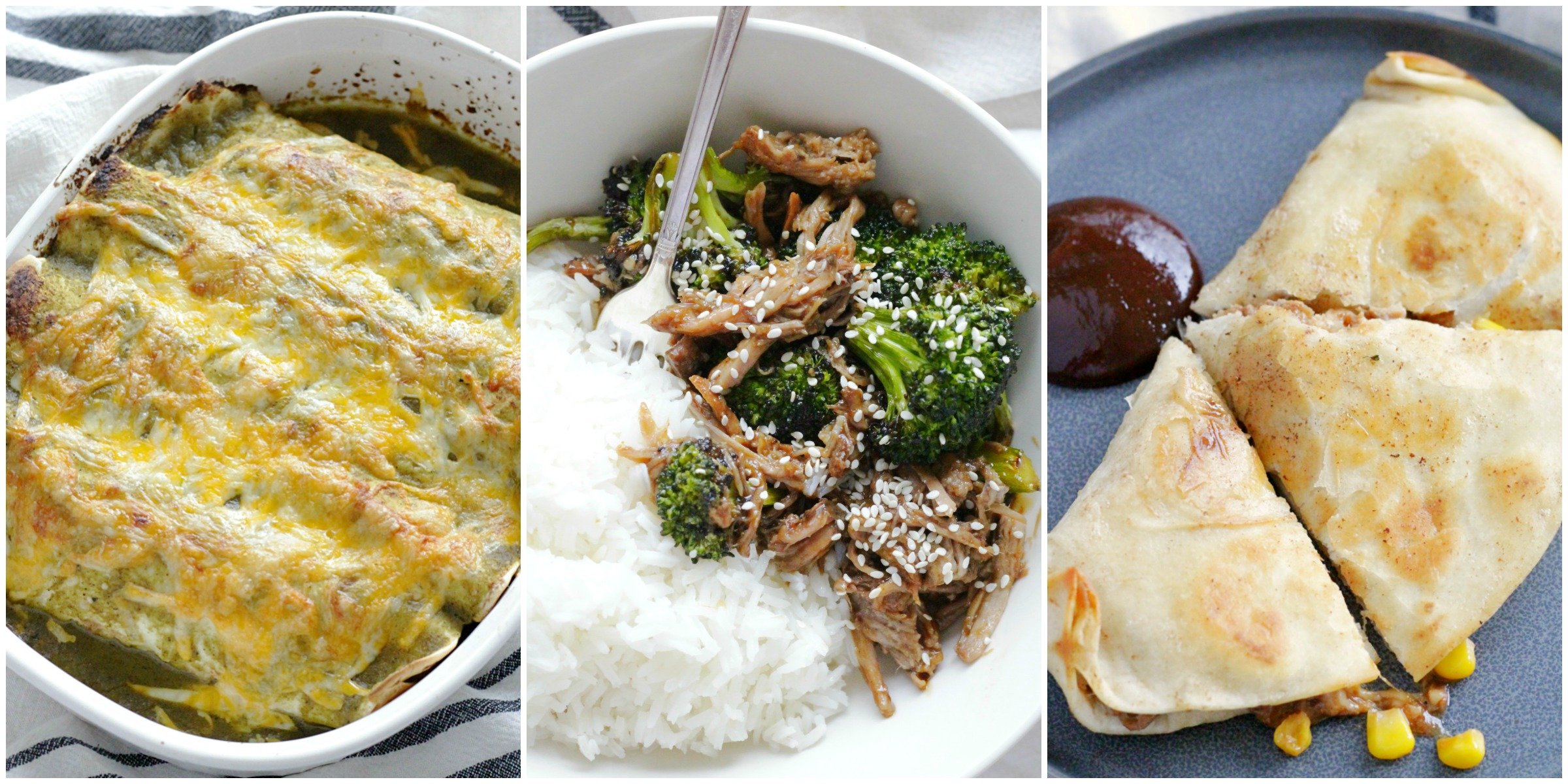 What's that old saying – if you fail to plan you plan to fail? As a creative-type person I've never been great at planning things ahead but I'm trying to develop strategies to make planning easier for myself. Like this plan for Cook Once Eat All Week where I use my slow cooker to make a big batch of shredded meat – in this case pulled pork – and then portion it out for dinners all week.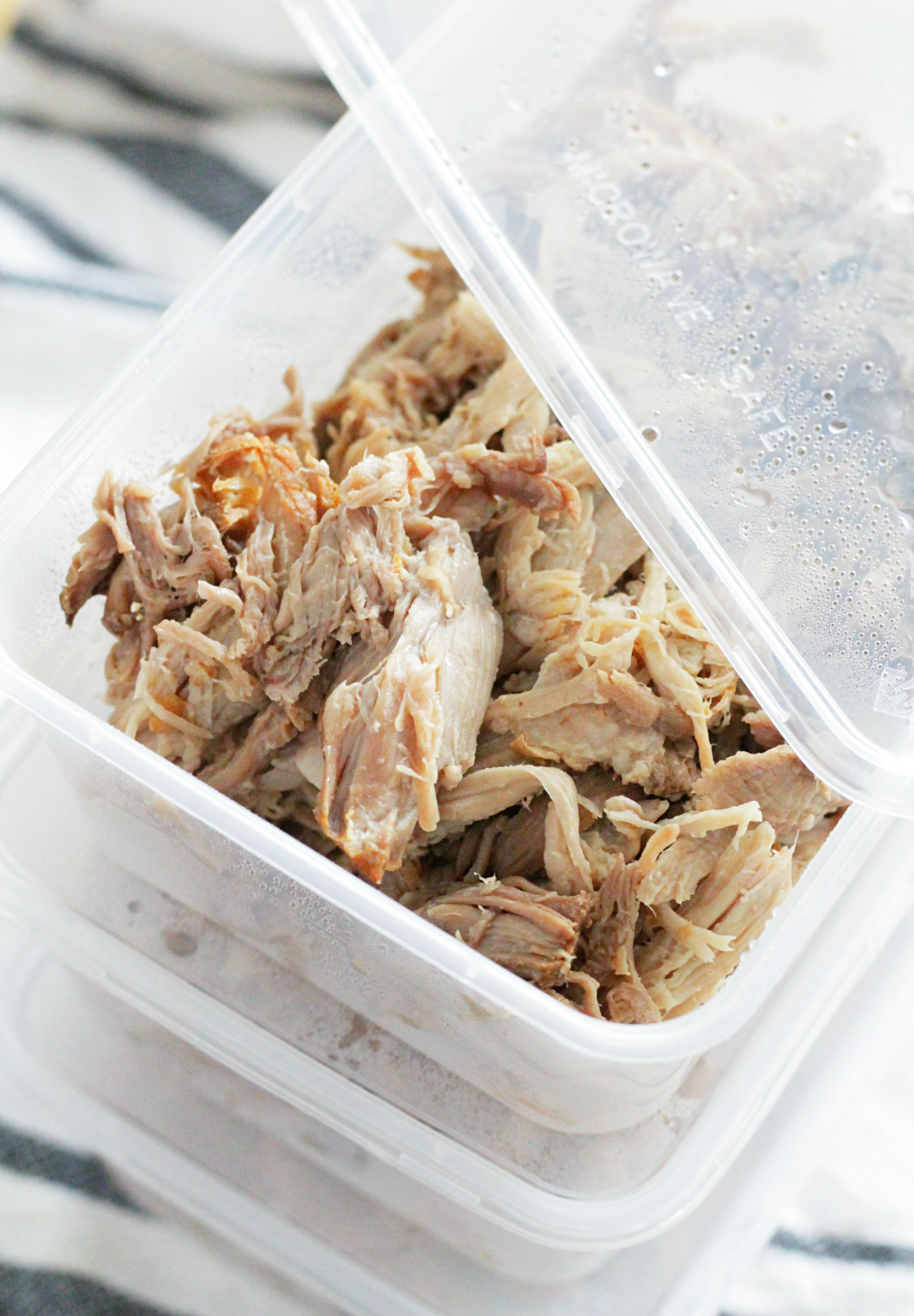 Like me you probably think of pulled pork as BBQ but a Pork Butt (also called a Boston Butt or Pork Shoulder) can be so versatile. In fact I prefer pulled pork over chicken in meals like enchiladas. A nice cut of pork from your butcher doesn't need much to slow cook into a pile of juicy and delicious shredded meat. Just some lemon juice, an apple and salt.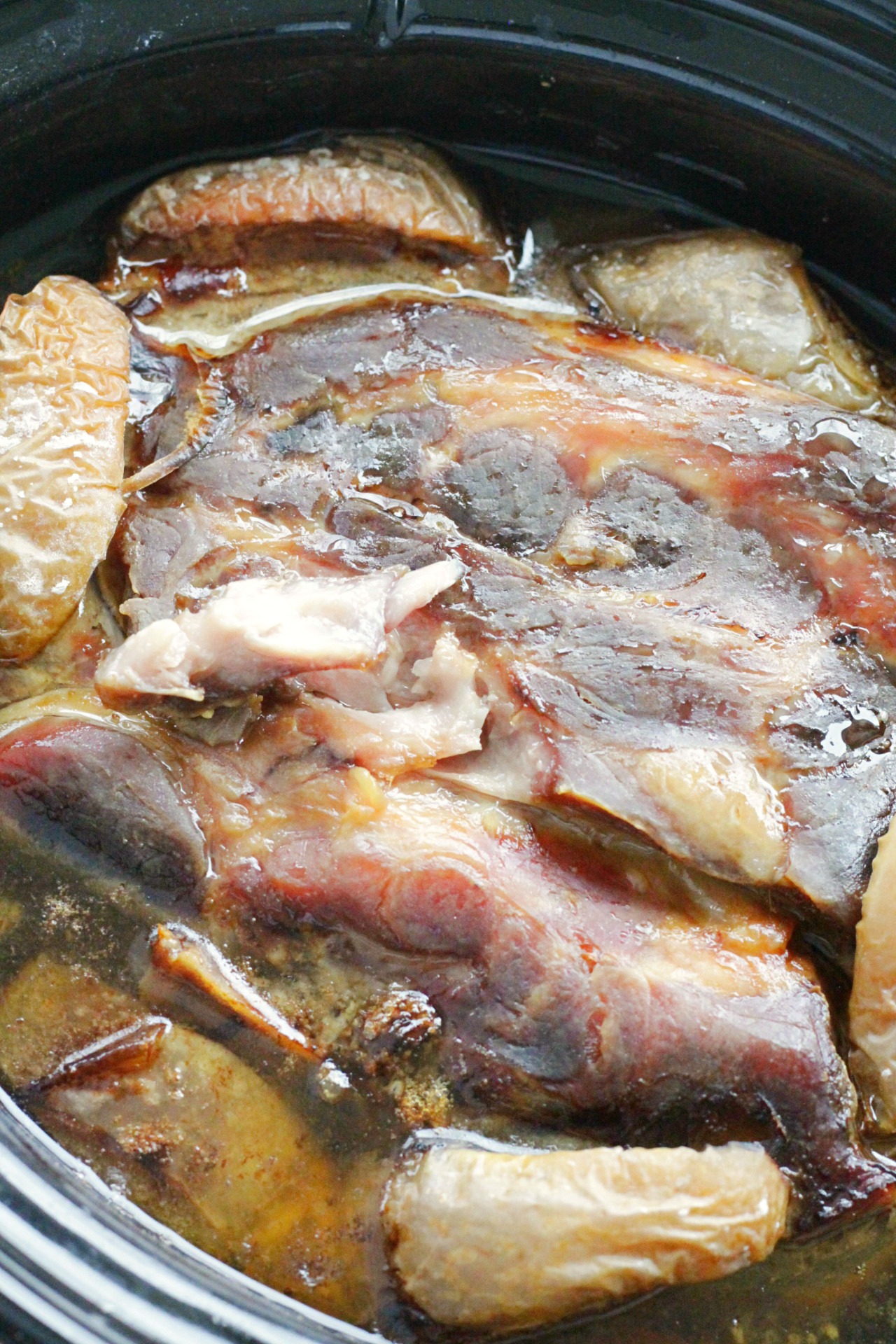 Watch how I cook once and eat all week with pork:
I specifically developed three simple meals for this shredded pork. I'm not even really sure I can call them recipes they are that easy: Pork Enchiladas, Pork Teriyaki Bowls and BBQ Pork Quesadillas. I use help from the store for my sauces, a can of black beans, a can of corn, some shredded cheese, tortillas, rice and broccoli. These meals are economical as well as convenient for on-the-go families like ours.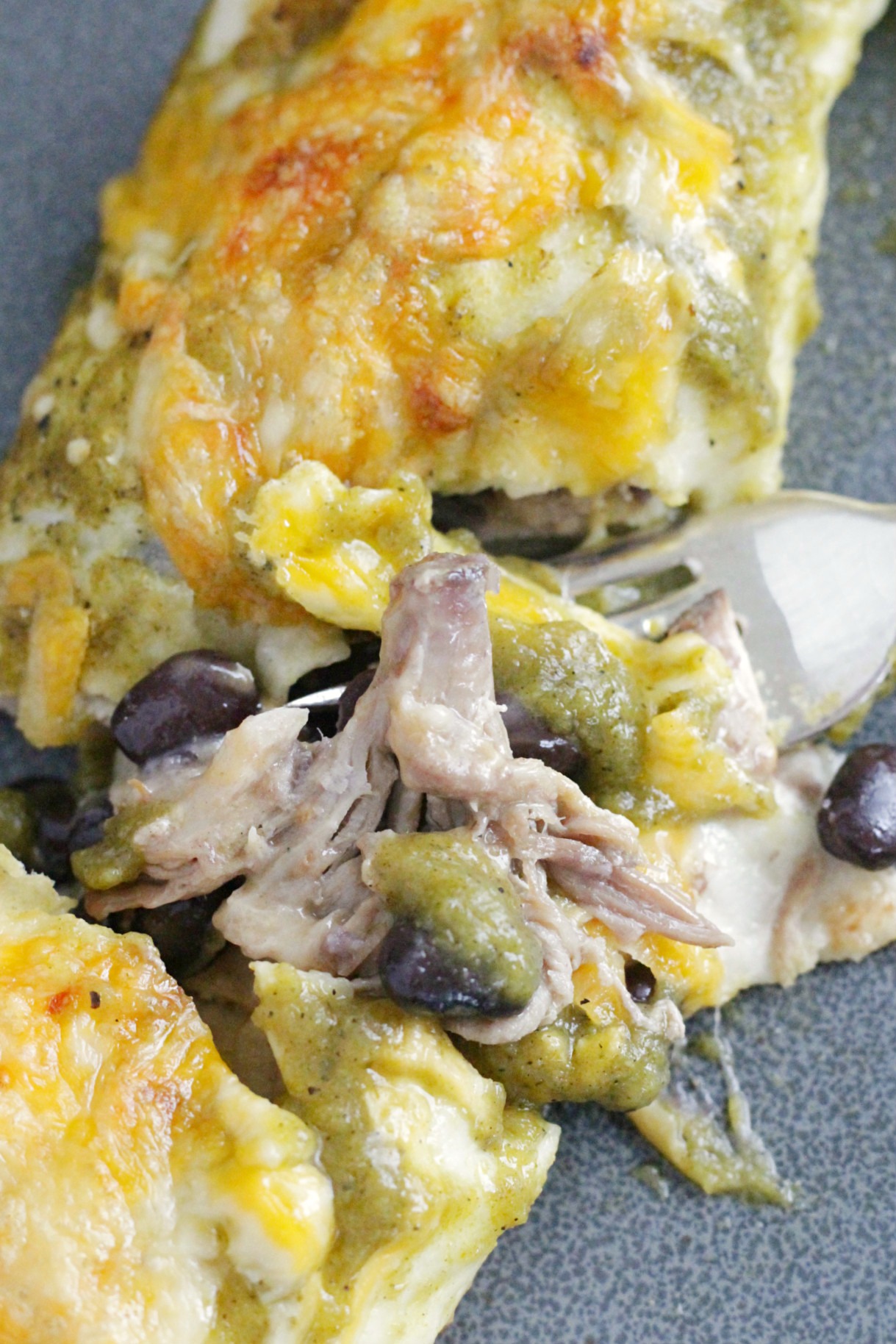 Pork Enchiladas:
about one pound of shredded pork (see recipe below)
one can of black beans, drained
six ounces of shredded Colby Jack Cheese
jar or pouch of enchilada sauce (this one is my favorite)
four 10-inch tortillas
Mix the pork, beans and cheese – divide evenly among tortillas and roll – place in greased baking dish – top with enchilada sauce – top with more shredded cheese if desired – bake at 400 degrees for 30 minutes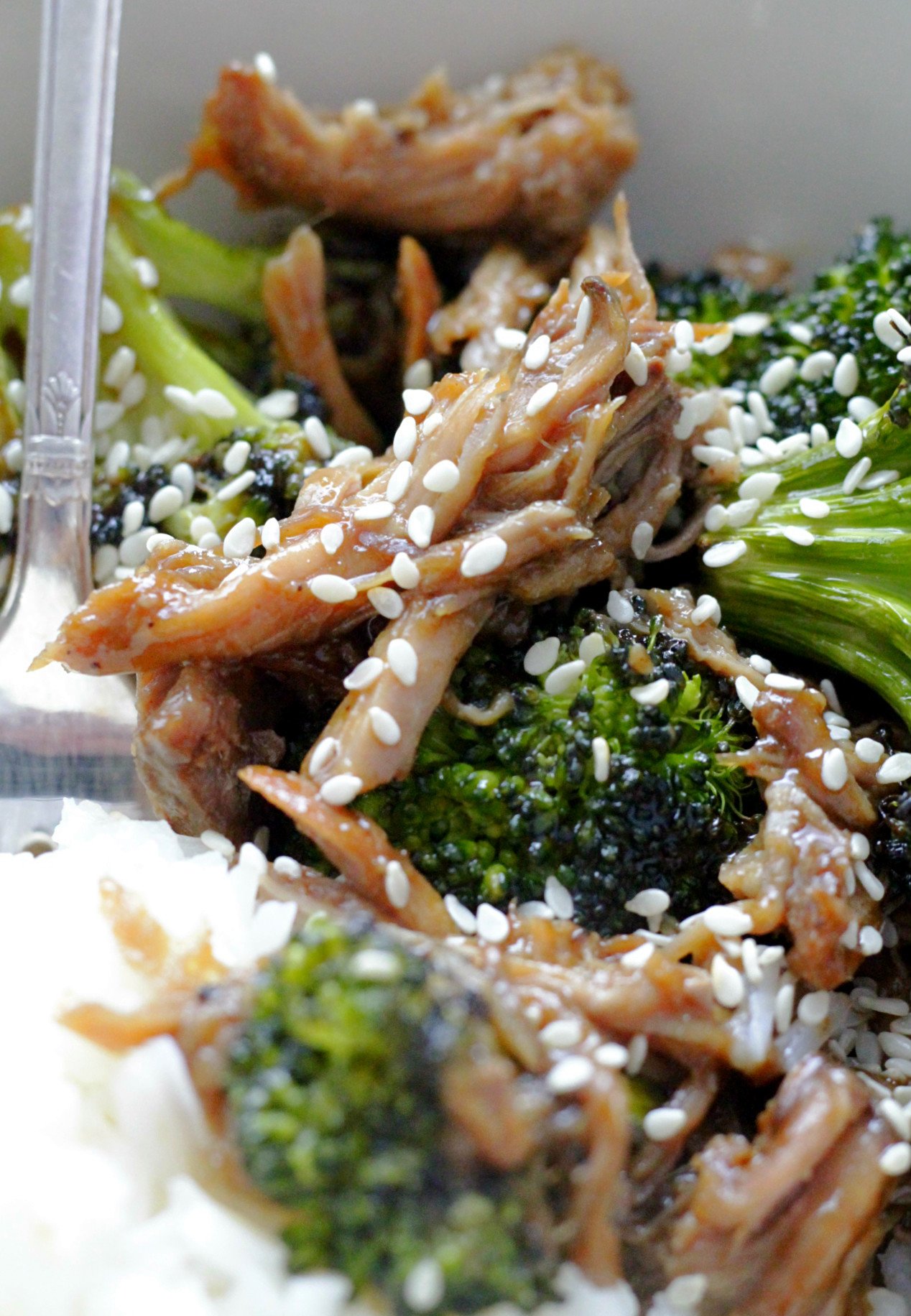 Pork Teriyaki Bowls:
about one pound of shredded pork (see recipe below)
one bunch of broccoli (roasted or steamed) – or use another favorite family vegetable
your favorite Teriyaki sauce
cooked rice
Stir together the pork and broccoli with enough Teriyaki sauce to coat – serve atop cooked rice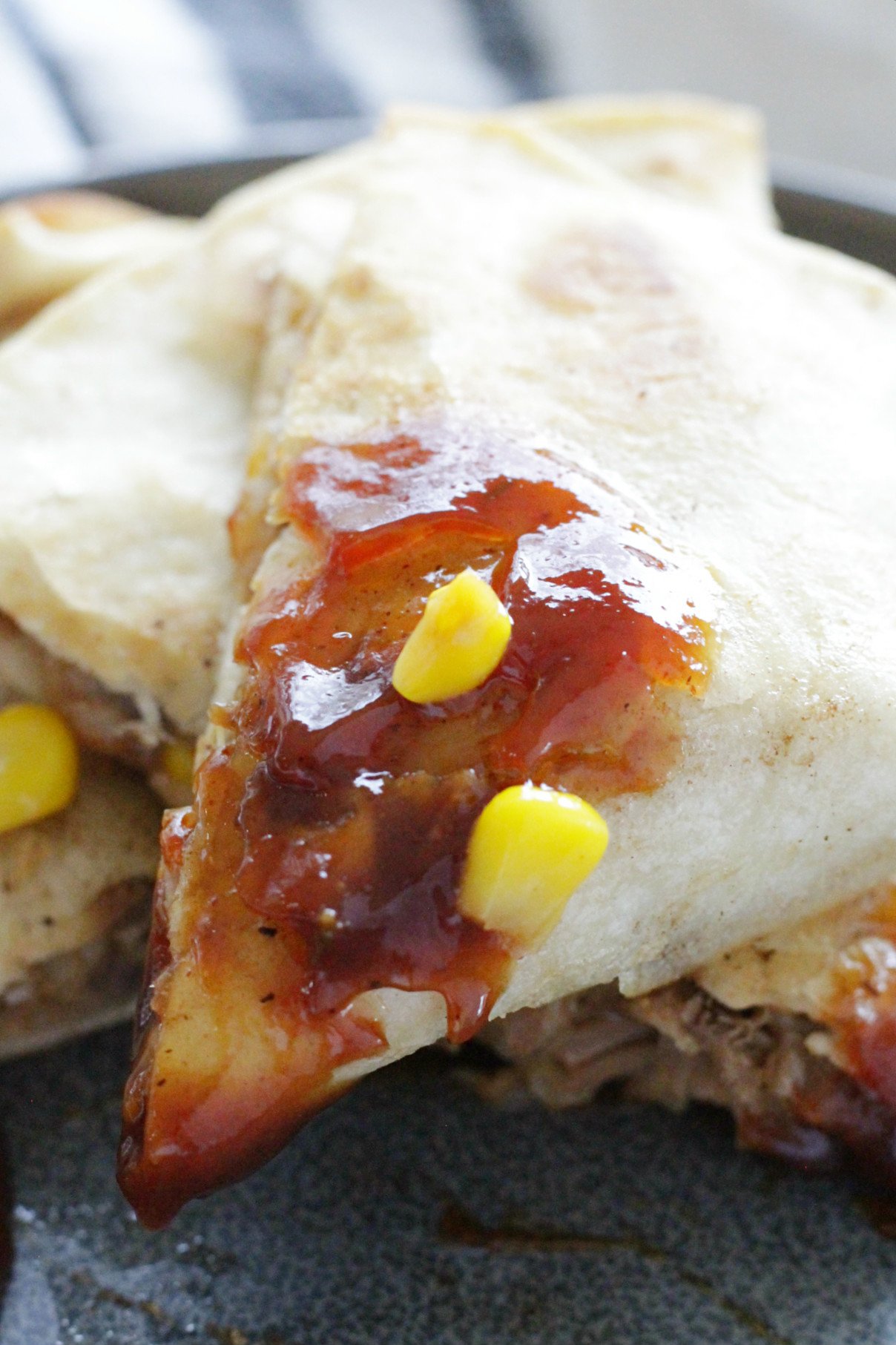 BBQ Pork Quesadillas:
about one pound of shredded pork (see recipe below)
one can of corn, drained
eight ounces of shredded Mozzarella cheese
your favorite BBQ sauce
four 10-inch tortillas
Mix together the pork, corn and cheese with enough BBQ sauce to coat – divide mixture evenly among four tortillas – fold in half and brown in a buttered skillet until cheese is melted
Tips to Cook Once Eat All Week with Pulled Pork:
I used a five-pound pork butt for this recipe – the fat helps to keep the meat moist while cooking but I discarded the cooked fat as I was shredding the pork
These containers are terrific for storing the pulled pork until ready to use
This recipe yielded enough pork for five meals – for more recipes scroll down to the end of this post
Foodtastic Mom is a participant in the Amazon Services LLC Associates Program, an affiliate advertising program designed to provide a means for sites to earn advertising fees by advertising and linking to Amazon.com. Any highlighted, clickable Amazon link you see is an affiliate link that I may earn advertising fees on.
Thank you so much for being a faithful reader and supporter of Foodtastic Mom. Be sure to PIN this collection of recipes!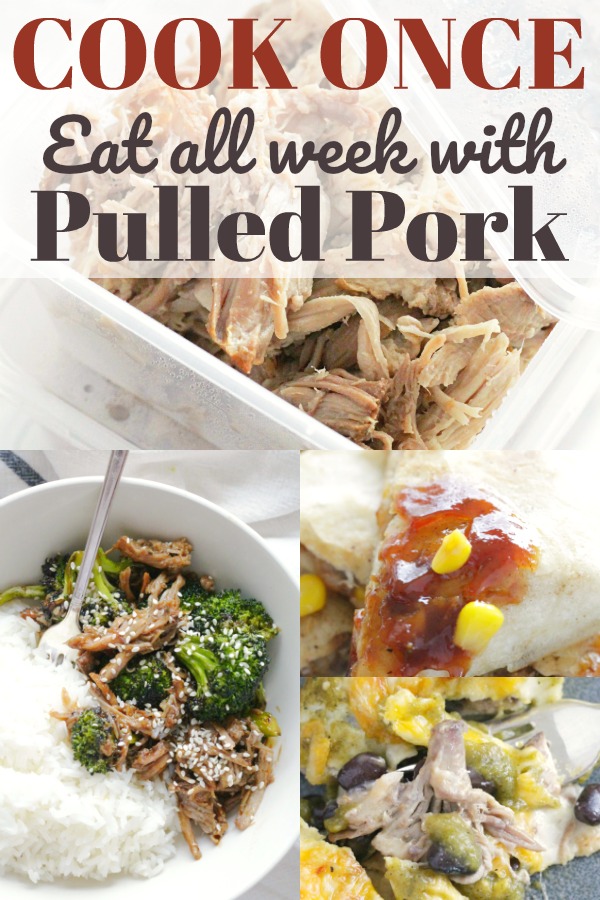 Pulled Pork (for meal prep)
I'm showing you how simple it is to slow cook a big batch of pulled pork in this Cook Once Eat All Week series.
Ingredients
1

5-pound

pork butt (also known as Boston butt or pork shoulder)

1

lemon

1

apple

2

tsp

salt
Instructions
Place the pork into a 6 or 8 quart slow cooker. Squeeze the juice of the lemon over the top of the pork. Slice and core the apple and place on top of the pork. Sprinkle the top of the pork with the salt.

Cook on LOW for 8 - 10 hours. Shred the meat, being sure to discard the apple skins, fat and bone. Portion the meat into five separate containers (about 3/4 - 1 pound each) for meals.

Shredded pork can be stored in air-tight containers for up to one week in the refrigerator or up to one month in the freezer.
Nutrition
MORE DINNER RECIPES USING PULLED PORK: