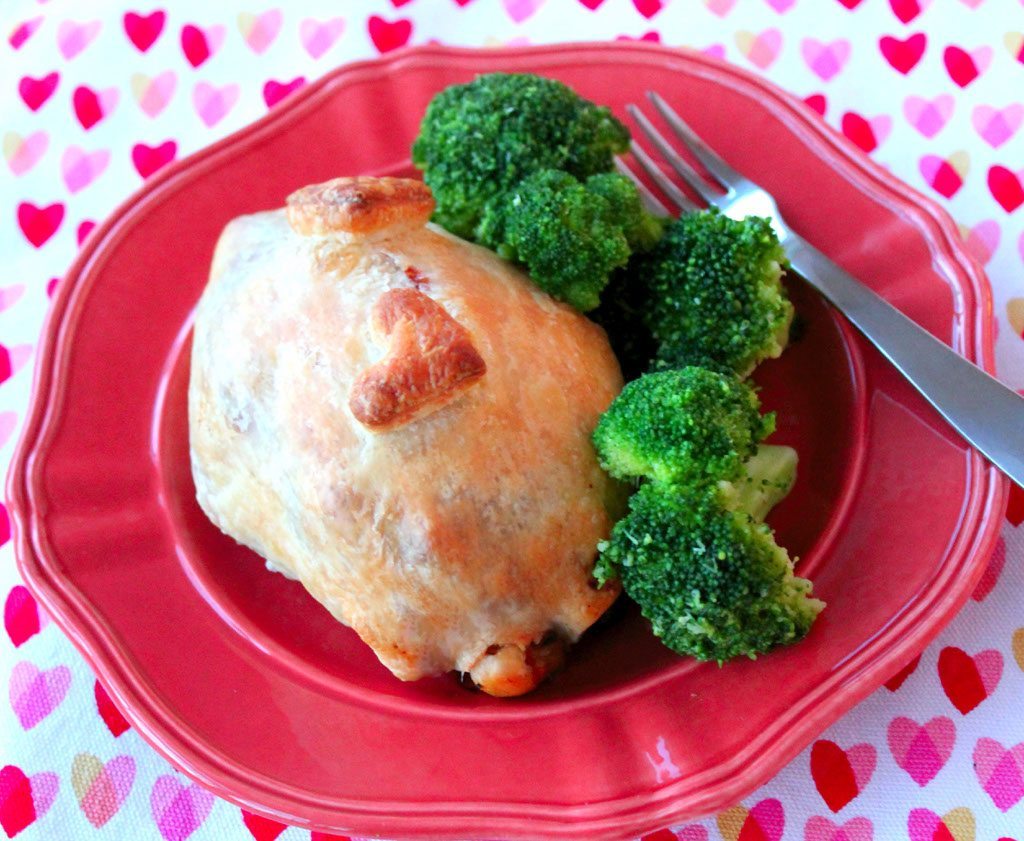 I have a fair amount of food traditions and Chicken in a Love Nest is one of them. I watched Rachel Ray fix this on her show many years ago and knew my husband would love it. I've made it every year as my homemade Valentine's Day meal ever since. The flavors of the lemony chicken, butter, wine and Dijon sautéed mushrooms, and Brie cheese all bundled up in delicate puff pastry are luscious! Of course, Tom and I also go out somewhere on a date. For the past several years, we've made the trip to our favorite local restaurant, Bella Luna. This year, we're branching out and trying Senate at my request this weekend.
The original recipe for this dish is portioned for only two servings, but for the past two years our children have eaten and seriously loved this meal as well. I really enjoy having specific recipes that I know everyone in the family looks forward to on holidays. Of course, you don't have to limit it to Valentine's Day… it's perfect for any special occasion. What are some of your food traditions?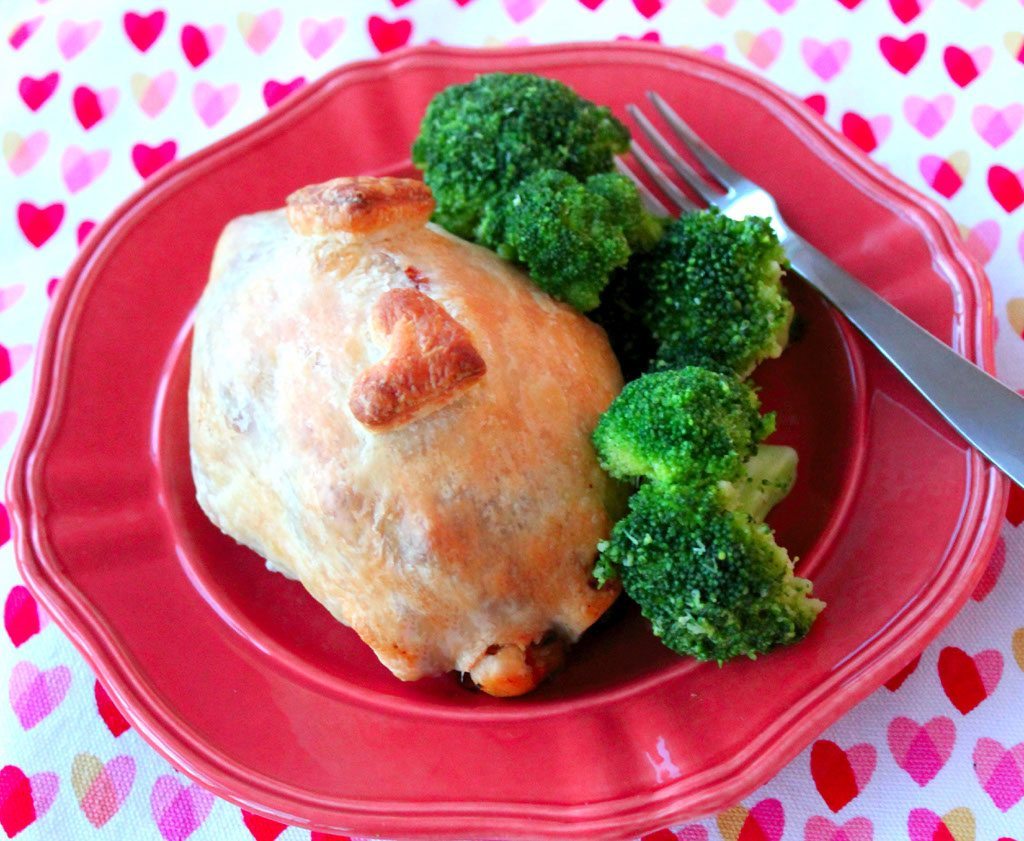 Chicken in a Love Nest
2013-03-17 07:30:01
Serves 2
Ingredients
2 chicken breasts, about 6 oz. each
salt and pepper
1 t. thyme (dry)
Zest of one lemon, plus juice
2 T. butter
2 T. olive oil
1/2 pound mushrooms, stemmed and chopped
1 t. Dijon mustard
Splash of white wine
1 sheet of Pepperidge Farm frozen puff pastry, thawed
6 thin slices of brie cheese
Instructions
Preheat the oven to 400 degrees.
Heat 1 T. each of oil and butter in saute pan over medium high heat. Sprinkle both sides of chicken with salt, pepper, thyme and lemon zest. Brown both sides of chicken in pan, about 4 minutes per side. Squeeze fresh lemon juice over the chicken before removing from pan and put it on a plate until ready to use.
Add the remaining 1 T. each of oil and butter to the same pan you cooked the chicken in and allow to melt. Add the mushrooms and saute, stirring occasionally, until well browned. This will take about 8 minutes. Stir in the wine and mustard once the mushrooms have cooked and remove the pan from the heat.
Unfold the puff pastry and cut in half. Place half the brie slices in the center of each piece of puff pastry. Divide the mushroom mixture evenly and place on top of the brie. Place chicken breast on top of the mushroom mixture. Fold the pastry over the chicken to seal, being sure to pinch the edge seams together. You will have extra pastry you will need to trim away, as you don't want to have a double layer of pastry ... it will not cook properly and remain gooey. Place the chicken, seam side down on a greased (or Silpat lined) cookie sheet. If desired, cut decorative shapes from the leftover puff pastry scraps, using a cookie cutter and place on top of the chicken packets.
Bake for 25-30 minutes, or until pastry is well puffed and browned on top. I use my digital meat thermometer to check the internal temperature of the chicken (should be 165 degrees) before removing from the oven. Serve with steamed broccoli or grilled asparagus.
Adapted from Rachael Ray
Adapted from Rachael Ray
Foodtastic Mom https://www.foodtasticmom.com/