Welcome springtime with this simple Asparagus Quesadilla. It's a fresh and tasty lunch that can be made in a flash.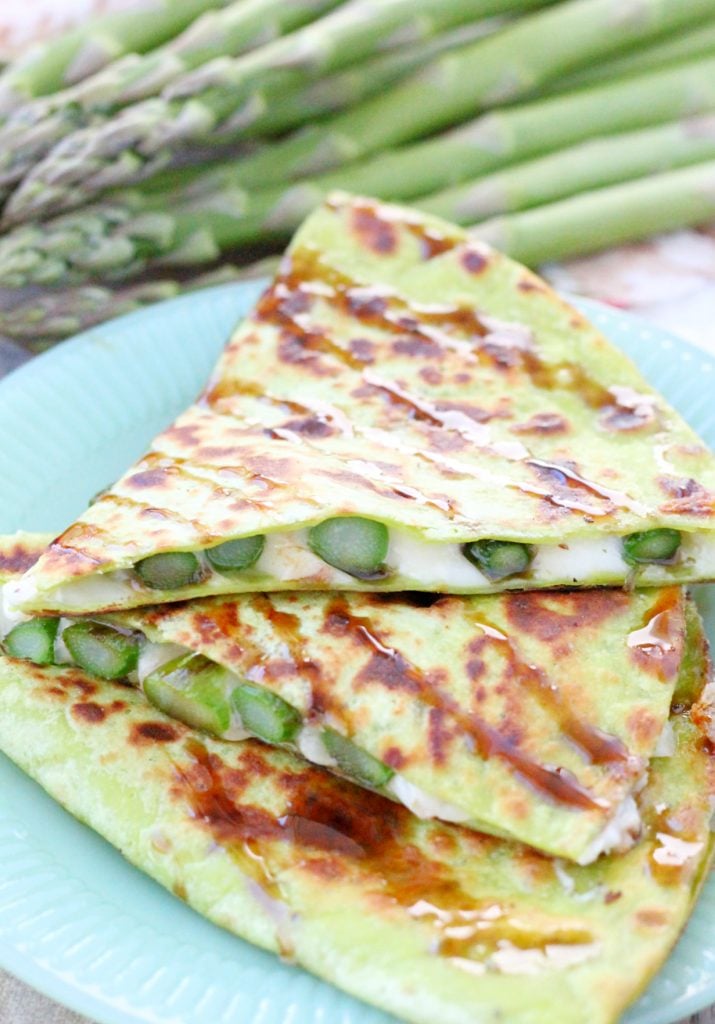 I originally posted this recipe for an Asparagus Quesadilla back in 2013. But it's truly one of my favorite things to fix myself for lunch so I decided it deserved some updated photos. I'm terrible about taking time out of my work day to eat lunch. I generally graze on whatever might be in the house but once asparagus season is in full swing I know my lunch game will be elevated.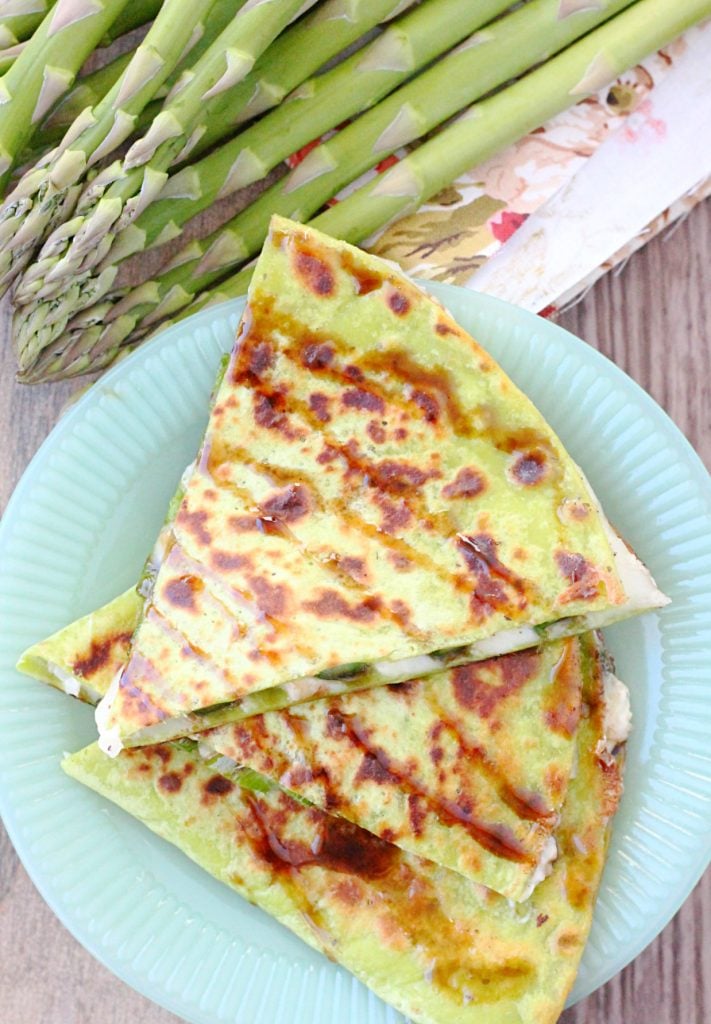 I could eat asparagus every day of the year. Grilled or pan seared is my favorite way to fix it. Once your pan is hot from searing a few fresh spears it just makes sense to throw a tortilla in that same pan. My favorite combo is a garlic herb cheese spread with mozzarella and balsamic vinegar reduction on top. It's a great sweet and savory combo. But you could add other cheese like Swiss or goat. A few asparagus spears by themselves aren't very substantial but a tortilla and a little cheese makes this a complete meal. What's your favorite way to eat asparagus?

Asparagus Quesadilla
2013-03-11 14:04:04
Serves 1
Ingredients
1 large tortilla (I used a spinach tortilla)
7-8 spears fresh asparagus, tough ends removed
1 T. olive oil, divided
2 T. garlic and herb cheese spread (like Boursin)
1/4 c. mozzarella cheese, shredded
Balsamic Vinegar reduction for topping
Instructions
Heat a large non-stick skillet over medium-high heat and add 2 t. olive oil. Add asparagus spears and saute until crisp-tender, about 5 minutes. Remove pan from heat and turn heat to medium.
While asparagus is cooking, spread the garlic and herb cheese on one half of the tortilla. Top with the cooked asparagus and sprinkle the mozzarella cheese on top of the asparagus.
Fold quesadilla in half, place pan back on burner and grill first side of quesadilla until nicely browned... start checking after 3-4 minutes if it's ready to turn. Brush the remaining teaspoon of olive oil on the top half of the cooked quesadilla. Flip quesadilla and grill the second side.
Remove from pan and slice with a knife. Drizzle with balsamic vinegar reduction.
Foodtastic Mom https://www.foodtasticmom.com/