And so right from a summer harvest veggie creation, I give you a slow cooker, cold weather soup. It's a side-effect of living in Ohio all my life. Don't like the weather? Just wait 10 minutes. Although I'm most definitely not complaining about the unseasonable coolness here this week. I really lucked out with the timing of making this soup to post because we seriously ate it for dinner on our patio. It had dipped below 70 degrees by then. At the end of July! I will never complain about cooler temps, especially in the evening, in what is supposed to be the heat of summer. It was a perfect night.
This soup is pretty perfect too. I decided I was in the mood for beer cheese soup, but the problem with most beer cheese soup is it's beer… and cheese. And not much else. So I decided to do a mash-up recipe to combine it with chicken and wild rice soup. And since it is still the middle of summer, I didn't want to stand over a stove to make it, so the slow cooker does ALL the work. So simple and we all devoured it. Our kids had second and third helpings!
Now if you are truly concerned about cooking with beer in a meal you will be serving to your children (a valid point) you can read up more on this excellent article HERE. Bottom line is that according to the US Department of Agriculture, a stew containing beer and cooked in the slow-cooker for 2.5 hours will ultimately have 0.0025 percent alcohol left in it. Since this soup cooks on low for 8 hours or high for 5, we're all still being responsible parents here.
Anyway this soup will most definitely be making repeat performances at our dinner table this fall. It is really that good and the best part is it took less than 30 minutes for me to prep all the ingredients, toss them in and turn on the slow cooker. I just love dinner recipes like this!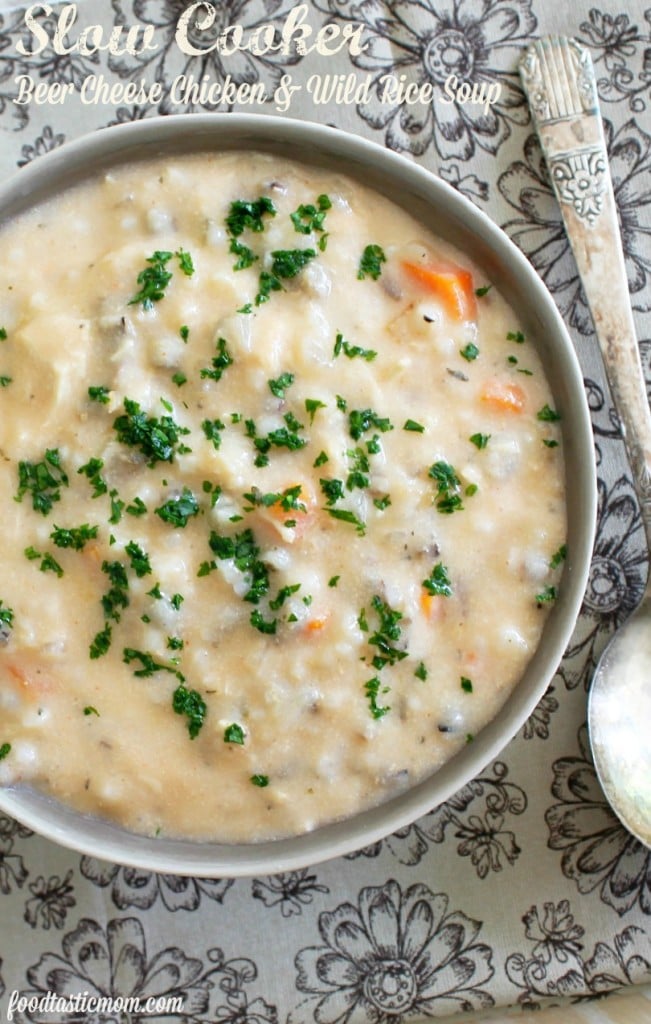 Slow Cooker Beer Cheese Chicken & Wild Rice Soup
Author:
Prep time:
Cook time:
Total time:
Ingredients
1 onion, diced
3 carrots, peeled and diced
3 stalks celery, diced
4 boneless, skinless chicken breasts, diced
2 c. wild rice (or rice blend), rinsed and drained
8 c. chicken stock
1 (12 oz.) beer – good quality wheat or pilsner style
1 t. salt
1 t. dried thyme
1/2 t. smoked paprika
4 oz. cream cheese, cut into cubes
8 oz. extra sharp cheddar cheese, shredded
fresh parsley to serve
Instructions
Place all ingredients except for cheese and parsley (so onion through paprika) into the slow cooker. Stir to combine. Cook on low for 8 hours or high for 5 hours.
During the final hour of cooking stir in the cream cheese and cheddar cheese and continue cooking, stirring occasionally, until the cheeses are completely melted into the soup. Serve soup topped with fresh chopped parsley.
Notes
I used Rice Select royal rice blend in this recipe. A blend of white, brown, wild and red rice.