Get back into the habit of reading with this simple Yearly Reading Plan.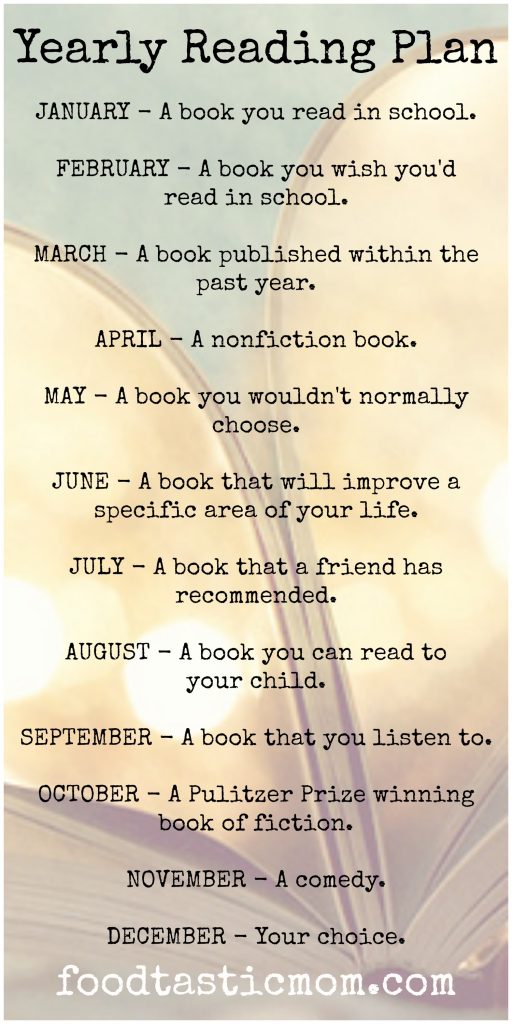 I've had a really productive couple of days in this New Year including figuring out this Yearly Reading Plan. Yes I know you can't cook it! But I am a big reader. Actually the majority of my reading these days is spent with my children. I read aloud to them most nights at bedtime and plan to until they leave the house. You can read more about why HERE.
But I haven't been in a book club in ages and I miss having a plan so I created one today. I thought you might enjoy following it as well. One book a month so it should be low stress. It feels low stress to me anyway.
I figured January was a good time to reflect and revisit an old classic. I think I'm going to revisit The Great Gatsby. I only read it once in high school and never got around to seeing the movie adaptation of it with Leonardo DeCaprio. So for whatever reason I'm drawn to it.
What book would you start with? Will you follow this reading plan with me this year? What are some of your favorite books? I'll need some friend recommendations once I get to July. Happy New Year and here's to resolutions like taking more time to pursue things you enjoy!