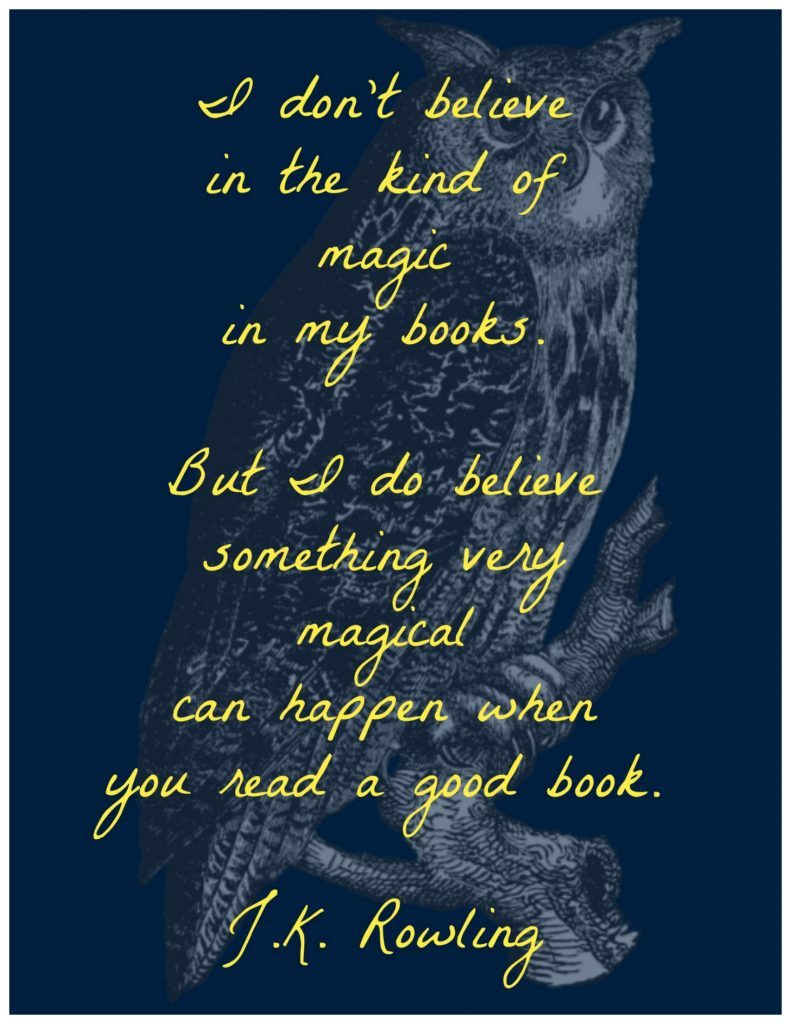 So I created this printable for you to frame in your house. Just right click and save as. Then print at best quality on your printer at home. It's sized as an 8.5×11 print, which can be trimmed to fit an 8×10 frame.
My children and I are in a serious Harry Potter phase currently. I'd previously gotten through book four with Caleb before he decided on his own that he wasn't old enough to continue, bless him. And now this summer as I read books one and two to Hannah, he's listened along with us. And when I say read, I mean I am reading the entire books aloud to them. It's our nightly ritual before bed that we all look forward to.
I was an English major at my liberal arts college. I taught Language Arts before having children and took two of my middle school writing teams to state level competition (Power of the Pen, for those of you in Ohio familiar with the organization). So I perhaps have a bit of an advantage or bent toward reading to my children.
But I think it's one of the most important things you can do with your children, especially as our focus on technology increases. Don't get me wrong, without it I would not be making a living as a food blogger. I enjoy social media and I think it's important for our children to learn it and understand how to use it safely and responsibly. But it will never be a replacement for human connection, and that is the obvious downside. It's so pervasive and in some instances addictive, that by not setting aside a specific time for reading as a family, it can end up replacing quality human connection.
In short, here's why I read TO my children, in addition to the reading they must do on their own for school…
1. I automatically know that no matter how hectic our schedule, I will be spending quality time with them at night.
2. It establishes a sense of security for them. They know to expect the routine of getting read to because we all enjoy it and unless I am out-of-town it always happens.
3. Both children, especially Caleb, score consistently high on their reading comprehension tests. What they are listening to is far beyond the reading level they currently can do on their own.
4. What we read is often a spring-board for deep and thought provoking conversations. Or it might trigger a conversation about something going on at school that they might otherwise not have shared.
5. It sparks their imagination and gives them a focus of attention in a way that no technology ever could.
And here's some of the other books and series we've read and enjoyed together so far. What are some of your favorite books to read aloud to your children? I love suggestions!