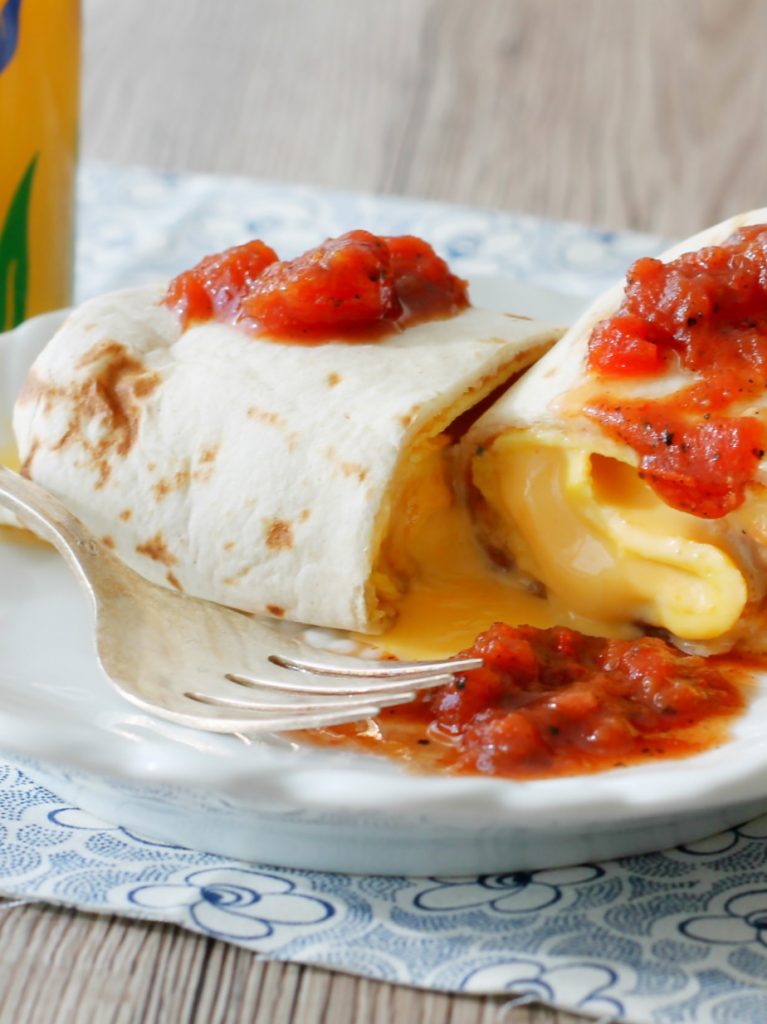 Welcome to my still very new attempt at creating a one-stop shop for Freezer Meals on the web. It's a lofty idea but you gotta have goals in life, right?!
This is just my second Freezer Fridays Link Up ever. The idea is each Friday I will share my own freezer-friendly recipe for you to print and pin and open my site up for other bloggers to share their favorite freezer-friendly meals. And in the meantime, checkout my "Freeze It!" Pinterest board HERE where I am pinning the best freezer recipes I can find.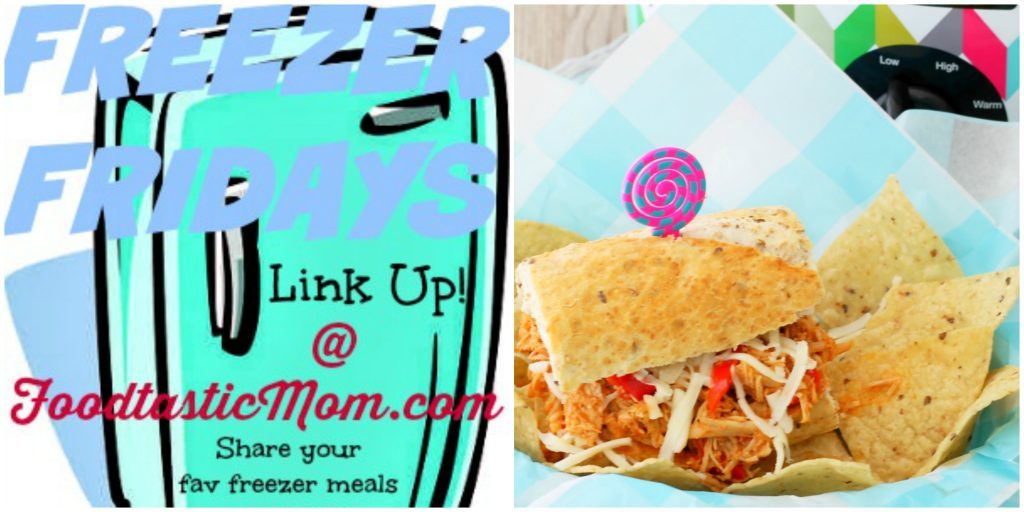 Last week, I shared THIS RECIPE for a freezer-friendly dinner that is also a slow-cooker recipe. They are Chicken Cheesesteak-style sandwiches flavored with honey and chipotle and slow cooked with a little beer. SO good! I made one dinner to photograph and one meal to freezer, so the other one is still in my own freezer, ready to go when I need it. And my family is excited about eating them again because as I mentioned, they are tasty!
My friend Diane over at Goodbye Bread and Cheese shared this awesome recipe for a freezer meatloaf. She shares gluten and dairy free recipes and is just getting started with her new blog, so stop over to say "Hi!" and get that recipe too!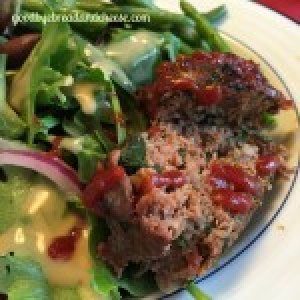 Freeze-Ahead Meatloaf by Goodbye Bread and Cheese
Today, I'm sharing my best secret for freezer breakfast burritos, which in my opinion makes them the ultimate. It's all about the eggs my friends. I have a non-stick skillet (about 8 inches) and with a little cooking spray it cooks one egg at a time to look like a crepe… and they happen to fit just perfectly to roll up in a flour tortilla.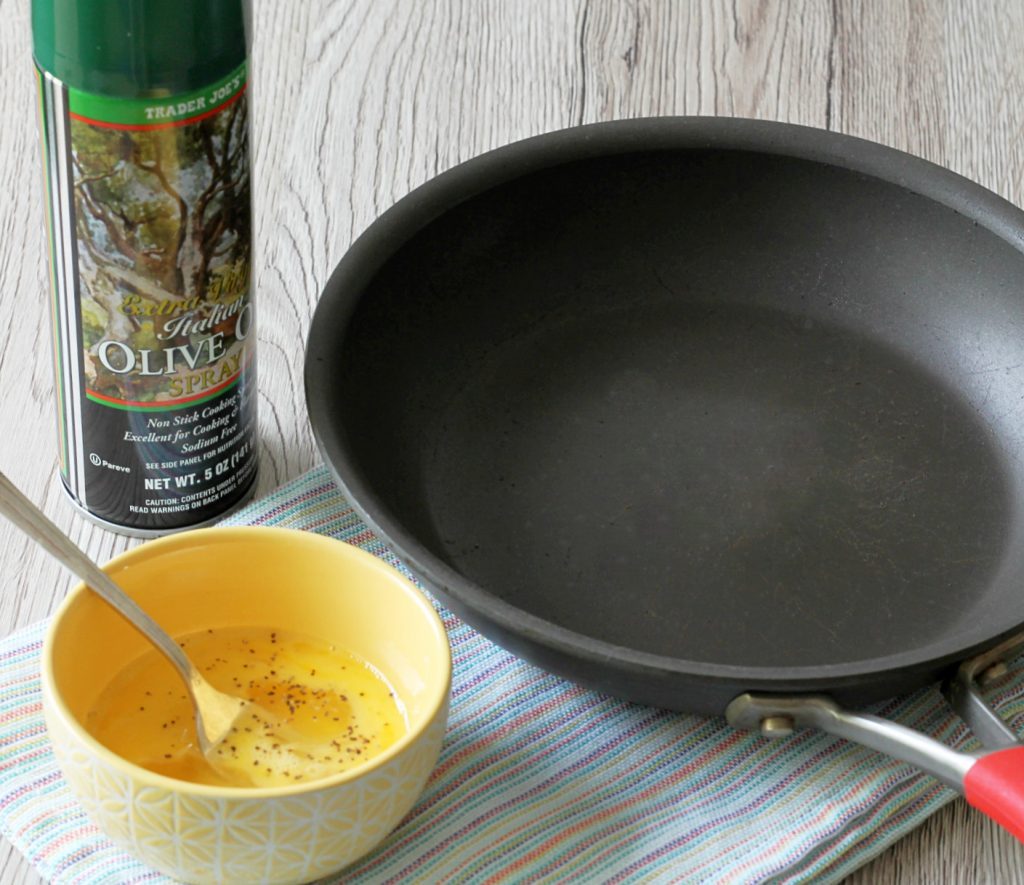 There's no magic to it. I just heat my skillet over medium-high heat, spray it with cooking spray, beat ONE egg with a little pepper, pour it in, swirl it to coat the entire bottom of the skillet, then let it cook for about 90 seconds (give or take a few). There's no need to flip it! The egg is so thin that it cooks through without touching it. Then I slide it onto my tortilla and start the process again. My kids think it's a pretty cool trick. Plus it makes rolling up my burritos so much neater.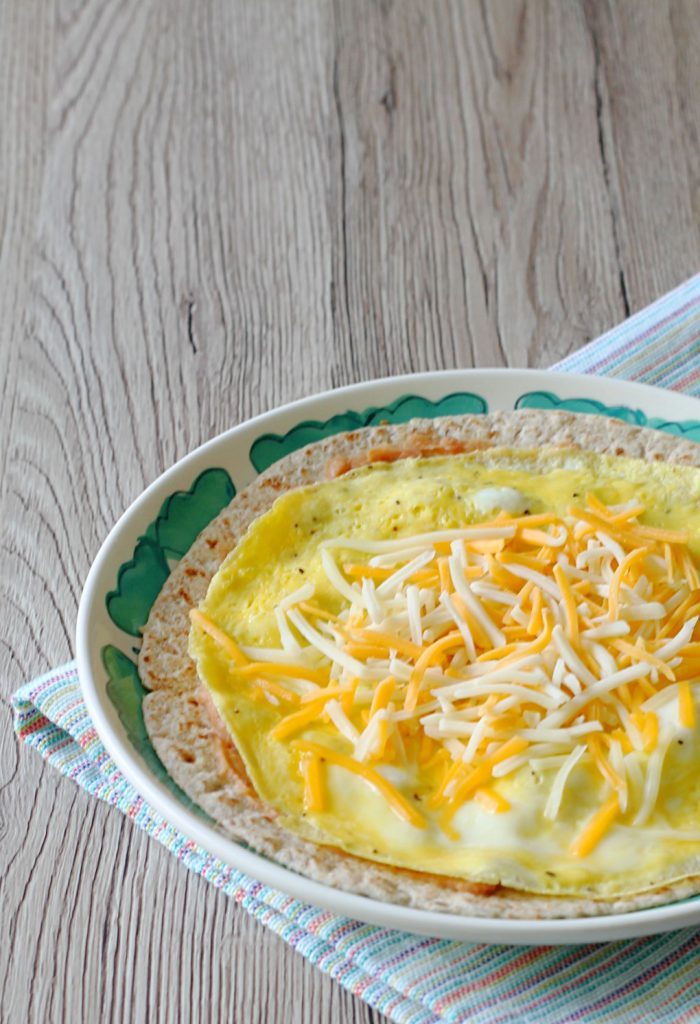 The other thing I want to share about making a batch of breakfast burritos is how to freeze them. Once they are rolled, I place them in a single layer on a baking sheet lined with a silicone baking mat or a piece of parchment paper (otherwise they'll stick to the metal). I stick the whole pan in the freezer for at least 4 hours. Once the burritos are solid, I transfer them to a large, zippered and freezer-safe plastic bag. Breakfast is then ready for our entire week… how simple is that?!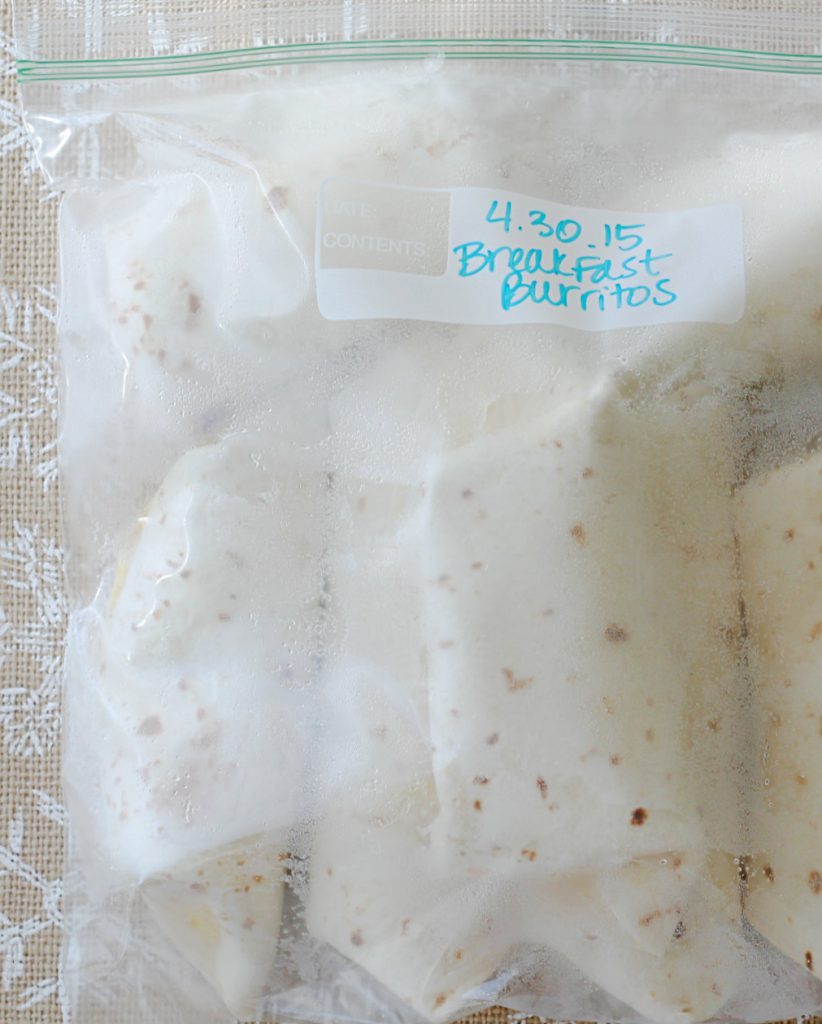 My personal favorite filling combination happens to be refried beans mixed with a little Tabasco, an egg and cheese. Once they are heated up I eat them with a little salsa. My kids like them with sour cream. But the fillings are up to you! Some other suggestions are…
Cooked spinach, egg and feta
Browned mushrooms, egg and shredded Gruyere cheese
Ham, peppers & onions, American cheese and egg
Steamed broccoli, egg and cheddar
Bacon and eggs
These take a little advance planning obviously and I don't make them each and every week but I am always SO glad when I do! To serve, I take one out and put it on a microwave-safe plate. I heat it on 50% power for one minute, flip it over and then heat it again at 100% power for about 90 seconds. Simple enough I can do it before I've even had my coffee.
So what do you think? Are you inclined to try making a batch yourself? I hope so! Be sure to visit any bloggers who link up with me this week and be sure and stop back next Friday for yet another freezer-friendly meal. Enjoy your weekend!

The Ultimate Freezer Burritos
Ingredients
One pkg.

10 8-inch flour tortillas

10

large eggs

1

can

15 oz. refried beans

Tabasco sauce

10

slices

American cheese OR 2 c. shredded Mexican cheese

salsa and sour cream to serve
Instructions
Lay the ten tortillas flat on the counter. Mix the refried beans with a couple of tablespoons (to taste) of Tabasco sauce. Divide the beans evenly among the tortillas, spreading evenly.

Heat a non-stick skillet (8-inch) over medium-high heat. Beat one egg until smooth. Spray skillet with cooking spray. Pour egg into skillet, swirling to coat the bottom evenly. Allow to cook through... will take about 90 seconds, maybe more.

Remove the skillet from the heat and slide the egg onto one of the prepared tortillas. Repeat nine more times.

Divide the cheese evenly on top of each egg. Roll each burrito tightly and place (seam-side down) on a baking sheet lined with parchment paper or a silicone mat.

Place the baking sheet in the freezer and freeze for at least 4 hours. Then transfer the burritos to a freezer-safe, zippered plastic bag.

When ready to eat, place one burrito at a time on a microwave-safe plate. Microwave at 50% power for one minute. Flip over and microwave at 100% power for 90-120 seconds. Serve burritos with salsa and/or sour cream.
>RULES FOR FREEZER FRIDAYS<
If you are sharing with me, I'd appreciate a follow on my social media channels. And I promise to follow back!FOODTASTIC MOM Facebook | Instagram | Twitter | Pinterest | Google+
>Link freezer-friendly recipes from your blog… direct links – not to your blog's homepage
(please no etsy shops or giveaways)
>Please link only posts that you haven't shared here before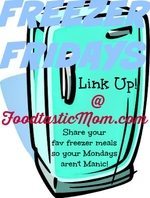 >Copy and paste the Freezer Fridays Badge and link back somewhere on your blog (must link back to be featured)
>Visit some other links and comment, letting them know you stopped by