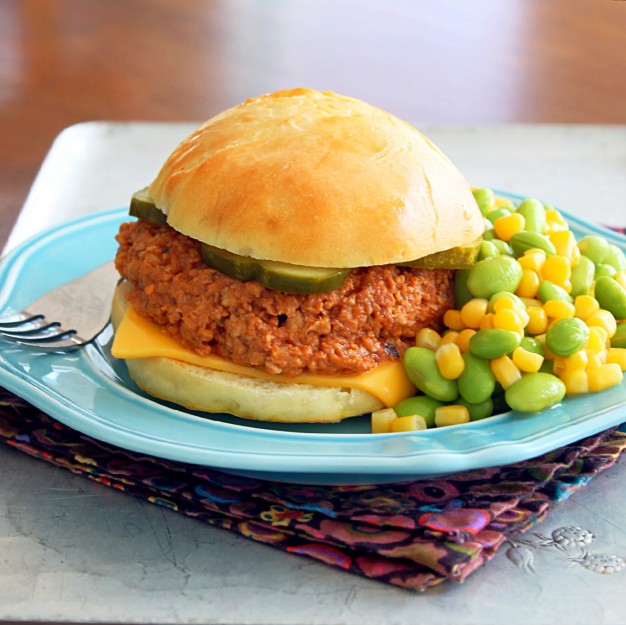 There might seem like there's a whole lot going on here based on that post title, but this is one of the easiest meals you could serve your family. Maybe not the quickest, if you decide to try your hand at making hamburger buns, but definitely easy.
First of all, thank you to Christina Dymock, author of this cookbook I get to giveaway, "The Hungry Family Slow Cooker Cookbook". When she emailed me to ask if I'd like a free preview copy of her book, plus one to giveaway to my readers, I couldn't say no. My goal here is get you cooking more often for your family and a slow cooker definitely makes that job easier.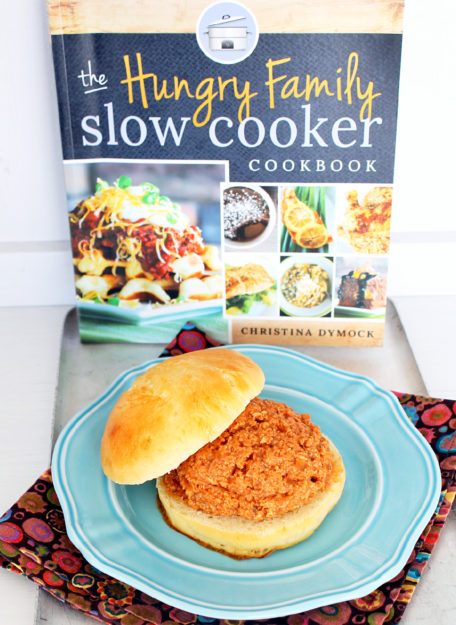 There's quite a few recipes in this book that I'm excited to try, including a Pork Chili with Corn Dumplings, French Onion Soup, French Dip Sandwiches, Buffalo Chicken Sliders and Artichokes with Garlic Butter… all made in the slow cooker! The recipe I decided to share with you was mainly because I had ground turkey already in my freezer, and I'd been wanting to make THIS recipe for hamburger buns. It's a winning kind of day around here. My family got a super easy and tasty dinner (plus I crossed buns off my baking to-do list) and you get the chance to win a cookbook.
As far as the buns, they were far better than anything I could have purchased in the bakery. One recipe makes 12, meaning 3 separate meals for us. I sliced the leftover 8 and put them in the freezer for later. I didn't compile a photo tutorial this time around, but if you are interested in the how-to of dividing the risen dough and shaping it into rounds, my post about my Grandma's dinner rolls is similar. In this case the rolls are just bigger and get an egg wash before going in the oven.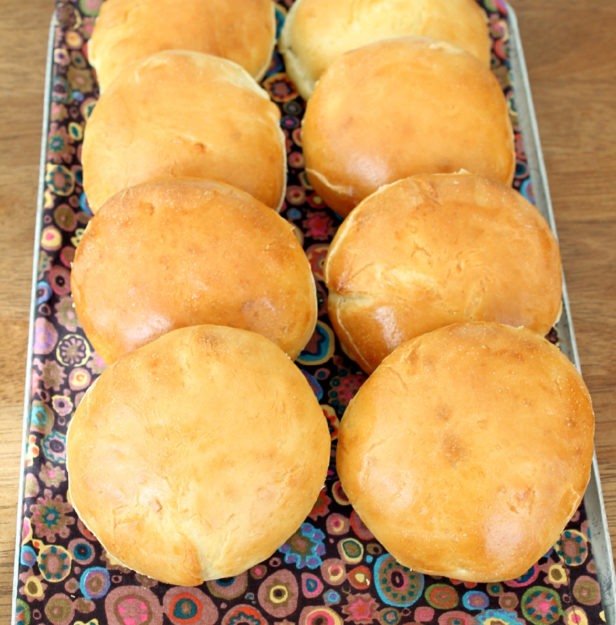 These Turkey Joes use everyday ingredients that probably most kids' will approve of. The recipe is heavy on the ketchup, which made it a flash to throw in the slow cooker and move on. My kids LOVED it! We ate it just as pictured above, cheese slices and dill pickles for the sandwich, frozen edamame and corn mixture on the side.
As far as the giveaway, the only mandatory item (giving you two entries) is to LIKE my Facebook page. This food blogging passion I have is a lot about numbers, meaning to increase my ability to earn a living doing this (which is one of my ultimate life goals) I need more "fans". My Pinterest page is in pretty good shape… 4, 406 followers and counting. My Facebook page is still teeny-tiny though. Take a look at my page's feed… I try and share a variety of useful and creative recipes, DIY's, music, funnies and other links. It's all positive, all the time!
a Rafflecopter giveaway

And as a thank you to our cookbook author for this great giveaway, click HERE to learn more about her and her other books she's authored. Thank you in advance for entering this giveaway and sharing this post!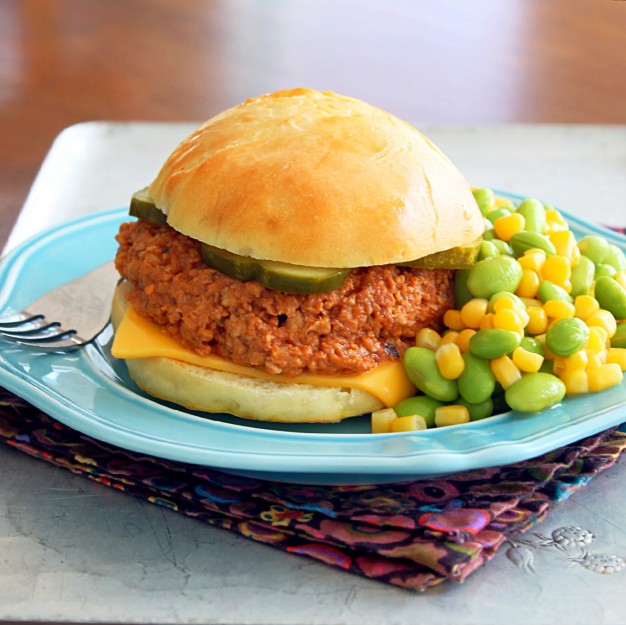 Turkey Joes
2014-03-26 11:51:26
Serves 6
Ingredients
1 lb. ground turkey
1 c. ketchup
1/2 c. water
1 T. mustard
1 T. Worcestershire sauce
1 T. light brown sugar
1/2 t. salt
1/4 t. pepper
cooking spray
Instructions
Spray the inside of your cooker with high-quality cooking spray. I usually use Trader Joe's Coconut Oil Spray.
Crumble the uncooked turkey meat into the bottom of your slow cooker. Add the ketchup, water, mustard, Worcestershire sauce, brown sugar, salt and pepper and stir well to combine.
Cover and cook on low for 6 hours. Stir well before serving. I found it helpful to use a potato masher to break up the meat and mix the sauce in really well.
The recipe is easily doubled or tripled for a crowd.
Adapted from "The Hungry Family Slow Cooker Cookbook"
Adapted from "The Hungry Family Slow Cooker Cookbook"
Foodtastic Mom https://www.foodtasticmom.com/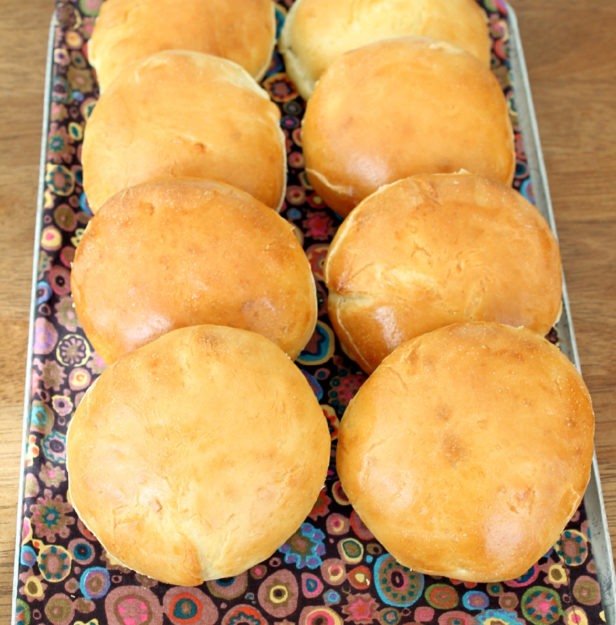 Hamburger Buns
2014-03-26 12:01:37
Ingredients
2 T. warm water (110 degrees F)
2 1/4 t. active dry yeast (one envelope)
4 T. salted butter, melted and cooled to room temp
1 1/2 T. honey
1 1/2 c. whole milk (room temp)
1 large egg (room temp)
2 1/4 c. bread flour
2 c. all-purpose flour, plus more for kneading
1 t. salt
2 t. olive oil
1 egg + 1 teaspoon water (beaten together) for egg wash
Instructions
Add the warm water to the bottom of a large bowl and sprinkle the yeast on top. Allow to sit for 5 minutes. Shake to make sure all the yeast is in contact with the water, if necessary.
Add the butter and honey and whisk to combine.
Add the milk and egg and whisk again.
In a separate bowl, whisk together the bread and all-purpose flour and salt. Add half this mixture to the yeast mixture and stir well to combine. Add the other half of the flour and stir until beginning to come together.
Flour a clean counter and dump the dough on the floured surface. Sprinkle the top with flour, and begin to knead. Lightly at first, sprinkling with a little additional flour as you go. Knead for 6 - 8 minutes until the dough is soft and pliable and slightly tacky to the touch.
Add the olive oil to a large, clean bowl. Place the dough ball in the bowl, turning to coat.
Cover the bowl with plastic wrap and allow to rise until doubled in size, 1 1/2 - 2 hours.
After the first rise, turn dough out onto a clean surface. Use a sharp knife or bench scraper to cut the dough into 12 equal pieces. Roll each piece into a tight ball and place them evenly spaced on two sheet pans, lined with silicone baking mats or parchment paper.
Cover pans with plastic wrap and allow to rise for 1 hour.
While buns are rising, preheat over to 410 degrees. Remove plastic wrap and brush the tops of each roll with the egg wash.
Bake for 15 - 17 minutes until buns are golden brown and sound hollow when tapped. Internal temperature of the rolls should be 180 degrees, if you want to measure. (I did not)
Allow buns to rest for 15 minutes before slicing and serving.
Adapted from Food for my Family
Foodtastic Mom https://www.foodtasticmom.com/