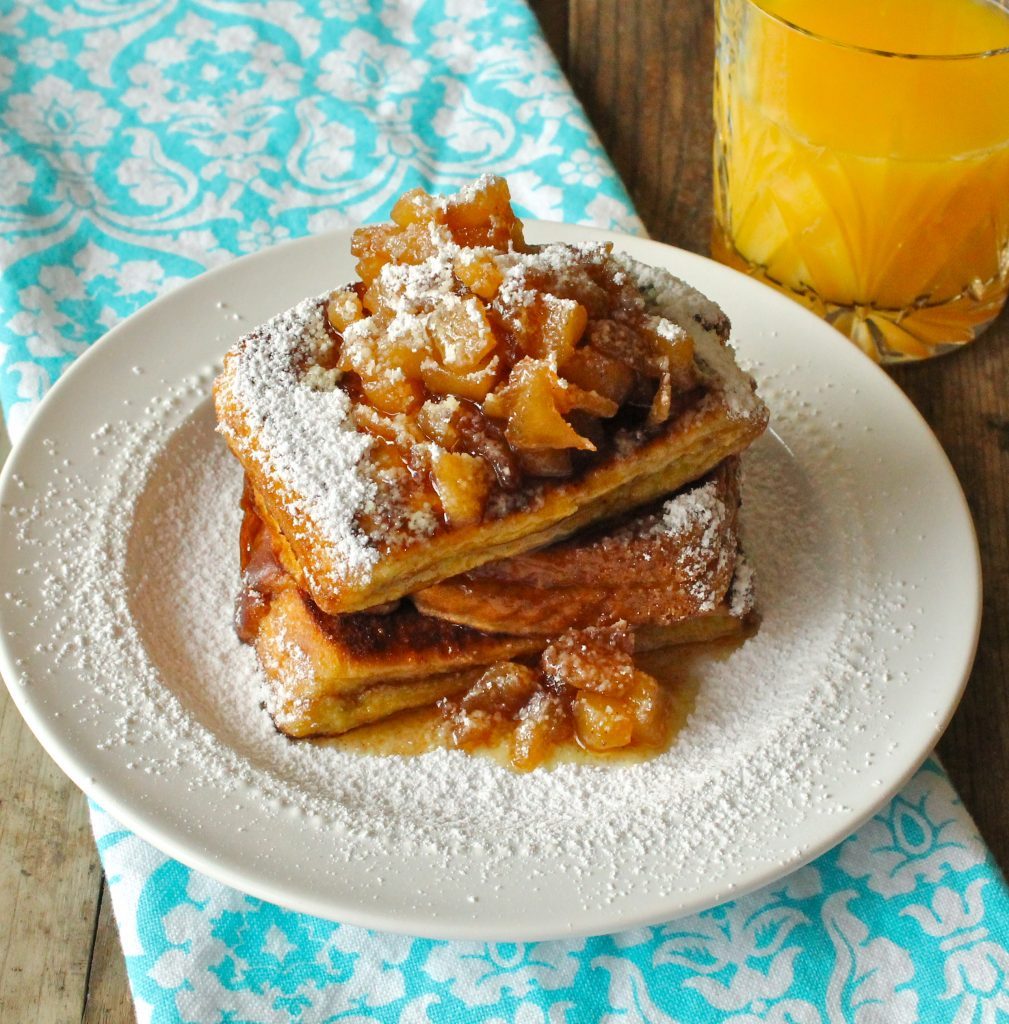 Thanksgiving Break is fast approaching, meaning the kiddos will be underfoot more often. My little girl is home this week, as she is sick and going on her third day of missing school. As it happens, I've had a bit more free time at home than usual which means I end up in the kitchen. Last night I was scrounging for dinner because while she and I went to the doctor yesterday, we did not make it to the grocery store. Supplies were limited, Caleb needed to get to swim lessons, and I needed something comforting and quick. Both kids love french toast, and I had just watched a TLC special this past weekend about bakeries. One they showcased was Highland Bakery in Atlanta, Georgia which is apparently famous for its peanut butter french toast. They top their gigantic portion with banana syrup. This image popped into my head, thus giving me inspiration for a very tasty dinner that will make its way into our lazy Saturday morning and vacation-day breakfasts from now on.
This dish is pleasing for both kids and adults alike. While I realize Maldon sea salt is not something just everyone would have hanging out in the pantry, I do happen to have some in mine. Incidentally, it came from our new Jungle Jim's, so if you are in the Eastgate/Anderson area, it's really easy to find. Anyway, to make this french toast truly special, sprinkle just a tiny bit of the sea salt on top of the finished dish to really wow your taste buds!
Peanut Butter French Toast with Caramel Apple Syrup
4 apples, peeled and diced small
3 T. unsalted butter
1/3 c. light brown sugar
1/2 t. cinnamon
1/4 t. nutmeg
8 slices good white bread
6 T. natural peanut butter
2 large eggs
1/4 c. sour cream
2 T. pure maple syrup
Heat butter in sauce pan over medium heat. Add apples and saute, stirring occasionally, for 10-15 minutes, or until apples are nice and soft. Add brown sugar, cinnamon and nutmeg, stirring well. Reduce heat to low, cover pan and keep warm while preparing french toast.
Spread peanut butter evenly on each of four slices of bread. Top with other four slices to make four separate peanut butter sandwiches. Whisk the eggs, sour cream and syrup in a shallow bowl. Heat a griddle to medium heat. Dip each side of the french toast sandwiches in the batter and cook on each side until nicely browned. Serve topped with the apple syrup and powdered sugar.