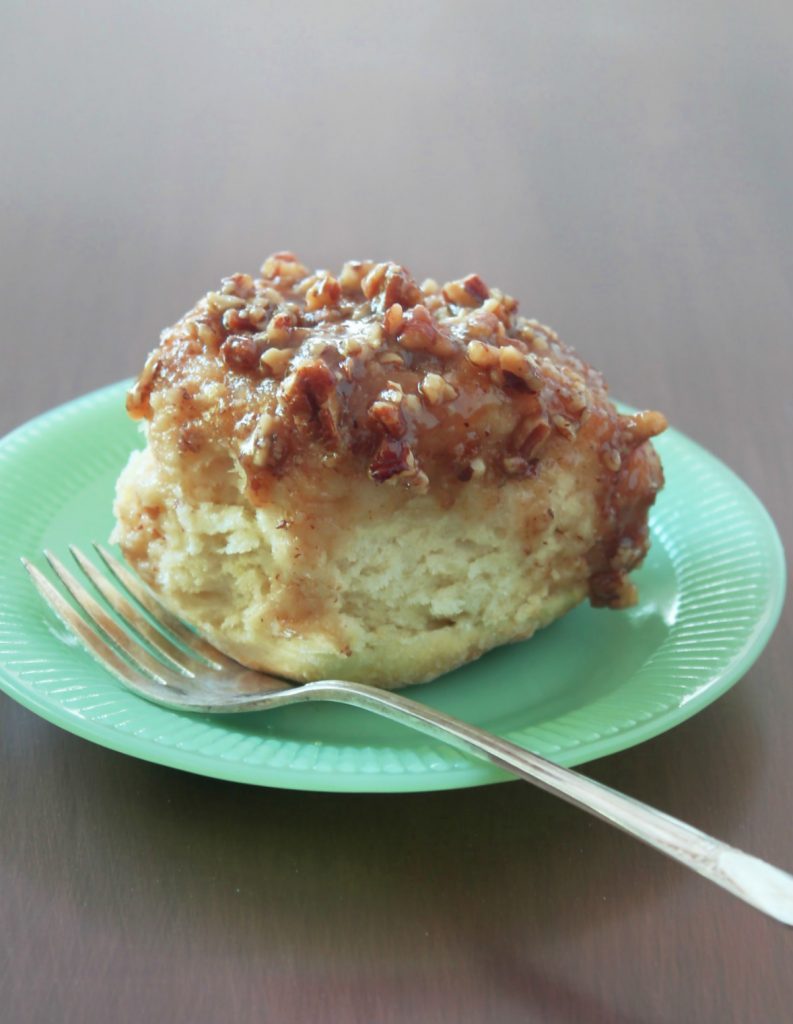 I love pecan rolls, like really love them. So much so that I might even choose one over a cinnamon roll. I think I got it from my grandfather because he loved them too.
But up until today I had made neither pecan nor cinnamon roll in my kitchen, unless you count those ones that pop from a can and make me jump like I'm in a haunted house… but I don't count those. Obviously that needed to change.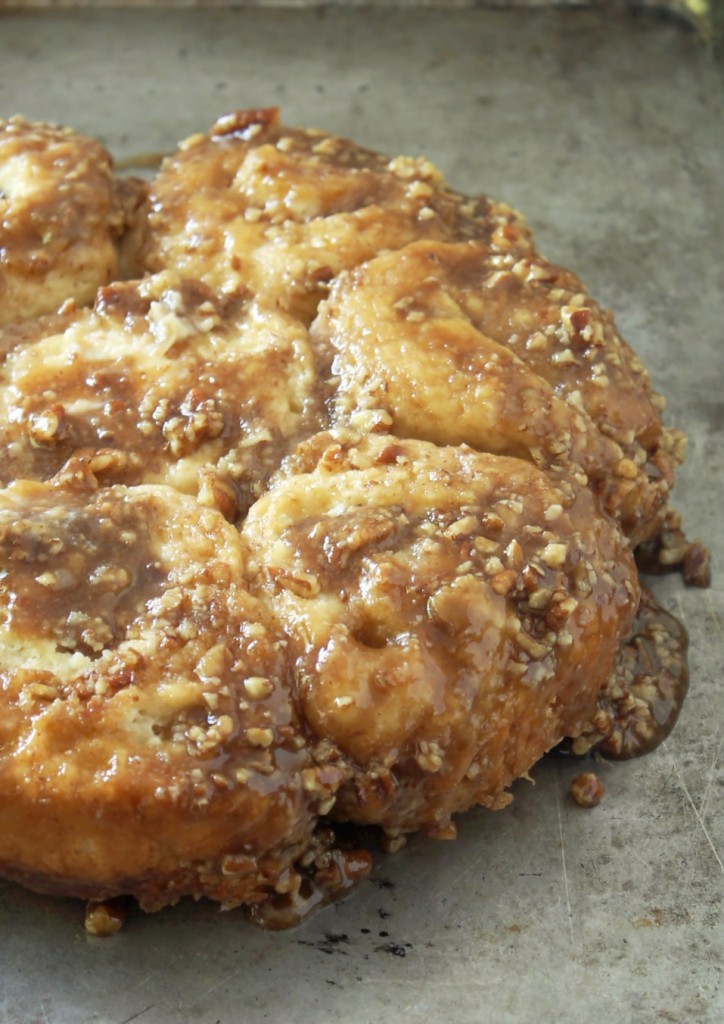 A mom in a group I used to attend would bring these maple walnut rolls that everyone just loved. It's a Pillsbury recipe, so of course it uses those funny popping cans (seriously they scare me every time). I got to thinking about them the other day and wondered if A. I could turn them into a pecan roll and B. if I could make them with a quick homemade dough instead. Because in general if I'm going to make the effort to bake at home I've become comfortable enough that homemade dough does not intimidate me, and let's be honest, the dough tastes better.
So I did some searching with Google for a no-rise cinnamon roll recipe and this one from Set the Table looked the best to me. It's even called a biscuit dough. No yeast and a breeze to mix together. Seriously, from start to finish these maple cream cheese pecan rolls were finished and looking like this in under an hour. They are begging for you to make them!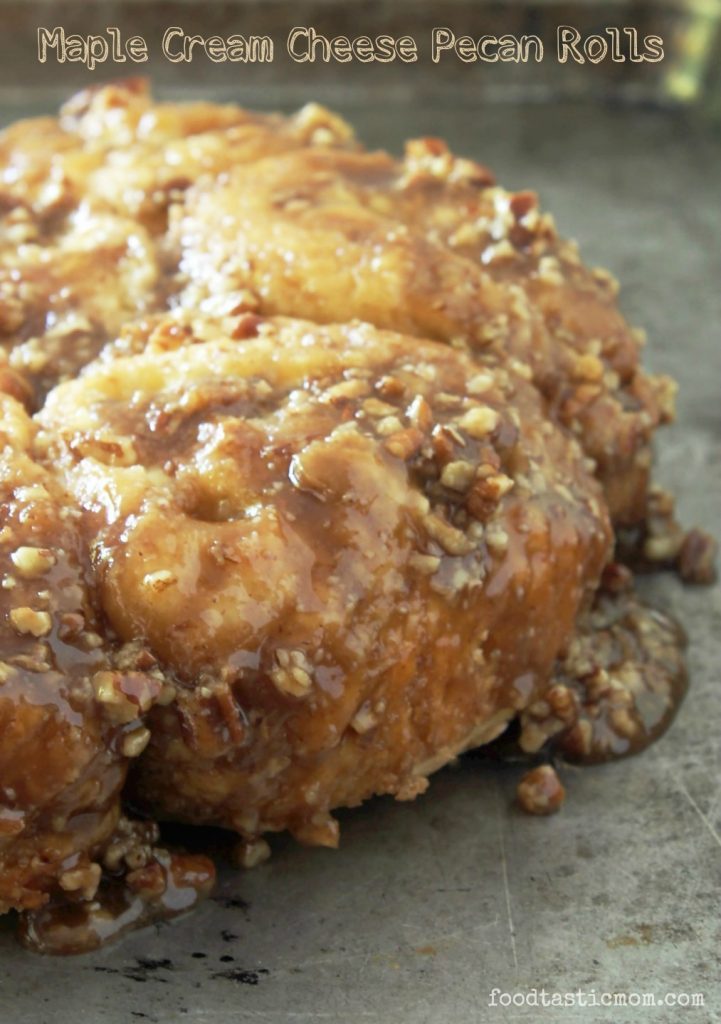 Maple Cream Cheese Pecan Rolls
Ingredients
1

pkg.

8 oz. cream cheese, softened

1/4

c.

powdered sugar

1

t.

vanilla

3/4

c.

light brown sugar

1/2

c.

pecans

finely chopped

1/4

c.

pure maple syrup

1/4

c.

butter

melted

pinch

of salt

2 1/2

c.

all-purpose flour

2

T.

granulated sugar

1 1/4

t.

baking powder

1/2

t.

baking soda

1/2

t.

salt

1 1/4

c.

old-fashioned buttermilk

2

T.

unsalted butter

melted
Instructions
Preheat oven to 400 degrees and adjust rack to upper-third position. Place a sheet pan on the rack beneath, to catch any maple pecan syrup drippage.

With a stand or hand mixer, whip together the cream cheese, powdered sugar and vanilla.

In a separate bowl, stir together the 1/4 cup of melted butter, brown sugar, pecans, maple syrup and pinch of salt until completely combined.

Pour in the bottom of a 9-inch round deep-sided cake pan. Set aside.

In a large, clean bowl, whisk together the flour, granulated sugar, baking powder, baking soda and salt.

In a smaller bowl, whisk together the buttermilk and 2 tablespoons of melted butter.

Stir the buttermilk mixture into the flour mixture until the dough is looking shaggy and coming together. Turn the dough out onto a floured, clean counter and knead gently, adding a little more flour so it's not too sticky. Pat the dough into a 12x9-inch rectangle.

Spread the cream cheese mixture evenly over the dough, leaving about 1/4-inch border on the 12-inch side closest to you and the two 9-inch sides. Leave about a 1-inch border at the top 12-inch side (the one furthest from you).

Using a bench scraper if needed, scrape along the underside of the 12-inch side closest to you to begin rolling the dough into a log, patting and pressing in the sides and along the top to adhere and even it out into a 12-inch log shape.

Using the bench scraper (or a sharp knife), cut the log into eight equal rolls.

Place one roll in the center of your prepared cake pan, on top of the maple pecan syrup mixture. Then place the remaining seven rolls evenly spaced around the center roll.

Bake the rolls for 25-28 minutes, or until the rolls are beginning to brown on top and are firm to the touch.

Remove the rolls from the oven. Wait for about 3-5 minutes and invert the warm rolls onto a serving dish.