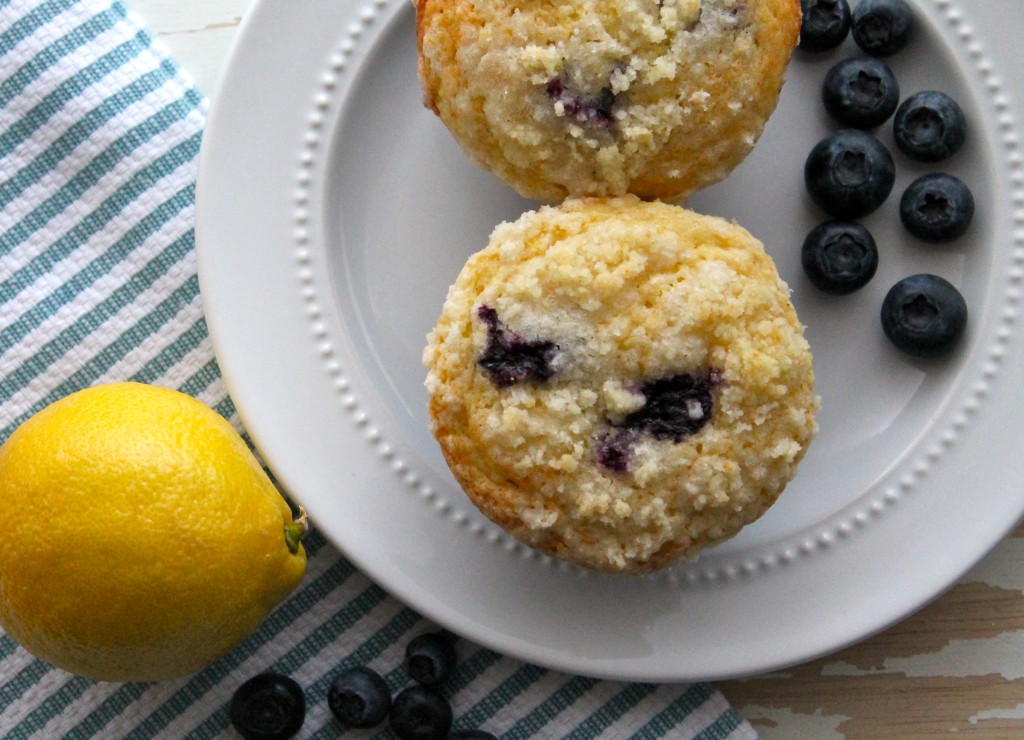 So ever since I made this Pumpkin Bread and these Pumpkin Cream Cheese Muffins, I've been obsessed with streusel. I've always loved the comfort of a great quick bread and muffins, but after a day or two, even the best of my recipes get kinda "gummy" on top. The buttery crunch of streusel seems to prevent this and even seals in the moisture of the bread. So from here to forever (or until I change my mind again) I'm a streusel snob.
In my occasional pinning on Pinterest (this is clearly sarcasm) I came across a dubiously titled "best-ever blueberry muffin". If you remember from my post about Chocolate Chip Cookies, I am always a sceptic when recipes claim they are the best. Everyone's tastes are different, so what may be best for you is not guaranteed to be best for me. But still I was intrigued because I didn't have a truly great blueberry muffin in my recipe collection.
So, I took inspiration for my recipe from that post, simplifying it considerably from the original, and using the same proportions from those Pumpkin Cream Cheese Muffins at Annie's Eats for a lemony streusel. I won't promise these will be your best, but they are definitely mine.
Lemony Blueberry Streusel Muffins
Ingredients
for the streusel
1/2

c.

sugar

5

T.

all-purpose flour

1 1/2

t.

grated lemon zest

4

T.

cold

unsalted butter, cut into smaller pieces
for the muffins
2 1/2

c.

all-purpose flour

1 1/4

c.

sugar

2 1/2

t.

baking powder

1

t.

salt

4

T.

unsalted butter

melted and cooled slightly

1

c.

milk

1/4

c.

vegetable oil

2

large eggs

1

T.

freshly-squeezed lemon juice

1

t.

vanilla extract

2

c.

fresh blueberries

not frozen
Instructions
Preheat oven to 375 degrees.

To make the streusel, combine the sugar, flour, lemon zest and butter in a medium-sized bowl. Using a pastry blender or fork, mash together the ingredients until streusel resembles the texture of wet sand. Save in refrigerator until ready to use.

In a large bowl, combine the flour, sugar, baking powder and salt, whisking to combine. In a separate bowl, combine the melted and cooled butter, milk, oil, eggs, lemon juice and vanilla extract, whisking to combine. Add the wet ingredients to dry ingredients and gently stir with a wooden spoon or rubber spatula. When there are still a few streaks of flour in the batter, add the fresh blueberries and fold into the batter until just combined.

Line muffin pans with 18 paper or foil muffin cups. Fill each 3/4 full with batter. Remove streusel from refrigerator, and top each muffin with a generous tablespoon of streusel topping. Bake muffins for 20-22 minutes, or until muffins spring back when gently pressed with finger.

Cool in pans for about 10 minutes, then remove from pans and allow to finish cooling on racks on counter for about another 30 minutes.