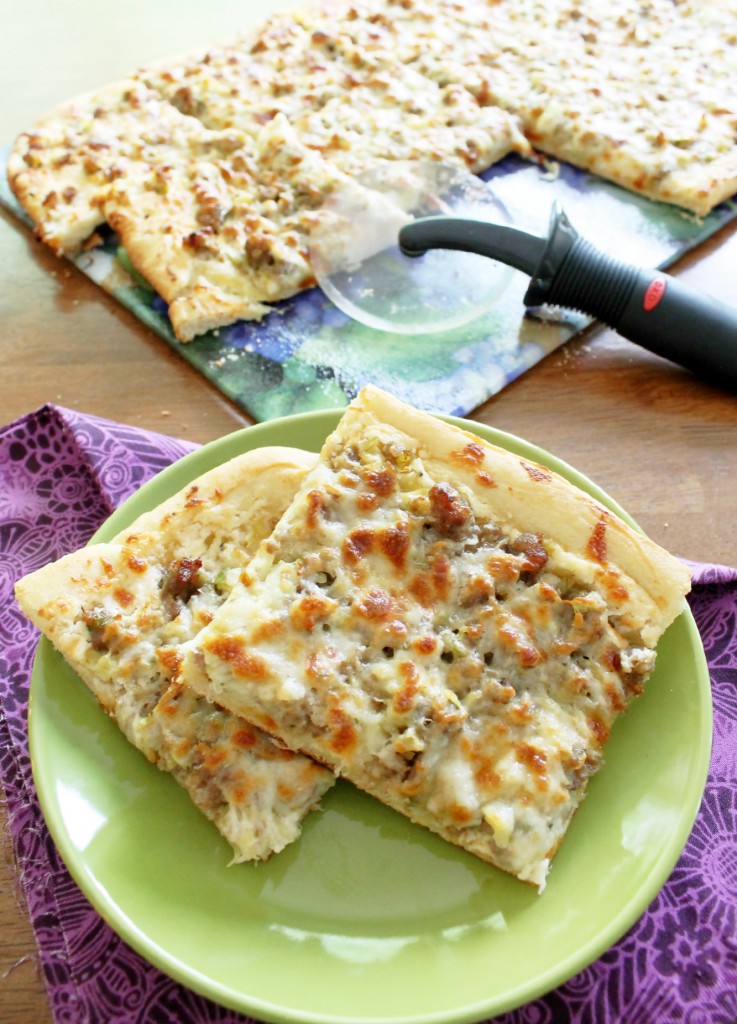 Each time I make a homemade pizza I discover something new. I recently switched from an air-bake pan to THIS pizza stone. I am now convinced that baking on a stone with oven-safe parchment paper used as your "pan" is the way to go when baking pizza at home. I also switched my go-to crust recipe, from THIS to THIS. The one I'd been using is thanks to James Beard. The one I switched to is thanks to America's Test Kitchen. Both hugely respected sources.
Anyway, when I decided to recreate a sausage and artichoke dip my friend Ali had shared with us recently into a pizza, I was out of the bread flour my ATK pizza crust required. So I went back to my first love, the James Beard crust. And here's what I discovered. The James Beard crust dough itself is MUCH easier to work with in terms of pressing it uniformly into a perfect crust shape. Though admittedly, it's not superior in terms of texture. But for a novice working with homemade dough of any kind, I'd have to recommend this recipe.
However, for chewy yet crisp, light and bubbly pizza crust perfection, I would still recommend the ATK recipe. It is not as easy to work with as the James Beard crust, as I found out in my super-humid kitchen for this Kentucky Hot Brown Pizza. I made it work, but I'd made a TON of pizza crust at home by this point, so my practice allowed me the patience and confidence to get it right. If you are new to pizza making at home though, and had tried that crust recipe for the first time, I imagine the experience might frustrate you to the point of not trying again.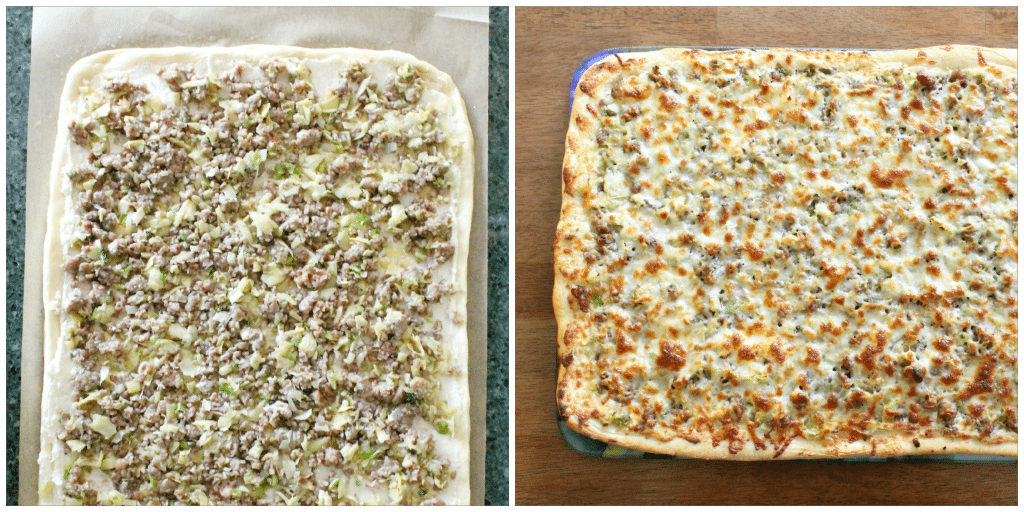 So what is the point of this long, round-about musing on pizza crust and homemade pizza? I guess it's this. Here's where food bloggers can greatly enhance your own kitchen experience. We are testing things and then writing about them. Not at a professional level of an America's Test Kitchen, but in a home kitchen where things like humidity are variable. Many times with energetic kids underfoot. Probably more times than not in homes that don't benefit from a weekly professional cleaning. And many times, we're learning too. I know I am! But seriously, there is nothing like pizza made at home. Regardless of the perfect crust recipe or the most innovative topping combination ever. Especially with kids at home… they're not going to remember the carry-out, but they will remember the experience of making their own or seeing a loved one make it for them.
Another learning, specific to this topping combination… this pizza is best suited for a crowd. Cut in small squares, it is a divine nibble. As a meal, it was a bit over-the-top. Have fun!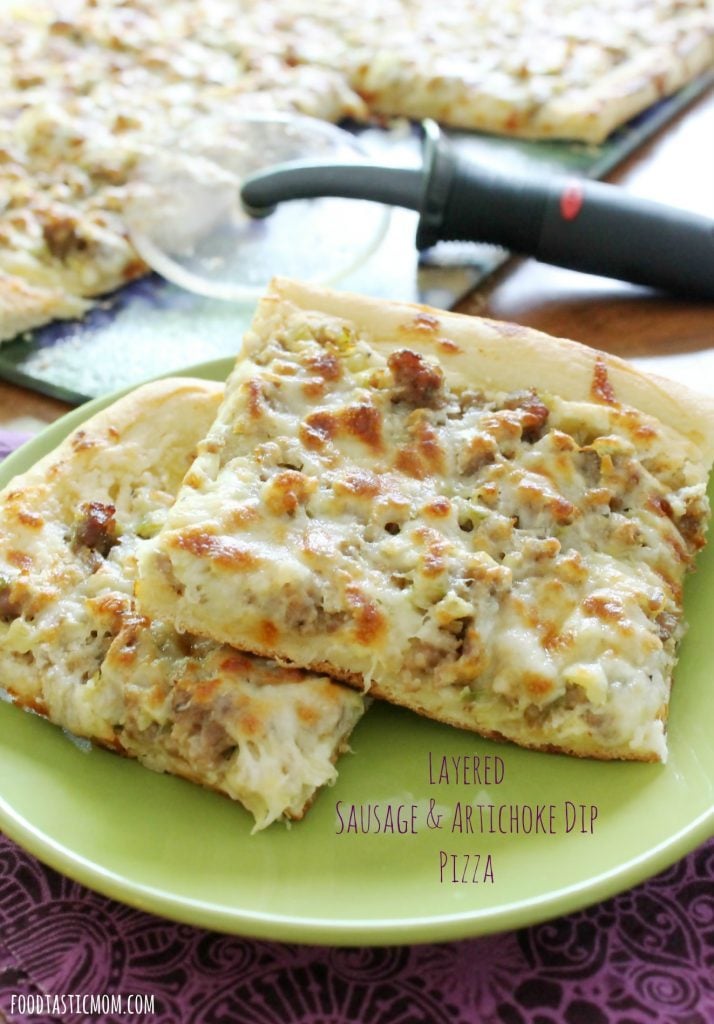 Layered Sausage and Artichoke Dip Pizza
Ingredients
for the crust
1 1/2

t.

instant yeast or 2 t. active dry yeast

1/2

c.

+ 3 T. lukewarm water

95 - 115 degrees

3

T.

extra virgin olive oil + extra for greasing bowl

2

c.

all-purpose flour

3/4

t.

kosher salt
for the toppings
1

lb.

bulk sweet Italian sausage

1

bunch green onions

white and light green parts chopped

4

cloves

garlic

minced

1/2

t.

dried oregano

1

can

14 oz artichoke hearts packed in water, drained well

4

oz.

cream cheese

softened

1/2

c.

creamy Caesar salad dressing

I used Newman's Own brand

juice of 1/2 lemon

1

c.

Parmesan cheese

freshly grated

2

c.

mozzarella cheese

shredded
Instructions
for the crust
Place the yeast in a bowl of stand mixer fitted with paddle attachment. Add the lukewarm water and stir on low to dissolve. Add the olive oil and 1/2 c. of flour and beat on medium-low speed for a minute until smooth. Switch to dough hook and add another 1/2 c. flour and salt and mix well. Add the remaining 1 cup of flour and put machine on low speed until the dough forms a mass around the hook. Let the machine knead the dough for 2 minutes. Turn the dough out onto a clean work surface and scrape out the bowl. Knead on counter for a minute for two until the dough is smooth and elastic. Shape the dough into a ball.

Place a teaspoon of oil in the bottom of a large, clean bowl. Place the ball of dough in the bowl and move it around to coat it with oil. Cover the bowl with a clean dish towel and set in a warm place (near your oven) until the dough doubles in bulk, 45 minutes to an hour.
for the toppings
In a large, non-stick skillet brown the sausage over medium heat. Once pink is gone, add the chopped green onions and garlic and cook for another 2 minutes, stirring constantly. Remove from heat, drain the meat if necessary and allow to cool a bit.

With a stand or hand mixer, whip together the cream cheese, Caesar dressing, lemon juice and Parmesan cheese.

Preheat oven to 525 degrees.

According to pizza stone directions, allow the stone to preheat in the oven. The stone should be on a rack in the lower third position of the oven.

Evenly spread the crust dough on a large rectangle of parchment paper, making sure it fits the measurements of your pizza stone.

Gently spread the cream cheese mixture atop the crust and sprinkle with 1 cup of the shredded mozzarella cheese. Sprinkle the cooked sausage mixture over the cheese. Sprinkle the drained and chopped artichoke hearts over the sausage. Top evenly with the remaining 1 cup of mozzarella cheese.

Using a pizza peel, carefully transfer the pizza and parchment paper onto the hot pizza stone. Allow to bake 10 -12 minutes until crust and top of cheese is browning. Carefully remove pizza with a pizza peel and allow to cool a bit before slicing and serving.