Grilled Mustard Potato Salad combines grilled potatoes, onion and lemon with a light and fresh dressing made from French's® Yellow Mustard, olive oil, parsley and dill.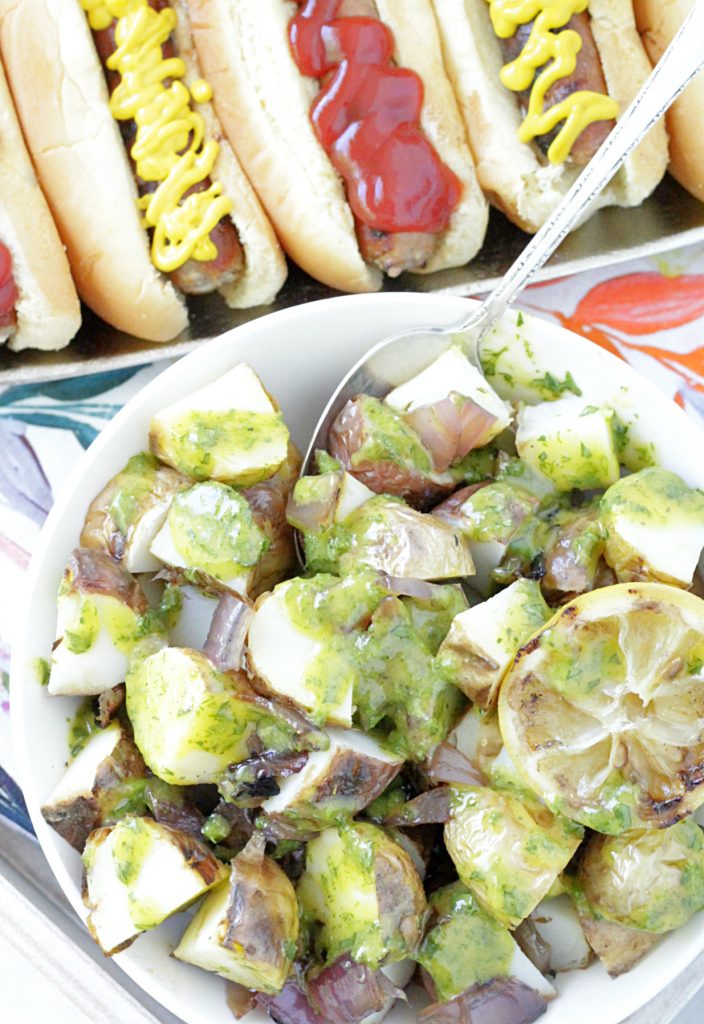 I've eaten buckets of mayo-laden potato salad at cookouts and picnics over the years. It's a classic for sure and obviously a popular side dish. I decided I wanted to emphasize the bright yellow mustard flavor though and really lighten up the calorie count for this particular recipe.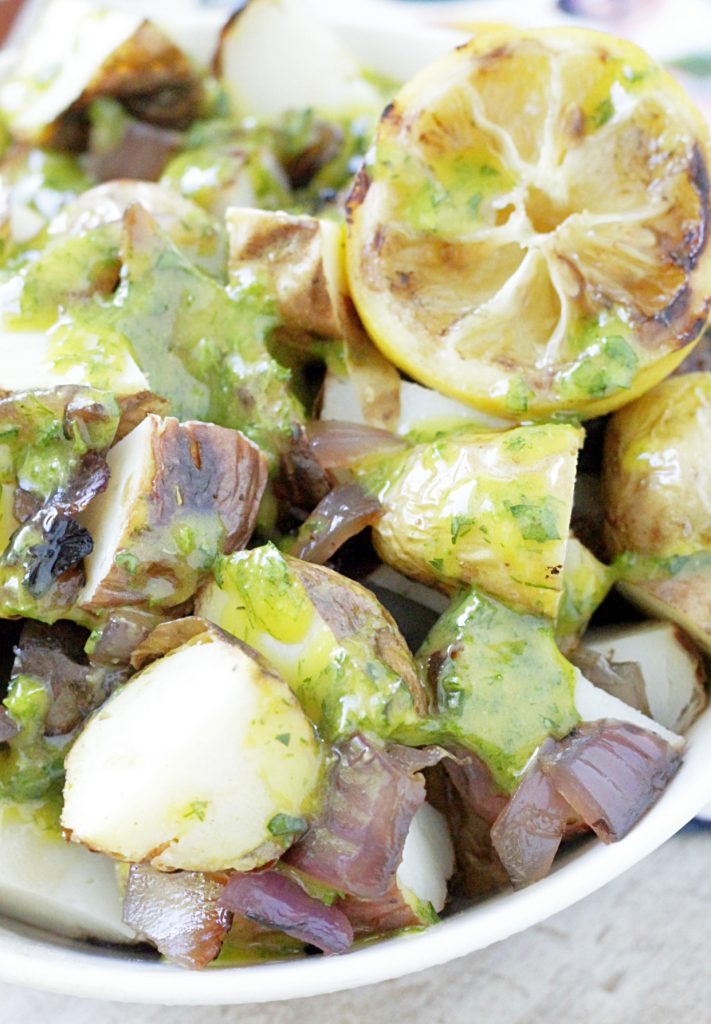 If my grill is on for burgers and brats anyway, why not throw on the potatoes, a big slice of onion and even a fresh lemon to help me out with my side dish situation? Grilled lemons are my new secret weapon ingredient. It's a trick I learned from my neighbor a few years ago.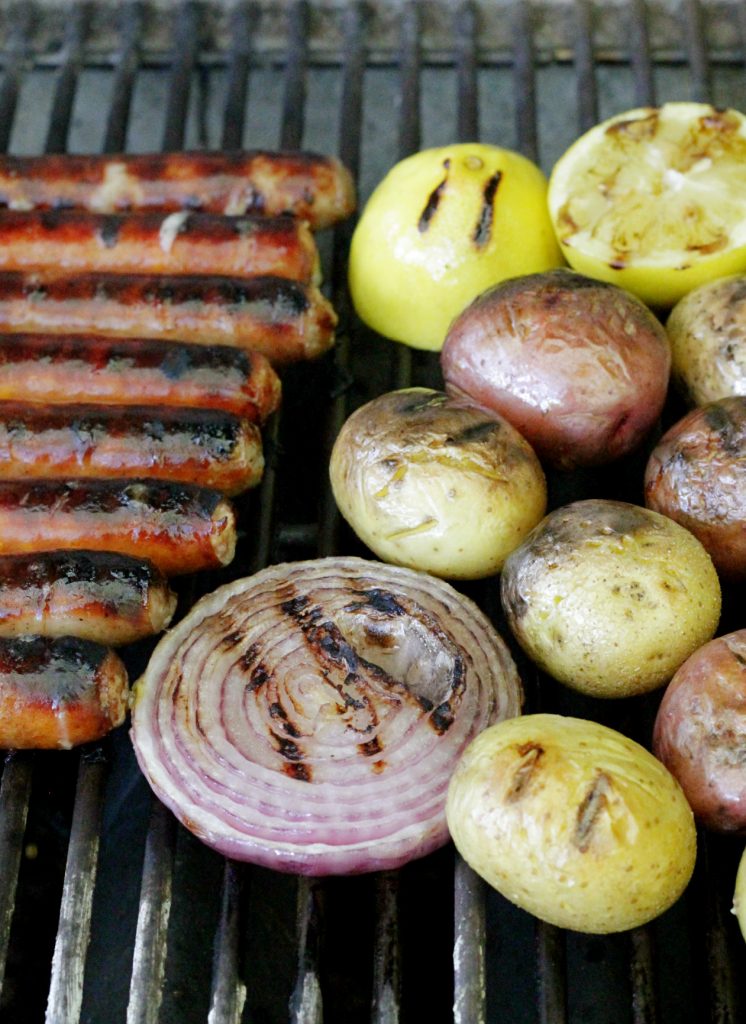 French's® Ketchup and Yellow Mustard are staples in our refrigerator. My kids let me know when we are running low. So since those condiments are plentiful and going to be on the table to top our main dish it makes sense to use some of that French's® 100% natural yellow mustard in my grilled potato salad dressing. There's no fake stuff in the mustard and there's no high fructose corn syrup in French's® Tomato Ketchup. I personally appreciate that.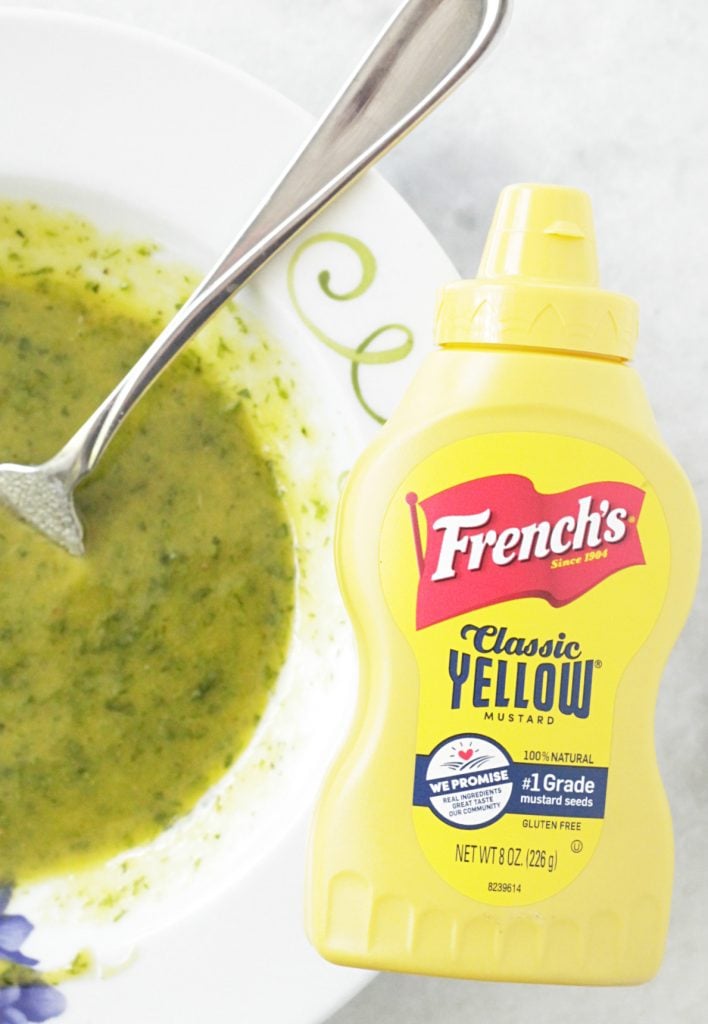 What are your favorite recipes for the grill? Sometimes I pull out all the stops but more often than not for our family dinner and even casual entertaining, I toss some precooked brats, some chicken or burgers on the grill and the cook some corn, cut up some fresh fruit and call it a meal. So this grilled potato salad fits right in with my simple approach to getting food on the table.

I'm sharing French's® in my life as part of a sponsored series for Socialstars™
#FrenchsCrowd #FrenchsMustard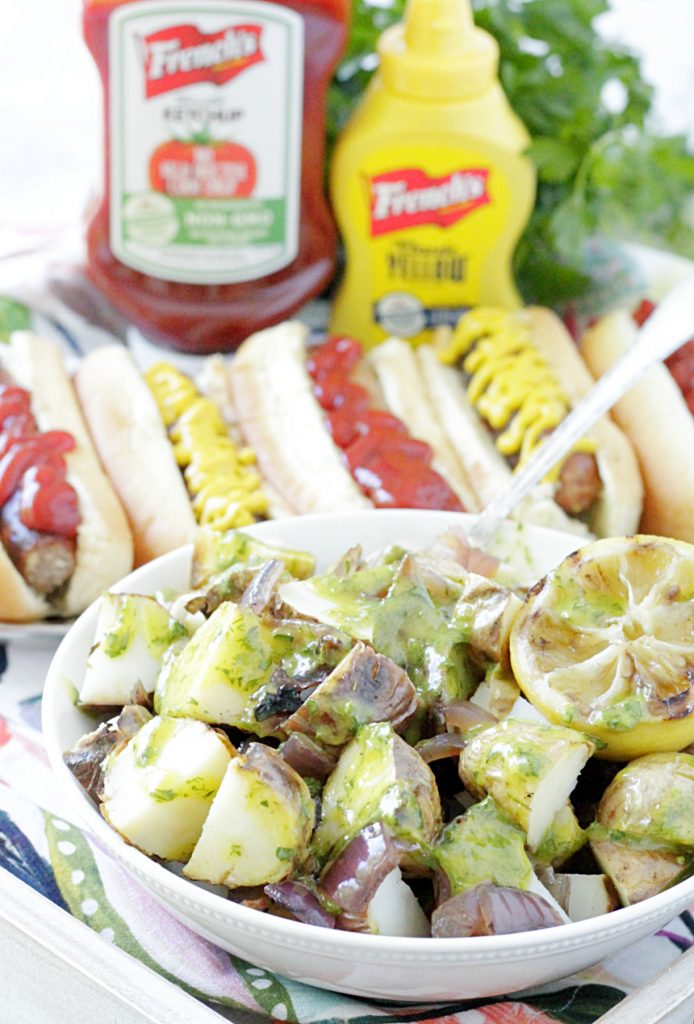 Grilled Mustard Potato Salad
Ingredients
6

small

red-skinned potatoes

6

small

yellow-skinned (Yukon Gold) potatoes

1

slice

red onion

1/2

lemon

5

tbsp

extra virgin olive oil

divided

2

tbsp

French's® Yellow Mustard

1

tsp

sugar

1

tsp

salt

2

tbsp

fresh dill

minced

2

tbsp

fresh parsley

minced
Instructions
Preheat grill to high heat. Scrape grill grates clean and turn all burners to low setting.

Scrub potatoes clean. No need to peel. Place in a shallow, microwave-safe dish, in a single layer and add about 1/2-inch of water.

Poke each potato with a fork. Microwave on high for five minutes. Flip the potatoes and microwave for another five minutes. Check potatoes with a fork. They should be firm but tender in the center. Continue microwaving for another few minutes if necessary.

Drain the potatoes and coat the potatoes, the large onion slice and the 1/2 fresh lemon with two tablespoons of olive oil.

Place the potatoes, onion and lemon on the grill. Grill for about five minutes and flip. Continue grilling until the potatoes, onion and lemon are browned and softened. Remove from grill and allow to cool.

Squeeze the juice from the grilled lemon half into a clean bowl. Add the remaining three tablespoons of olive oil, French's® Yellow Mustard, sugar, salt and fresh herbs. Whisk together until smooth.

Chop the potatoes and onion. Add to a large bowl. Toss with the dressing. Serve at room temperature.