My recipe for Go Fast Granola Pancakes is inspired by the Amazon Prime original series, "Just Add Magic". The second season premieres Friday, January 13th. All opinions are mine alone.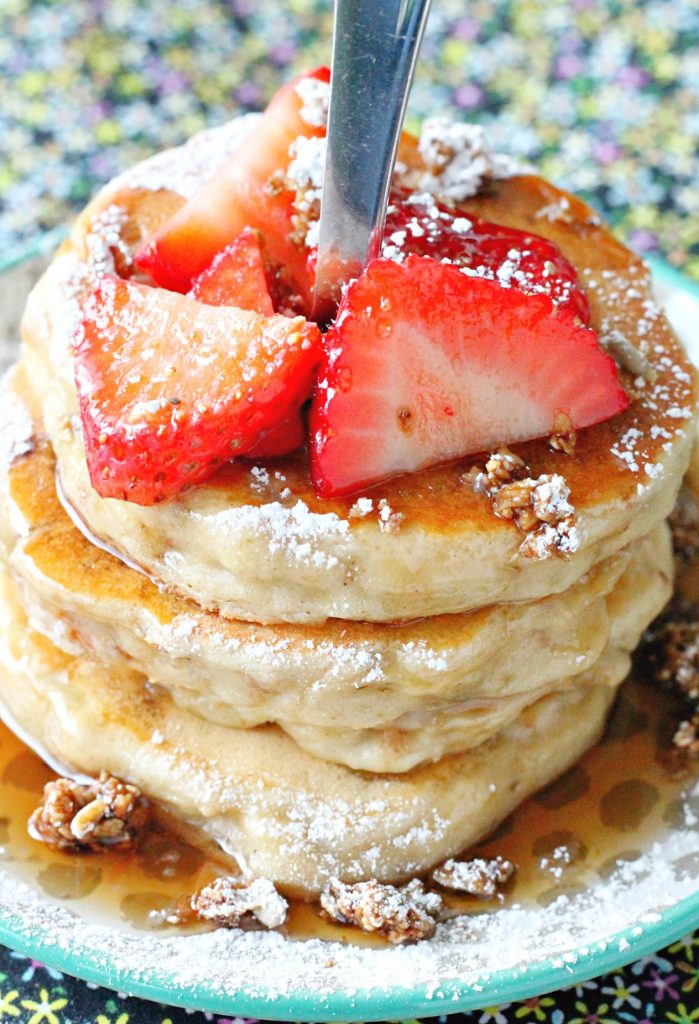 In case you aren't familiar with the show I just mentioned, it's based on Cindy Callaghan's book of the same name, Just Add Magic for kids, tweens and their families and follows the adventures of Kelly and her two best friends, Darbie and Hannah, who stumble across a mysterious cookbook and discover that its recipes are far from ordinary – they're magical!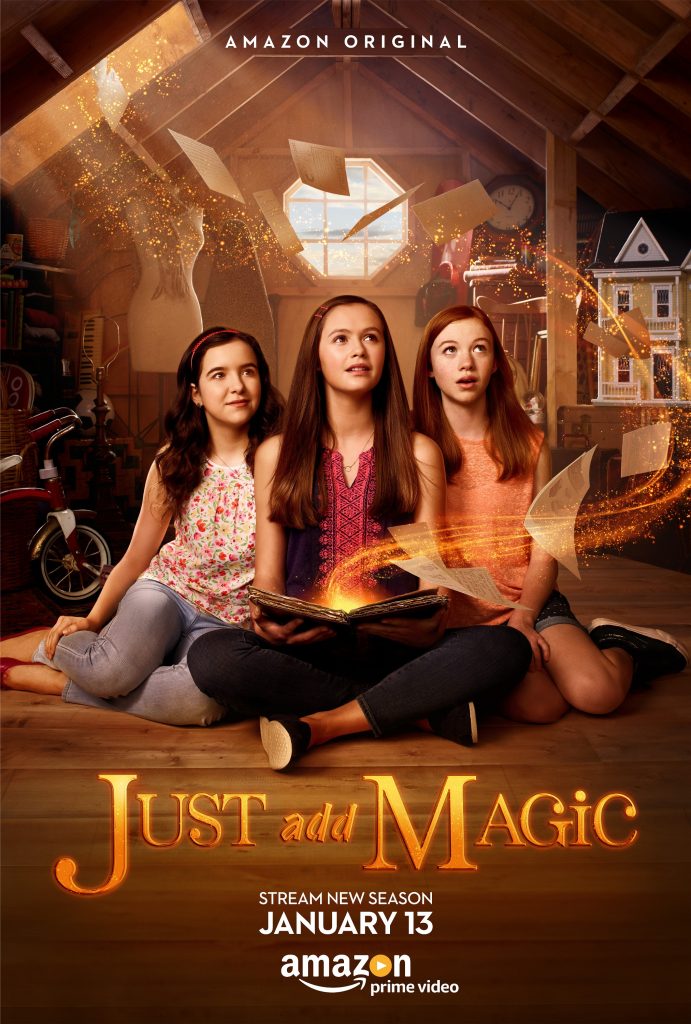 My nine year old daughter and I had so much fun familiarizing ourselves with Season One of this cute and entertaining show. It's a total "binge worthy" series the whole family can enjoy. The recipes in the mysterious cookbook cast "spells". Bitter Truth Truffles cause everyone who tries one to be brutally honest. Healing Hazelnut Tart miraculously cures injuries. Brain Boost Bolognese makes the girls temporary geniuses.
When I asked my daughter what "spell" she wished she could cast simply by making a recipe she knew right away she'd want to swim faster because both she and her brother swim for our YMCA swim team. And that is how Go Fast Granola Pancakes came to be. But you don't have to be a swimmer to love these pancakes. The flavor of bananas and crunchy granola are sure to please young and old, athletes and non-athletes alike!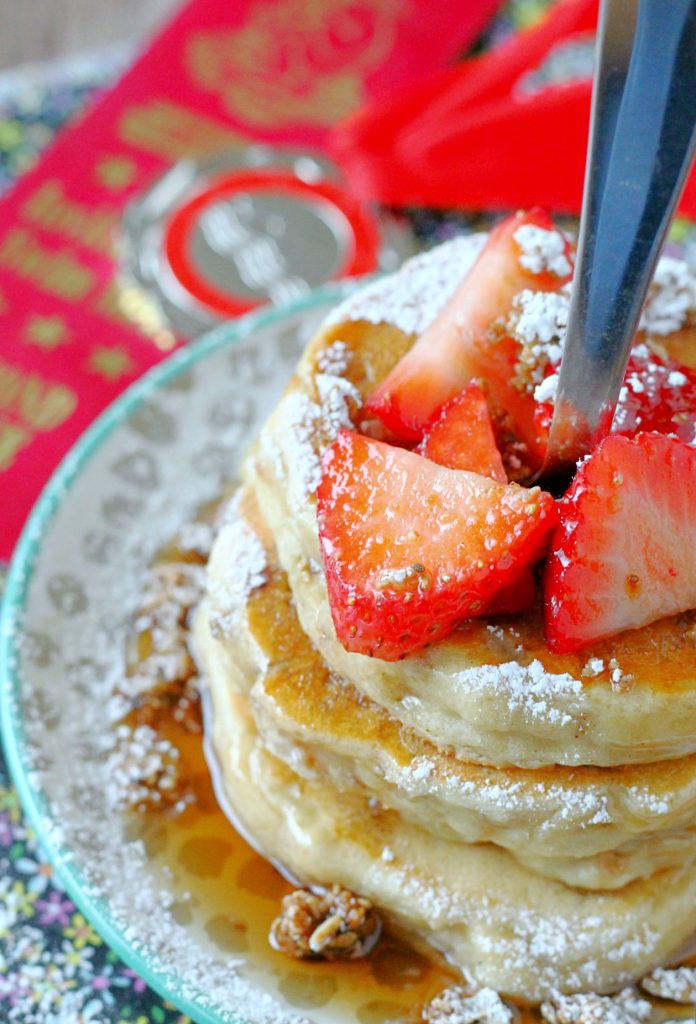 As with the recipes in the show, our magical ingredient is Cedronian Vanilla that will help your young athlete to "go fast". It's really just regular vanilla extract but it's fun to pretend and escape into a show like "Just Add Magic", isn't it?
https://www.youtube.com/watch?v=L6qKBBvQc3o&feature=youtu.be
So be sure and check out this 5-star rated series on Amazon Prime. Seasons One and Two are available now. And don't skip by our magical Go Fast Granola Pancakes. Make these for your next weekend breakfast and see how fast your family comes back for seconds!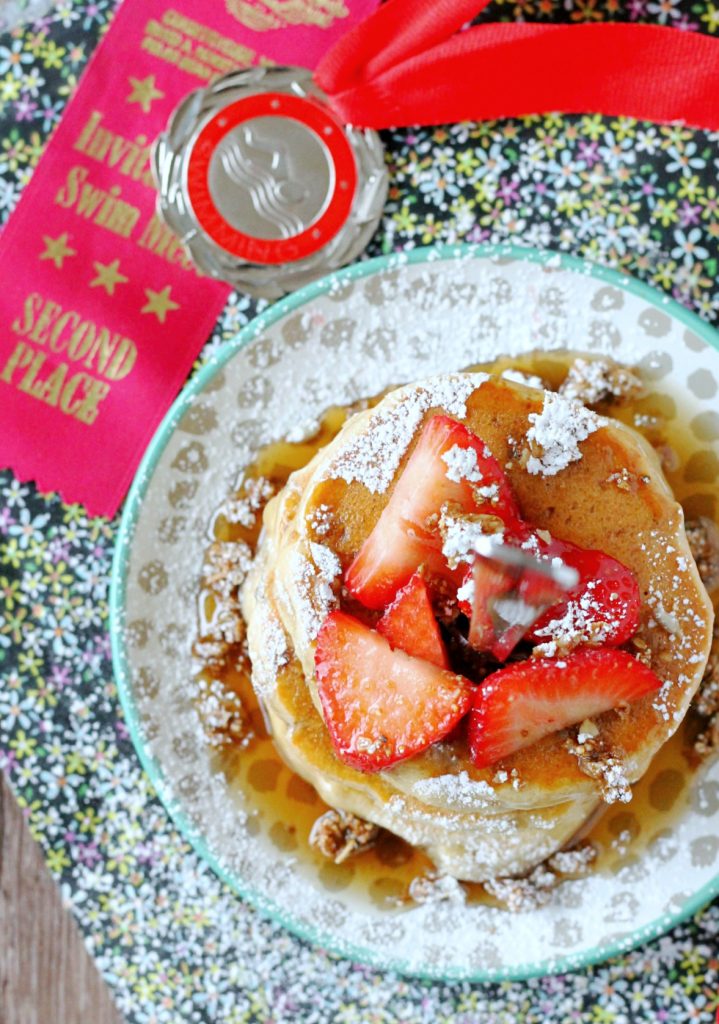 Go Fast Granola Pancakes
Ingredients
1

cup

all-purpose flour

1 1/2

tablespoons

sugar

2

teaspoons

baking powder

1/2

teaspoon

salt

1

cup

milk

1/4

cup

sour cream

1

large egg

2

tablespoons

vegetable oil

1

teaspoon

vanilla extract

3/4

cup

granola

crushed into small pieces

1

large

very ripe banana, cut into small pieces
Instructions
Preheat a non-stick griddle to 375 degrees.

In a bowl whisk together the flour, sugar, baking powder and salt.

In a separate bowl, whisk together the milk, sour cream, egg, oil and vanilla. Add the granola and stir.

Pour the granola mixture into the flour mixture. Add the chopped banana. Stir well to combine.

Place about 3 tablespoons of pancake batter onto the hot griddle per pancake. Cook until you see bubbles forming in the middle of each pancake. Flip and continue to cook until done.

Serve the pancakes topped with extra granola, fresh strawberries and pure maple syrup. Powdered sugar is optional.