Ghost in the Graveyard Dip is a simple white bean and parsley hummus topped with finely chopped black olive. Mozzarella sting cheese ghosts and quick baked tortillas cut in the shape of grave stones make this a festive and healthy treat for ghosts and goblins of any age!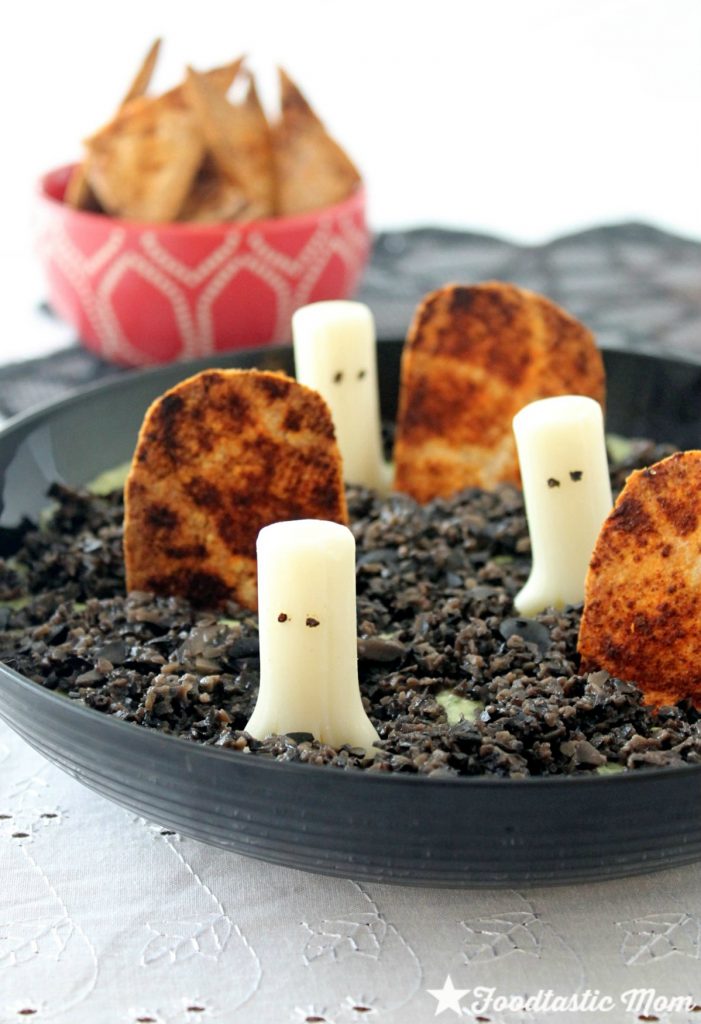 Our children are black olive fiends. Can that be inherited? When I met my husband he was one of the few people I'd ever known to also enjoy a black olive pizza. No other toppings. Just black olives, sauce and cheese. Needless to say, you can always find a few cans of California Black Olives in my pantry. And now here they are providing a flavorful, black earth "graveyard" to plant my wheat tortilla chip "tombstones" and string cheese "ghosts" in. This is a super simple and all natural treat to set out for all your Halloween parties.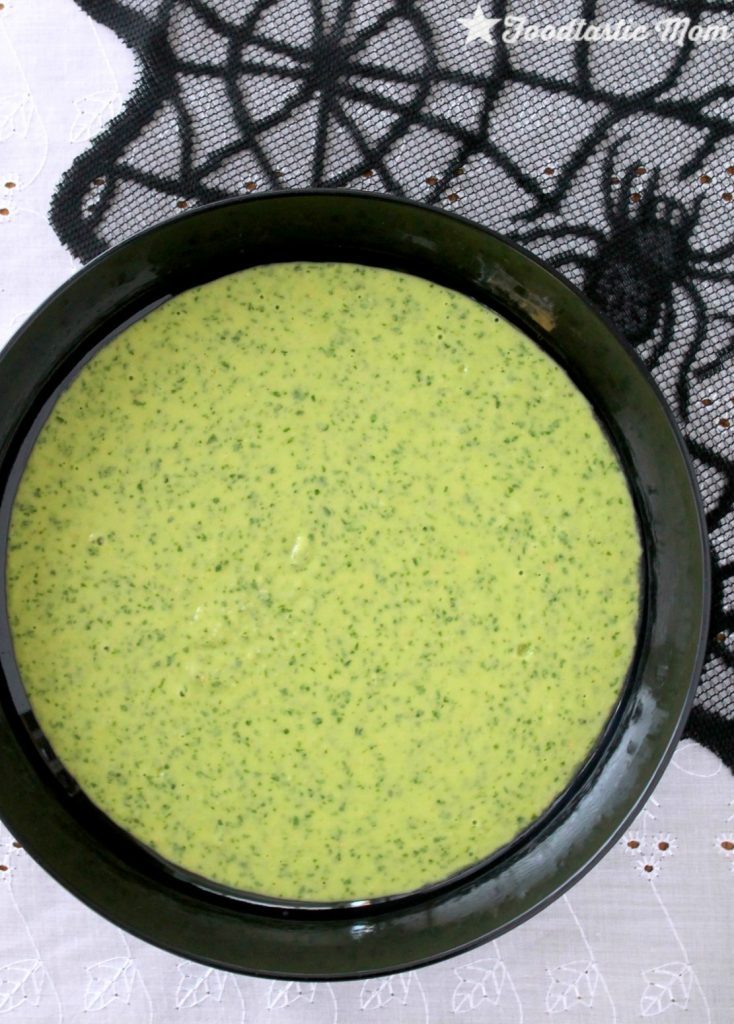 To start, I made a batch of this white bean hummus. And then using a food processor I chopped up an entire can of large-size black olives to act as the dirt graveyard topping. For the little ghosts, I simply halved some string cheese and kind of fanned-out the bottoms so the ghosts had a wider base to sit on. The eyes are cracked black pepper pieces.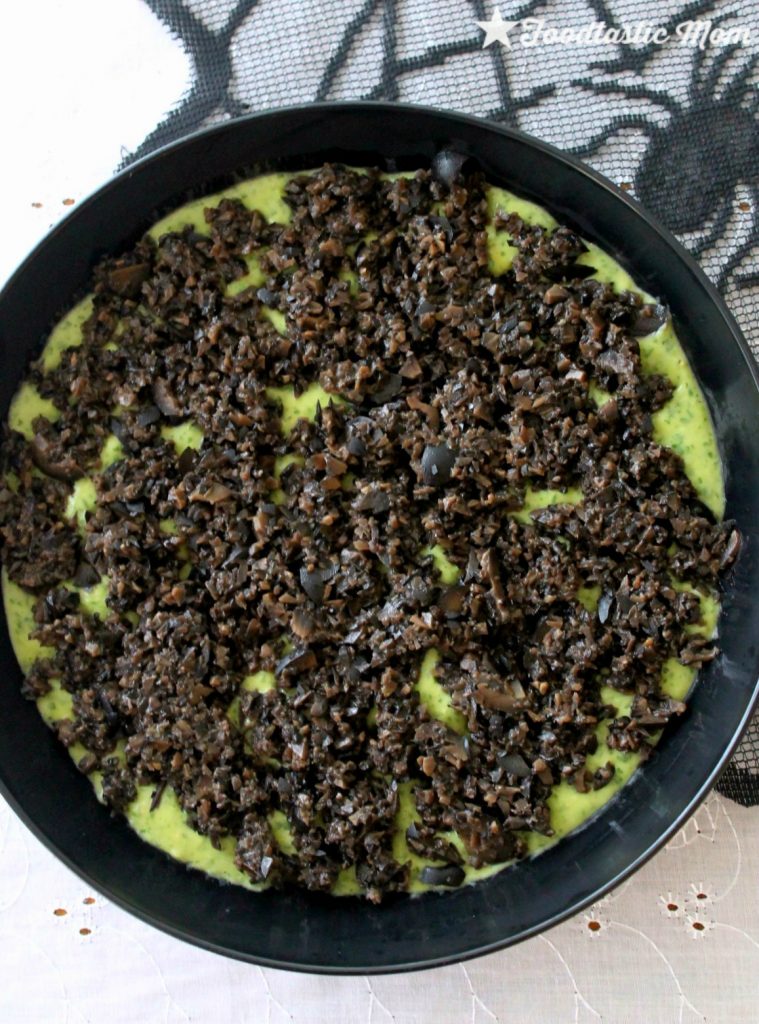 I purchased some fresh, whole wheat tortillas from my grocery (they are thicker than the pre-made variety) and used my kitchen scissors to cut three tombstone shapes. The rest of the tortillas I cut into small triangles and sprayed them all with a good-quality cooking spray (mine happened to be coconut oil). I then topped the tombstones with a clean piece of lace (that same black spider webbed one you see in the photos) and sprinkled them with smoked paprika. That is what made the web design on them. The rest of the triangles I sprinkled with a little sea salt and more smoked paprika before baking.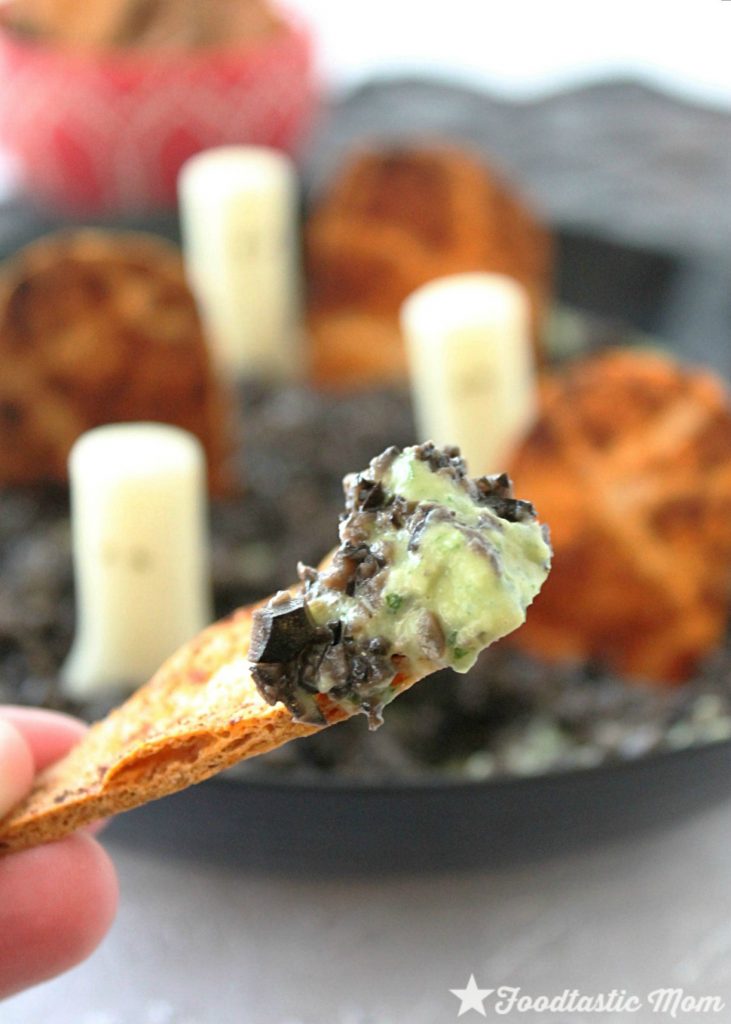 So there you have it! Fresh and healthy homemade hummus made even more tasty by a layer of rich, black olives. These graveyard ghosts make a friendly counterpart to all that Halloween candy your kiddos will be hauling home from Trick-or-Treat.

Ghost in the Graveyard Dip
Ingredients
1

can (15 oz)

large black olives

drained

1

can (15 oz)

white beans

drained

3

cloves

garlic

not peeled

1/2

cup

fresh flat leaf parsley

roughly chopped

1

lemon

juiced

1

tsp

salt

3

tbsp

extra virgin olive oil

10

small

fresh whole wheat tortillas

cooking oil spray

sea salt

smoked paprika

2

mozzarella sticks

cracked black pepper
Instructions
Place the black olives in the bowl of a food processor and pulse until chopped fine. Remove olives and clean food processor bowl to make the hummus.

In a small skillet over medium heat, add the three garlic cloves (unpeeled) and toast until they begin to brown, about 7 - 8 minutes. Remove from heat.

Add the drained and rinsed white beans, parsley, lemon juice and salt to the clean bowl of your food processor. Press the toasted garlic cloves and add to the bean mixture. Begin to pulse the mixture then drizzle in enough olive oil to process until completely smooth.

Scrape the hummus into a shallow bowl and smooth the top.

Layer the chopped black olives onto the hummus to make the graveyard "dirt" topping.

Refrigerate the dip for at least an hour before serving.

To make the tortilla tombstones and chips, cut one tortilla with kitchen shears to make three tombstone shapes. Cut the rest of the tortillas into triangles.

Preheat oven to 450 degrees.

Line two baking sheets with parchment paper or silicone baking mats. Place the cut tortillas in an even layer across the two baking sheets.

Spray the tortillas evenly with cooking oil spray.

Top the three tombstones with a clean piece of lace, if desired, and sprinkle generously with smoked paprika to make a design.

Sprinkle the rest of the chips lightly with sea salt and smoked paprika.

Bake the chips in the oven for 10 - 15 minutes or until browned and crisp.

To serve the dip, shape ghosts from sting cheese, using cracked pepper pieces as eyes. Top the dip with the ghosts and tombstones and serve.
Love Halloween? Don't miss these recipes! Click on the pictures to be taken to the full posts…