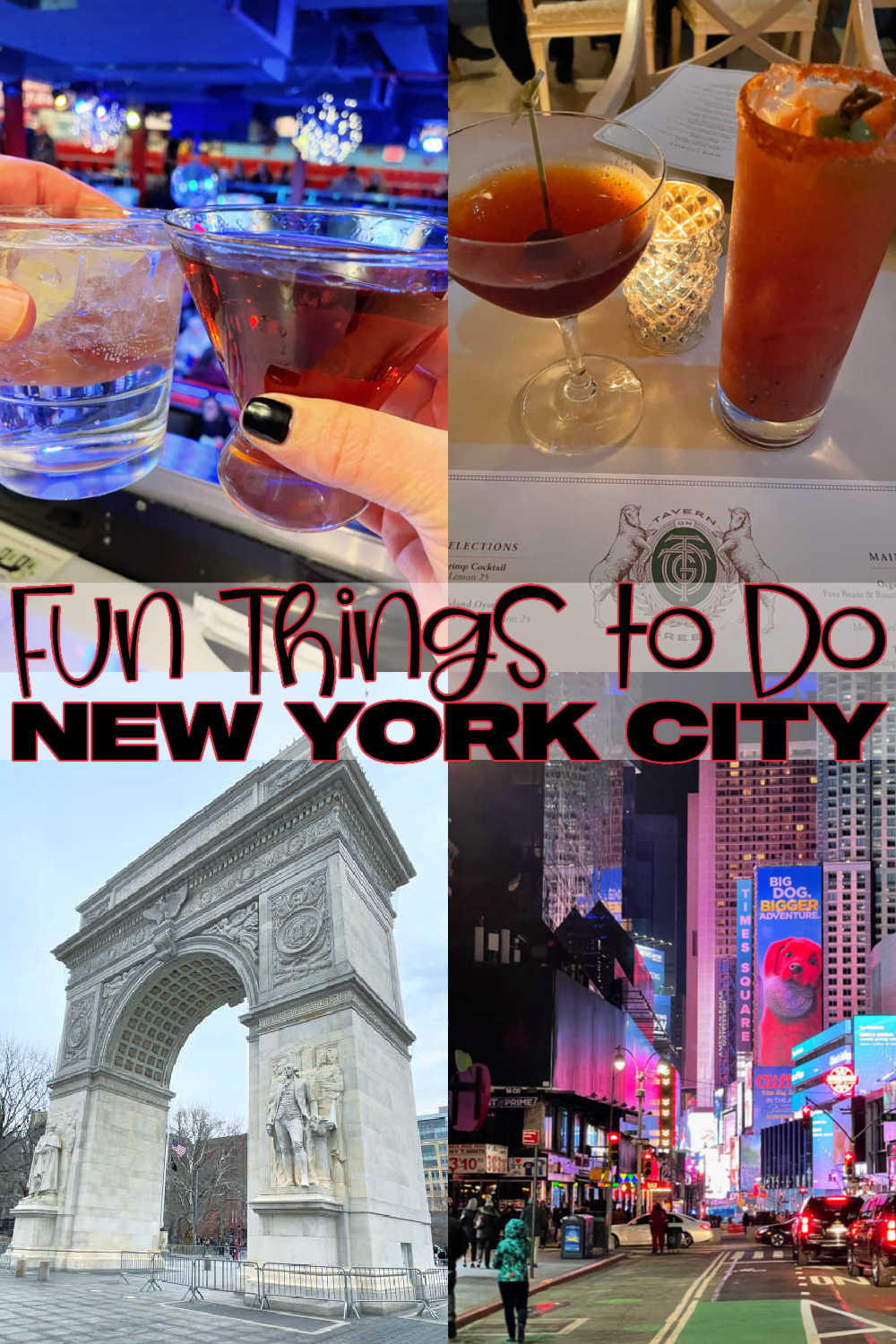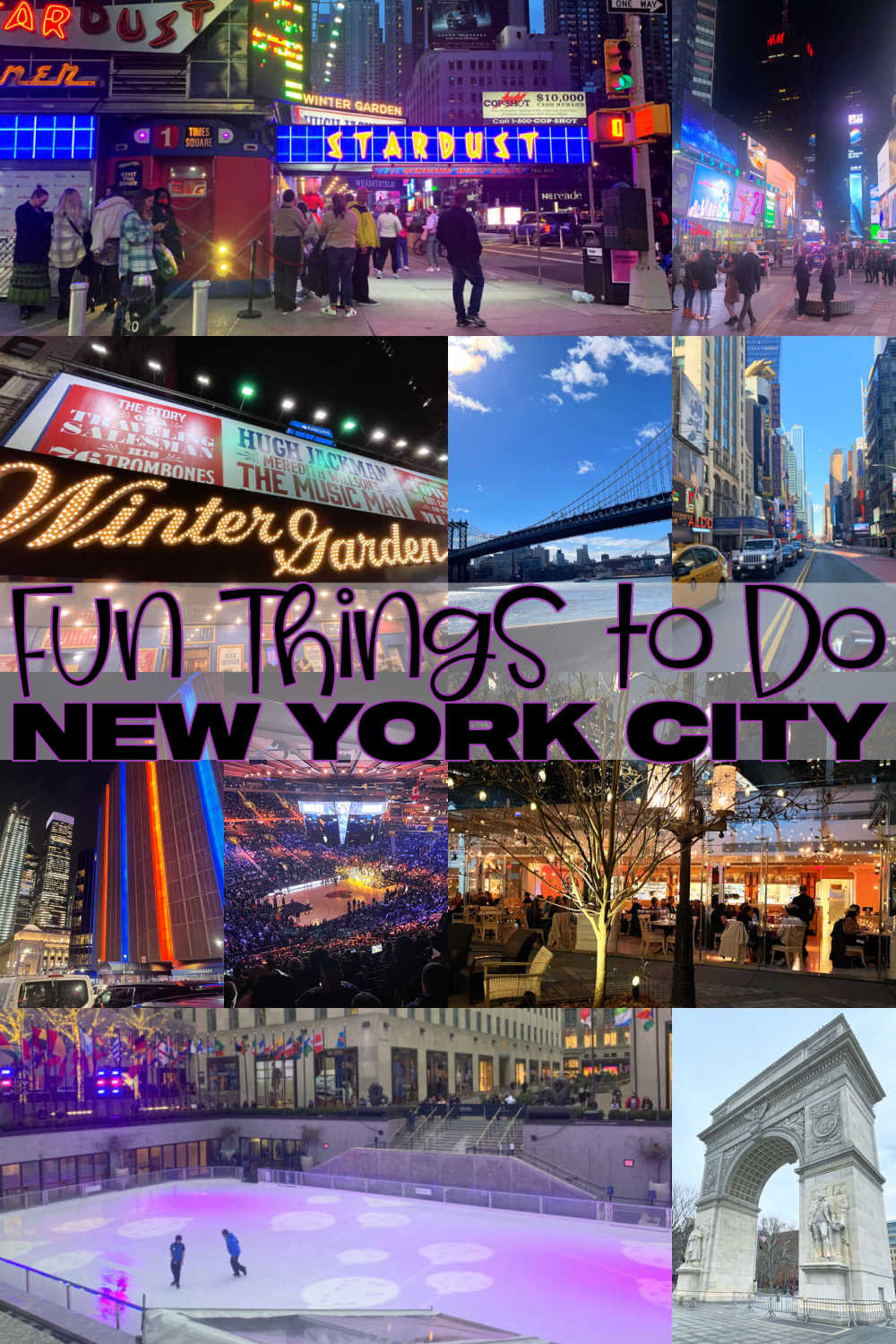 We spent four nights in Brooklyn in February recently. These are my personal recommendations for fun things to do in NYC.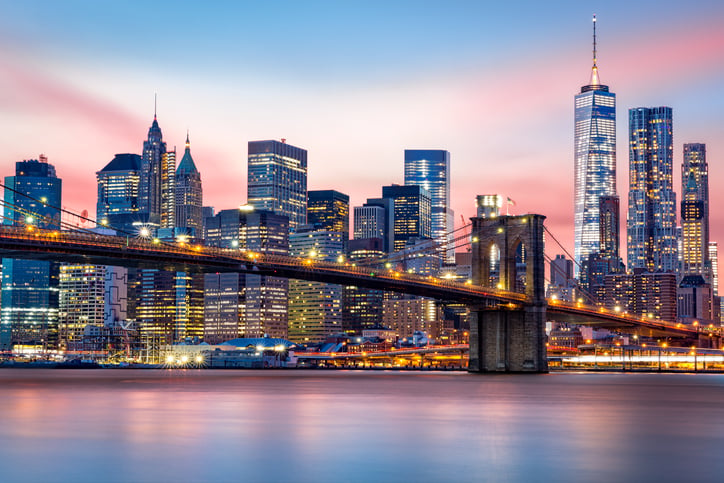 My travel recommendations for NYC are a little shorter than some. I'm highlighting what we personally experienced over a five day, four night stay in Brooklyn. I'd love to go back and experience even more – more Broadway shows, the Statue of Liberty, this music and food tour of Greenwich Village, maybe a walking tour of Little Italy and Chinatown. There are endless possibilities in the city for entertainment, good food, and fun. Our most recent NYC experience – staying in Brooklyn and exploring Manhattan – was even better than I had hoped it could be.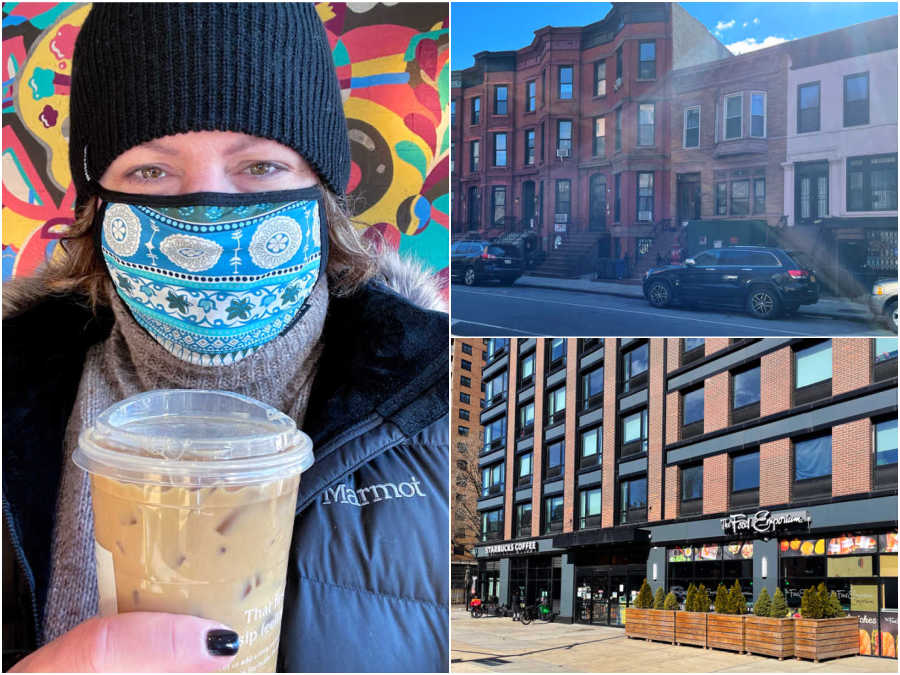 Rent an Airbnb in Brooklyn
My boyfriend graduated from Pratt Institute and so we wanted to stay near the campus in Brooklyn. Therefore, we concentrated our Airbnb search to Brooklyn. There are numerous options to choose from, but I think we found a real gem. A cozy, reasonably priced brownstone with a spacious bathroom – boasting a large shower, jacuzzi tub and a toilet with bidet. Our apartment was right across the street from a Starbuck's and Food Emporium. We were within very short walking distance of the A, C and G trains (subway). There was free, on-street parking. With a parking garage right across the street as well, but we didn't need it.
If possible, I like to find reasonably priced accommodations so that I can spend a higher percentage of our travel budget on entertainment and food. I have found Airbnb to be a great resource for safe, well-kept and clean, budget-friendly places to stay. Just be sure to pay attention to the reviews!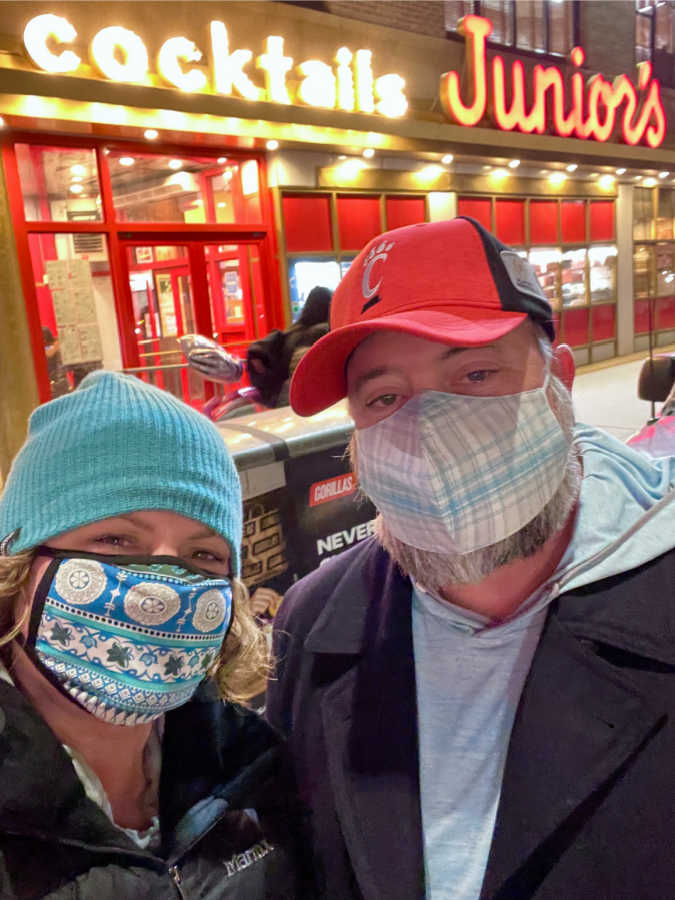 Enjoy the Famous Cheesecake at Junior's
This place was charming. Perfect for a Valentine's Day date. A sampling of dill pickles, beets and coleslaw are brought first, made from scratch and delicious. We split the potato pancakes – definitely the best we've ever had. My boyfriend ordered the reuben and I chose the onion soup – both of which I highly recommend.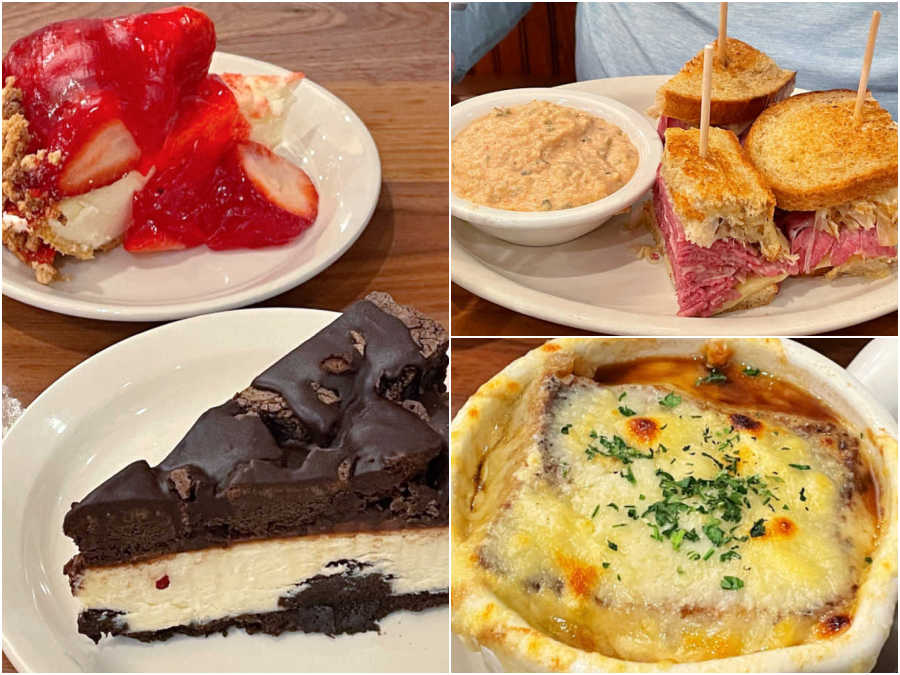 Junior's is most famous for their cheesecake. Of our two choices, I preferred the Strawberry Cheesecake. The glaze really complimented the decadent, New York-style cheesecake. The Brownie Cheesecake was good, but almost too rich and a bit heavy on the brownie. I love brownies, but the cheesecake is fabulous and deserves to be the star.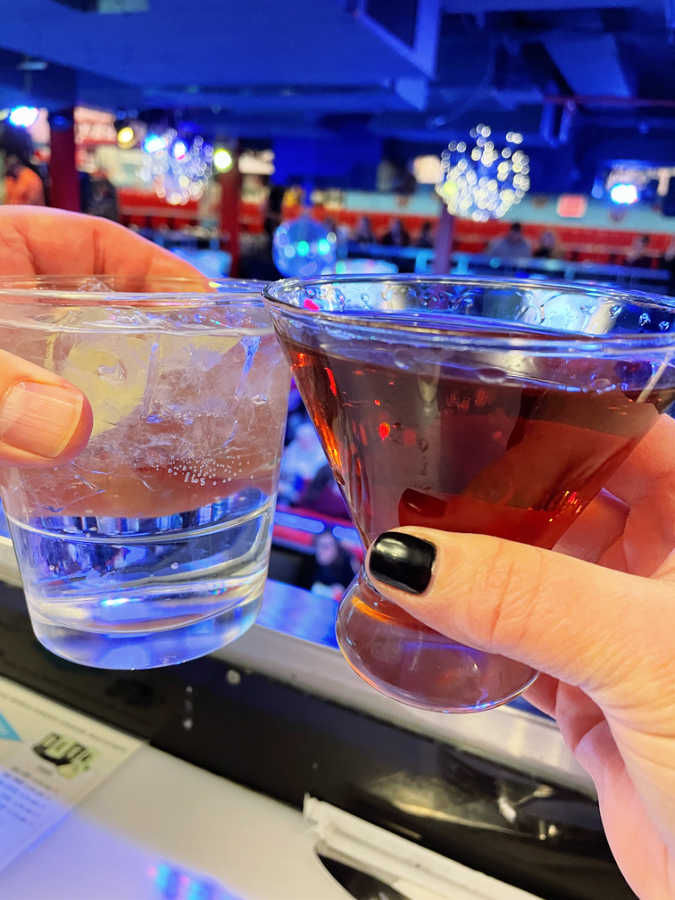 I enjoy a good Manhattan cocktail and of the three I had on our trip, the one at Ellen's is best. We stopped in before The Music Man because the diner is right next door to the Winter Garden Theater. We sat in the top level, overlooking the performance stage. And were thoroughly entertained by the singing waitstaff. So much talent!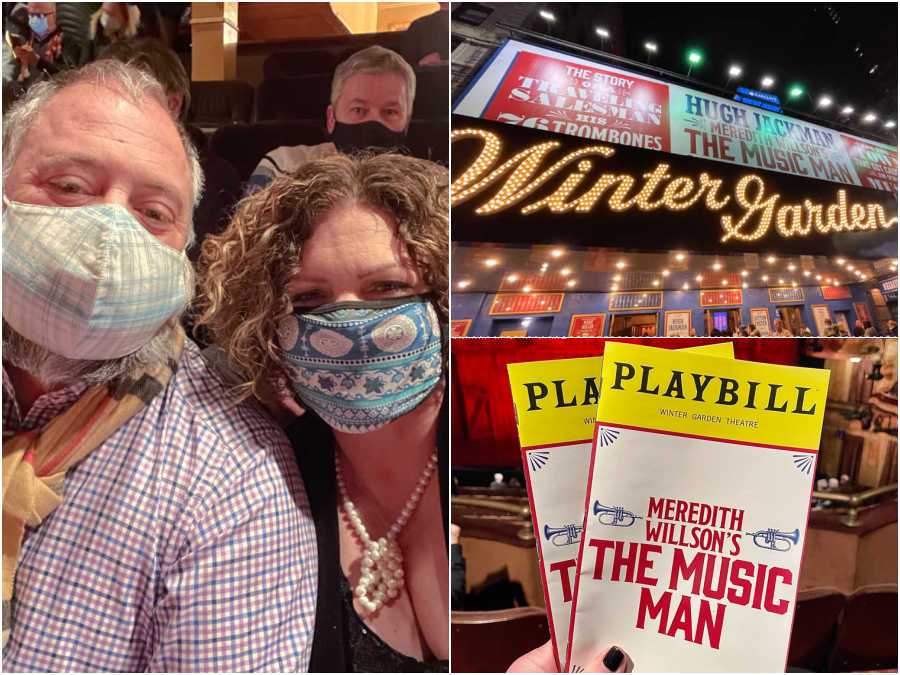 Watch a Famous Broadway Show
If you can, see Hugh Jackman and Sutton Foster in The Music Man. The theater is gorgeous and has a cozy, intimate feel to it. There didn't seem to be a bad seat in the house. We sat third row, balcony, a little right of center. I hadn't seen a broadway show since I took a trip to NYC with my high school choir and drama group. Back then we saw Phantom of the Opera. There is nothing like seeing a live performance of that caliber. The talent was overwhelming, so much so that I teared up a couple of times. Find tickets for The Music Man here.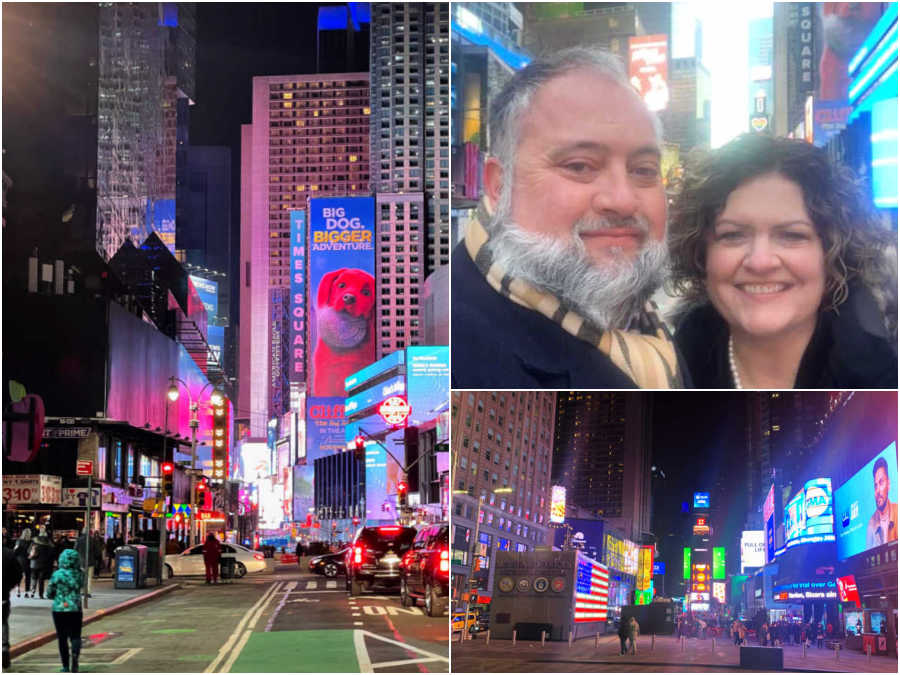 Stroll through Times Square at Night
After our show, we walked the short distance to Times Square and took in the spectacle of it all. We also stopped in the Swatch store and indulged our 1980's childhood by purchasing a couple of watches. Check out my Instagram Reel for some video footage from our trip!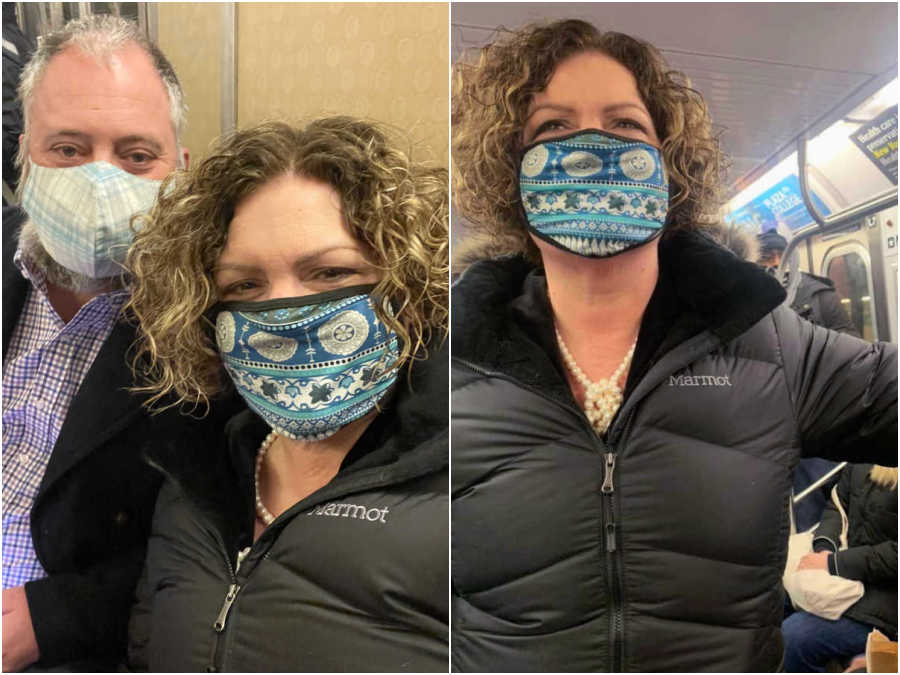 All the MTA (Metropolitan Transportation Authority) trains we took felt very safe. And at the time, everyone is still required to wear masks. Our rule of thumb was to ride the subway in during daylight hours and Uber (Lyft or taxi) our way back to Brooklyn after dark. Being together, I think I would have felt safe on the lines we took after dark as well. Just use common sense and always be aware of your surroundings. This is good advice no matter where you live or travel.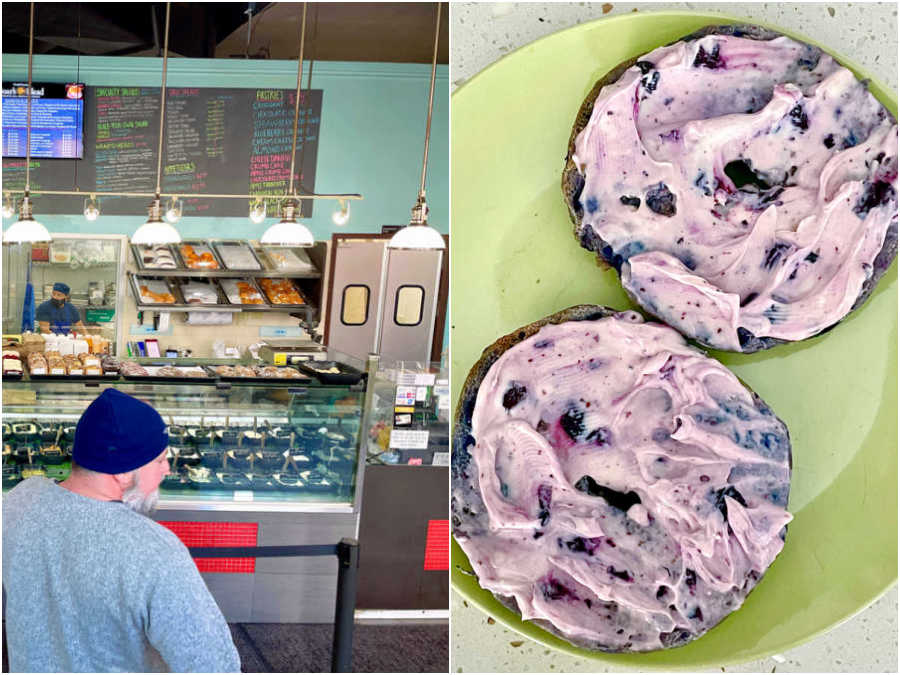 Indulge in a New York bagel at Bergen Bagels
There is nothing like the indulgence that is a New York style bagel. The texture is just so, so good! We picked up a dozen and a few flavors of cream cheese to enjoy in our apartment for breakfast each morning. My favorite bagel flavors were blueberry and pumpernickel.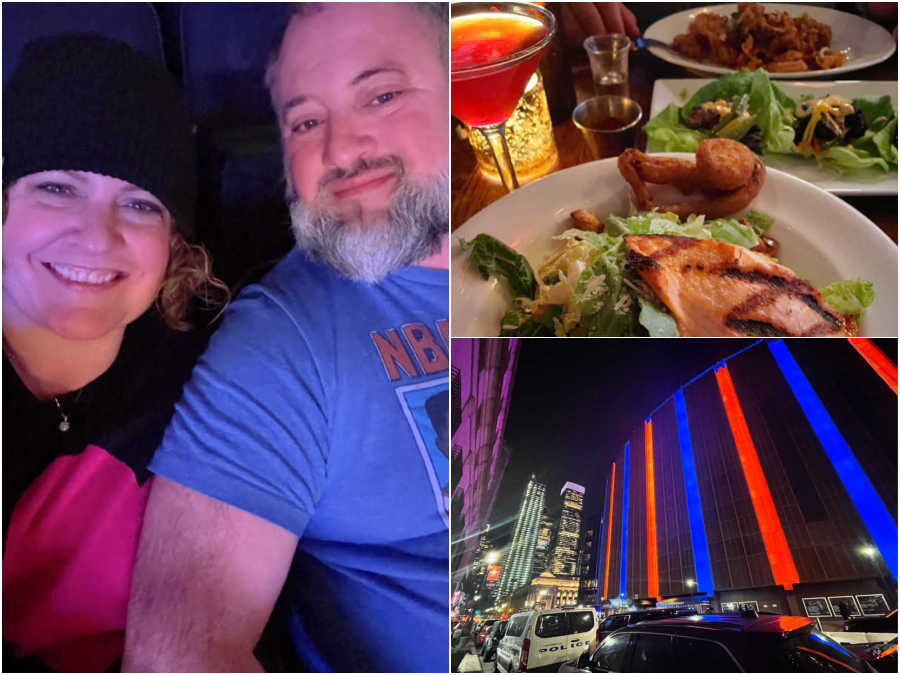 We caught a New York Knicks v. Brooklyn Nets game and the place was almost sold out. Find tickets here. It's a lively experience with a DJ, music, celebrity row and of course live, NBA basketball. Celebrities in attendance when we went included – Spike Lee, Jon Stewart and Tracey Morgan. We rode the train in and walked through some of the neighborhoods – SoHo, Greenwich Village, and Chelsea on our way to Madison Square Garden. It was nice to explore and see all the sights and sounds of the city.
We grabbed an upscale, yet casual dinner at Mustang Harry's on the way to the Garden. Their music was firmly planted in the 90's rock era, which I love. We shared lettuce wraps, onions rings, calamari and a Caesar salad with salmon.
Go ice skating at Rockefeller Plaza if time allows. Purchase a gift or souvenir at FAO Schwarz and play the floor piano made famous in the movie "Big". Zoltar the fortune teller is there too.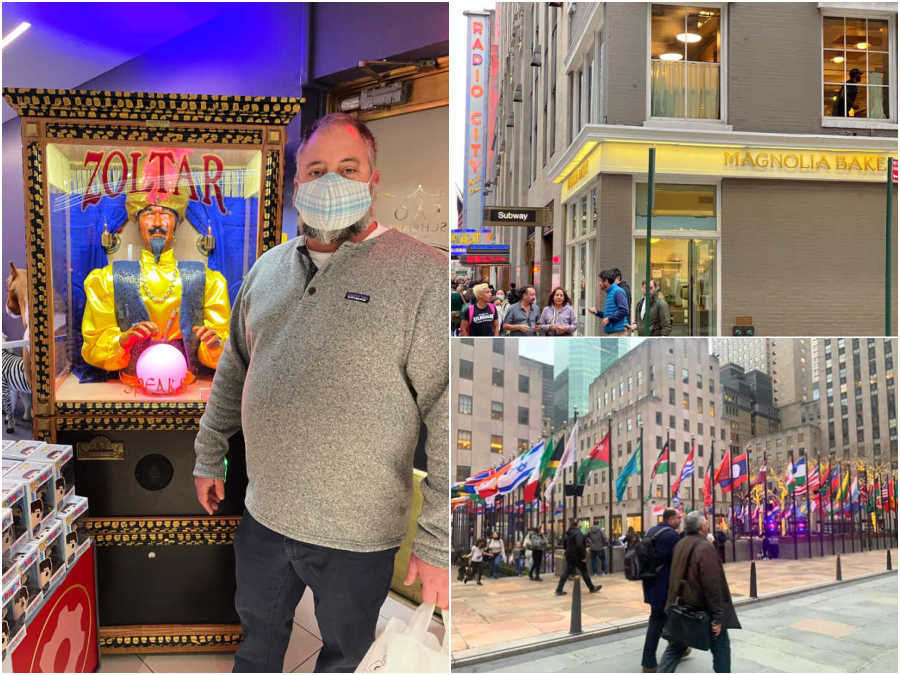 Cupcakes made Magnolia Bakery famous, so did its cameo in "Sex and the City". When we paid a visit, I was told their banana pudding is the absolute best. So we got a medium portion to-go, plus a caramel pecan individual cheesecake.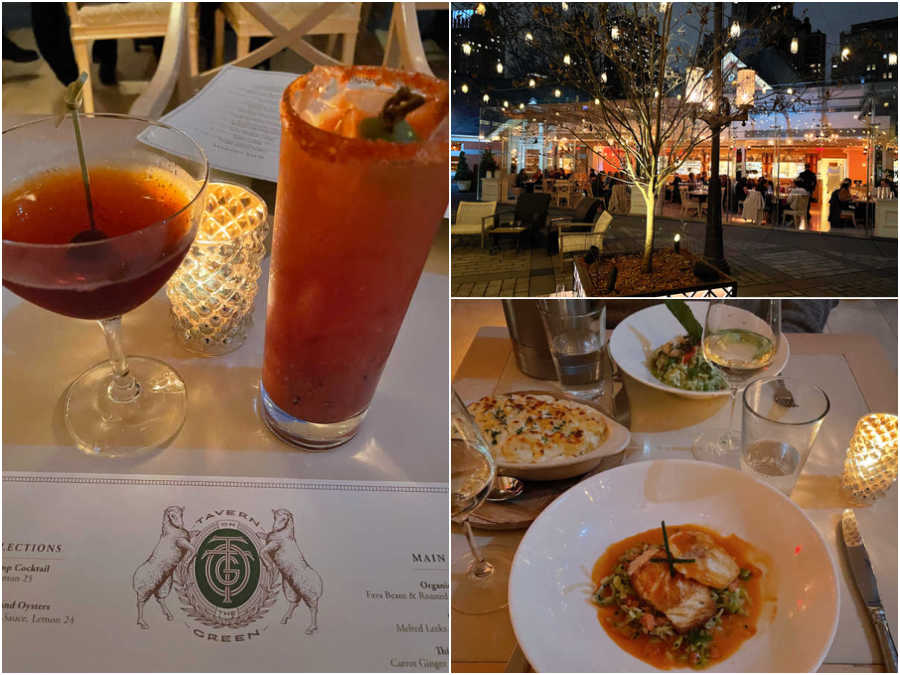 Tavern on the Green is tucked away in Central Park. It by far exceeded my expectations. The atmosphere is over the top romantic. Surrounded by glass, twinkling lights, the cozy fires from the open kitchen and lots of candlelight – be prepared to be 'wowed'. Our dinner was heavy on seafood – grilled baby octopus, baked codfish, lobster risotto and black truffle macaroni and cheese. All absolutely delicious!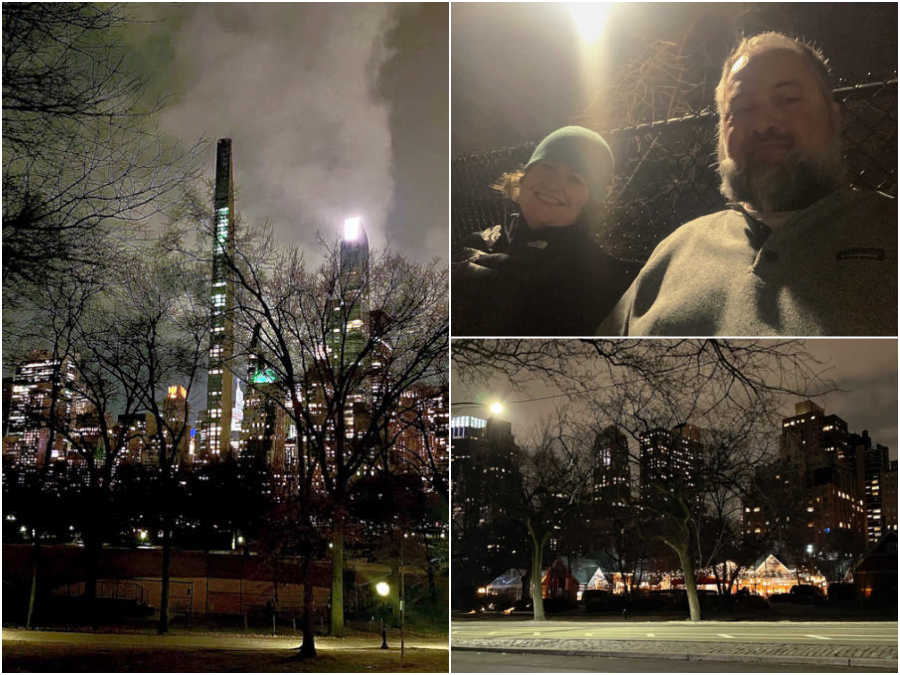 Eat dessert on a park bench in Central Park
I wish we had more time to explore all that Central Park has to offer during the daytime. But after our dinner at Tavern on the Green, we took our Magnolia Bakery desserts and enjoyed them in Central Park on a park bench. It was the perfect end to our evening.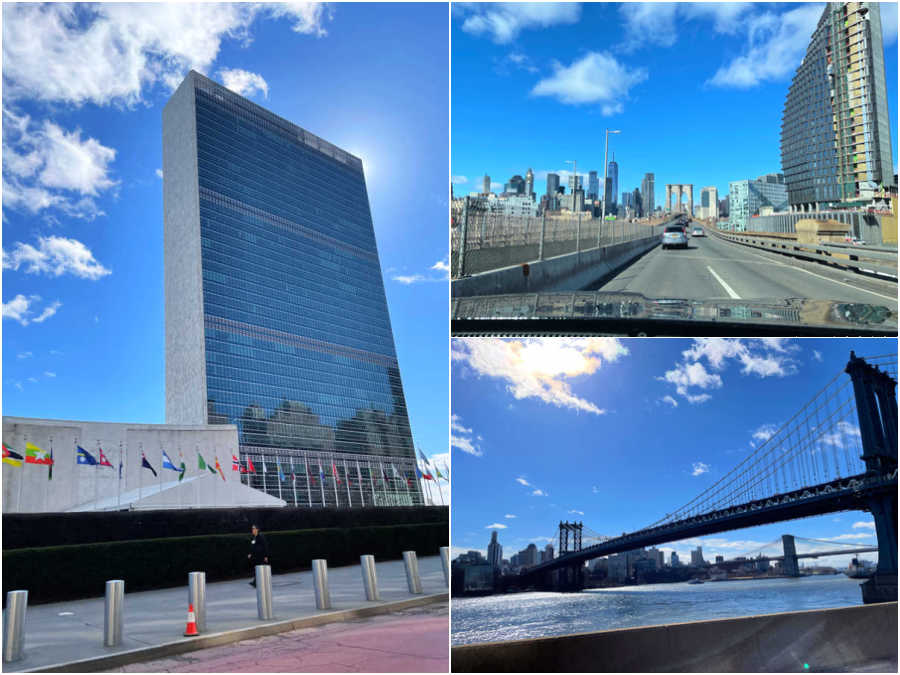 On our way out of the city, we drove over the Brooklyn Bridge and then along the river past the United Nations. We lucked out with sunny, blue skies to send us happily home.
Thank you so much for being a faithful reader and supporter of Foodtastic Mom. Be sure to PIN and save this travel post for future reference!