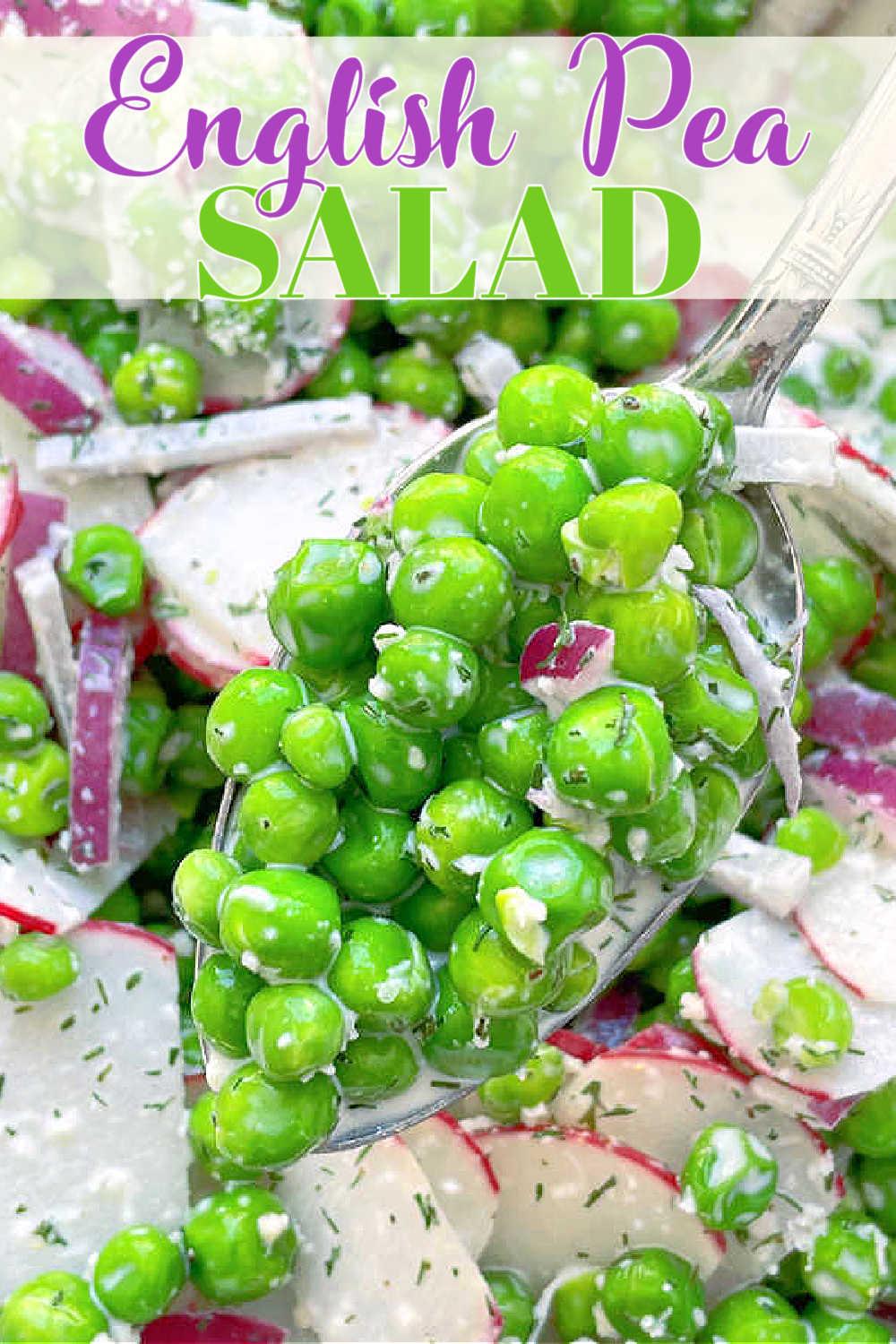 A lighter version of English Pea Salad, perfect for Spring, with red onion, radish and creamy, lemon Parmesan, dill dressing.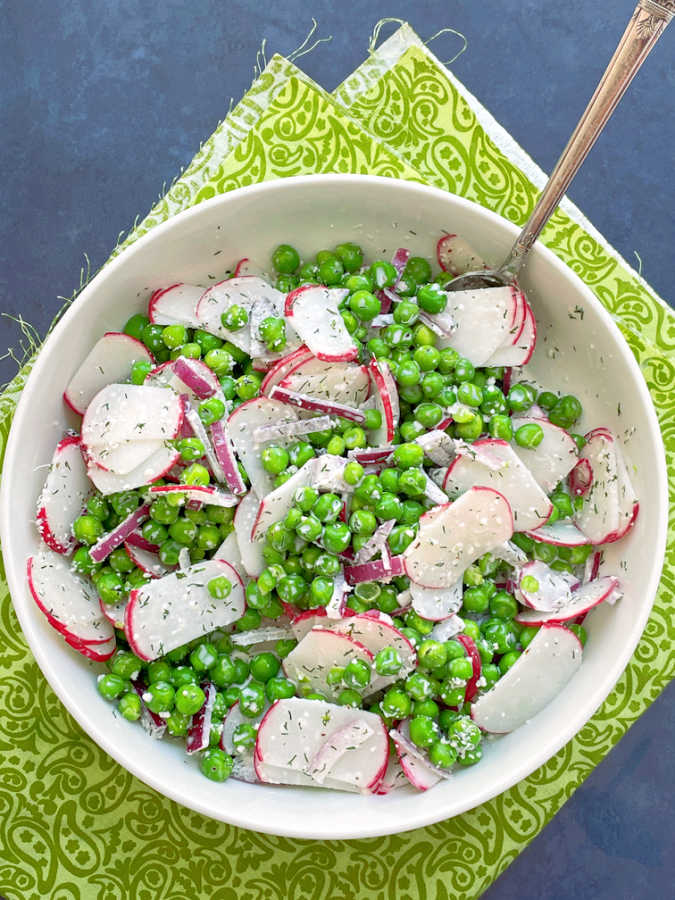 Pea salad is a lovely side dish for serving in the Spring. Easter, tea, baby and bridal showers, a picnic. Peas are one of my favorite Spring vegetables, and are a close second to fresh asparagus for me. When researching English Pea Salad, the most popular version includes cheddar and bacon. I wanted to offer something different and lighter, to really let the flavor of the sweet peas shine through. I hope you try my version and let me know what you think.
Ingredients for English Pea Salad
10 oz Bag of Frozen Sweet Peas – I like the Birdseye Steamfresh
Fresh Radishes – Use a mandolin to slice them thinly
Red Onion – Soak your chopped red onions in ice water for 20-30 minutes to make them less strong, then drain before adding them to the pea salad
Lemon Juice
Mayonnaise
Parmesan Cheese
White Vinegar
Sugar
Dill – I use dried dill because I wasn't able to find any fresh. One teaspoon of dried herbs is equal to one tablespoon of fresh herbs.
Salt and Pepper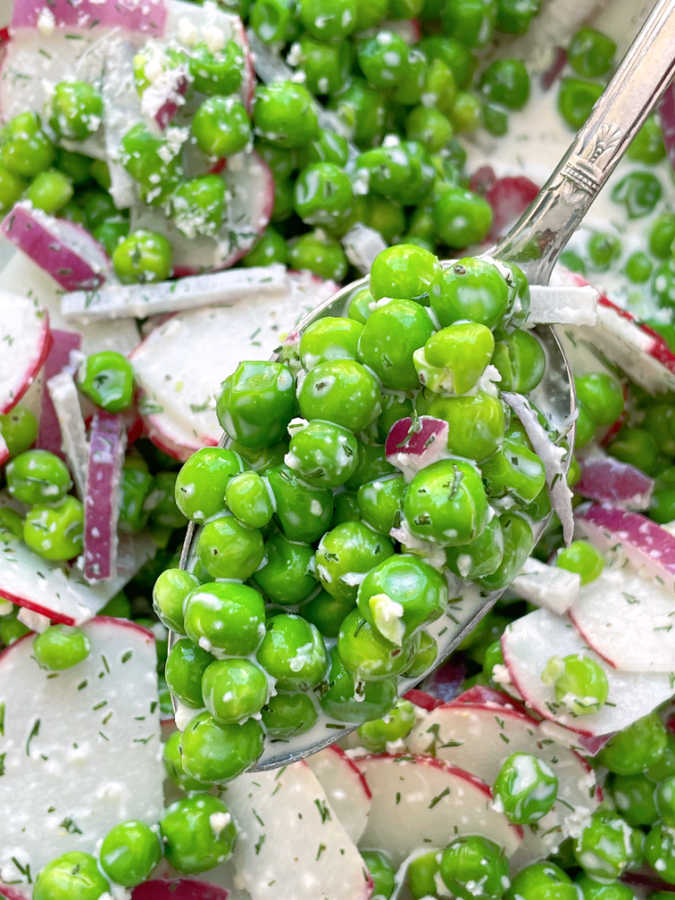 How to make English Pea Salad
Soak the red onion in ice water for 20 – 30 minutes if you want your onions to taste more mild. Drain the water and add the onions to a serving bowl.
Microwave the peas according to package directions. Drain and rinse the peas and add them to the bowl with the onions. Wash and thinly slice the radishes with a mandolin and add them to the bowl with the prepared peas and red onions.
In a clean bowl or glass measuring cup, whisk together the lemon juice, mayonnaise, Parmesan cheese, white vinegar, sugar, dill, salt and pepper to form the dressing. Add the dressing to the pea salad and stir until well combined.
Refrigerate the salad for 2 hours or overnight before serving. Pea salad can be stored in an air-tight container in the refrigerator for up to three days.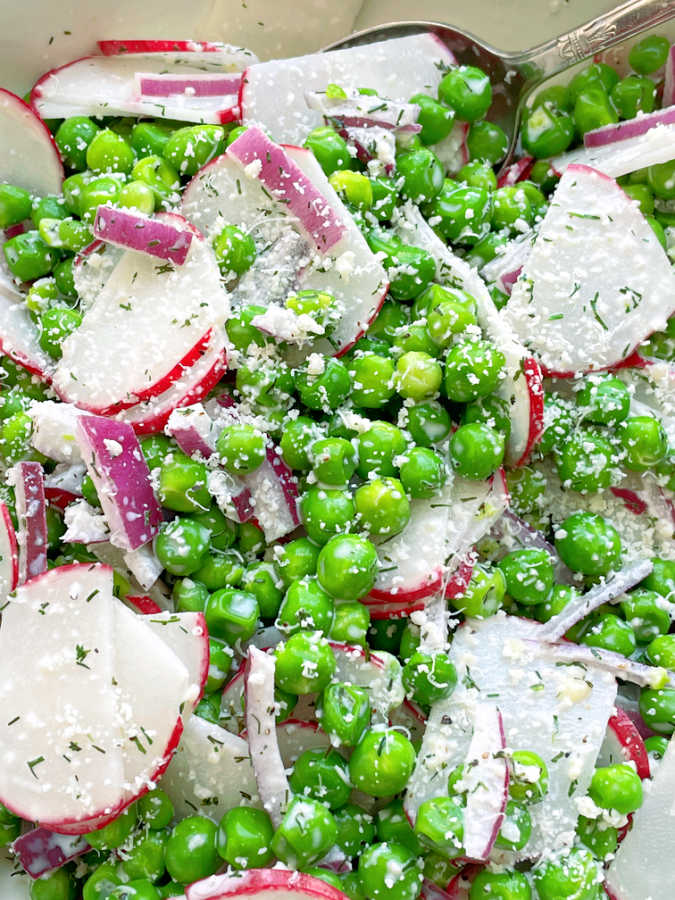 Kitchen Tips
Foodtastic Mom is a participant in the Amazon Services LLC Associates Program, an affiliate advertising program designed to provide a means for sites to earn advertising fees by advertising and linking to Amazon.com. Any highlighted, clickable Amazon link you see is an affiliate link that I may earn advertising fees on.