Your beef burgers have some competition this summer. BBQ Pork Burgers are the grilled version of a BBQ pulled pork sandwich. Thank you to Ohio Pork for sponsoring this post. As always all opinions are mine alone.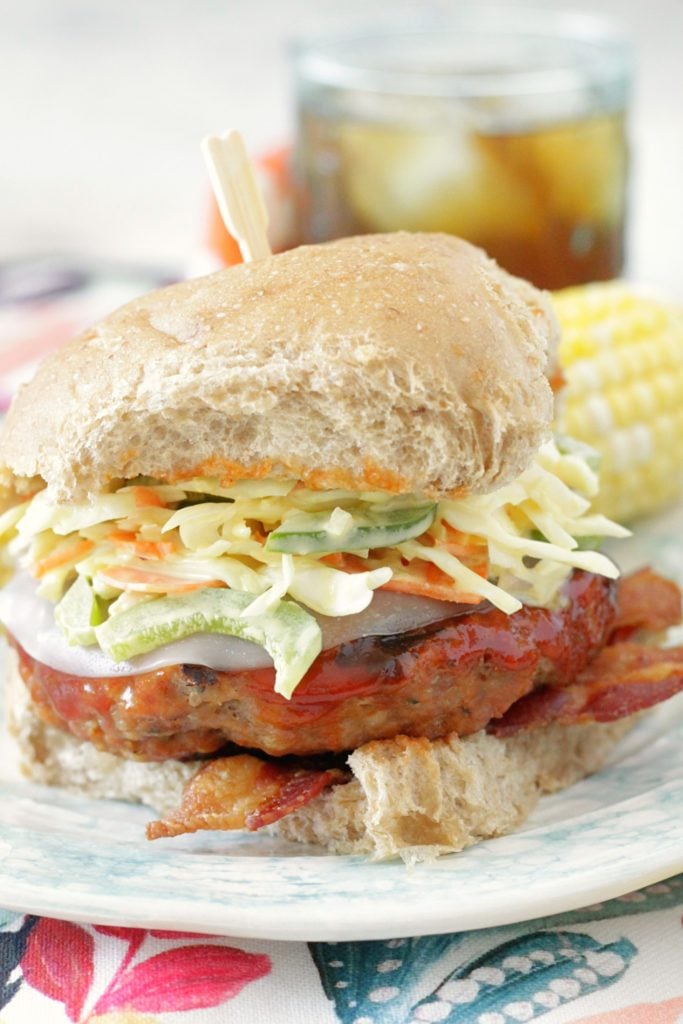 I love a good burger on the grill, especially as the warmer weather is visiting us more frequently here in Ohio. Beef is usually our go-to so I was pleasantly surprised how much the four of us LOVED these BBQ Pork Burgers. Ground pork is about half the price per pound as ground beef and it's got just the right amount of fat in it to keep it juicy and delicious on the grill.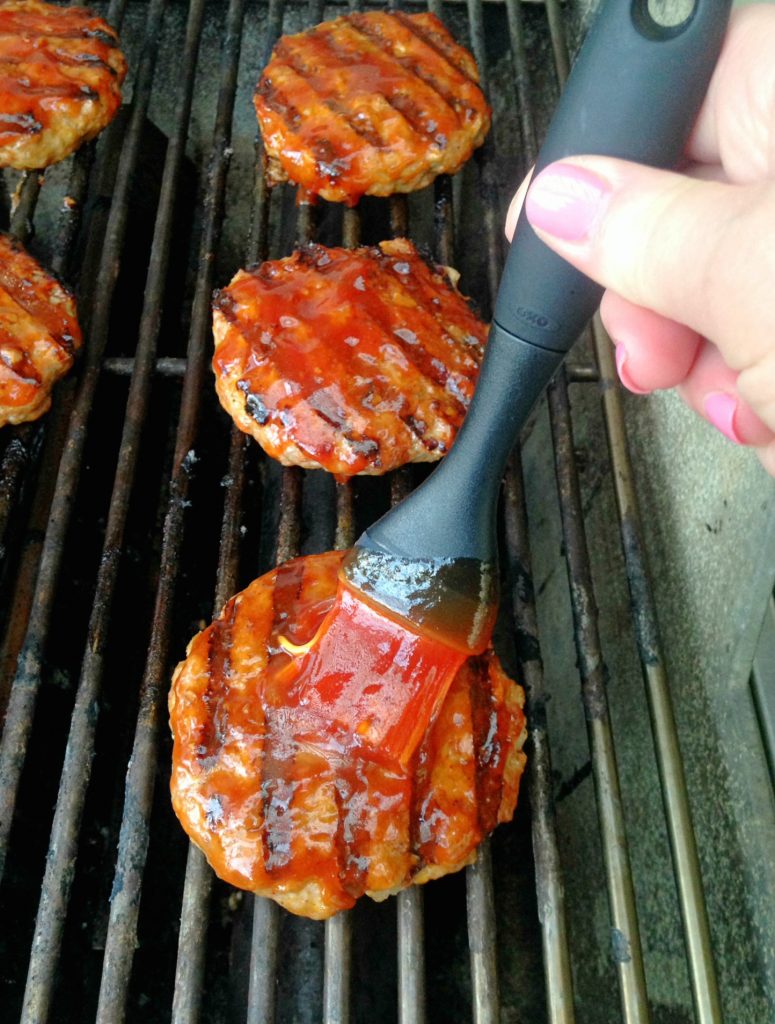 This was such a simple yet lip-smackingly good dinner to put together. I love pulled pork BBQ but that takes some preparation and time. Ground pork, a few simple seasonings and your favorite BBQ sauce can be mixed together in just a few minutes and on the grill ready for dinner even after you've been gone all day at the pool or running your kids to various sporting events. I really liked the convenience of this meal and it will be making a repeat performance on our dinner table throughout the warmer months.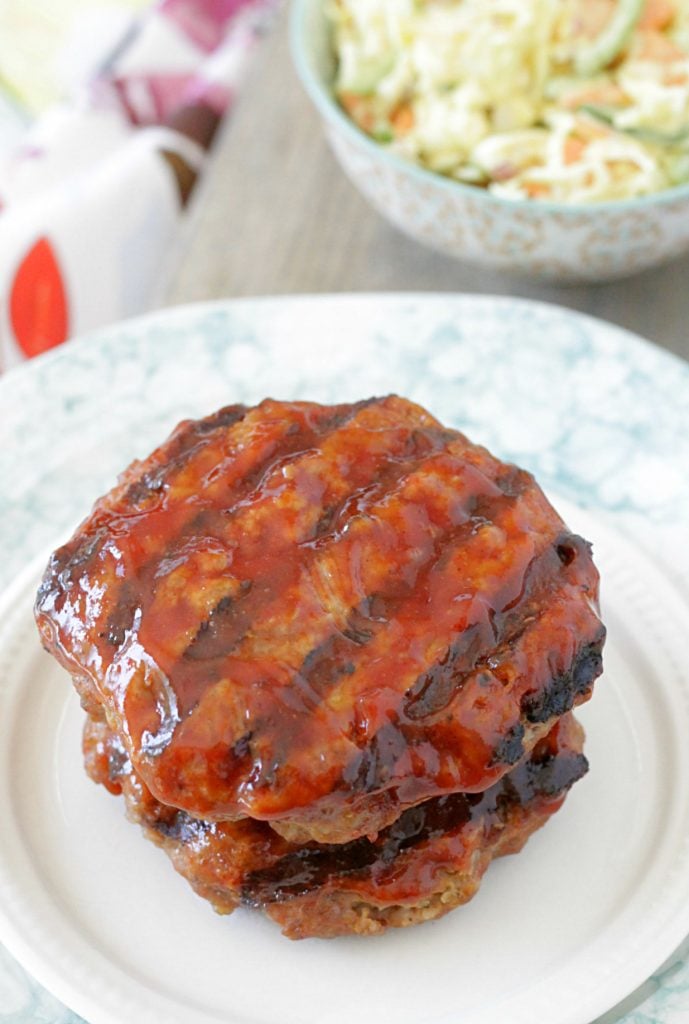 The homemade coleslaw that I made for these burgers is optional but I highly recommend it. I decided to add some yellow mustard to my slaw dressing because it's a burger topping and I like mustard on my burgers. It's a nice tangy compliment to the sweet BBQ sauce too. Melted cheese and crisp bacon completed my toppings for these BBQ Pork Burgers. If double pork on a sandwich (pork burger and bacon) is wrong, then I don't want to be right!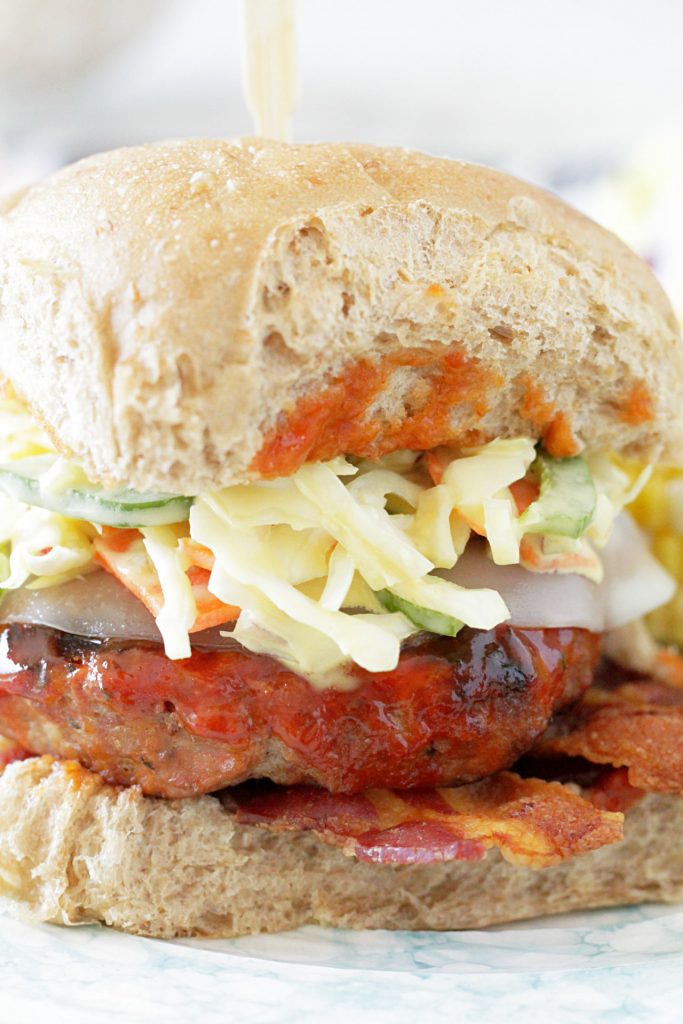 In the month of April, Ohio Pork farmers donate ground pork to food banks all across the great state of Ohio. Since beginning this effort in 2009 over 1.7 million meals of pork have been donated. Ground pork is an economical protein choice that can replace ground beef in any recipe you can think of. So consider it next time you are thinking of having tacos, meatloaf or burgers for dinner. We loved the taste and I like having a wide variety of options to feed my family. Plus I'm always on board for saving a few dollars on my grocery bill!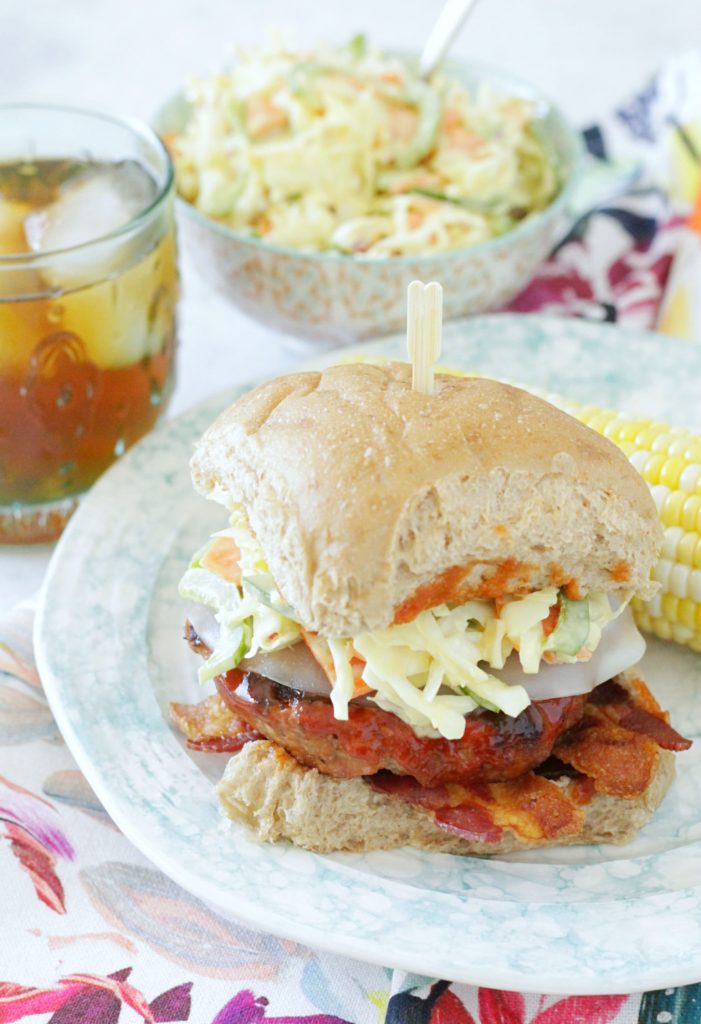 BBQ Pork Burgers
Your beef burgers have some competition this summer. BBQ Pork Burgers are the grilled version of a BBQ pulled pork sandwich.
Ingredients
1 1/2

lbs

ground pork

1/4

cup

your favorite BBQ sauce

divided

1

tsp

salt

1

tsp

smoked paprika

1/2

tsp

black pepper

1

cup

cabbage

shredded

1/4

cup

carrots

thinly sliced

1/4

cup

red onion

minced

1/4

cup

green pepper

thinly sliced

1

tbsp

vinegar

1

tbsp

sugar

1/2

tsp

salt

1

tbsp

yellow mustard

1/3

cup

mayonnaise
Instructions
Preheat your grill to high heat and then turn all burners to low.

Whisk together the coleslaw dressing: vinegar, sugar, salt, mustard and mayonnaise.

Toss the coleslaw dressing with the cabbage, carrots, red onion and green pepper. Cover and refrigerate until ready to use.

In a clean bowl mix together the ground pork, salt, smoked paprika, pepper and 2 tablespoons of the BBQ sauce.

Grill on the first side for 5 - 6 minutes.

Flip the burgers and brush each with the additional BBQ sauce.

Continue to grill until a meat thermometer registers the center of each burger is cooked to 160 degrees F.

Serve burgers on soft buns, topped with the homemade slaw, melted cheese and bacon.