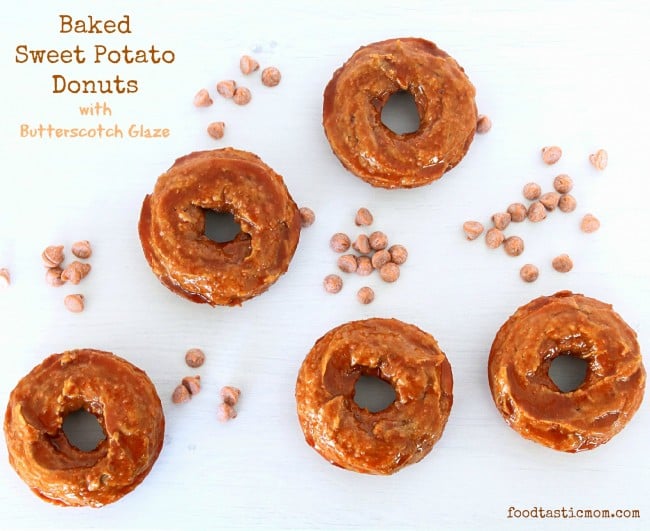 Ever since my first two experiences with my Wilton donut pans, I'm all about the baked donut. I'm pinning recipes right and left to try. I'll never get to all of them, but here's my first attempt at something a little more exotic than a vanilla cake donut.
I'd had a bag of fancy butterscotch chips in my pantry since my last trip to Jungle Jim's. If you are not a fellow Cincinnatian, you are missing out. Jungle Jim's has two location in our city now and it is the king of all grocery stores. Any possible and possibly obscure international food product you are looking for, if they don't carry it, it probably does not exist. It's always an adventure in shopping for me, but my favorite is their baking section. They stock Guittard and Scharffen Berger baking chocolate along with a plethora of other fancy baking goods that I could only order on-line otherwise.
Anyway, my search for how to use my bag of butterscotch chips led me to these baked donuts at She Knows. First, I found the donut recipe. The fresh sweet potato puree is obtained by nuking a couple of scrubbed potatoes. Could not be easier. And the donuts have a vitamin loaded veggie in them, so health-food right here, that's what I'm talking about. Not really, but if you can sneak in extra nutrients, it's certainly never a bad thing!
I decided I could make a butterscotch glaze for these donuts and a quick search led me to this recipe (originally used for a bundt cake) at Inkling. So here we are. Deliciously unique BAKED donuts. I love it, and I think you'll love them too.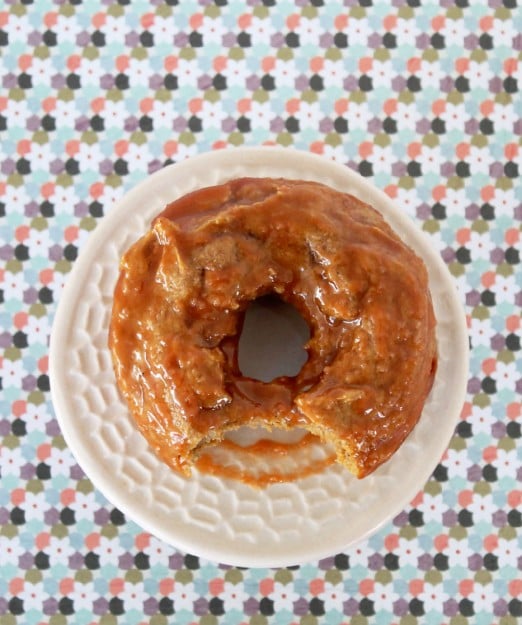 Baked Sweet Potato Donuts with Butterscotch Glaze
Ingredients
for the donuts
2

c.

all-purpose flour

1 1/2

t.

baking powder

1/2

t.

salt

1/4

t.

baking soda

2

t.

pumpkin pie spice

1/2

t.

ground cinnamon

1/4

t.

ground ginger

4

T.

unsalted butter

softened

1/2

c.

light brown sugar

1

c.

mashed sweet potato

2

large eggs

2

T.

milk

1 1/2

t.

vanilla extract
for the glaze
1/4

c.

milk

4

T.

unsalted butter

1/4

c.

light brown sugar

1

c.

butterscotch chips

pinch

of salt
Instructions
for the donuts
Preheat oven to 350 degrees. Spray two non-stick donut pans (6 donuts each) with cooking spray and set aside.

Prick two smallish sweet potatoes with a fork and place on a glass plate. Microwave for 15 - 20 minutes, turning once during cooking time. Remove from microwave and set aside to cool. When cool enough to handle, peel and mash. Then measure out 1 cup of mashed sweet potato. This can be made several days ahead and stored covered in the refrigerator.

Whisk together the flour, baking powder, salt, baking soda and seasonings. Set aside.

Using a hand or stand mixer, beat together the softened butter, brown sugar and sweet potato until fluffy.

Mix in the eggs, milk and vanilla.

Add the flour mixture and mix until completely combined.

Scoop 1/4 c. donut dough into each donut pan well. Spread around with a spatula or your finger until evenly distributed.

Bake donuts for 12 - 13 minutes. Allow to cool on wire cooling rack in pans for about 10 minutes, then remove to finish cooling.
for the glaze
Combine the milk, butter, brown sugar and pinch of salt in a small sauce pan. Bring mixture to a boil and cook for about 30 seconds. Remove from heat and stir in the butterscotch chips. Stir until completely melted.

Dip the cooled donuts completely (both sides) into the glaze. Place on a wire rack to dry. They'll still be a bit sticky when ready to eat. They are messy and delicious!