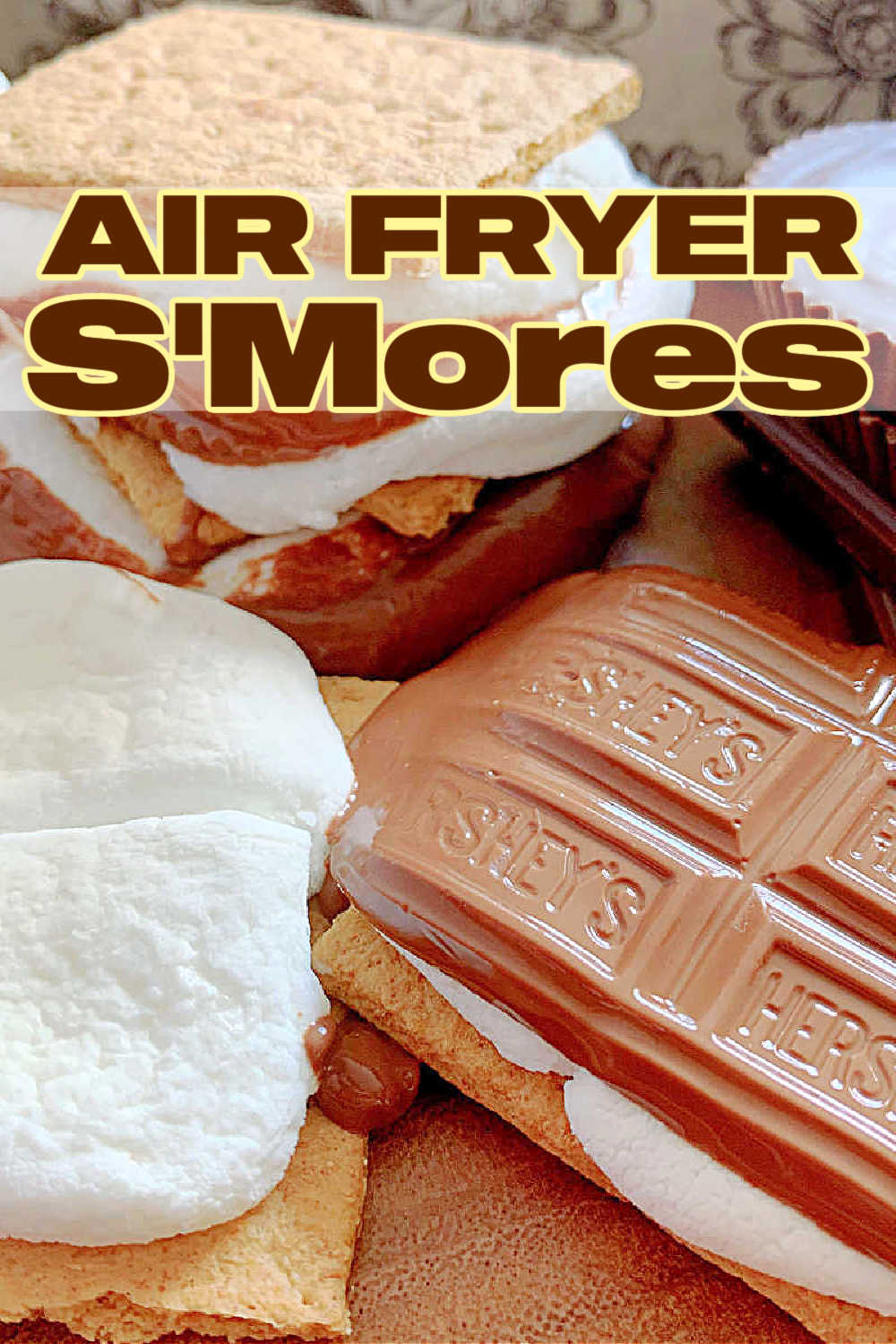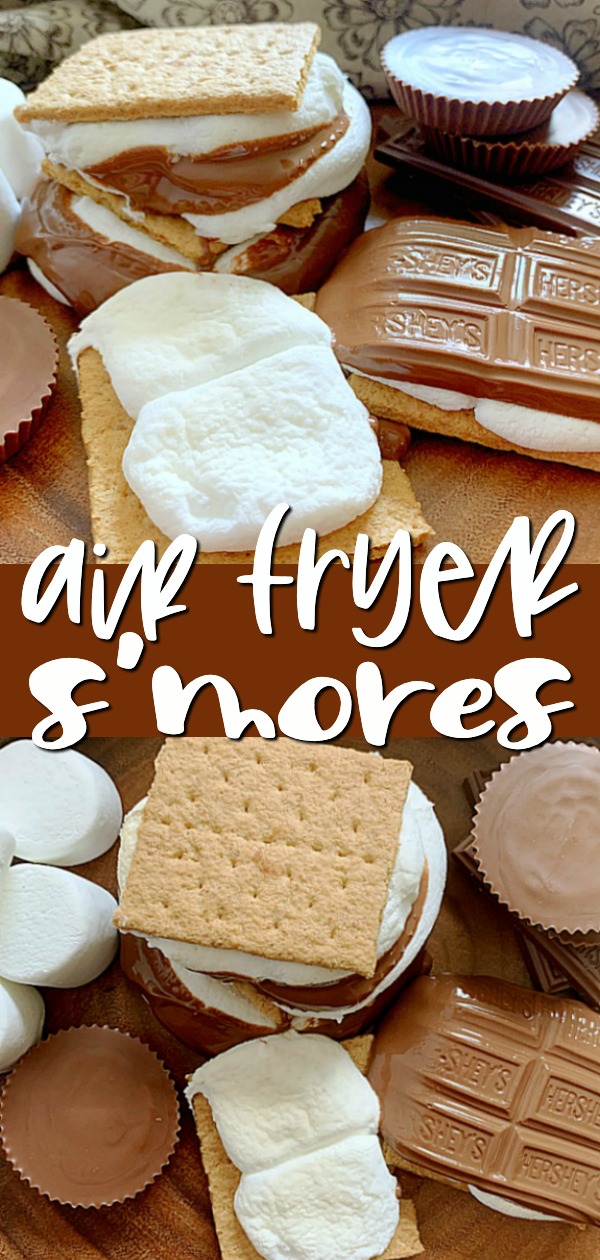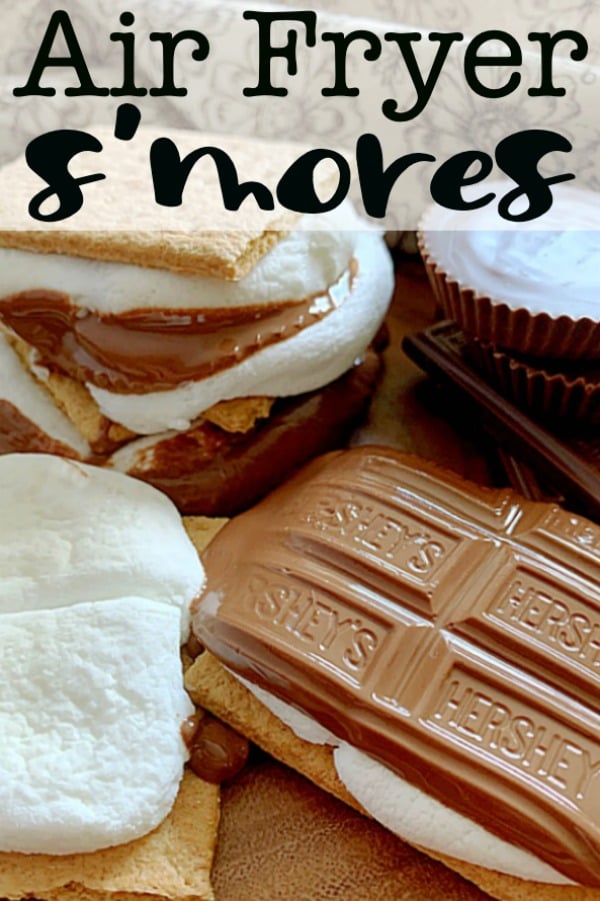 When the craving for S'mores hits and you don't have a campfire handy, learn how to make Air Fryer S'mores that are just as gooey and delicious.
I used to put up with camping. My kids both seem to enjoy it. They did not inherit their love for camping from me. Thankfully they get their fill of camping through their involvement with Scouting. But regardless of my disdain for camping, I do love a good campfire. And the food that is often associated with camping. The only complaint I ever have with S'mores is the amount of filling. There is too much graham cracker and not enough filling! I've solved that problem with these Air Fryer S'mores.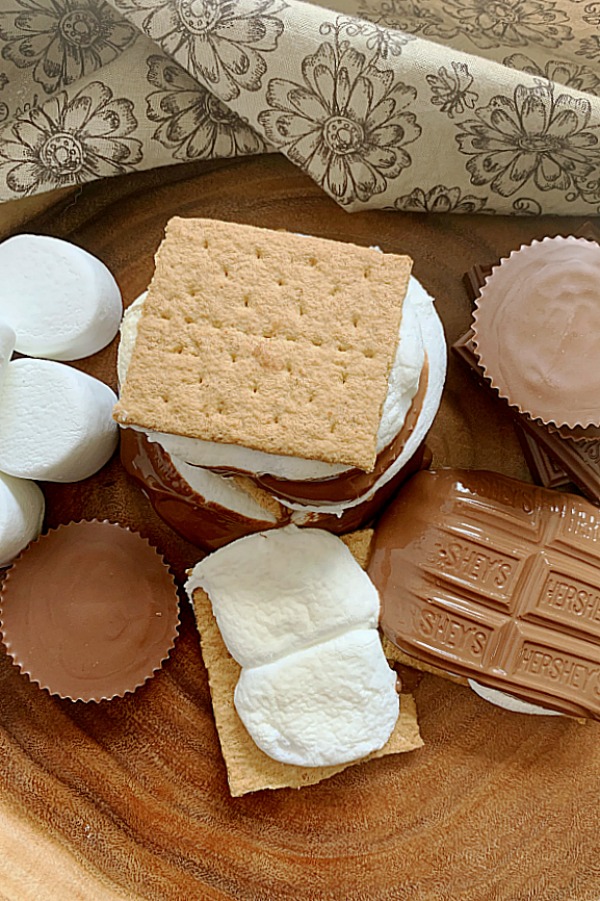 What you need for Air Fryer S'mores
Graham Crackers
Regular Marshmallows (not mini or jumbo)
Hershey Chocolate Bars
Reese's Peanut Butter Cups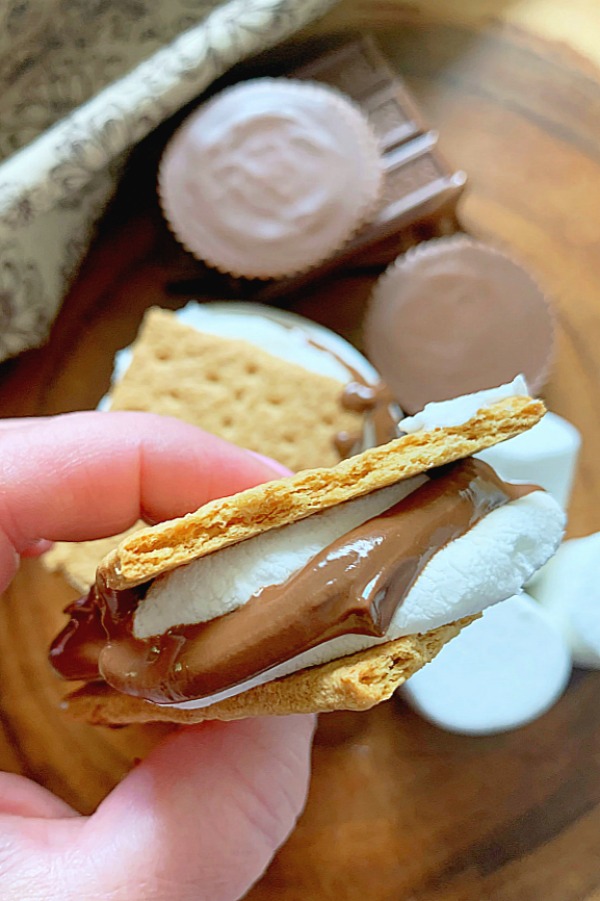 How to make Air Fryer S'mores
There is a problem to solve with toasting marshmallows on graham crackers in the air fryer. It is how to keep the marshmallows from flying off the graham crackers. To solve that, pull apart the marshmallow in half with your fingers. Then place both halves, sticky side down, on a graham cracker square. Push down a bit to make them stick. I personally like marshmallows on both halves of my graham crackers. With the chocolate sandwiched in the middle. These are overstuffed s'mores and they are worth every calorie!
I toasted my marshmallows and graham crackers at 400 degrees F for about 5 minutes. I didn't feel it was necessary to get a brown color. The marshmallows get a bit of a crust from the heated air. And they are perfectly gooey in the middle thanks to the air fryer. You don't get that campfire charred taste. But I never liked burning my marshmallows anyway. So I don't miss it.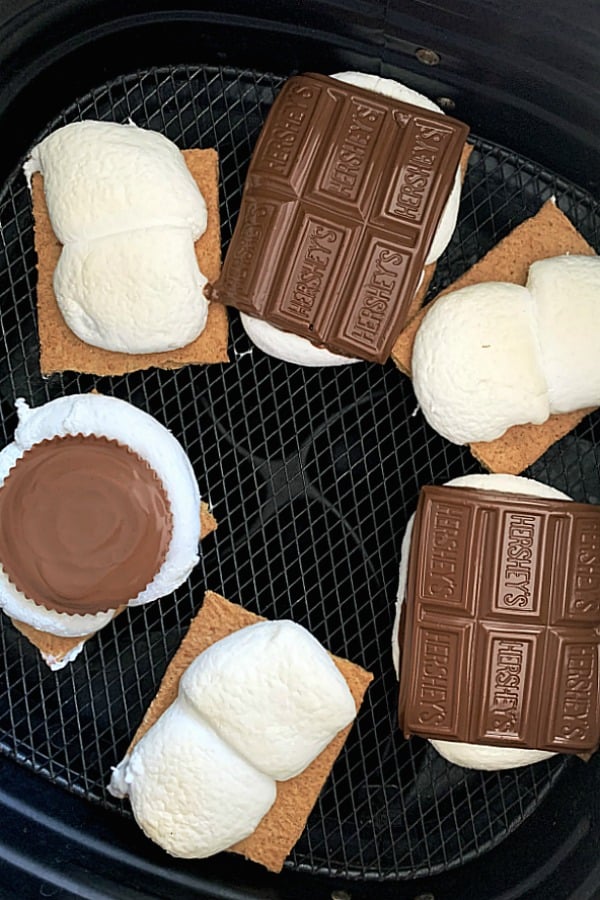 Kitchen Tips
My Philips XXL Air Fryer was used for testing this recipe
The graham crackers may shift a bit during cooking. Just space them out again when you place the chocolate on half of the grahams.
This is not a neat and clean recipe. But the bits of marshmallow that got on my air fryer basket were easily cleaned with a brief soak in hot water.
Foodtastic Mom is a participant in the Amazon Services LLC Associates Program, an affiliate advertising program designed to provide a means for sites to earn advertising fees by advertising and linking to Amazon.com. Any highlighted, clickable Amazon link you see is an affiliate link that I may earn advertising fees on.
Thank you so much for being a faithful reader and supporter of Foodtastic Mom. Be sure to PIN and print this recipe!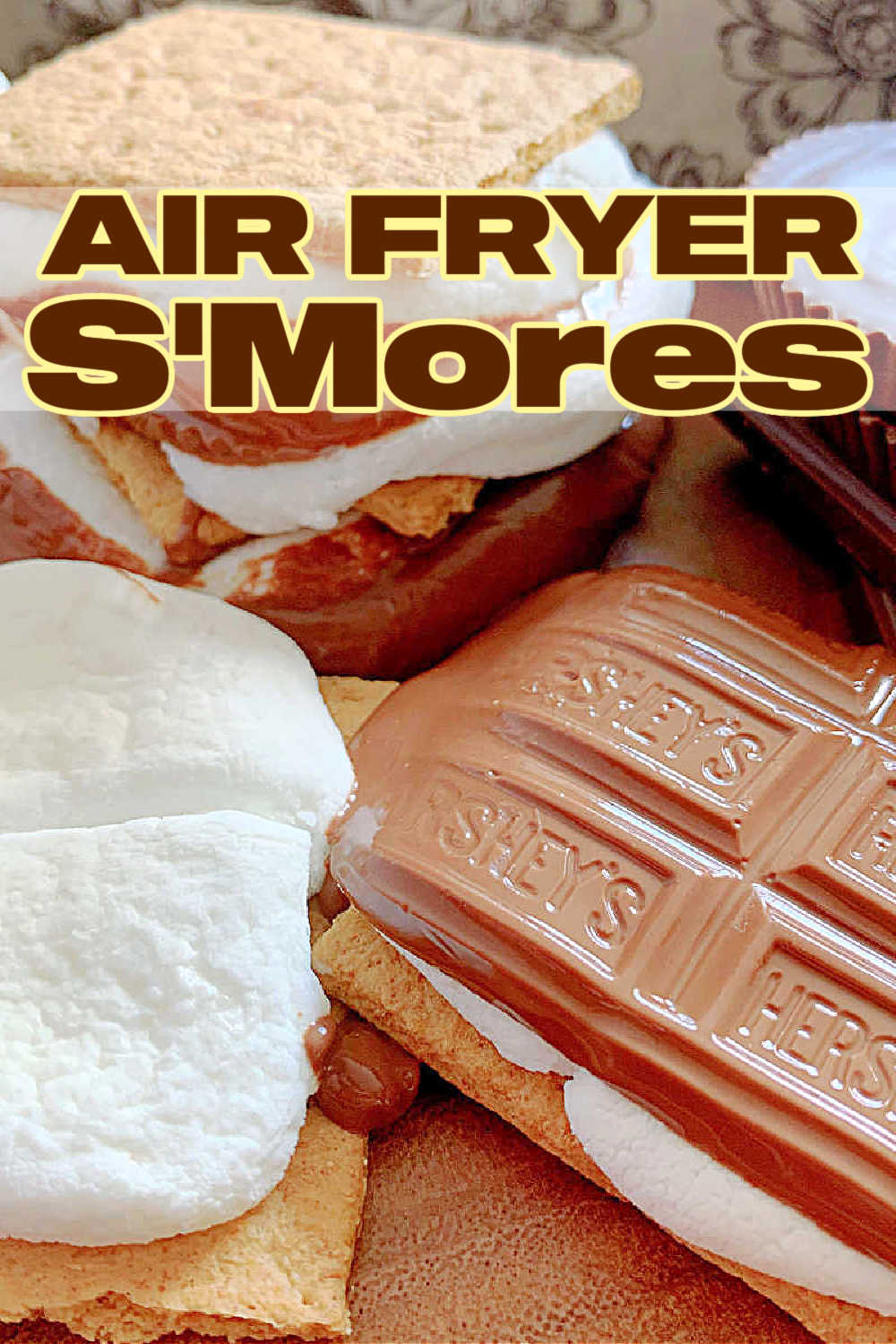 Air Fryer S'mores
When the craving for S'mores hits and you don't have a campfire handy, learn how to make Air Fryer S'mores that are just as gooey and delicious.
Ingredients
12

squares

graham crackers

12

regular marshmallows

6

Hershey bars (split into 12 squares)

or use Reese's Peanut Butter Cups instead
Instructions
Pull apart each marshmallow into two halves.

Place two halves, cut side down, on each of the 12 graham cracker squares.

Press down lightly to stick the marshmallows to the graham crackers.

Place 6 of the graham cracker halves topped with marshmallow into the basket of you air fryer. This is how many I could fit, still leaving space around them.

Cook them for about 5 minutes at 400 degrees F. Until the marshmallows are puffed and gooey.

Place a square of Hershey's chocolate or a Reese's cup on three of the graham crackers. Close the basket most of the way and let it sit for about 30 seconds to warm the chocolate from the leftover heat from the air fryer.

Sandwich the crackers together to make three s'mores. Repeat the process with the remaining six marshmallow topped graham cracker squares.
More Camping – inspired Recipes