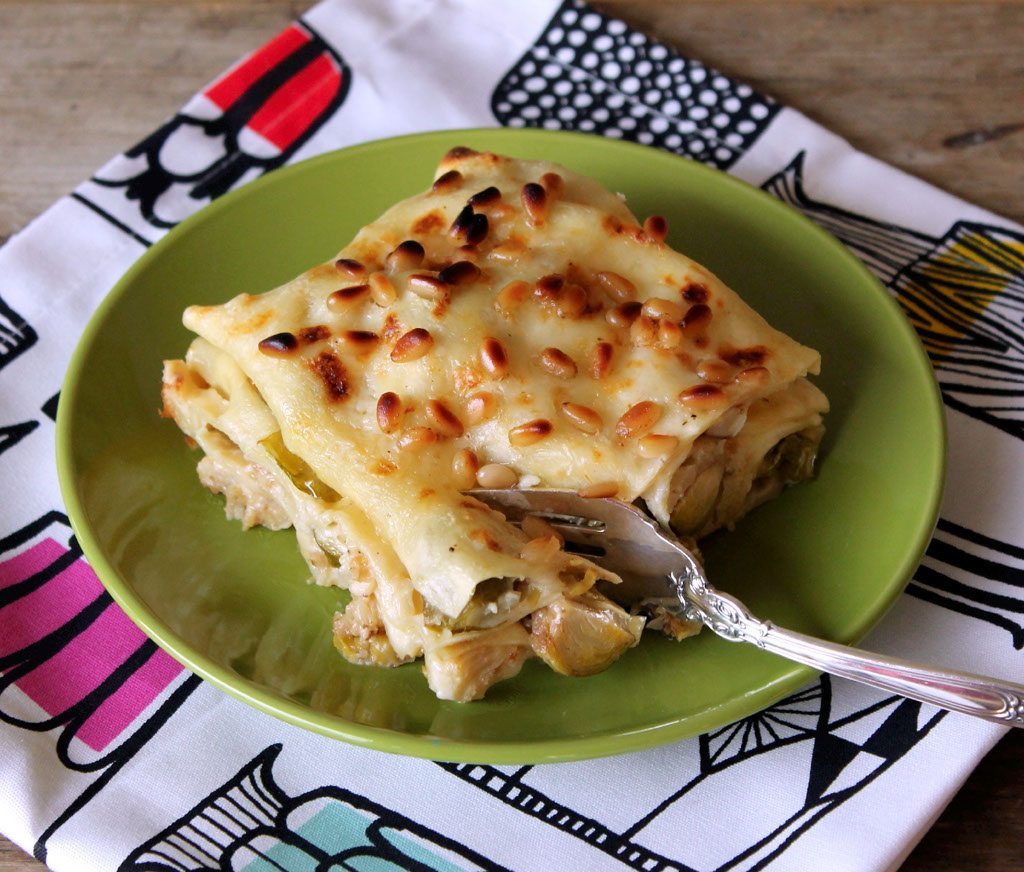 So the inspiration for this delectable dish came from a trip my husband and I recently made to a local restaurant called M. For those of you in Cincinnati who have not been there yet I highly recommend it! It's next door to Cumin on Erie Avenue and specializes in wood-fired food, like delicious vegetable gratins, pizzas and meats.
Tom and I ordered the olive appetizer, two gratins (brussels sprouts and cauliflower for me, mushroom and goat cheese for him), a sausage and apple pizza, and a half-roasted chicken topped with crispy prosciutto and served on a bed of creamed spinach. Everything was so amazing, and I know we'll be back because it's not like I can recreate a screaming hot wood-fired cooking experience in my own home.
I really enjoyed the simply prepared but oh-so-tasty mixture of the roasted brussels and cauliflower, which was served in a bit of cream and topped with toasted pine nuts. I'd had a four cheese lasagna recipe (via Cook's Illustrated) floating around that I'd been wanting to try for a while and decided that combining the two ideas might work well.
I am happy to report it worked very well. For our family's dinner, I simply served orange and apple slices alongside the lasagna. The vegetables can be prepared and roasted a day ahead and kept covered in the refrigerator until ready to make the final dish, so this can easily be made for either a weeknight dinner or for entertaining.
You have to see the veggies, because they are the star of this lasagna!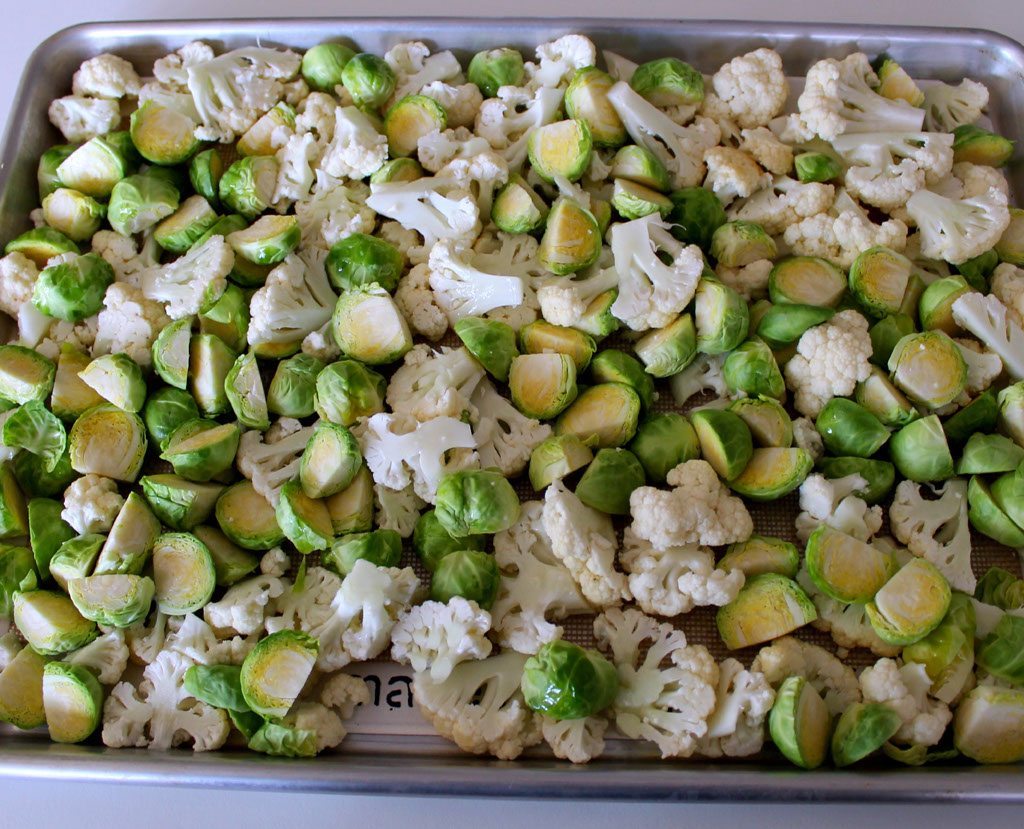 White Lasagna with Roasted Brussels Sprouts and Cauliflower
Ingredients
4

c.

fresh brussels sprouts

1

head cauliflower

12

no-boil lasagna noodles

Barilla-brand

3

T.

unsalted butter

1/4

c.

shallots

minced

4

cloves

garlic

minced

1/3

c.

all-purpose flour

2

c.

low-sodium chicken broth

1 1/2

c.

half and half

1/2

t.

table salt

pinch

of nutmeg

10

oz.

Fontina cheese

rind removed, and shredded

4

oz.

good Parmesan cheese

finely shredded

1/3

c.

pine nuts
Instructions
Preheat oven to 400 degrees. Peel outer leaves from brussels sprouts, trim off each stem end and halve. Remove leaves and center core from cauliflower and cut into bite sized pieces. Spread in a single layer on a large cookie sheet and lightly drizzle with olive oil, balsamic vinegar and a small sprinkle of salt. Roast for about 30 minutes, or until vegetables are just tender and resist slightly when pierced with a fork.

Meanwhile, melt butter in a large sauce pan over medium heat. Add shallots and saute for about 5 minutes. Add garlic and cook for 1 minutes more. Add flour and cook, stirring constantly for about 2 minutes, until it begins to brown. Using a whisk, gradually add the chicken broth and half and half. Increase heat to medium high and cook until it reaches a light boil, whisking occasionally, being sure to scrape the bottom of the pan. Once it begins to boil, constantly whisk for about 1 minute, then remove from heat and stir in the salt and nutmeg.

Spray a large casserole dish (at least 9 x 13) with cooking spray. Evenly spread about 3/4 cup of roasted vegetables on bottom of dish and sprinkle about 1/4 cup of Fontina cheese over top. Drizzle about 1/2 cup of sauce on top and place 3 uncooked (and rinsed) lasagna noodles on top.

* The original recipe for this lasagna calls for soaking the noodles first in hot tap water. Instead of soaking, I just rinsed each noodle quickly (about 10 seconds each) under the running kitchen faucet (hot water)... much easier than getting out another dish!*

Layer about 1 cup of roasted vegetables on top of first layer of noodles. Top with about 1/2 c. Fontina and 1/4 c. of Parmesan. Drizzle with about 1 cup of white sauce. Top with another 3 rinsed noodles. Repeat this step two more times. On top of the final layer of noodles, drizzle the remaining white sauce and top with the remainder of the cheese... Fontina first, followed by Parmesan.

Spray a sheet of foil lightly with cooking spray so it does not stick to the cheese. Cover the dish and bake at 400 degrees for 30 minutes. Remove foil and sprinkle the top evenly with pine nuts. Set your oven to broil and put the lasagna under the broiler until the nuts and cheese are nicely browned and bubbly (at least 5 minutes... watch closely so it does not burn).

Allow lasagna to rest for about 10 minutes before slicing and serving. Serves 8-10.
Notes
Adapted from America's Test Kitchen