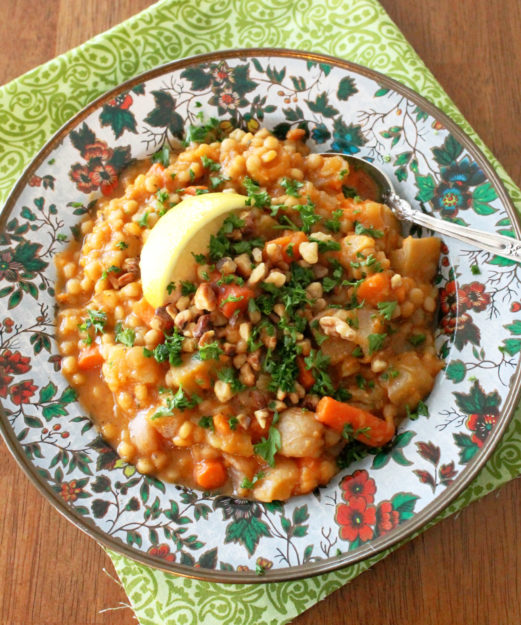 First off, don't let the word vegan scare you away from this recipe. As a confirmed carnivore, I promise you will not miss the meat. Also, both your waistline and tastebuds will thank you, especially at this time of year. I know I was needing an extra dose of veggies to counterbalance holiday indulgence.
Roasting is one of my most favorite ways to prepare vegetables. It's easy and the slow roasting caramelizes the veggies, making them sweeter and more delicious. I consulted one of my favorite cookbooks for this, Love Soup by Anna Thomas, then of course put my own spin on it.
Here's my super cast of characters…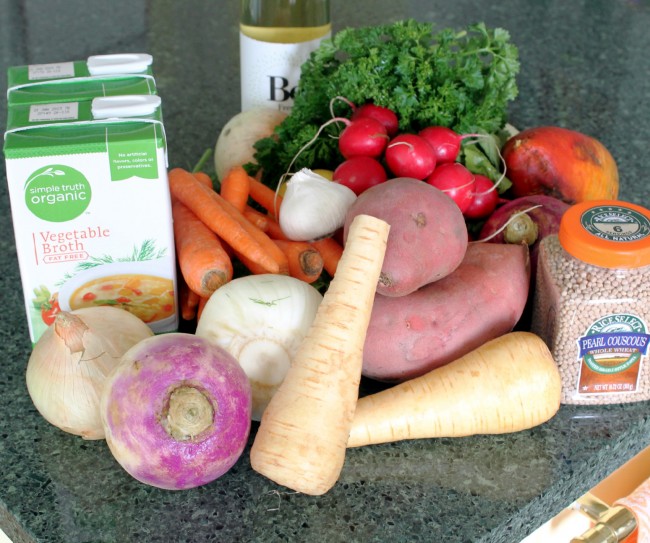 As you can see this soup contains an explosion of colors, even though it's composed of primarily root vegetables. Radish, carrot, sweet potato, golden beet, fennel, parsley, rutabaga, parsnip and onion, if you want to go in Roy G. Biv order. It's rounded out with white wine for a little extra sweetness in the cooking, heart-healthy olive oil, plenty of vegetable broth and whole wheat couscous. Plus it's topped with a fresh squeeze of lemon, toasted walnuts and parsley. What's not to love? My kids even liked it, and that's a whole lot of veggies in their tummies.
After peeling and chopping your roots, they'll look approximately like this before going in the oven…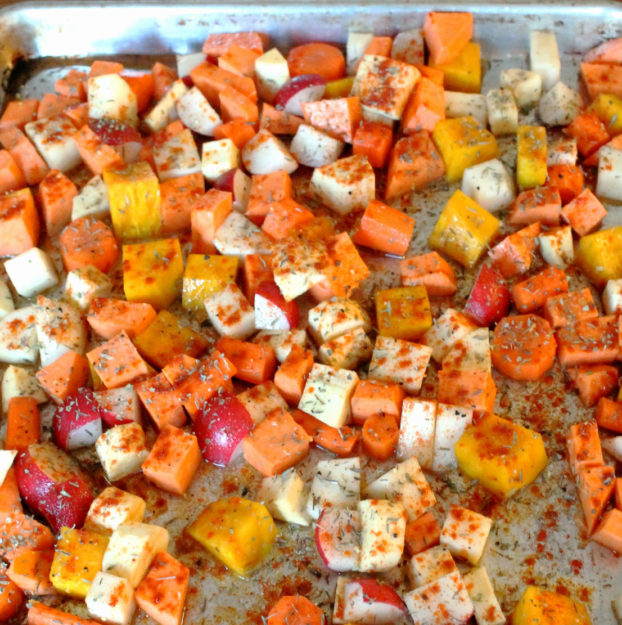 Then it's simply a matter of waiting on your oven to do the work as you slowly caramelize the onions and fennel in a large soup pot on the burner. Vegan and comfort food are generally not two things I'd associated with one another in the past. But now this stew is at the top of my list of new comfort foods to enjoy.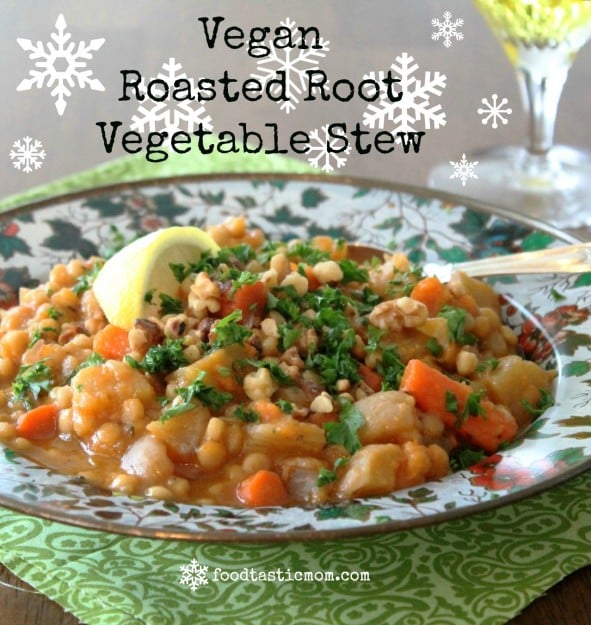 Vegan Roasted Root Vegetable Stew
A hearty, vegan stew full of roasted root vegetables that even carnivores will love.
Ingredients
1

lb

carrots

1

lb

golden beets

1

lb

parsnips

1

lb

radishes

1

lb

rutabagas

1

lb

sweet potatoes

1/4

cup

olive oil

divided

2/3

cup

white wine

divided

1

tsp

salt

1

tsp

thyme

1

tsp

marjoram

1

tsp

smoked paprika

1

tsp

fresh cracked pepper

2

smallish

sweet onions

1

fennel bulb

4

cloves

garlic

minced

8

cups

vegetable stock

1

cup

whole wheat pearl couscous

lemon wedges, toasted walnuts, chopped parsley to serve
Instructions
Preheat oven to 375 degrees.

Wash, peel and dice the carrots, golden beets, parsnips, rutabagas and sweet potatoes and add them to a very large bowl. Wash the radishes, slice a small piece off the top and bottoms, then quarter them and add them to the bowl. It is not necessary to peel them.

Add 2 tablespoons of the olive oil, 1/3 cup of the white wine and all the seasonings, salt though pepper. Toss very well to coat.

Evenly spread the root vegetables over two large sheet pans, being sure to pour the marinade evenly over both pans. Roast in the oven for 60-70 minutes, rotating pans and stirring the vegetables occasionally. If the vegetables are looking too dry, you can drizzle with a little more wine and oil.

Meanwhile, heat a large soup pot over medium heat. Add the remaining 2 tablespoons of oil to the pot. Clean and dice the onions and fennel bulb and add to the pot. Sauté, stirring occasionally, for about 30 minutes. It may be necessary to turn your heat to medium low to ensure slow caramelization of the onions and fennel.

Add the minced garlic and turn up the heat to medium high. Cook until fragrant, then add the remaining 1/3 cup white wine and simmer for a couple of minutes.

Add the vegetable stock. Turn the heat to high to bring it to a boil. Stir in the couscous and turn the soup down to simmer. Add the roasted root vegetables and allow to simmer gently on the stove for 15-20 minutes. The couscous will plump up quite a bit.

Season with additional salt and pepper to taste. Serve each bowl of stew topped with a squeeze of fresh lemon juice, toasted walnuts and chopped fresh parsley.