Put these Strawberry Shortcake Baked Donuts on your must make list for Summer!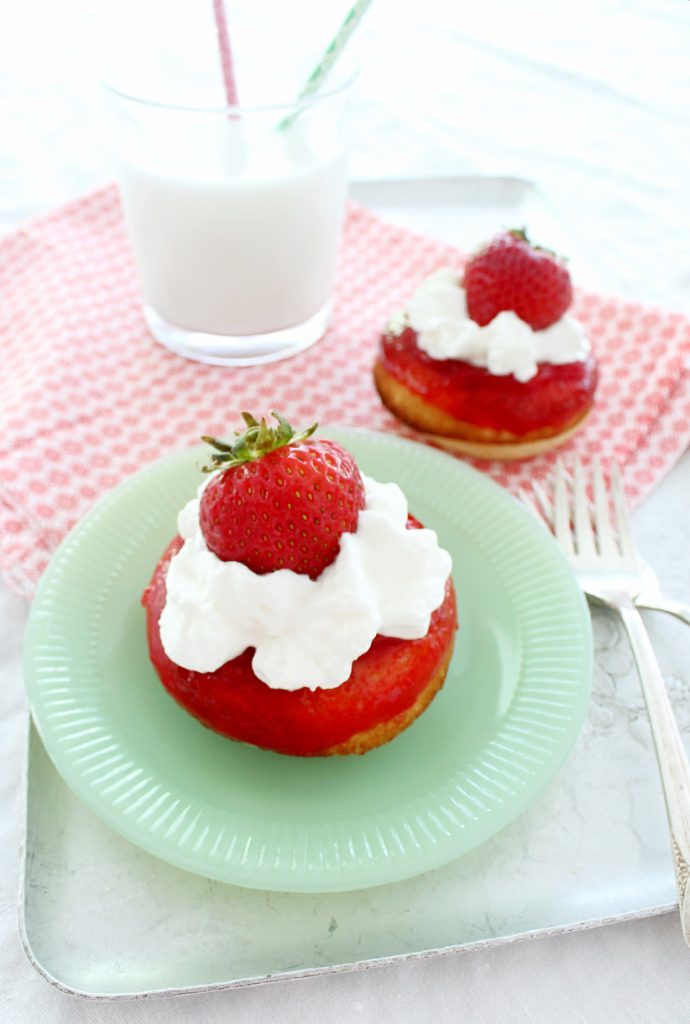 This is one of the better ideas I've had in a while. There's no improvement necessary on a classic strawberry shortcake, but why not do a mash-up with a baked donut recipe?
I debated calling these strawberry pie donuts, as the glaze might be what you are familiar with in a classic fresh strawberry pie. Thick, syrupy, strawberry goodness. This part can be made ahead and there's extra glaze leftover, for mixing with fresh strawberries or drinking straight outta the jar…your call. Used as a dramatic red glaze on the donuts, it really sinks in, imparting its sweet, strawberry flavor in each and every bite of these moist, buttermilk donuts.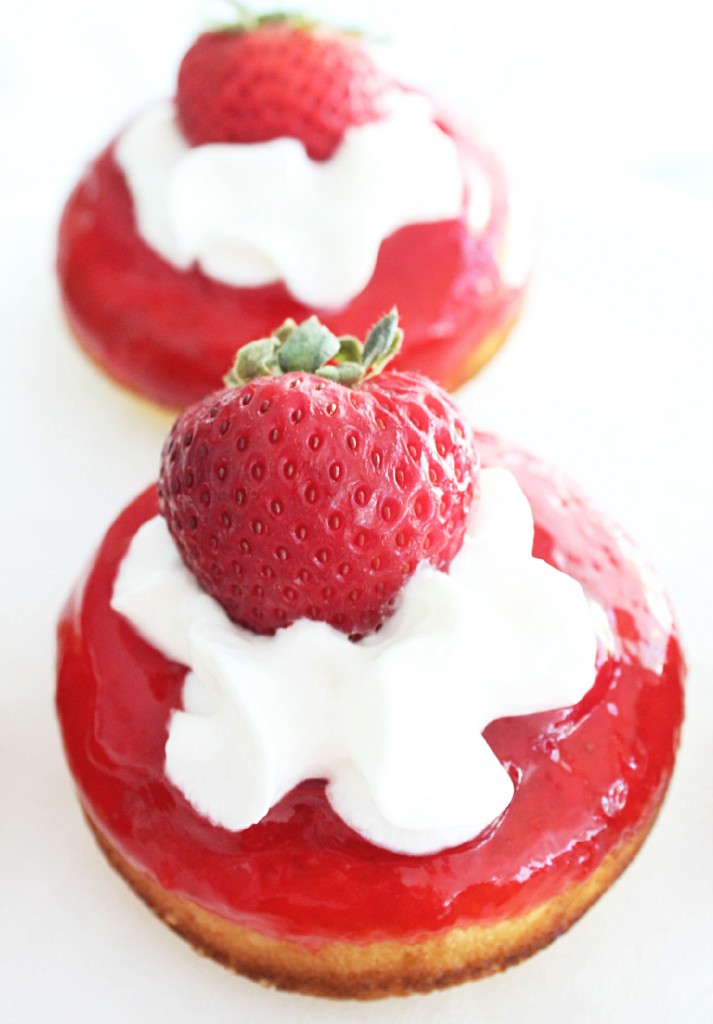 This dough recipe is new (to me) and while I'm still a fan of THIS baked donut dough, I'm glad I searched out THIS particular combination. The cake flour and yeast really made for a light and springy, almost sponge-like cake. Which is what I'd had in mind to mimic those springy little cakes you COULD purchase at a grocery store, but in this case would be a sad, sad replacement. Homemade is simply better and this dough not only mixed together quickly but it filled the donut wells of my pans just like a smooth pancake batter. I used my trusty OXO medium cookie scoop to fill (see HERE for a photo example) without having to mess with a piping bag. Only 8-10 minutes in a hot oven and they were ready to go.
After glazing, I'd wait to top with whipped cream and strawberries until right before you are ready to serve. But the donuts will keep, stored in an air-tight container in the refrigerator, overnight until you are ready. Strawberry shortcake for breakfast, for EVERYONE!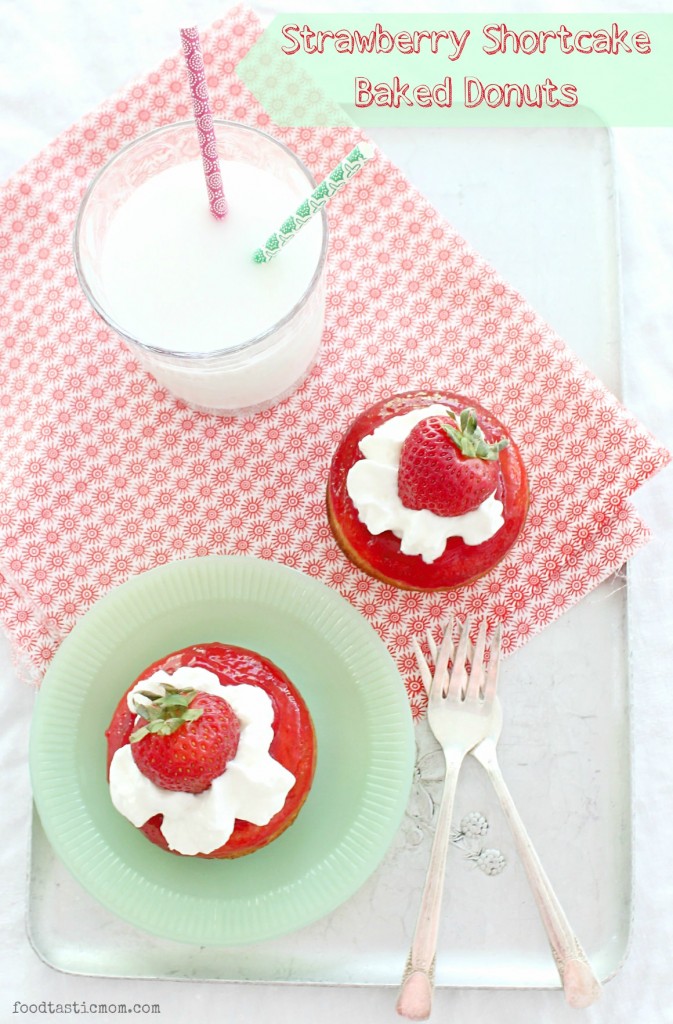 Strawberry Shortcake Baked Donuts
Ingredients
2

c.

strawberries

chopped

1

c.

water

1/2

c.

sugar

3

T.

corn starch

1

T.

fresh lemon or lime juice

2

drops red food coloring

2

t.

dry active yeast

2

T.

warm water

110 - 120 degrees F

2

c.

cake flour

3/4

c.

sugar

1 1/2

t.

baking powder

1/4

t.

salt

2

T.

unsalted butter

melted

3/4

c.

old-fashioned buttermilk

2

large eggs

whipped cream and fresh strawberries to serve
Instructions
Combine the strawberries, water and sugar in a bowl and allow to sit on the counter for about an hour. Press the strawberries through a fine mesh strainer, using a fork to really mash them up and extract as much juice as possible.

Place the strawberry and sugar juice in a medium sauce pan and whisk in the cornstarch. Cook over medium high heat, whisking constantly, until mixture thickens and comes to a slow boil.

Remove from heat and stir in the citrus juice and food coloring. Allow to cool and store covered in the refrigerator until ready to use.

Preheat oven to 425 degrees.

Mix together the yeast and water and allow to rest for 5 minutes.

Melt the butter and set aside to cool a bit.

In a large bowl, whisk together the flour, sugar, baking powder and salt.

In a smaller bowl, whisk together the buttermilk and eggs. Add the melted butter and yeast and water mixture and whisk until smooth. Make a well in the bowl of dry ingredients and add the wet ingredients. Mix gently with a wooden spoon or spatula until no streaks of flour remain.

Spray the wells of two donut pans with cooking spray. Evenly pour the batter (using a cookie scoop for neater transfer) into the donut wells (about 3 tablespoons of batter for each).

Bake for 8 - 10 minutes, or until donuts are springy to the touch.

Allow to cool in pans for about 10 minutes, then remove and cool completely on a wire rack. Dip donuts into red strawberry glaze to coat. Serve with whipped cream and strawberries