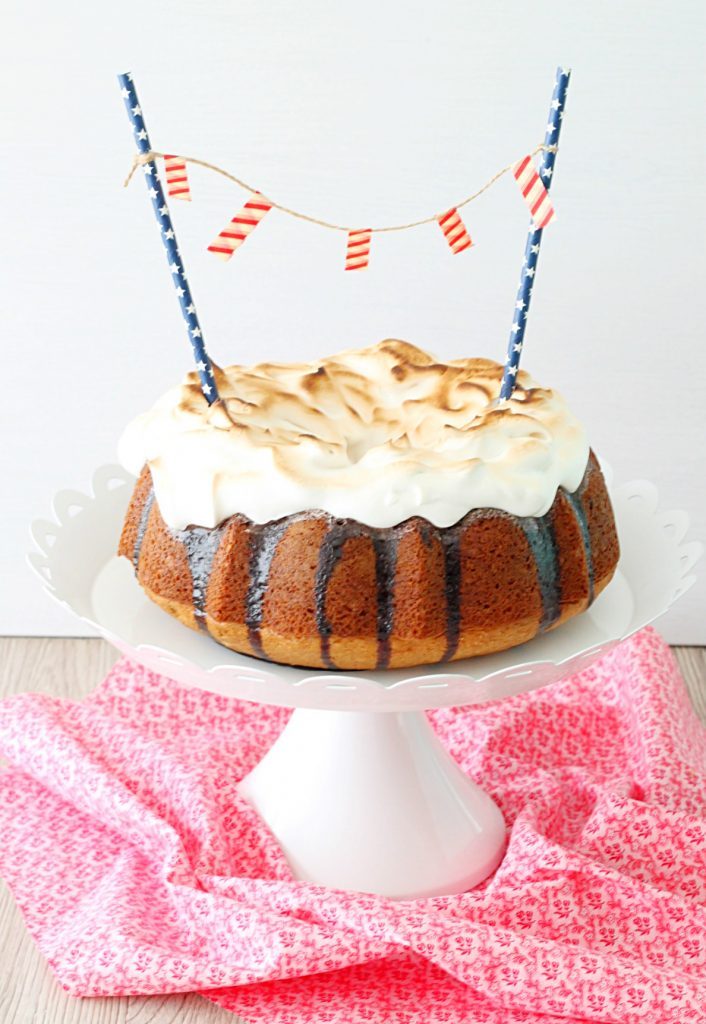 We are almost to Memorial Day Weekend! Hard to believe isn't it? Especially here in southern Ohio where the temperatures are actually down in the 50's… craziness, I tell ya. It doesn't actually feel like May weather outside my door, so maybe that makes my cake topped with roasty-toasty marshmallow frosting all the more appropriate to share today.
I've got to come clean and tell you this wasn't the cake I'd originally planned to share with you today. I'd had high hopes for another Bundt cake, flavored like Spumoni ice cream. I modified a recipe I'd found on a blog for a Neopolitan bundt cake… one batter, flavored three different ways, chocolate, vanilla and strawberry. My cake was going to be flavored with chocolate, pistachio and cherry. It seemed like such a fabulous idea, but guess what? It was one of the biggest cake FAILS I've ever had. Totally a minor problem in the grand scheme of things, but I was temporarily frustrated that I'd wasted the time making that mess of cake. Plus it put me a day behind in my blog posting schedule.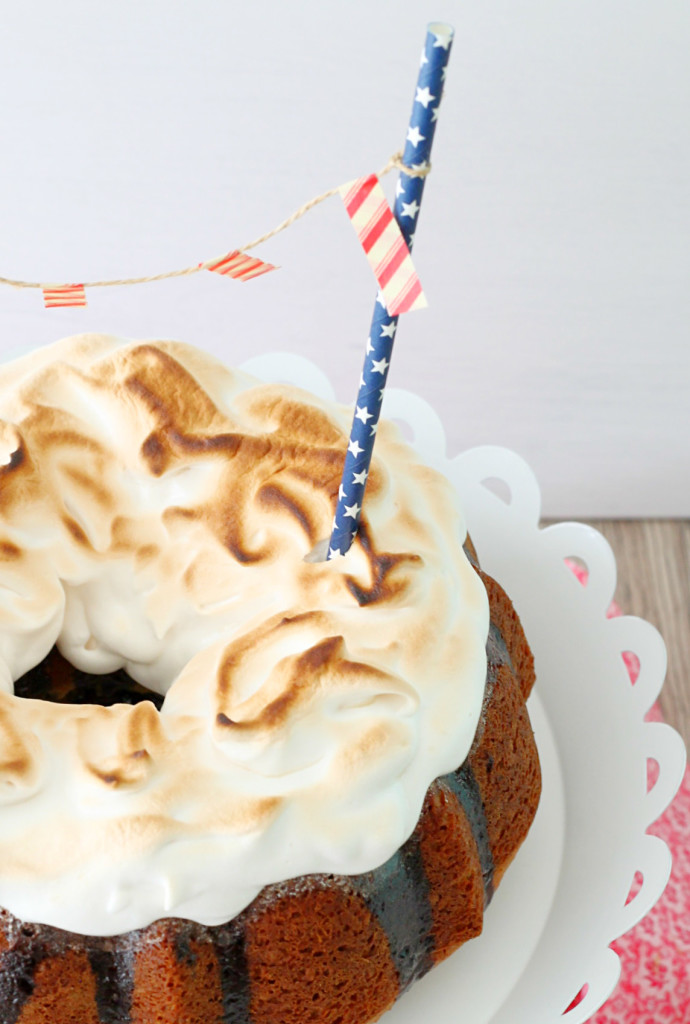 Oh well. It does mean that I'm skipping my Freezer Fridays series this week… but I might have done that anyway because we are heading into a 3-day holiday weekend and I've got a lot of fun, non-blogging stuff planned. I hope you do too! Don't worry though, I'll be back next Friday with another freezer-friendly recipe for you.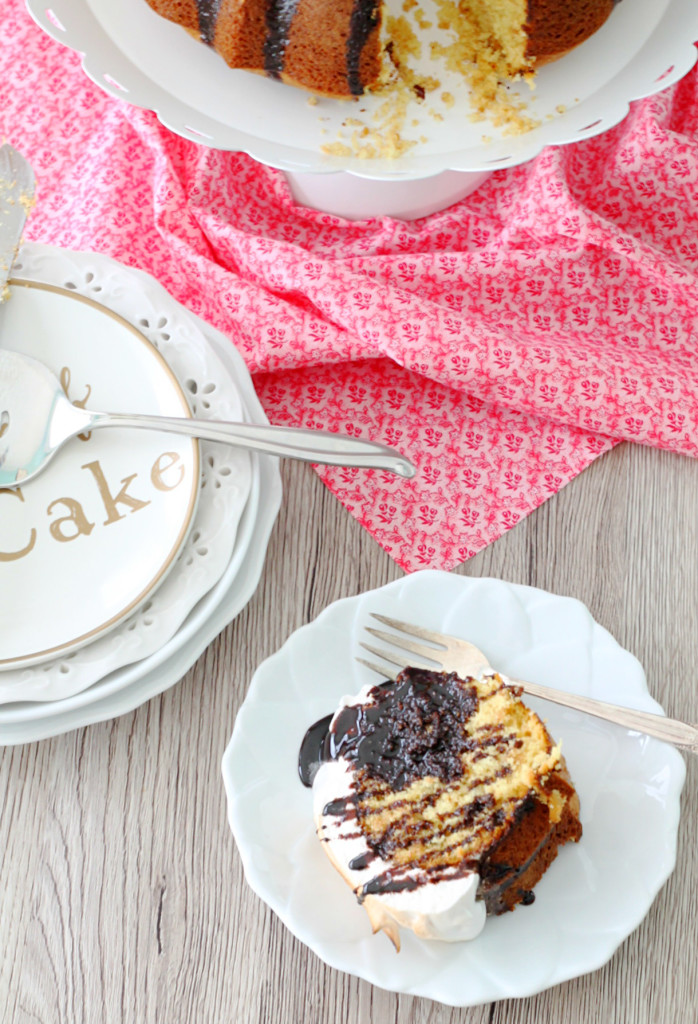 So the basic idea for this cake started from THIS recipe. It begins with a box mix, so it's easy to whip up for a holiday gathering. The chocolate drizzle is simply a jar of store-bought hot fudge sauce. And the frosting is a no-cook, 7-minute variety. Egg whites, sugar, vanilla, cream of tarter and a little boiling water to make sure the egg whites are safe. I whipped it up in no time then placed the cake on a sheet pan under my oven's broiler to toast the "marshmallow" frosting. I don't own a kitchen torch, otherwise I would have used one! But this cake is sturdy enough that I could move it from the pan to a cake stand with no accidents. And because it starts with a box mix, it still has a soft, tender crumb.
And who doesn't love S'mores, right?! I think this is a real show-stopper of a way to serve s'mores for a crowd. Be sure and Pin this recipe for your next holiday gathering. Your friends (and/or family) will be impressed and won't know how little effort this cake really takes!

S'mores Bundt Cake
Ingredients
for the cake
15.25

oz.

pkg. yellow cake mix

1

c.

water

3

large eggs

1/4

c.

vegetable oil

1 1/2

c.

graham cracker crumbs

1/4

cup

brown sugar

4

T.

unsalted butter

melted

pinch

of salt

1

jar hot fudge sauce
for the frosting
3

large egg whites

3/4

c.

sugar

1

t.

vanilla extract

1/4

t.

cream of tartar

1/4

c.

boiling water
Instructions
for the cake
Preheat oven to 350 degrees. Spray a non-stick bundt cake pan with cooking spray.

Add the cake mix, water, eggs, and oil to the bowl of a stand mixer. Beat on high, stopping to scrape down the sides of the bowl once, until batter is very smooth (2 - 3 minutes).

Mix together the graham cracker crumbs, brown sugar, melted butter and salt. Stir the graham mixture into the cake batter.

Pour the batter into the pan and smooth the top. Bake for 35 - 40 minutes, or until the top of the cake springs back when lightly touched.

Allow the cake to cool in the pan for about 15 minutes. Remove from pan and allow to cool completely.

When ready to serve the cake, drizzle with about half of the hot fudge sauce. Serve the rest of the sauce with the cake.
for the frosting
With the whip attachment in the bowl of a stand mixer, add the 3 egg whites, sugar, vanilla and cream of tarter. Start the mixer on low and stir to combine. Microwave the 1/4 cup of water until boiling (only takes about a minutes) and add the water in a slow stream into the egg white mixture while the mixer is on low speed.

Once the water has been added, increase the mixer speed to high and beat for 7 minutes. Spread the frosting on top of the cake (I had some leftover).

Toast the frosting for a couple of minutes under an oven broiler, or use a kitchen torch to toast.

I put the cake on a sheet pan to put it under the broiler, then carefully transferred the completed cake to a cake stand.