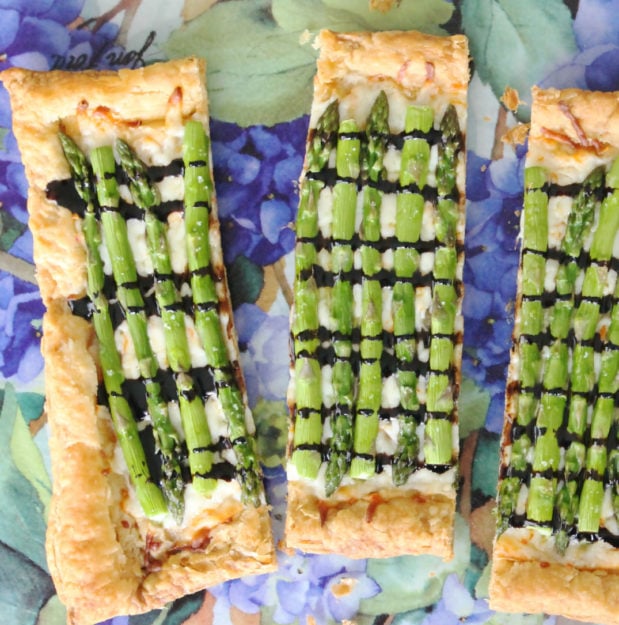 Every spring I go crazy for asparagus. Every trip to the grocery, I buy a bunch, grill it and eat it drizzled with balsamic reduction… like candy. For our family it's a girl thing. Hannah eats it right along side me. Caleb and his Dad are like, "no way." I'm generally OK with it because that means more for us. Though it would be easier to serve as a side dish that our entire family could enjoy. Heck, some nights I'd make it a main course, I love it that much!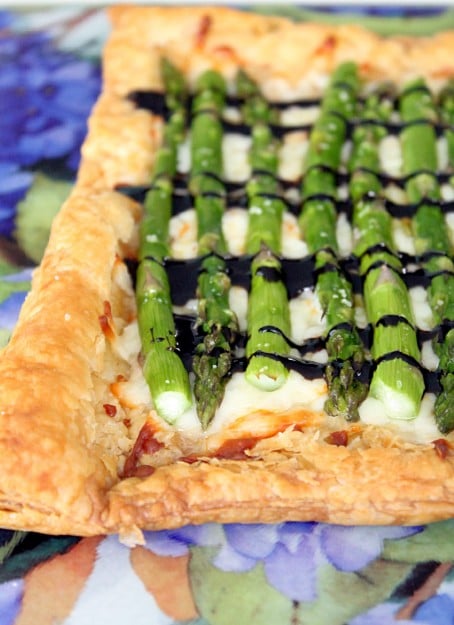 Anyway, the other day we had a party to go to and I had some puff pastry in the freezer and some cheese and asparagus in the fridge. That meant I finally had a reason to try THIS asparagus tart. For the party, I added some crumbled bacon because I'd cooked some for breakfast that morning and actually had a few slices leftover. So bacon is another option for this tart, if you're into that sort of thing.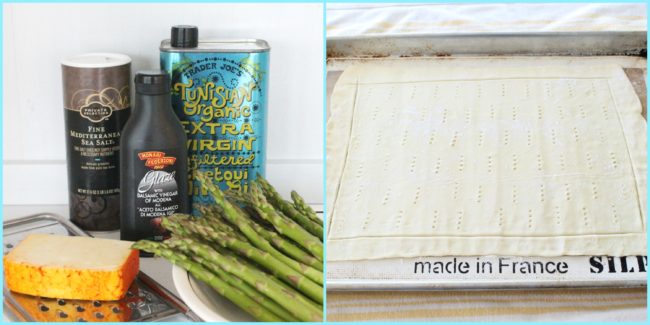 This appetizer could not be simpler. Roll the sheet of puff pastry, score lightly at the edges and poke the center with a fork so it doesn't puff so much in the oven while baking. Once the crust has cooled a bit, top with shredded cheese (in my case Munster because that's what I had… pretty much any white melting cheese would work though), fresh asparagus spears, a drizzle of olive oil and sprinkle of salt. Bake again. Drizzle with balsamic reduction. Done.
As far as springtime appetizers go, this is a winner!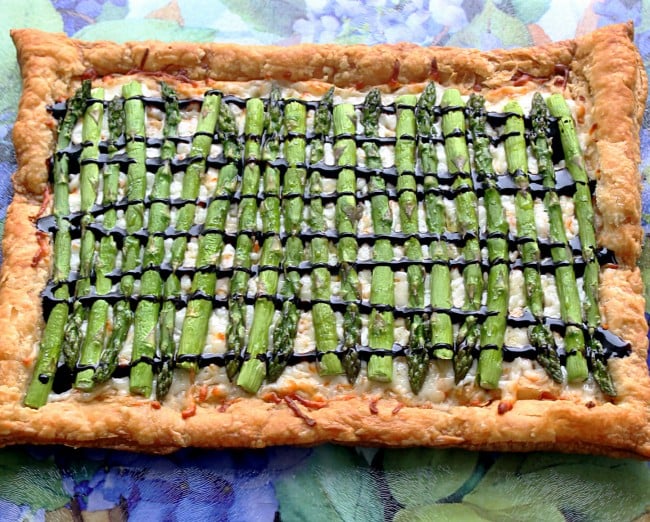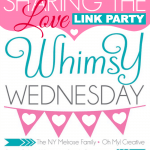 Featured by The NY Melrose Family on 3/25/14
Simple Asparagus Tart
Ingredients
1

sheet frozen puff pastry

thawed

1

bunch fresh asparagus

washed and woody ends snapped off

2

c.

Munster cheese

shredded

drizzle of olive oil

dash of salt

drizzle of balsamic vinegar reduction
Instructions
Preheat oven to 400 degrees.

On a silicone baking mat or parchment paper, roll the puff pastry into a rectangle, approximately 16 x 10 inches. Lightly score the edges to make a "crust". On the interior of the puff pastry, poke holes with a fork.

Transfer the pastry (on the silicone mat or parchment paper) onto a sheet pan. Bake for 15 minutes.

Remove from oven and using a spatula lightly flatten the middle of the pastry that may have puffed up during baking. Allow to cool a bit.

Sprinkle pastry crust with shredded cheese and arrange asparagus spears evenly atop the cheese. Lightly drizzle the asparagus spears with olive oil and sprinkle with salt.

Bake for 18 - 20 minutes, until cheese is melted and crust is nicely browned.

Remove from oven and allow to cool about 5 minutes. Then drizzle evenly with balsamic vinegar reduction. Serve warm or at room temperature.
Notes
Adapted from Simple Provisions