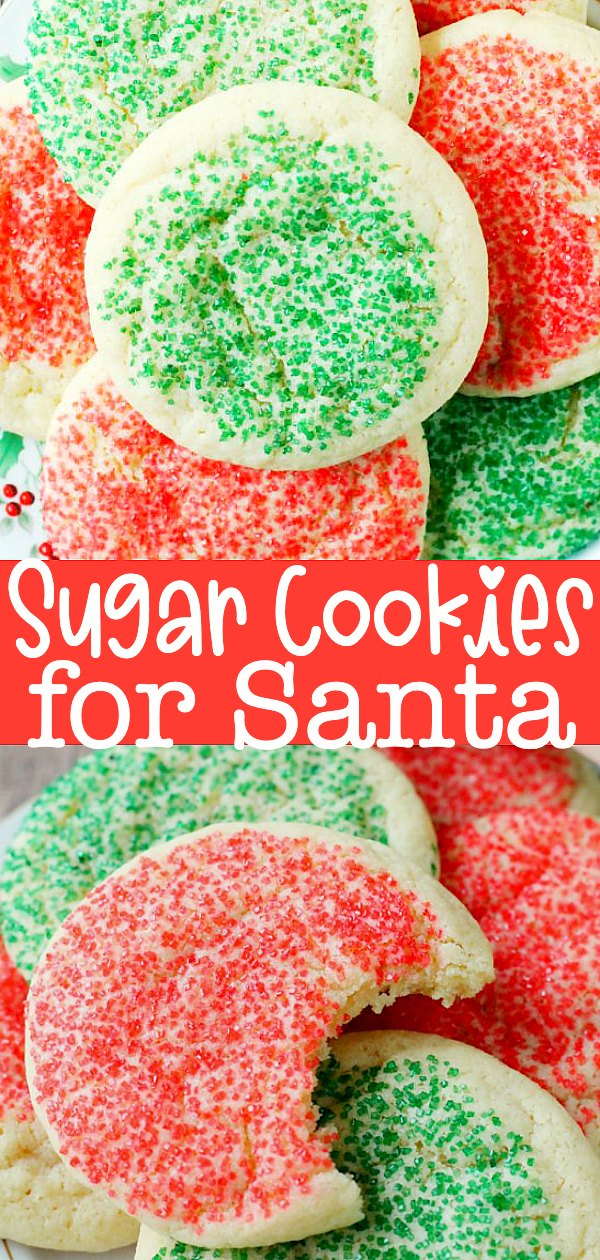 Santa Sugar Cookies help keep my Grandma's memory alive with her sugar cookie recipe each holiday season on the night before Santa's arrival.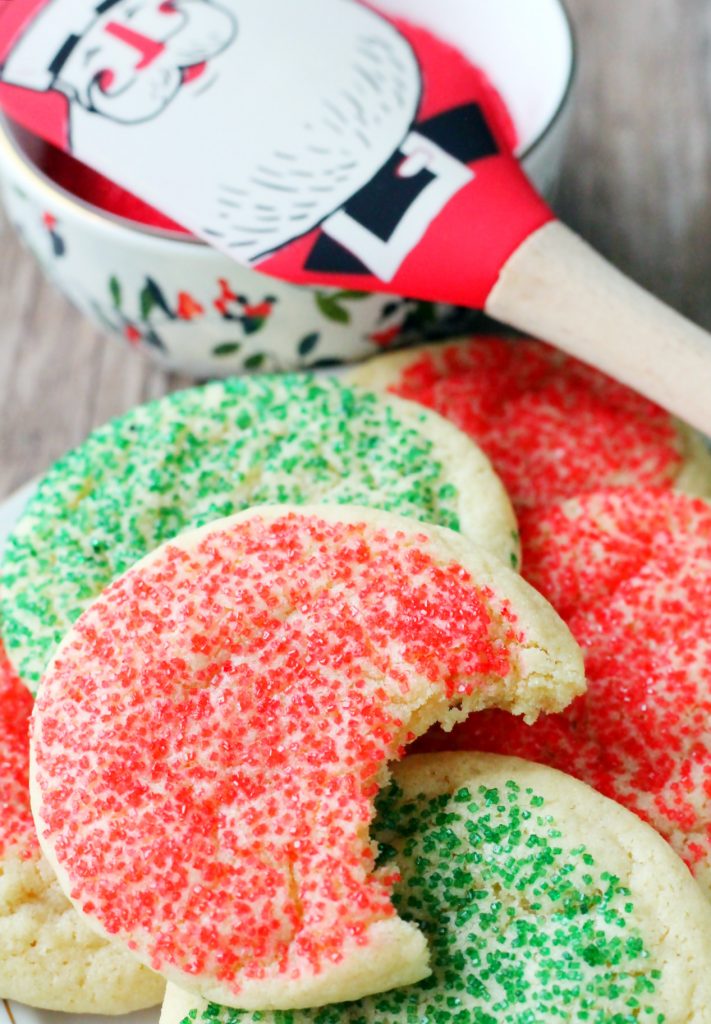 Santa loves these sugar cookies and you will too! This recipe was originally knows as my Grandma's recipe for Snickerdoodles. Being in the blogging world I've noticed that a snickerdoodle tends to refer to a cinnamon sugar cookie. These don't contain cinnamon. I don't really care what she called them I always called them one of my favorites.
I've mentioned before how I like keeping family recipes alive and having my children help me to make them. So far this holiday season my daughter (9 years old) has helped me make her great grandmother's recipe for both rolls and these cookies. She never met her but now she knows a bit about her through her recipes.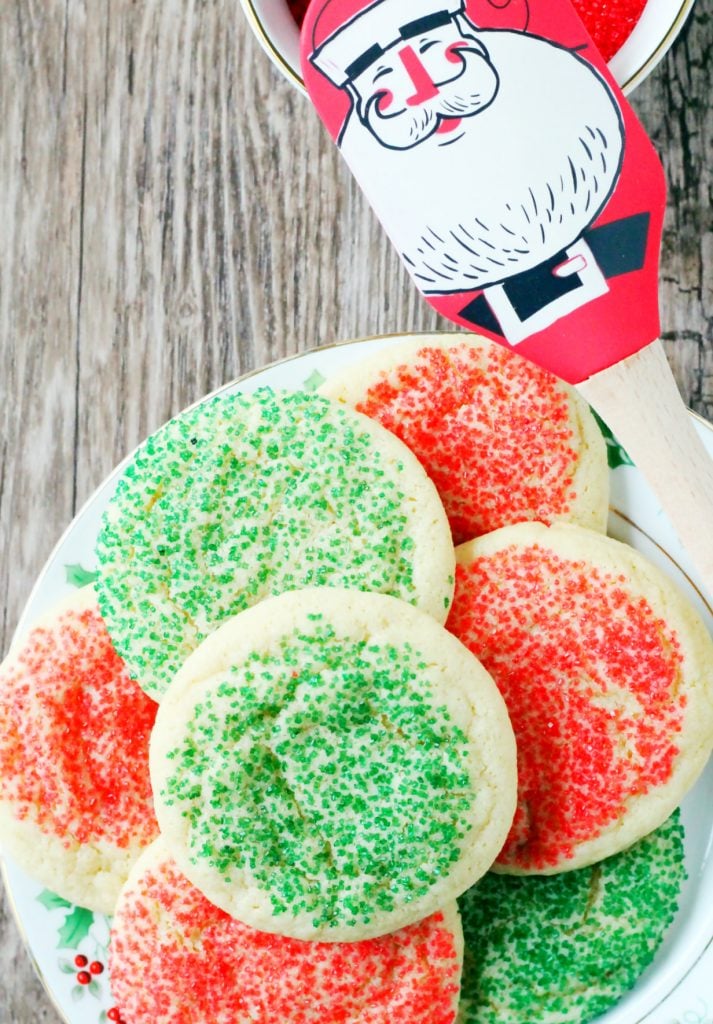 Do you leave out cookies for Santa? What are Santa's favorites at your house? At our house his favorites are definitely these simple, classic and always delicious sugar cookies!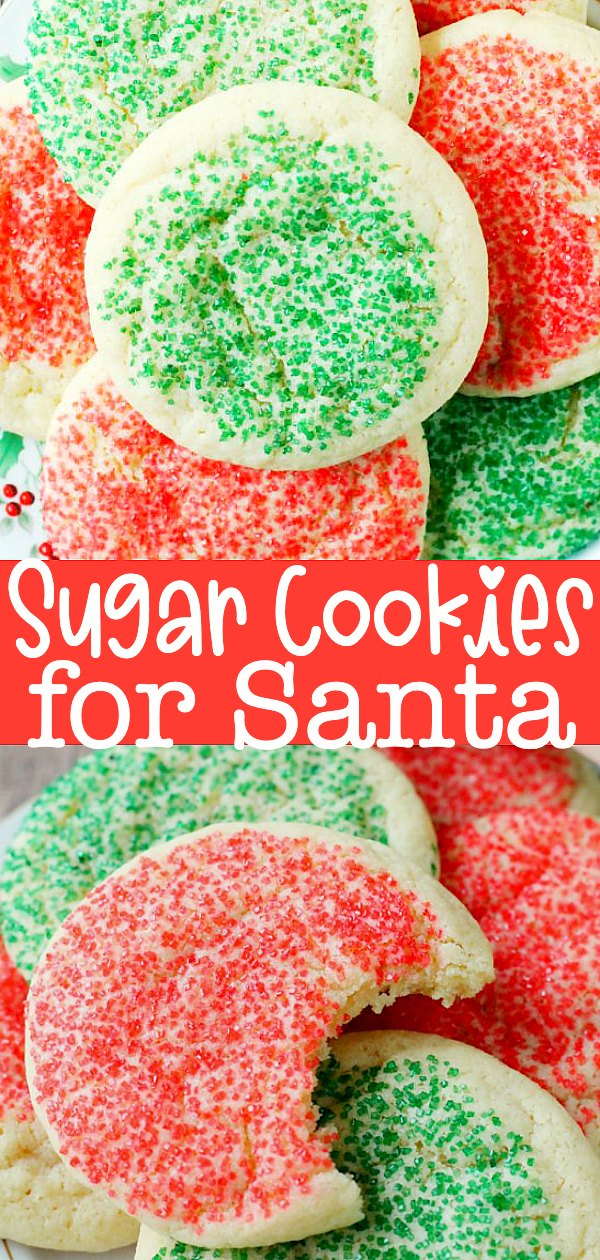 This recipe is featured on Meal Plan Monday. Meal Plan Monday is proudly hosted by Southern Plate, Southern Bite, A Southern Soul, and Big Bear's Wife.
Santa Sugar Cookies
Ingredients
8

tbs (1 stick)

unsalted butter

softened

1

cup

granulated sugar

1

large

egg

2

tsp

vanilla extract

1 3/4

cups

all-purpose flour

1

tsp

cream of tartar

1/2

tsp

baking soda

1/2

tsp

salt

red and green sanding sugar
Instructions
Preheat oven to 350 degrees. Line two baking pans with silicone baking mats or parchment paper.

With a hand or stand mixer, beat together the butter and sugar until pale and fluffy, about 2 minutes. Add the egg and vanilla and beat until well combined.

Add the flour mixture to the butter mixture and mix on low until a smooth cookie dough is formed. Scrape down the sides of the bowl with a spatula as needed.

Chill the dough in the refrigerator for about 20 minutes.

Form the dough into balls and dip the top halves of the cookie dough balls in the red and green sanding sugar. Space the cookies evenly across the two pans. This recipe will yield between 20 and 24 cookies depending on the size of your cookie scoop.

Bake until the cookies are just barely browning on the edges, 10 - 12 minutes.

Allow to cool on pans for at least 10 minutes.