Salt and Vinegar Pumpkin Seeds are simmered in a bath of apple cider vinegar, salted and roasted to perfection!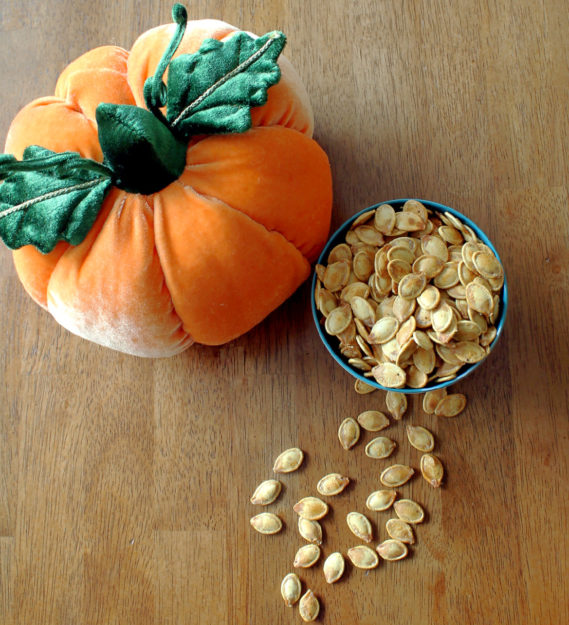 We were a bit later than usual carving our Halloween pumpkins this year. Truth be told it actually happened on Halloween. Caleb had a swim-a-thon the day before and was too tired to think about pumpkins when he got home. And fortunately for us, weather postponed our trick-or-treat plans for a day. Otherwise, we'd have been carving post-Halloween. Oh well, we do the best we can.
I've never been the biggest fan of roasted pumpkin seeds. I think that probably makes me a bad food blogger, so this year I was determined to find a recipe I actually would eat and enjoy. Thankfully I succeeded. As soon as I read "salt and vinegar" I was intrigued. My slight OCD issue with food cleanliness was especially excited about simmering these in a bath of water and apple cider vinegar before roasting. It provides just the right touch of vinegary bite, plus pretty much guarantees to get rid of any last pumpkin guts sticking to the seeds.
These take a few steps, but it's primarily hands-off time. For the taste and the fact that I actually enjoyed eating these pumpkin seeds this time, it's totally worth it.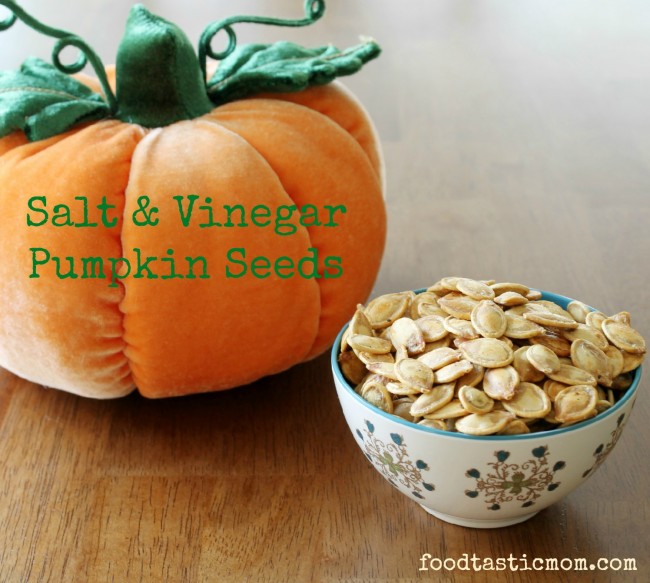 Salt & Vinegar Pumpkin Seeds
Ingredients
Seeds from one large pumpkin

rinsed and drained

1

c.

water

1/2

c.

apple cider vinegar

1

T.

grapeseed

sunflower seed or canola oil

1

t.

salt

1/4

c.

fresh grated Parmesan cheese
Instructions
Preheat oven to 200 degrees. Line a baking sheet with parchment or a silicone baking mat.

In a large sauce pan, combine the washed pumpkin seeds, water and apple cider vinegar. Bring to a boil, then turn heat down so that mixture simmers on the stove top for 10 minutes.

Remove from heat and dump the pumpkin seeds into a strainer, to drain away all the water and vinegar.

Spread the seeds evenly on the baking sheet, and allow to dry in the 200 degree oven... about 30-40 minutes. Check on them once or twice, and shake the pan around a bit to evenly dry them.

Increase oven temperature to 375 degrees.

In a clean bowl, toss the pumpkin seeds with the tablespoon of oil, salt and Parmesan cheese. Mix well to combine,

Again, spread the seeds on your baking sheet and bake for 20 - 25 minutes, shaking pan once or twice during cooking time. Seeds will be nicely browned when finished.
Like roasted pumpkin seeds? Don't miss my newest recipe post for Bourbon Bacon Pumpkin Seeds! Click on the picture to be taken to the recipe link…