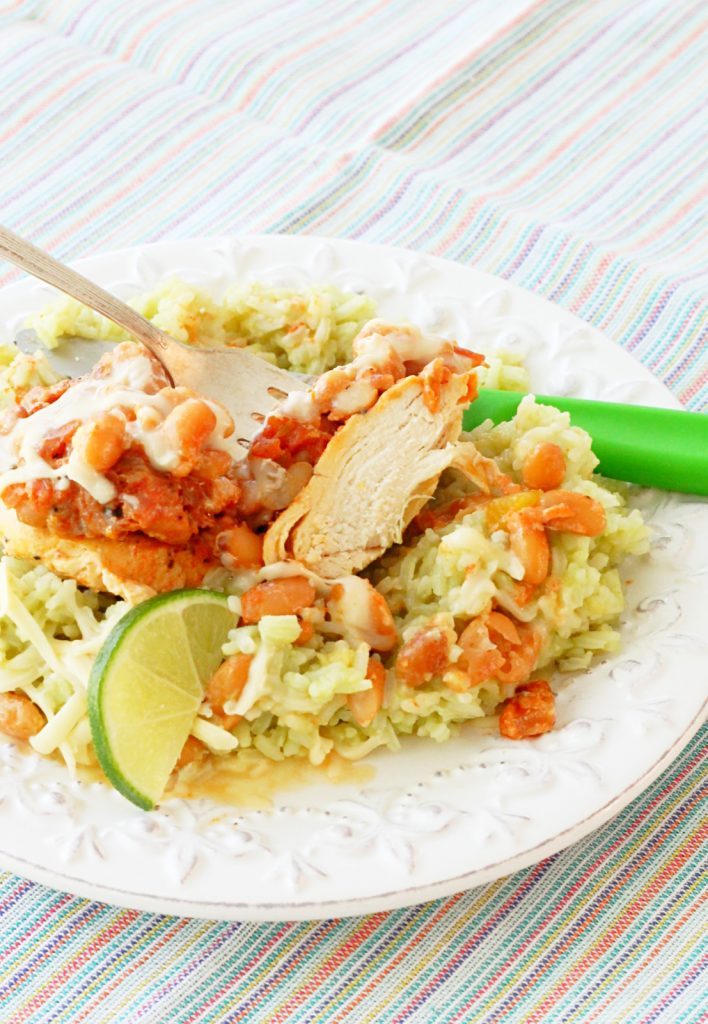 This might be the simplest dinner I've ever shared. I'm not even sure it qualifies as a recipe. But since I shared more of a complicated meal last week for Freezer Fridays, I decided to take it easy on you this Friday.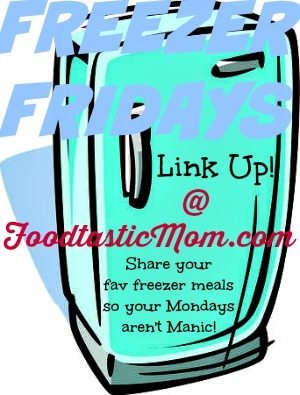 By the way, be sure to click through on my link up at the bottom to save and Pin my other three Freezer Fridays recipes. Besides this salsa chicken recipe, I've also shared Chicken Cheesesteaks (slow cooker), Breakfast Burritos and Chicken Tagine (slow cooker). I'm trying to have your back when feeding a busy family that is going 100 different directions (as mine seems to be most days).
So this Salsa Chicken is not a slow cooker freezer recipe, but rather a packet-style meal. I cooked them in my oven, but they could be cooked on a grill, so they are camping-friendly for summer.
Even though this is about as basic as my cooking gets, it happens to be one of my son's favorite things I make. He's big into this rice. It tastes like guacamole! And he loves chicken as much as my daughter loves steak. They are funny kids, those two… and they are good eaters.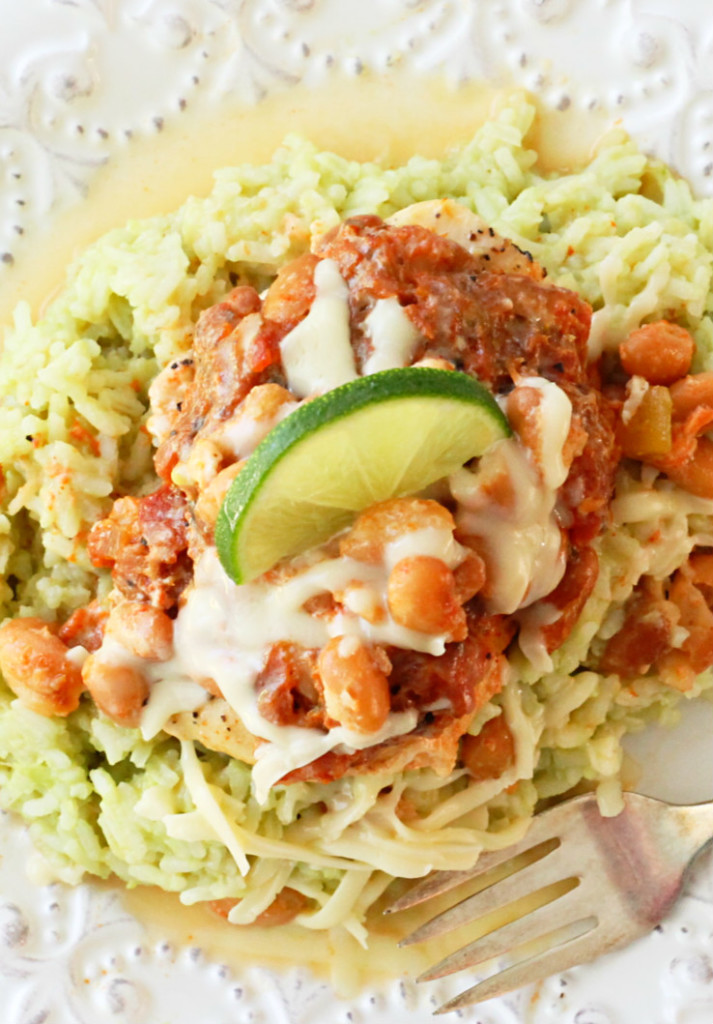 I got the idea from HERE when I was researching recipes for a client project. But for my personal use, I decided to use salsa instead and skip the corn. And really, any brand or type of salsa will work… just choose your favorite! Also, as a family we tend to prefer pinto beans over black beans, but if you prefer black beans, then use them.
The important tip I've discovered after making this meal a few times is that parchment paper inside the foil is a must! I buy pre-cut sheets (store brand, nothing fancy) and use them for baking too. This paper prevents the cheese from sticking to the foil and I think it even helps to steam the chicken a bit better. The chicken comes out really moist with this method of cooking. Simply layer the following: sheet of heavy duty foil, sheet of parchment paper, chicken breast, seasonings, pinto beans, salsa and cheese. Wrap it up like a packet and freeze… or bake right away.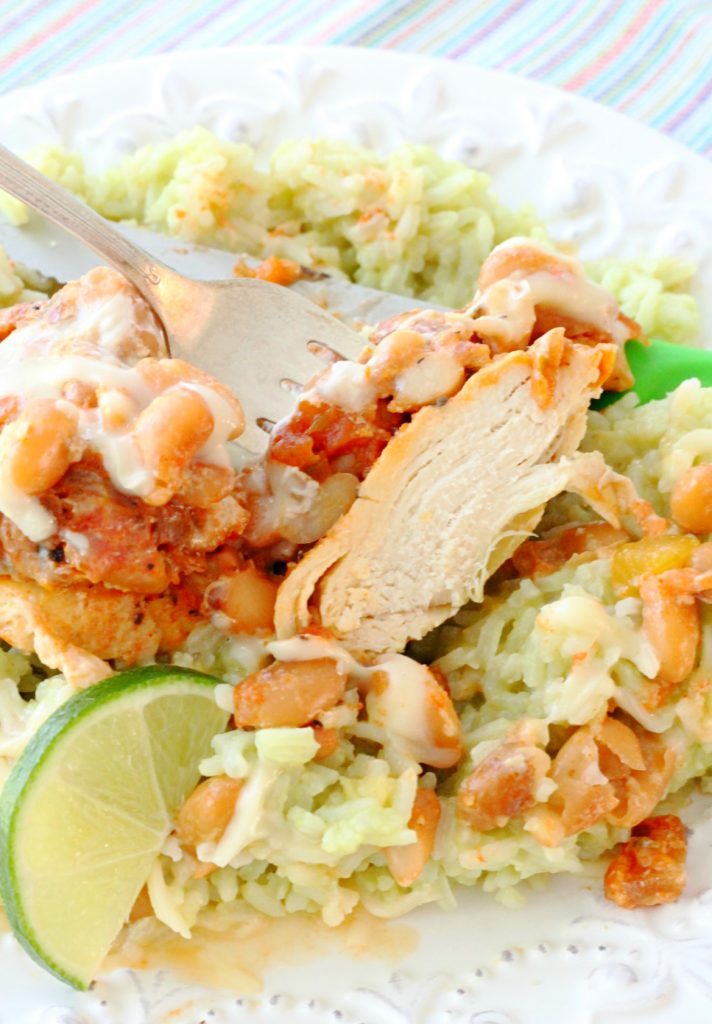 It's so easy and you can cook your rice quickly while it bakes. The rice is simply flavored with salt, avocado and lime juice. Be sure and check out my tutorial about freezing avocados too!
>RULES FOR FREEZER FRIDAYS<
If you are sharing with me, I'd appreciate a follow on my social media channels. And I promise to follow back!FOODTASTIC MOM Facebook | Instagram | Twitter | Pinterest | Google+
>Link freezer-friendly recipes from your blog… direct links – not to your blog's homepage
(please no etsy shops or giveaways)
>Please link only posts that you haven't shared here before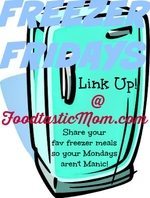 >Copy and paste the Freezer Fridays Badge and link back somewhere on your blog (must link back to be featured)
>Visit some other links and comment, letting them know you stopped by
Salsa Chicken with Avocado Lime Rice
Ingredients
for the chicken
4

boneless

skinless chicken breasts

1

15 oz. can pinto beans, drained

1

c.

salsa

your favorite flavor/brand

1 1/2

c.

6 oz. Monterey Jack cheese, shredded

salt

pepper

smoked paprika
for the rice
1

c.

uncooked rice

cooked according to package directions

1

avocado

juice of one lime

1

t.

salt
Instructions
for the chicken
Layer the following...

4 rectangles of heavy duty foil

4 rectangles of parchment paper

Place one chicken breast in the middle of each, on top of the parchment paper.

Season each chicken breast with salt, pepper and smoked paprika.

Divide the beans evenly and spoon on top of the chicken.

Top the beans on each chicken breast with 1/4 cup of the salsa.

Divide the cheese evenly and sprinkle on top of the salsa for each chicken breast.

Fold into four packets, being sure to seal the top and ends.

At this point, freeze the packets until ready to use.

When ready to serve, thaw the packets in the refrigerator overnight.

Preheat oven to 375 degrees.

Place the chicken packets on a baking sheet and bake for 45-50 minutes, or until the center of the chicken registers at least 165 degrees. Serve atop the rice.
for the rice
Cook the rice according to the package directions. Allow to cool for a bit.

Mash together the avocado, lime juice and salt.

Stir the avocado mixture into the rice. Serve immediately.