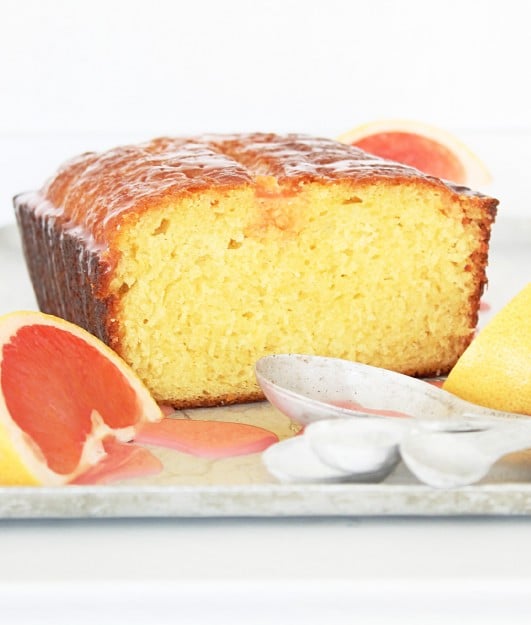 I have never enjoyed the term "crack" when it's being used to describe food. You know what I mean? I see recipes for crack dip or crack bars, or this dessert is so good it's like crack. I get the comparison, that whatever the dish might be, you can't stop eating it. It just seems like an insulting comparison to the food to me. But maybe I'm just weird…
That being said, I had a hard time stopping at one slice of this cake. In fact, I didn't stop at just one. I had three. Now, they were slices like that of a quick bread, so not big hunks of a standard cake, but still…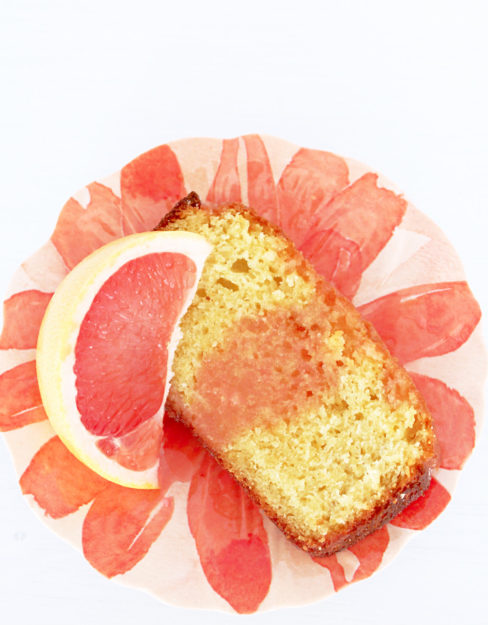 On a positive note, I'm the same way with ruby red grapefruit in its pure, unadulterated form. It's my absolute favorite fruit, excepting for fresh cantaloupe in the summertime. I have eaten two or three grapefruit in one sitting and been quite the happy camper. So a cake made with it every once in a great while, I won't feel too guilty about.
And oh my gosh, THIS CAKE! I can't believe I've never made a citrus cake with olive oil before now. It's a pretty classic combination actually. And the grapefruit flavor is actually subtle enough that both my kids gobbled it up. Because unlike their mother, they will not eat a plain ruby red grapefruit.
This cake would be a fabulous addition to a brunch spread, like for Easter or Mother's Day. Or just make it on a Thursday, because it's sunny outside, like I did!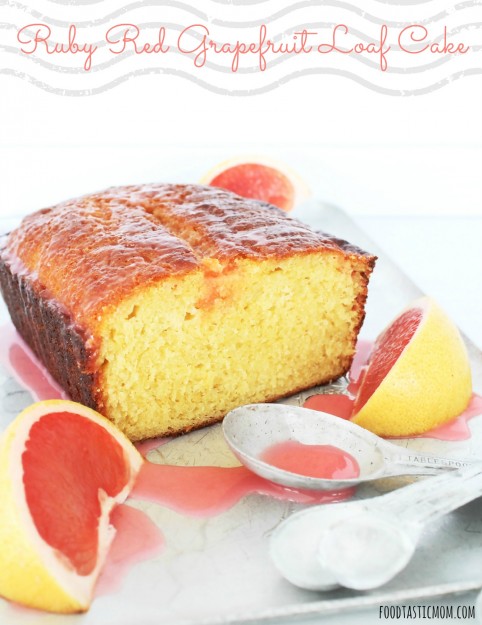 Ruby Red Grapefruit Loaf Cake
Ingredients
2

ruby red grapefruit

1

c.

sugar

fat-free Greek yogurt

see directions for amount

3

large eggs

2/3

c.

extra-virgin olive oil

1

t.

vanilla extract

1 3/4

c.

all-purpose flour

1 1/2

t.

baking powder

1/4

t.

baking soda

1/4

t.

salt

pinch

of cardamom

1/2 - 3/4

c.

powdered sugar
Instructions
Spray a 9 x 5 loaf pan with cooking spray and set aside.

Preheat oven to 350 degrees.

Wash the grapefruit thoroughly and zest both into a large bowl. Add the cup of sugar and crumble between your fingers so the sugar and zest are well combined. Juice one of the grapefruit into a liquid measuring cup. ADD ENOUGH GREEK YOGURT TO MAKE 2/3 CUP. My one grapefruit gave me a little less than half a cup of juice.

Whisk the yogurt and juice together and add to the sugar and zest. Add the eggs, oil and vanilla. Whisk well until frothy.

In a separate bowl, whisk together the flour, baking powder and soda, salt and cardamom. Add the dry ingredients to the wet and stir together with a spatula until no streaks of flour remain.

Pour the batter into the loaf pan.

Bake on the center oven rack for 50 - 55 minutes, until center is springy and toothpick comes out clean. Remove cake from pan and allow to cool on a cooling rack.

While cake is baking, juice the other grapefruit. Measure out 3 tablespoons of juice and drink the rest.

Add 1/2 cup of powdered sugar to the juice to start and whisk until smooth. If you'd like the glaze a bit thicker, add another 1/4 cup of powdered sugar.

I drizzled two rounds of glaze on my cake. Once right after it came out of the oven. Once after the cake had cooled.