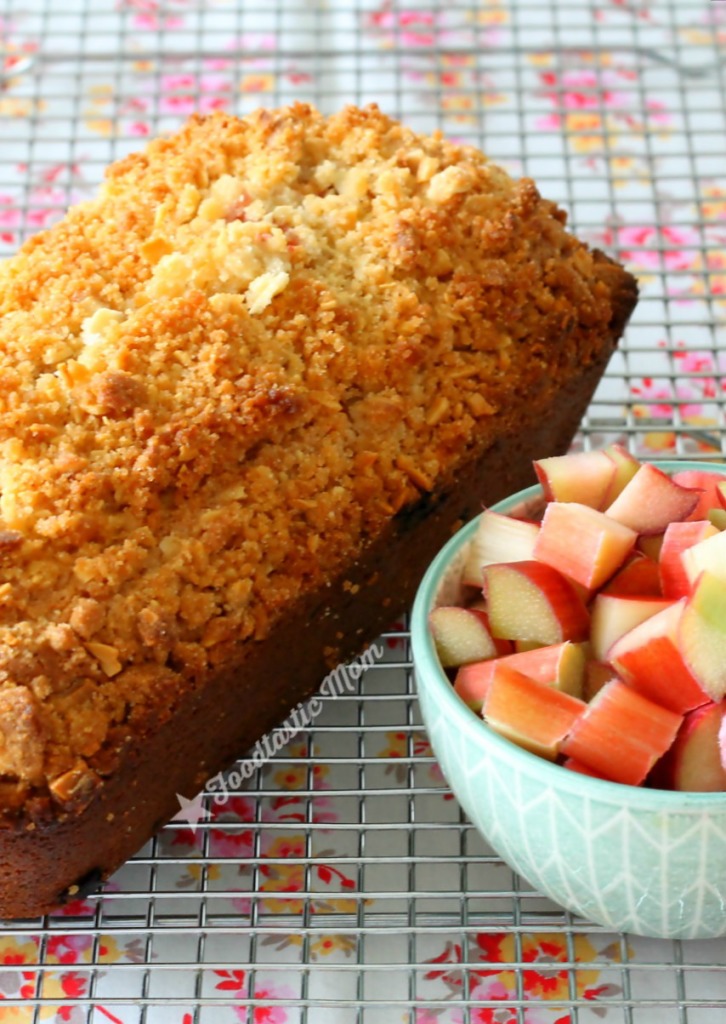 I was at my tiny grocery the other day (we actually have a neighborhood grocery just down the street that is a nice escape from our chain stores sometimes) and they had the most beautiful stalks of fresh rhubarb for sale. I was giddy when I saw them and immediately began to look for rhubarb recipes to share this season.
So today I filled my house with the intoxicating smell that is so unique to this ruby-hued vegetable (yep, rhubarb is not a fruit so it counts as a veggie) and made two rhubarb recipes. This first one I'm sharing began as a muffin recipe from Saveur magazine found HERE.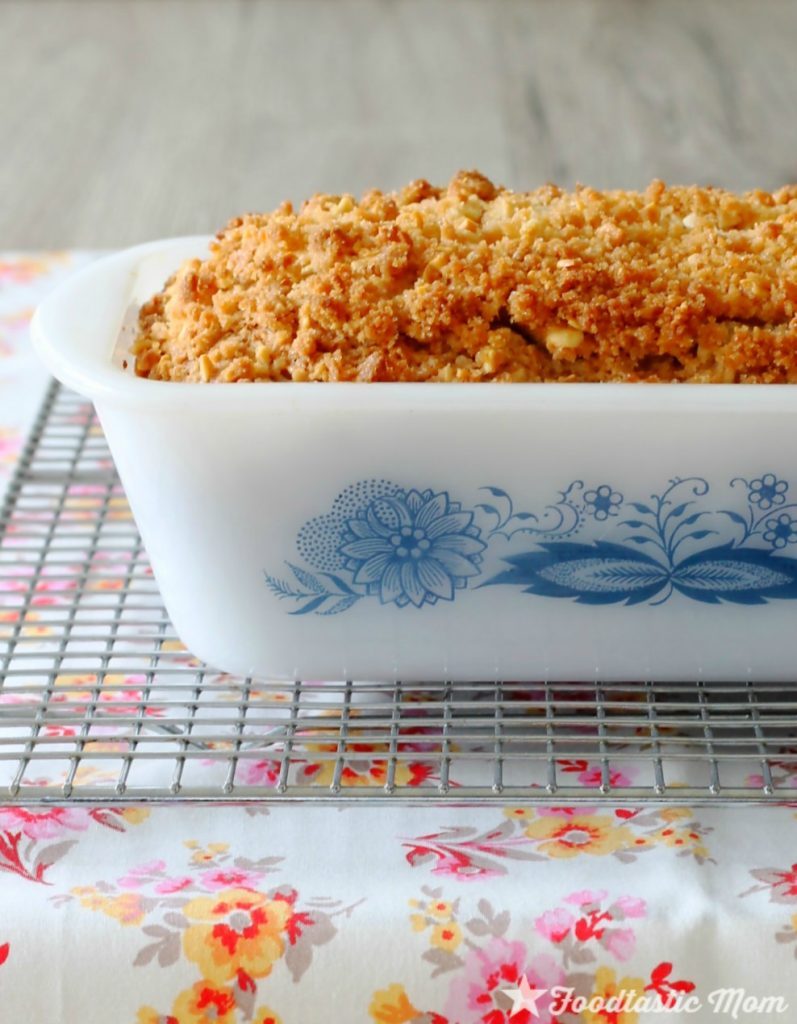 But because I love my vintage glass Pyrex loaf pan so much, I decided to halve the recipe and bake it as a quick bread instead. The combination of the tart rhubarb with the sweet and crunchy almond topping was simply divine. We ate the loaf with bacon and eggs for dinner. So good.
The other recipe I made is going into the freezer for later. It's a simple rhubarb butter I'm saving for a version of Moscow Mules. How's that for a teaser?! But I'm waiting until the weather is just a bit warmer to share those.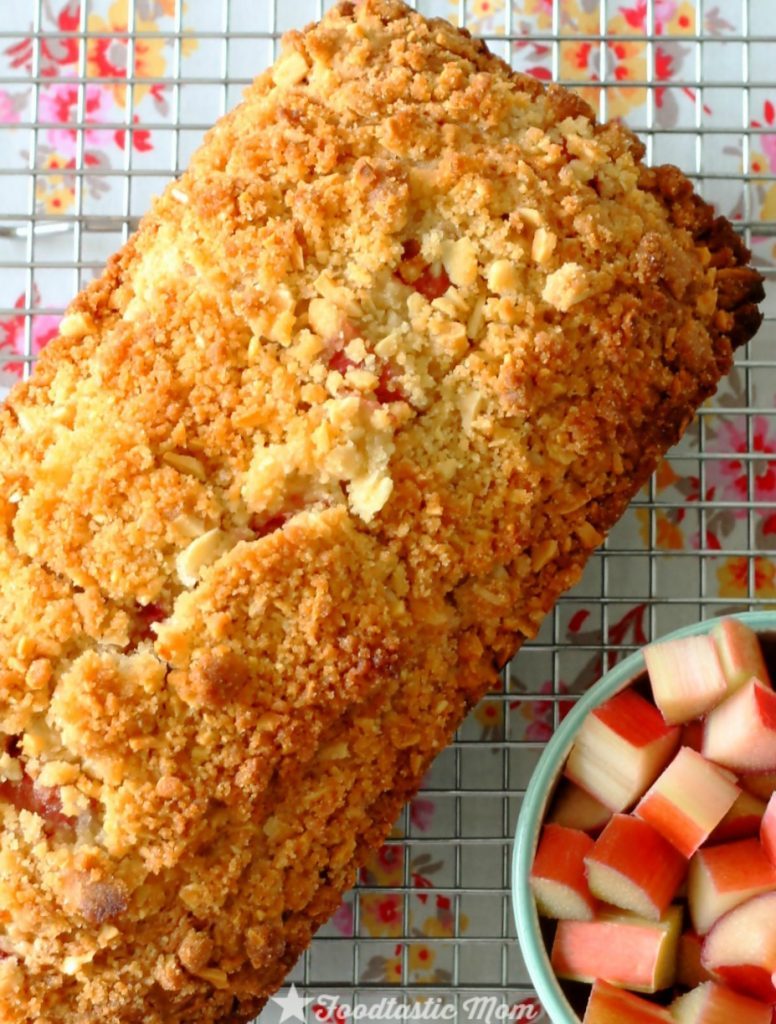 I'm typing this post late on a Thursday night (even though you're seeing this on a Monday morning) because my husband and I are going camping for the weekend with friends. Not tent camping though. RV camping. So "glamping"… kind of. I was better at roughing it back before we had kids, LOL.
Anyway, this is one of the few times I'm blogging ahead and it's a nice change… makes me feel organized, which is a rarity! I'd like to say there's a couple slices of this bread left to take on our trip but the four of us polished it off nicely for our dinner. Tell me, do you like rhubarb too? What's your favorite rhubarb recipe?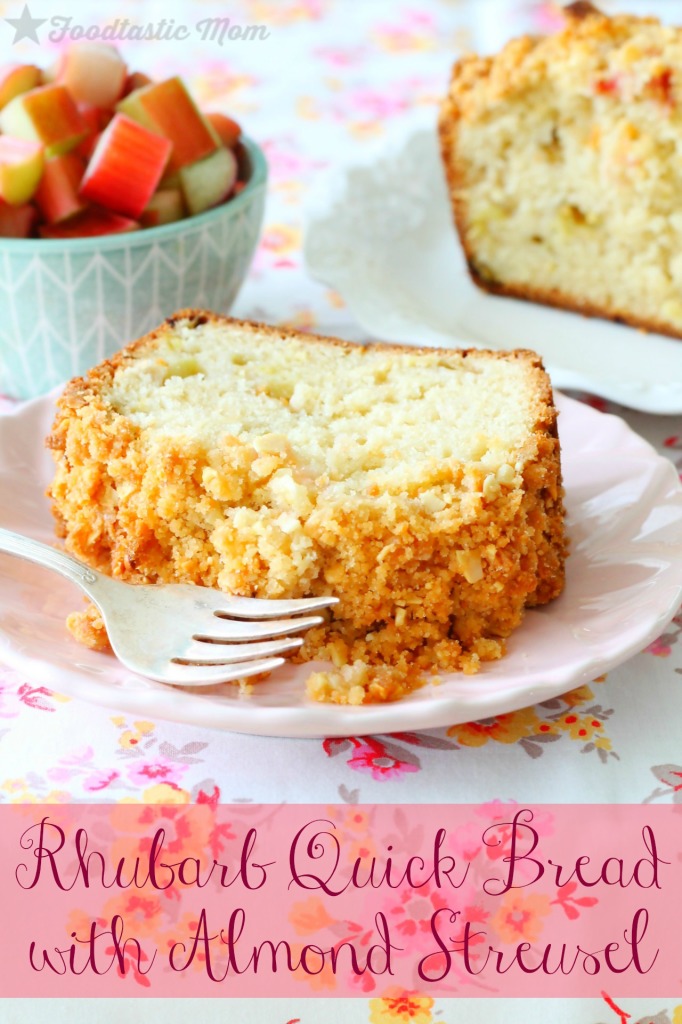 Rhubarb Quick Bread with Almond Streusel
Ingredients
for the streusel
1/4

c.

all-purpose flour

1/4

c.

granulated sugar

1

T.

light brown sugar

1/4

t.

lemon zest

1/4

t.

salt

2

T.

unsalted butter

1/4

c.

sliced almonds
for the bread
1 1/2

c.

all-purpose flour

1

t.

baking powder

1/4

t.

salt

1/8

t.

baking soda

1/2

c.

full-fat sour cream

1/2

c.

granulated sugar

1/4

c.

light brown sugar

1/4

c.

vegetable oil

1

large egg

1

t.

vanilla extract

1

large stalk rhubarb

leaves removed, cut into 1/4-inch pieces
Instructions
Preheat oven to 350 degrees.

Grease a 9-inch loaf pan and set aside.
for the streusel
In a stand mixer with paddle attachment, mix together all the streusel ingredients together on low speed until the streusel is well blended and crumbly.
for the bread
In one bowl, whisk together the flour, baking powder, salt and baking soda.

In a separate bowl, whisk together the sour cream, both sugars, oil, egg and vanilla until very smooth.

Add the flour mixture to the sour cream mixture and fold together until the batter is almost smooth.

Add the chopped rhubarb and fold to incorporate throughout the batter.

Pour the batter into the prepared loaf pan and smooth the top.

Sprinkle the streusel evenly over the top of the bread.

Bake for 50 - 60 minutes, or until a tester inserted into the middle of the quick bread comes out clean. Allow to cool in pan for about 20 minutes before removing to finish cooling on a rack.